Home Donate New Search Gallery Reviews How-To Books Links Workshops About Contact
California's Pacific Coast Highway
18 19 20 21 22 23 24 25 January 2014
19 January 2013, Sunday top
Today we visited the Winchester Mystery House in San Jose. The kids loved it because it was such a building inspector's nightmare!
But first, Breakfast at The Flame, which is a half block north of the Winchester Mystery House. Ironically, another local Flame burnt down today!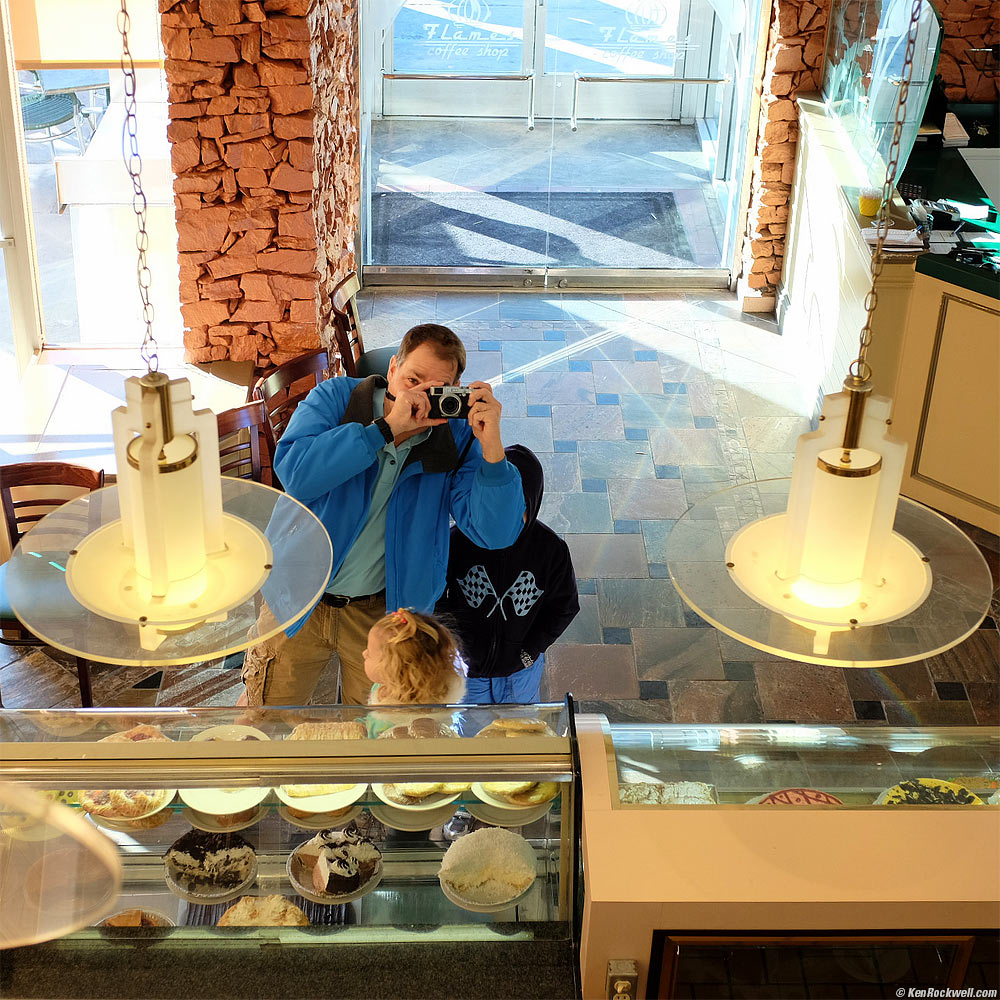 Kids at The Flame, 9:36 AM. (shot in mirror, Fuji X100S, f/2.8 at 1/140 at ISO 400.)
The entrance to the Retro Dome is between The Flame and the Winchester Mystery House.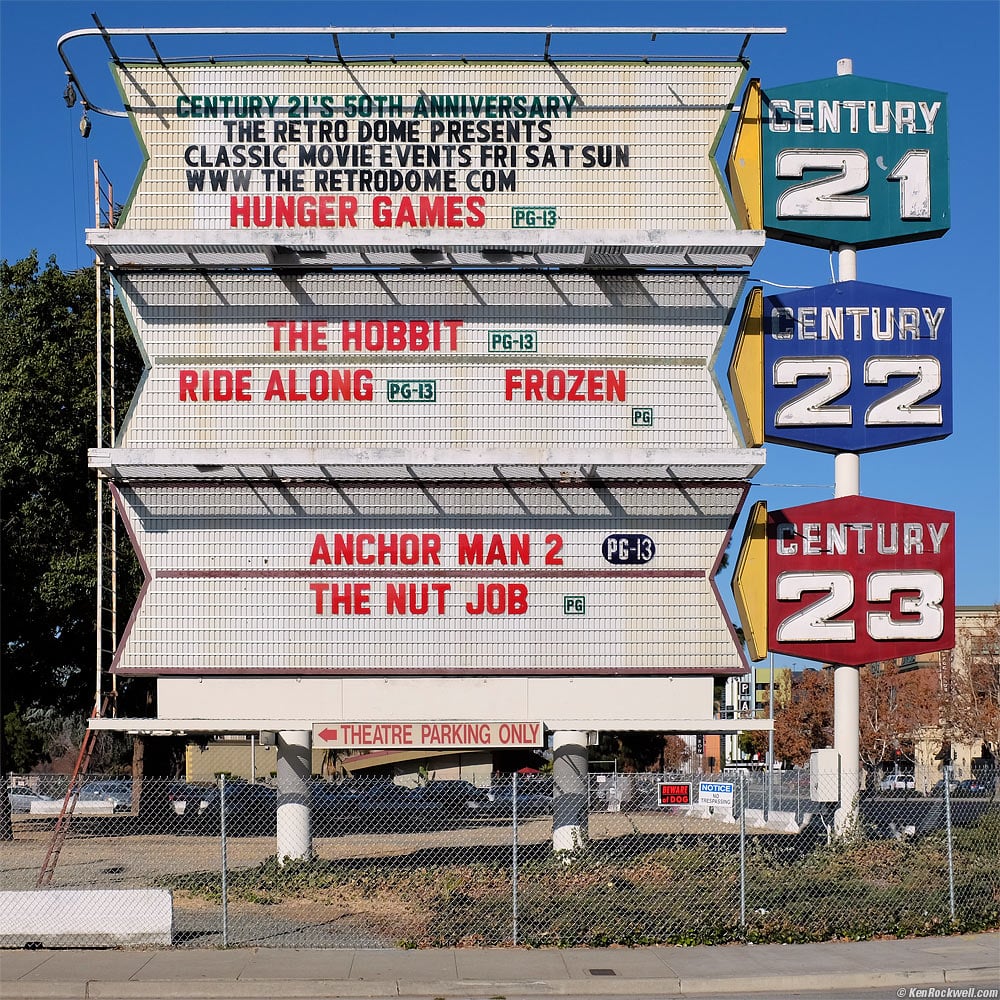 The Retro Dome, 1:49 PM. (Fuji X100S, f/8 at 1/850 at ISO 200.) Full-Resolution.
The Winchester Mystery house is a weird place. There's no photography to do, since there are always too many ghosts that spoil the photos. Most of the house doesn't appear on film anyway, so no photos here. I tried, and all I got were weird translucent vestiges.
What my visit to the Mystery House underlined what bad things happen when otherwise intelligent and educated people start spending unlimited amounts of money without any relevant-to-the-task talent or education. In this case, Mrs. Winchester spent decades of unlimited cash on luxury home remodels, but since she didn't bother to talk to an architect, she made a botch of it so monumental that they are still charging for tours 100 years later!
This relates all too much to photography today, where I see too many people throw hundreds, even thousands of dollars away on exotic digital cameras and lenses, all with no real interest in the art required to make a good picture. They spend all their attention and efforts on shopping for and buying gear, and then expect that's all that's required for great images to just pop out at them. They have no real idea or interest in what makes a good picture, so the results are just as bad as the Mystery House.
Much like Mrs. Winchester's house, people's pictures would be so much better if they'd just use the camera they already have, like their iPhone, and concentrate on their pictures and subjects instead of on their cameras or buying more equipment.
After the Winchester Mystery House, we headed to Los Gatos to see more family. We ate at a pizza place, and the kids had a blast with the games and vending machines, where Ryan got a scorpion tattoo. As I write this 10 days later on the 29th, his tattoo is still on his arm in places.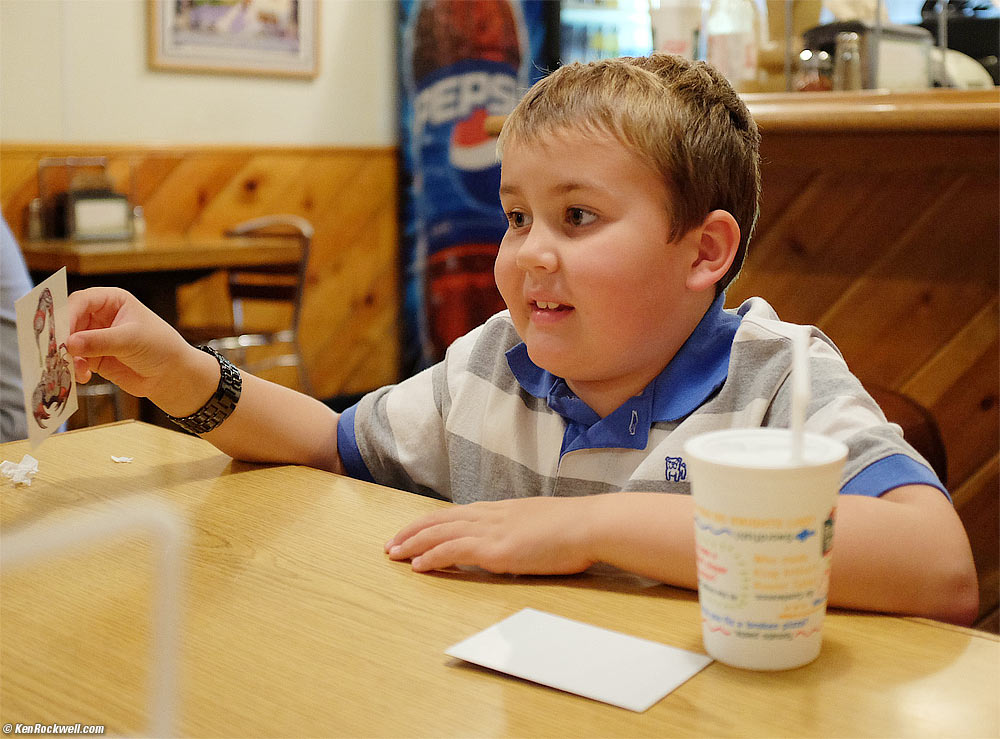 Ryan and His New Tattoo, 2:48 PM. (Fuji X100S, f/2 at 1/125 at ISO 2,500. As always, super-sharp results at f/2, which also gave us an extra f/stop of lower ISO compared to the poor slob lugging an DSLR and slow f/2.8 zoom. Ryan is wearing the Lava Watch he got for his birthday.
After pizza, a stop at the candy store. I had to use manually-set white balance on a white card to get results even this good in the crappy mixed artificial light: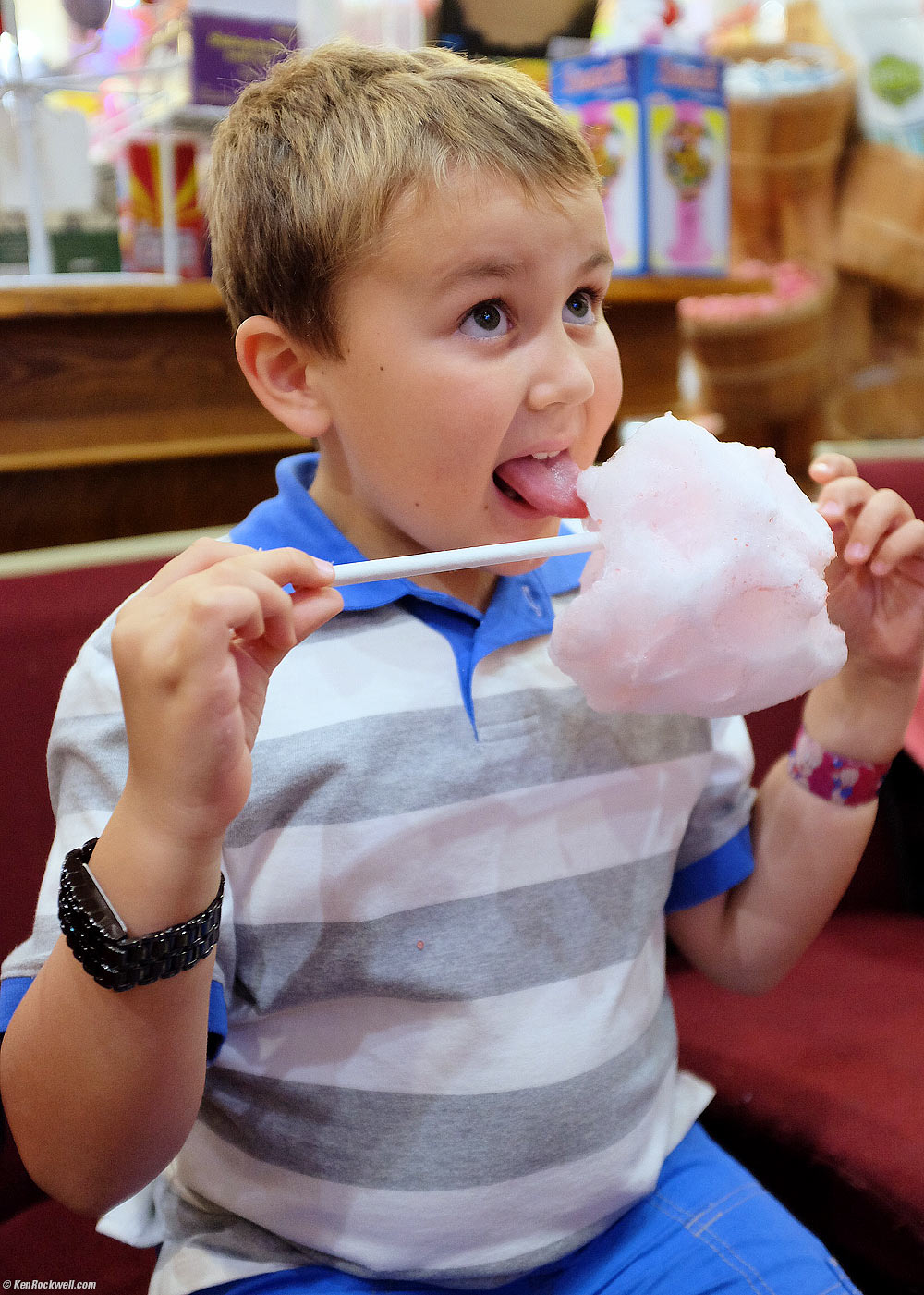 Cotton Candy, 4:09 PM. (Fuji X100S, f/2 at 1/125 at ISO 2,500.)
At the hotel that night, the kids heard about the gym and went nuts wanting to do it all. Ryan spent a full hour on the Precor Elliptical trainer, burning 390 calories — one McDonald's cheeseburger.
This light was also those awful fluorescent lights, so again I had to set a manual white balance off a white towel. The colors still look awful because fluorescent light is awful. Even if you force white to look neural as I did here, the colors of the rainbow are all bent by the discontinuous nature of fluorescent light and its correspondingly awful color-rendering index (CRI).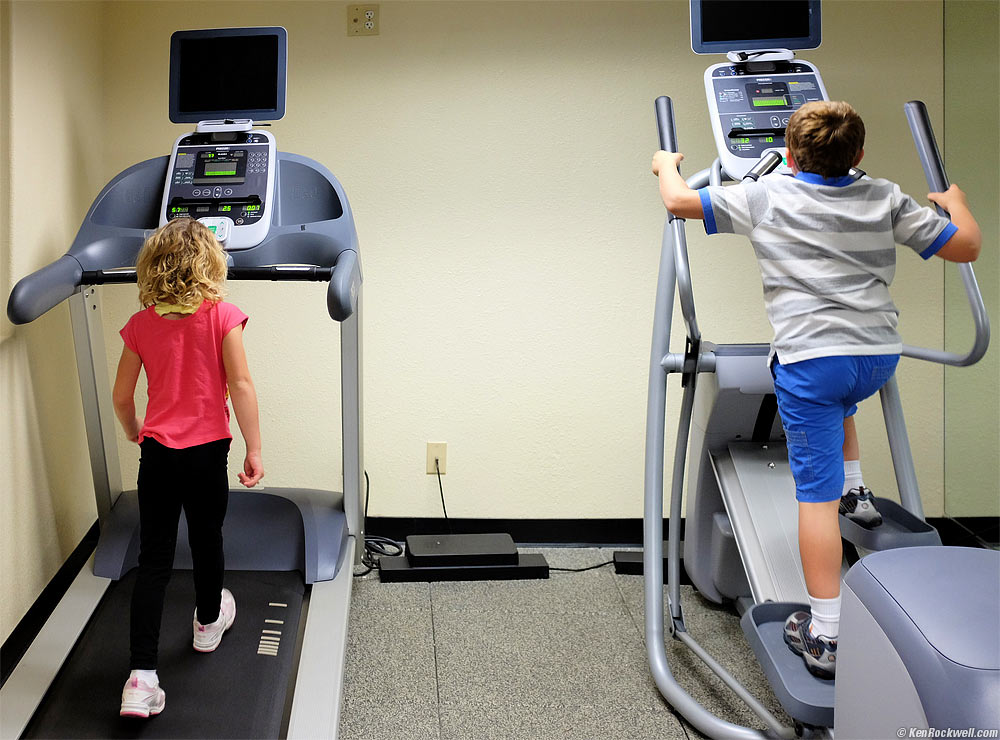 Ryan and Katie Walking, 7:31 PM. (Fuji X100S, f/2 at 1/125 at ISO 1,000.)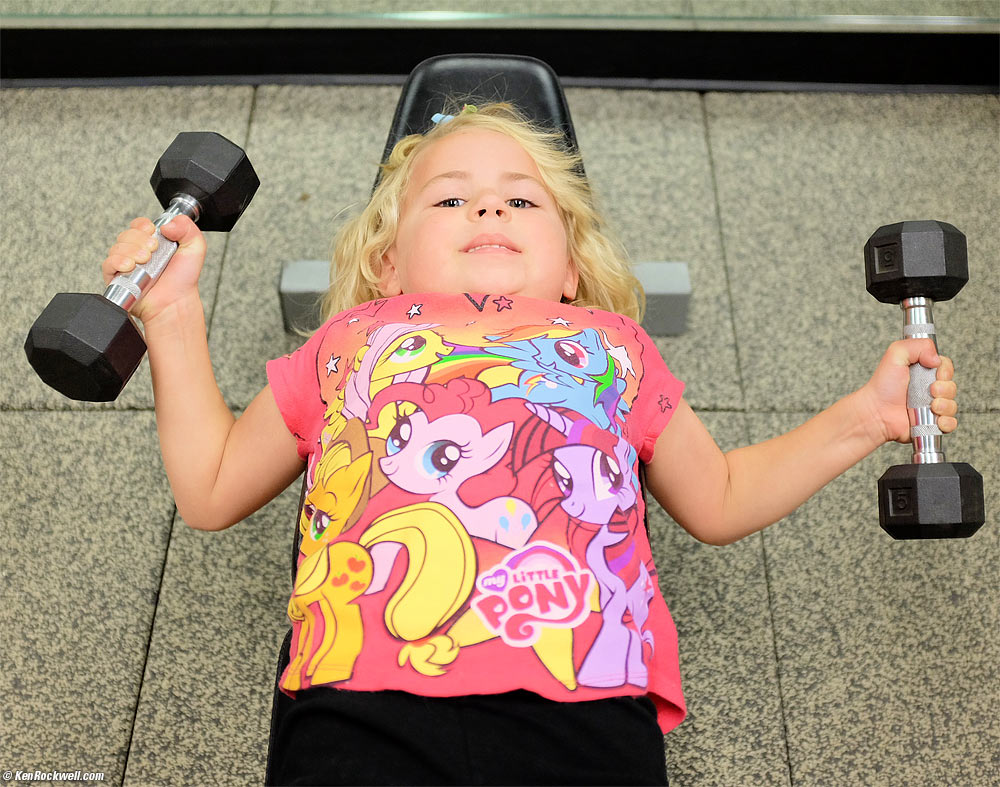 Katie Pumps Iron, 7:33 PM. (Fuji X100S, f/2 at 1/125 at ISO 1,000.)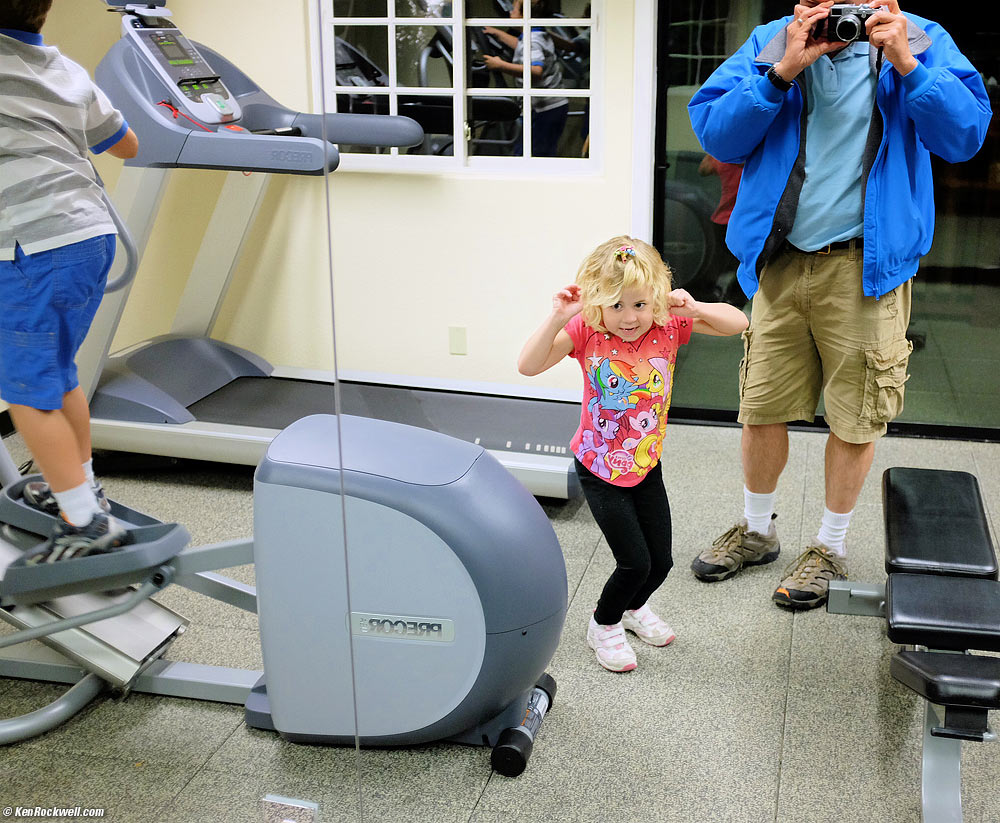 Katie Shows Off Her Muscles, 7:33 PM. (Fuji X100S, f/2 at 1/125 at ISO 1,600.)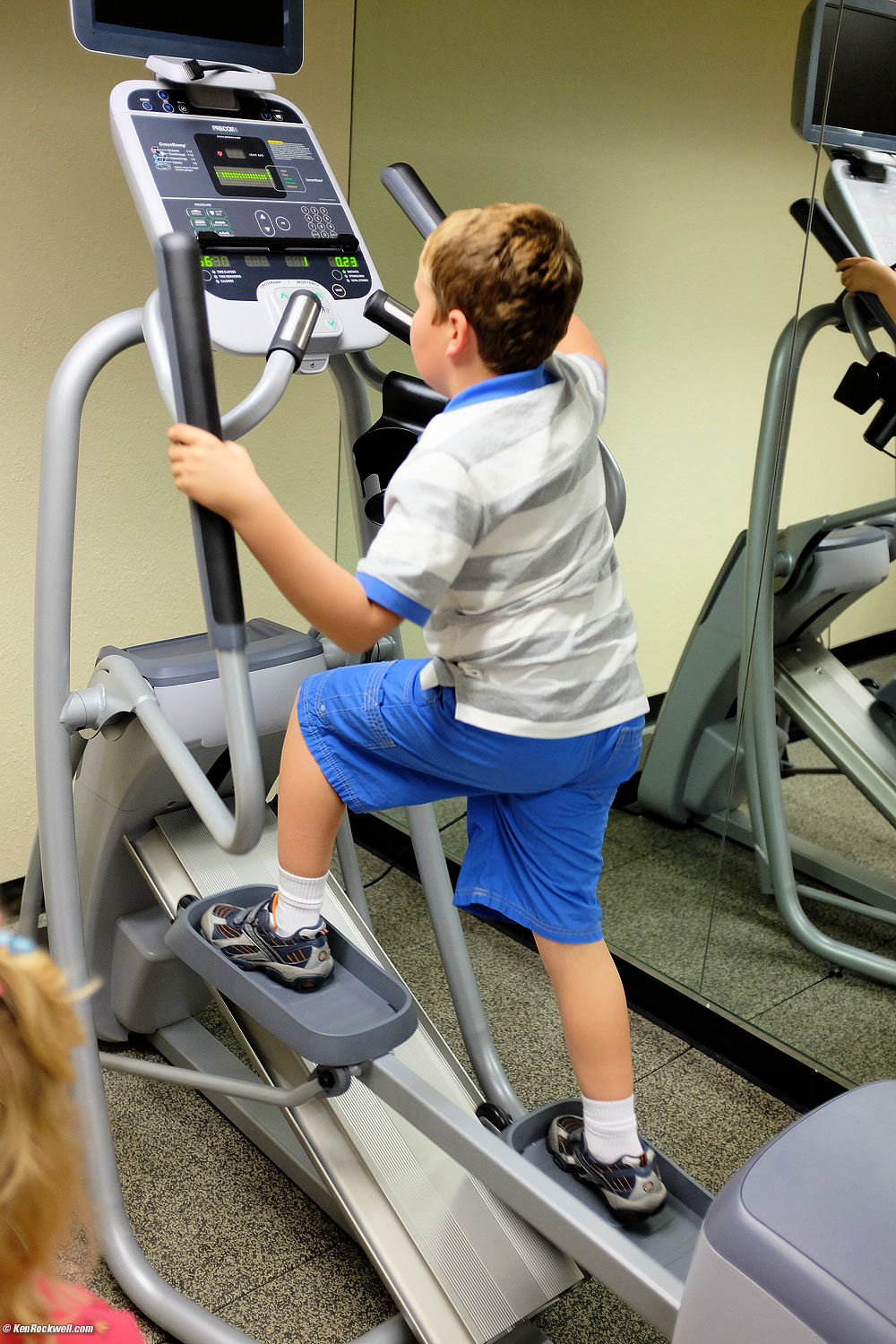 Ryan Walks for an Hour, 7:33 PM. (Fuji X100S, f/2 at 1/125 at ISO 1,250.)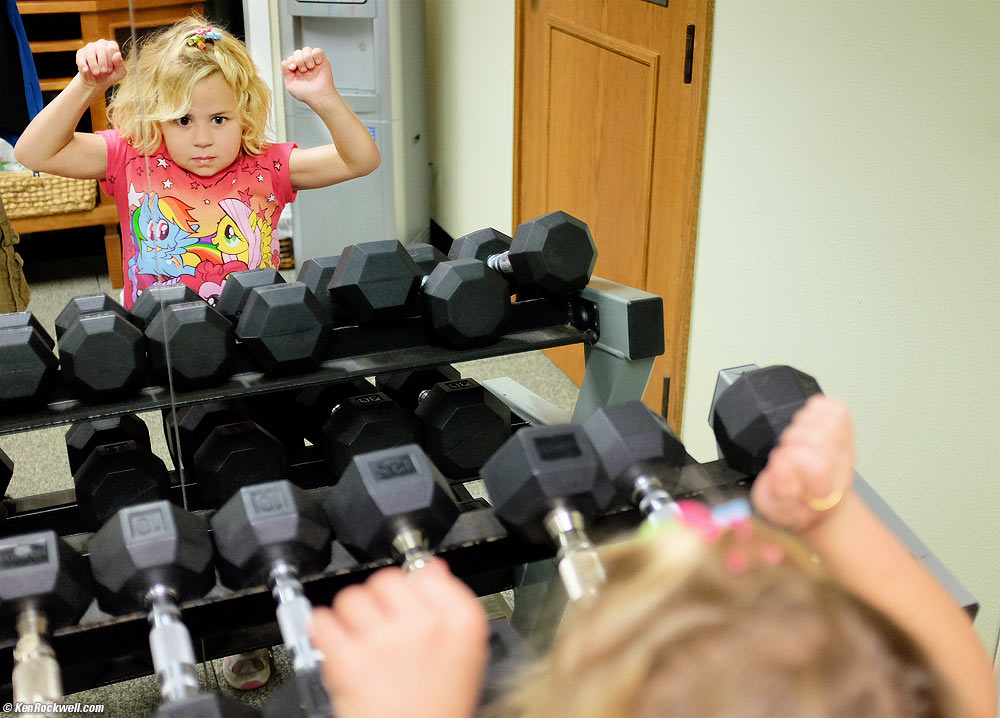 Katie Shows Off Her Muscles, 7:51 PM. (Fuji X100S, f/2 at 1/125 at ISO 2,000.)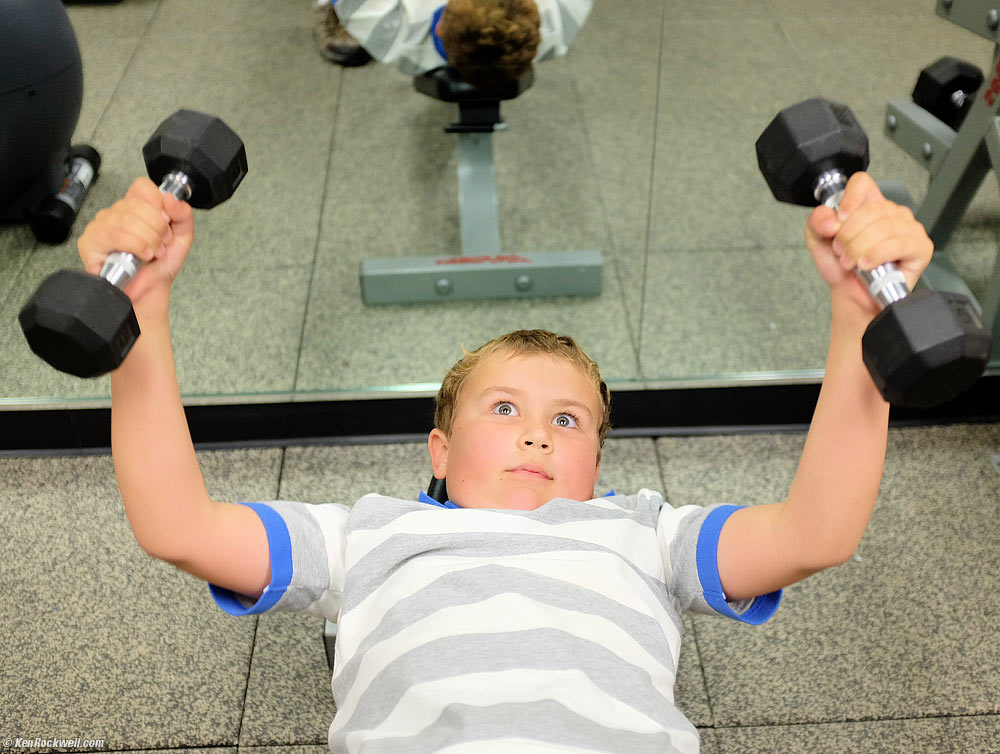 Ryan Pumps Iron After His Hour Walk, 8:34 PM. (Fuji X100S, f/2 at 1/125 at ISO 1,000.)
That's all for today. NEXT ->> 20 January 2014, Monday
Home Donate New Search Gallery Reviews How-To Books Links Workshops About Contact