Home Donate New Search Gallery How-To Books Links Workshops About Contact
Tech Details:
California's Central Coast
16-21 June 2010
16 17 18 19 20 21 June 2010 Tech Details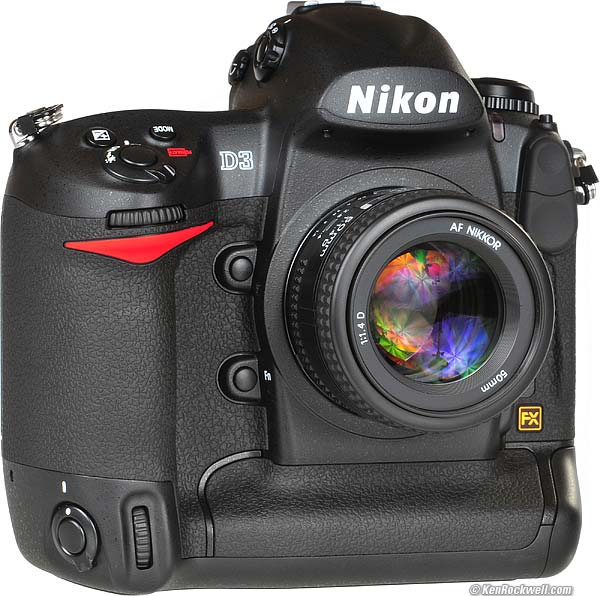 Nikon D3 and 50mm f/1.4 AF-D.
For this trip, I wanted to bring some of Nikon's most popular new lenses and give them a workout.
Cameras top
I shot almost everything on a Nikon D3 loaded with an 8GB Lexar 300x CF card in the shooting slot, and a 32GB Lexar 600x CF card in its backup slot.
I bought my D3 a year before the D700 was astounded Today, the D700 does the same thing for less money with less weight.
I also brought along a Nikon F5 I am reviewing, loaded with Fuji Velvia 50. I only showed one shot from the F5; for internet display, the shots from the D3 look much better than the scans from the F5's film. Film excels when projected or seen on a light table, but if all you want are digital images for the Internet, digital capture is usually sufficient. Heck, the D3 usually looked absolutely brilliant, regardless of the light.
This was the first time in a while that I've shot with a professional camera on a trip. It was nice for a change to have a big, solid camera in my hands while in the feild. Since we spent little time walking around, it wasn't as bad as if I had to carry it all day.
It's nice to use a pro camera, but as one participant remarked when he lifted it, that my D3 was like "lifting a lead weight!" This comment came from a guy who rides 1,400 pound motorcycles, and when he hit a deer while riding at 60 MPH at night, he didn't even notice it until he came to a stop — with his wife riding on the back.
I forgot how handy the 9 FPS speed of the D3 can be for animal and water shots. It was very handy photographing the seals in Piedras Blancas, and the waves at Julia Pfeiffer Burns State Park.
Camera Settings top
I set the D3 by hitting the two green reset buttons, then reducing the JPG quality to BASIC, and adding A3 amber color trim to Auto White Balance.
I always shoot in Professional exposure mode, the "P." Professional mode was originally called "Program" back in the 1970s. While in Professional mode, if I need different shutter speeds or apertures, all I do is flick the rear dial and I get them.
Picture Control was set to SCORCH, more commonly known as VIVID and +3 Saturation.
I usually set AUTO ISO for a minimum speed of 1/30, and a maximum ISO of 6,400. That may be its defaults; I usually run it at 1/125 minimum speed for people pictures.
I set ADR to NORMAL.
I set Vignette Control to NORMAL.
Unless mentioned otherwise by each image, this is how my Nikon D3 was set for every shot. Set this way, almost every shot looked awesome right out of the camera. The key is to know when it's not looking great, and then what to hit, like exposure compensation, to make it right. You never can fix it later; that's a myth started by software companies.
Download this NCSETUP2.BIN settings file to a CF card, pop it in your D3, and use RECALL SETTINGS to copy my entire camera into yours. Look out: it also will mark all your files © KenRockwell.com.
Lenses top
For lenses, I brought the 16-35mm VR, 50mm f/1.8 AF-D and 70-300mm VR.
I chose these three because: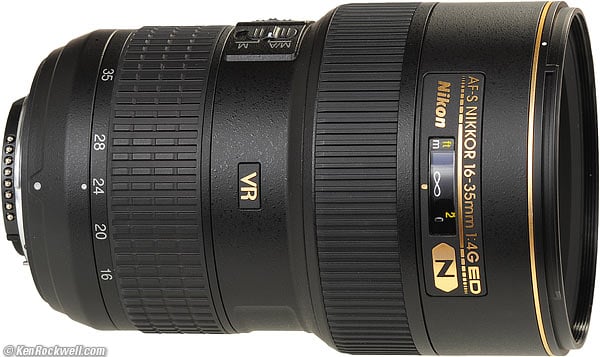 Nikon 16-35mm f/4 VR.
The 16-35mm VR is the world's sharpest ultrawide zoom lens, even slightly better than the older and way-too-big 14-24mm. The 16-35mm f/4 VR also has VR, letting it work in lower light for still subjects than the f/2.8 14-24mm.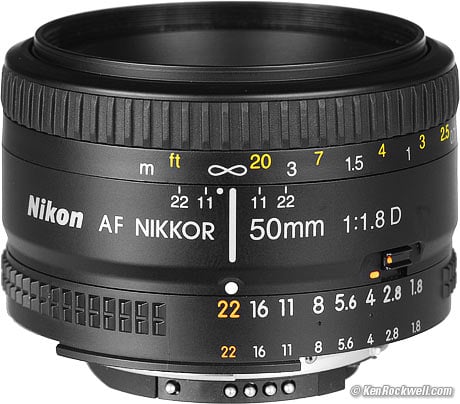 Nikon 50mm f/1.8 AF-D.
The 50mm f/1.8 AF-D is among Nikon's sharpest lenses, period, and has no distortion, unlike all of Nikon's faster 50mm lenses. It also weighs less than any other Nikon AF lens. Not bad for $125!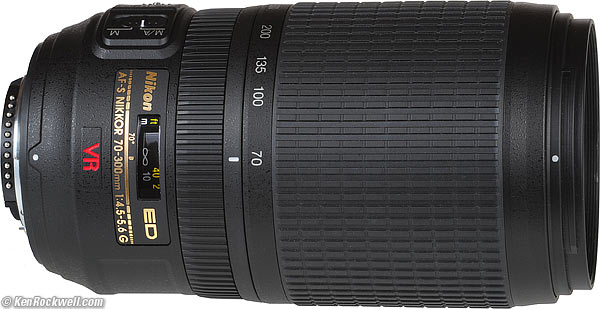 Nikon 70-300mm VR.
The 70-300mm VR is Nikon's most sensible telephoto zoom for still subjects. Its VR lets me shoot on the street at night without a tripod, it's super-sharp, it focuses fast and sure, and it weighs and costs only a fraction of Nikon's f/2.8 telephoto zooms — none of which cover the 300mm range. There is no better tele zoom for any camera for still subjects than the NIkon 70-300mm VR; the f/2.8 tele zooms are for use in low light for moving action subjects where VR can't help you.
Canon's 70-300mm IS has bogus autofocus with no instant manual override. Canon's 70-200mm f/4 L IS is great, but only goes to 200mm. Ha ha Canon!
Spare Lenses
As spare lenses, I brought the 24mm f/1.4 AF-S, 28-70mm f/3.5-4.5 D, 50mm f/1.4 AF-S and 85mm f/1.8 AF-D in a separate bag.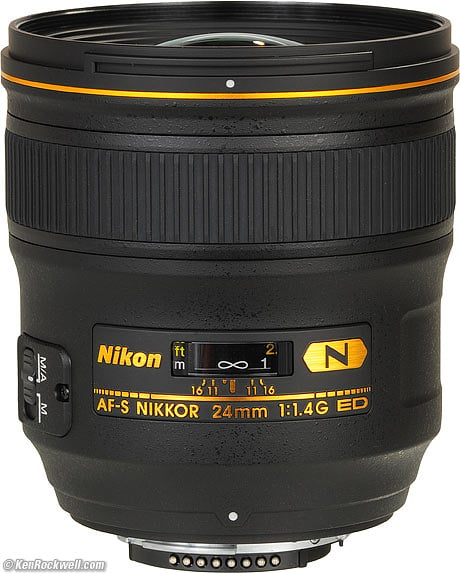 Nikon 24mm f/1.4.
I brought the 24mm f/1.4 AF-S for shooting low-light with ISO 50 film. On a D3, with its insane high ISO, the 16-35mm VR is more than enough for hand-held night shooting, but at ISO 50, the 24mm f/1.4 AF-S without VR gives me at least one more effective stop than the 16-35mm with VR.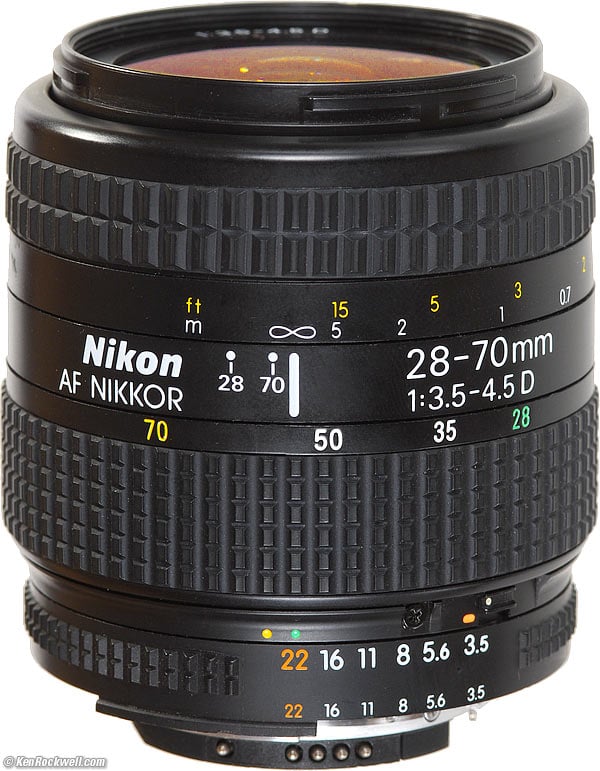 Nikon 28-70mm f/3.5-4.5 AF-D (1991-1999).
I brought the classic 28-70mm f/3.5-4.5 D because I love it. It's small, light, focuses close with no backtalk, it's sharp, and has a great 9-bladed diaphragm for awesome 18-pointed sunstars.
I brought the new 50mm f/1.4 AF-S because it's almost as popular as the 50mm f/1.8 AF-D. I never bothered to pull out the f/1.4 lens; oh well. f/1.8 is more than fast enough for digital, and the f/1.8 lens has no distortion.
Unlike Canon's cheap-but-excelllent 50mm f/1.8, Nikon's cheap-but-excellent 50mm f/1.8 has a metal mount, focus scale. infra-red index and depth-of-field markings.
I brought the classic 85mm f/1.8 AF-D (1988 - today) because it also is one of my favorites. I didn't use it much; the 70-300mm VR did everything it did. The 85mm f/1.8 excels if you need a smaller lens than the 70-300VR, or if you want more background blur at 85mm, or if you need exquisite 18-pointed sunstars. The 70-300mm doesn't do sunstars due to its rounded diaphragm.
I only brought these extra lenses because I test cameras and lenses for a living. If all I wanted to do was to bring home great shots, the D3 and 16-35mm VR, 50mm f/1.8 AF-D and 70-300mm VR are all I'd need for anything.
Bags top
I carried the D3 around my neck at all times, and the two unused lenses in a Think Tank Speed Demon around my waist, also at all times.
Cameras do no good if they're left in the van or back at the hotel.
I left the F5 and a few spare lenses (24mm f/1.4 AF-S, 28-70mm f/3.5-4.5 D, 50mm f/1.4 AF-S and 85mm f/1.8 AF-D) in a new Think Tank Retrospective 10 bag, left in the van most of the time.
Tripod top
I took a tripod, but never used it, even at night.
The VR of the 16-35 and 70-300mm lenses rendered a tripod obsolete, as do the high ISOs of the D3, and the high speed of the 50mm f/1.8 lens.
My original (1995) Gitzo 1228 carbon fiber tripod and Bogen geared head sat in the van the entire trip. We only pulled it out to hold the camera for a group photo on the last day.
Data top
I used a 8GB Lexar 300x CF card in slot 1, and downloaded it each evening.
I set SLOT 2 to BACKUP, and used a 32GB Lexar 600x CF card which silently duplicated everything as I shot it.
Because I already had a copy in-camera, once I copied the day card to my MacBook Pro, I was free to format my daily card as soon as I put it back in the camera. Even if I didn't backup my computer, even if I lost my camera or my computer, I still had all my files.
This is a huge advantage of a pro camera which has dual CF slots. With a D700, I'd have to back up my laptop each night and take the backup with me in the field to ensure that a motel fire wouldn't lose my shots. This freedom from laptop backup is a big time saver, with less to carry, in the field.
I cataloged everything each night. I simply added the new shots to my iView 3.1.3 catalog each night.
Publishing top
Back at the studio, all I did was plug a backup copy drive of my MacBook Pro made in Super Duper (or the MacBook Pro itself in Target Disk mode) into my nearly five-years-old Quad G5 via Firewire 800.
I copied the entire week's shoot and catalog into my production machine with one drag and drop.
I selected the less crappy shots, dragged them into Photoshop CS4, did any quick fine-tuning as noted, and hit my pre-recorded Action to resize, sharpen and brand each file for broadcast.
I dropped these files into Dreamweaver 8, and they're on the air here.
16 17 18 19 20 21 June 2010 Tech Details
Home Donate New Search Gallery How-To Books Links Workshops About Contact