Home Donate New Search Gallery How-To Books Links Workshops About Contact
Tech Story,
Gold Country 2010
16 17 18 19 20 21 April 2010 Tech Story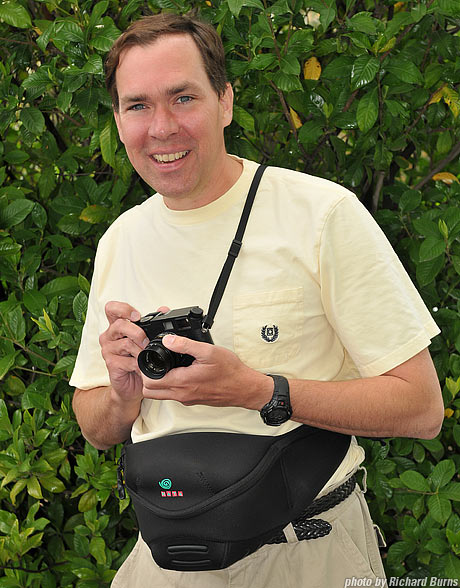 Ken Rockwell on 20 April 2010, by the amazing Richard Burns. uglier. I'm holding a LEICA M7 and tiny 50mm f/2 lens, and a 21mm, 35mm f/1.4 and 90mm lenses, and more, in the tiny bag.
Game Plan
This trip was all about getting in and out of someone else's van all day, and in and out of a different motel every night.
I couldn't just throw gear in my trunk and work from there. I had to be light on my feet, since I was going to have to hump everything I brought all day, every day, in and out of other people's transportation and accommodations.
Likewise, I wasn't going to hump a computer and all its attendant cords, chargers, drives and all the other BS that goes with it in my luggage all over Gold Country for a week.
I chose the lightest setup that still feels good, which is a small LEICA body and four tiny lenses: 21mm, 35mm, 50mm and 90mm.
As you can see in the picture, this gear is tiny compared to the SLRs which have been more popular these past 50 years. SLRs have better viewfinders so you can see what you're doing, but rangefinder cameras like the LEICA are far smaller for travel, and focus better in the dark and with wide lenses.
(The Leitz Minolta CLE ultimate setup weighs less and does the same thing, but I prefer German precision in my hands over Japanese plastic.)
Gear
I borrowed, and have since returned all this stuff for this trip. Thank you readers!
Body
I decided to bring a silver LEICA M6 TTL body (604g, wet). It is manual focus and manual exposure, perfect for shooting still subjects.
I also stuffed a Canon S90 in my pocket for shots not worth the film.
Lenses
I brought a LEICA ELMARIT-M 21mm f/2.8 ASPH (317g) and a silver SKBOO 21mm metal finder to match the silver M6.
I brought a LEICA SUMMILUX 35mm f/1.4 (187g) because it's the smallest and lightest 35mm M lens ever made, and its ultrafast f/1.4 speed could come in handy.
I brought a LEICA SUMMICRON-M 50mm f/2 (240g) because it's the same size and weight as other 50mm lenses, and optically the finest 50mm lens ever created.
I brought the tiny, collapsible LEICA MACRO-ELMAR-M 90mm f/4 (223g) as a telephoto.
The camera, batteries, film and four lenses weighed a sum total of just 1,571g, or 55.4 oz, or the same as a Nikon D3 with no lens at all, or a 70-200mm f/2.8 lens without a body.
Filters
I brought 81A filters on each lens. I also brought 85C filters, a grad, and a polarizer which I never used.
Unlike the 1950s LEICA system I borrowed for the Route 66 trip in February 2010, this newer LEICA gear is less professional because it doesn't adhere to the same filter size for every lens, so I had to being more filters.
Bag
I stuffed this all in the small neoprene runner's bag you see around my waist. Even this bag weighs a lot less than bigger, thicker bags. It held the body, four lenses, film, filters, cable release, spare batteries, and I forget what else.
Because it weighs so little, it went everywhere with me without question. It never stayed back at the hotel or in the van; it was with me ready to shoot 24/7.
The system is so light that I never wanted to put it down.
B-bag
I also bring a "B-bag" with spares and gear I probably won't use. This bag stays put, and I only swap items out of it as I may need them.
In the B-bag was a big 135mm f/2.8 LEICA ELMARIT (730g), which I used only once, When I did, I carried the lens in my jacket pocket in Nevada City one morning. I brought it for the long shot of the city.
I also brought some bigger, faster lenses in the B-bag in case I got stuck in the dark: a 90mm f/2 APO-SUMMICRON-M ASPH (473g) and a 35mm f/1.4 SUMMILUX-M ASPH (307g).
Each evening I'd put the 35mm f/1.4 SUMMILUX-M ASPH (307g) on the camera, and forget the rest. This ASPH SUMMILUX is far better than the tiny LEICA SUMMILUX 35mm f/1.4 (187g) when shot at f/1.4. This way I carried the tiny older lens all day, and only the larger lens at night when I needed it.
I only used the 90mm f/2 APO-SUMMICRON-M ASPH (473g) once, and never needed it. I should have left it at home.
Also in the B-Bag was a LEICA M7, and some B&W film, in case it rained. It did rain on the 20th, so that's why it's in my hands in the shot above.
I brought a weightless LEICA SF-24D flash and compatible Nikon SC-17 cord, which of course was never used.
I also threw in a loaded Canon 110ED, which was never used.
That's the point of a B-bag: I don't carry it around, so I can throw in a few things I'm not going to need, but if conditions change, they are there. Also by splitting-off a B-bag, my A-bag has only what I really am going to use, and weighs so much less from not having al the "maybe" equipment, so I enjoy carrying the A-bag 24/7.
Return to the start of the trip.
16 17 18 19 20 21 April 2010 Tech Story
Home Donate New Search Gallery How-To Books Links Workshops About Contact