Home Donate New Search Gallery Reviews How-To Books Links Workshops About Contact
Ricoh GR
16 MP APS-C, 18mm f/2.8 lens, $800
© 2013 KenRockwell.com. All rights reserved.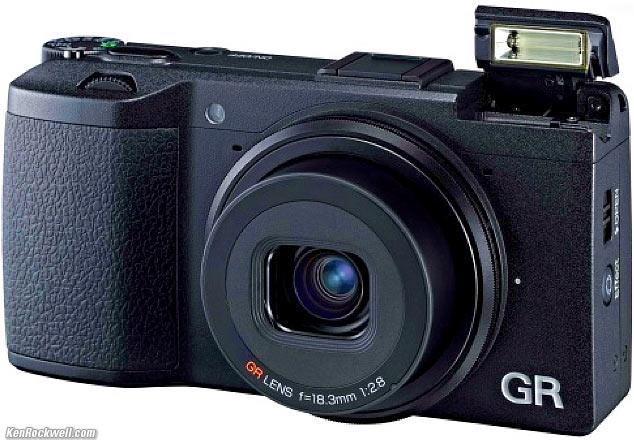 Ricoh GR. My biggest source of support is when you use any of these links, especially these links directly to it at B&H Photo Video or directly to it at Adorama, when you get anything, regardless of the country in which you live. It helps me keep adding to this free website when you get yours through these links — but I receive nothing for my efforts if you buy elsewhere. Thanks for your support! Ken.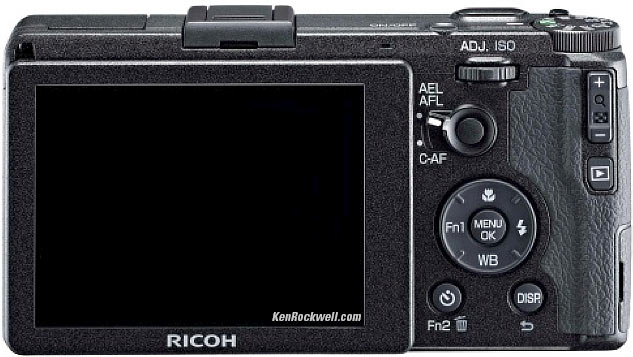 Rear, Ricoh GR.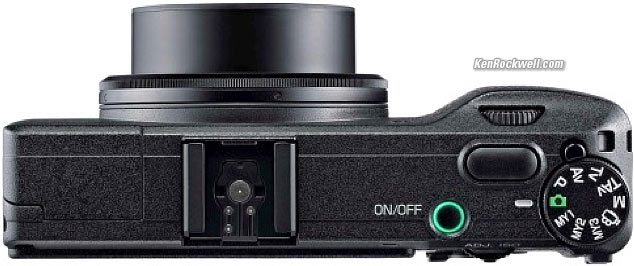 Top, Ricoh GR.
April 2013 Better Pictures Nikon Canon Fuji LEICA All Reviews
Introduction top
The Ricoh GR is what Ricoh claims is a better version of the Nikon Coolpix A, for less money.
Both are larger-format (1.6x, DX or APS-C) fixed-lens point-and-shoots. Neither has a viewfinder, either optical or electronic.
For full details, see them and their specifications at B&H Photo Video and Adorama.
Specifications top
(See them at B&H Photo Video and Adorama for more.)
Sensor
16 MP CMOS
1.6x crop factor (22.2 x 14.8 mm).
ISO
100 - 25,600
Lens
Fixed 18.3mm f/2.8 (sees about the same as a 28mm lens sees on 35mm cameras.)
Filters
43mm, but only with Ricoh Hood and Adapter GH-2.
Size
4.6 x 2.4 x 1.4 inches.
116.8 x 60.9 x 35.5 millimeters.
Weight
8.6 oz. (244g) with battery and card.
Announced
17 April 2013.
Price, USA
$800, April 2013.
Recommendations top
Personally, I don't see any reason for this camera, but that's just me. Hobbyists love to throw all sorts of money at gadgets like this, so don't let me stop you.
If I want a small take-everywhere camera, I prefer my iPhone 5, which has colors and tonal range superior to any DSLR or compact digital camera I've ever used at their default settings.
For a serious walk-around digital camera, the Fuji X100s (or a used X100) is a far superior camera because of their real viewfinders, faster lens of a much more useful focal length, and far superior controls. The X100 series' flash is also always ready without needing to pop up, its lens is always ready to shoot without needing to motor in and out, and the Fuji's fill-flash exposure is superior to every other camera I've tested.
Get an X100s; the quality is remembered long after the price is forgotten — or just use your iPhone.
Help me help you top
I support my growing family through this website, as crazy as it might seem.
The biggest help is when you use any of these links when you get anything, regardless of the country in which you live. It costs you nothing, and is this site's, and thus my family's, biggest source of support. These places have the best prices and service, which is why I've used them since before this website existed. I recommend them all personally.
If you find this page as helpful as a book you might have had to buy or a workshop you may have had to take, feel free to help me continue helping everyone.
If you've gotten your gear through one of my links or helped otherwise, you're family. It's great people like you who allow me to keep adding to this site full-time. Thanks!
If you haven't helped yet, please do, and consider helping me with a gift of $5.00.
As this page is copyrighted and formally registered, it is unlawful to make copies, especially in the form of printouts for personal use. If you wish to make a printout for personal use, you are granted one-time permission only if you PayPal me $5.00 per printout or part thereof. Thank you!
Thanks for reading!
Mr. & Mrs. Ken Rockwell, Ryan and Katie.
Home Donate New Search Gallery Reviews How-To Books Links Workshops About Contact