PMA 2007 Report (continued)
© 2007 KenRockwell.com

I get my goodies at Ritz, Amazon and Adorama. It helps me publish this site when you get yours from those links, too.
ROLLEI back to top of PMA 2007
New Rolleiflex 4.0 FT TLR with 135mm f/4.0 lenses and Rolleiflex Hy6 SLR.
The TLR is going to be introduced in 2007.
The Hy6 is a new SLR body optimized for use with digital backs as well as film. It takes the 6008 lenses.
Rolleis are still ultra-high quality products always made in Germany. Walking into the Rollei booth quickly grabs one's attention from the digital din, with Rollei's incredible quality and precision.
SANDISK back to top of PMA 2007
4 GB Ultra II SDHC card.
SAMSUNG back to top of PMA 2007
Naked Tiger Lady
I have no idea what was new at Samsung, since all the excitement at their booth was the totally naked tiger lady being in a jungle scene photographed by everyone. I'll have to read the press information.
OK, here it is: a Dieter Rams inspired compact NV11 with a 2.7" screen, 5x zoom and 10 MP. I've only played with these, not shot with them. My biggest draw to them is their external appearance: they are the best looking digital cameras on the market today.
SCHNEIDER back to top of PMA 2007
Schneider is my favorite maker of serious lenses for my view camera.
Schneider's newest lens is their 72mm Digitar, introduced at Photokina in September 2006.
They don't need new products every month, because even my 50-year-old 150mm f/5.6 Symmar is still the sharpest lens I own. My newest Schneider lens is my 47mm XL for my Horseman SW612 ultra-wide film camera.
Schneider's optics are so far ahead of the curve that they don't need new products every month.
Schneider lenses are real made-in-Germany lenses for serious photographers. My reviews of the ones I own are here and here is Schneider's own website.
SIGMA back to top of PMA 2007
Sigma had the most impressive photo of the show at their booth. It was a thirty-foot wide panoramic composite of 85 digital camera images of Zermatt, Suisse. Stick your nose in it and it was super sharp and textured; stand back and you could see all of the Swiss Alps.
Lenses
Sigma had quite a few new lenses, including an 8mm f/3.5 fisheye, 70-200mm f/2.8, 70mm f/2.8 Macro, 50-135mm f/2.8 (digital only) and 18-50mm f/2.8 (digital only).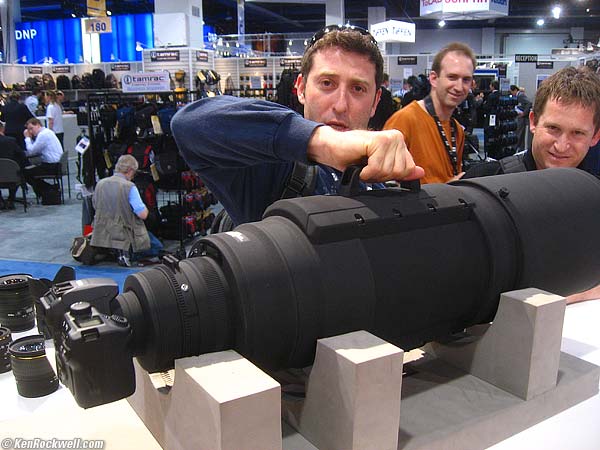 Sigma 200-500mm f/2.8 mock-up
Lenses don't often scare me, but this mock-up of a 200-500mm f/2.8 did. Half of it is lens hood, but the glass is still 7" (180mm) around! Oddly, nothing about it was in the press kit so we'll all have to wonder.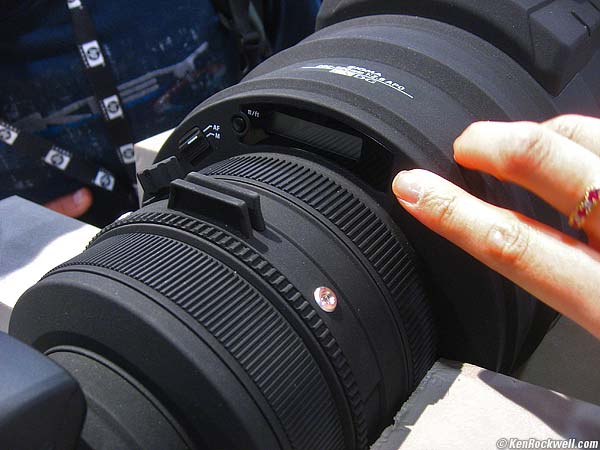 Digital Focus Distance Display
It has rotary zoom and focus controls. There is an LCD display for focused distance, with a button to change between feet or meters.
The Sigma 18-200mm stabilized lens is no match for the Nikon 18-200mm. The Sigma lens uses the old 1980s-style mechanical focusing, so you have to bang a switch to swap between manual and auto focusing. The Canon-mount version is just as bad: you have to bang a switch; you can't just grab the focus ring for instant override as the Nikon 18-200mm does.
DSLRs
I ignored the SD-14 camera. I've never been a fan of Sigma's bodies.
Sigma is lying about the resolution. They are playing on most people's misunderstanding of the definition of a pixel, and are misrepresenting each color sensor as a complete pixel.
A pixel is short for PICture ELement, a representation of a color and brightness value at a discreet point. You need a red, a green and a blue value to define it. The SD-14 only has a third of the pixels claimed by Sigma. The native image size is less than 5 MP: 2,640 x 1,760 pixels. It has a digital zoom mode to make 4,608 x 3,072 JPGs, but these pixels have been extrapolated from the native ones.
Don't worry, all the other camera makers lie, but not as much. Conventional CCDs are black-and-white, so R, G and B dots are painted over them to see color. A 10MP camera isn't, either, since Bayer interpolation has to be used to create a discrete R, G and B value for each sensor location. Thus a current 10MP CCD really gives about 5 - 7 MP resolution, even though the output image is 10 MP.
Thus our Sonys, Canons, Nikons and Pentax' all extrapolate and interpolate, too. Don't worry about it, but my formal engineering education makes me squirm when I see these shenanigans thrown at decent photo consumers.
If this confuses you, don't worry. That's how camera makers like it, because resolution doesn't matter anyway.
The SD-14 has 5-point AF (like my old 2003 Nikon D70), 2.5" LCD (only 150,000 pixels; my old Canon SD700 point-and-shoot has 173,000 pixels), built-in flash, mirror lock-up, and the maximum shutter speed with conventional flash (sync) is 1/180.
I had to laugh at the claims Sigma makes in their SD-14 brochure: "The only camera with the potential for perfection," "The only camera designed for artists," "The only camera that truly expands the capacity of your images," "The only camera that tells the whole truth," and "It's the only camera faithful to the colors of nature." Hee hee, Canon already claims having reached perfection in their cheapest point and shoots some time ago. Canon's A-series brochure claims "Perfect just got easier!"
Sorry, since I actually went to college for this and have designed and have patents in digital imaging hardware I'm rather unforgiving of marketing spin.
The sample images in the press kit look great, but they of course are only 2,640 x 1,760 pixels, the real resolution of the SD-14.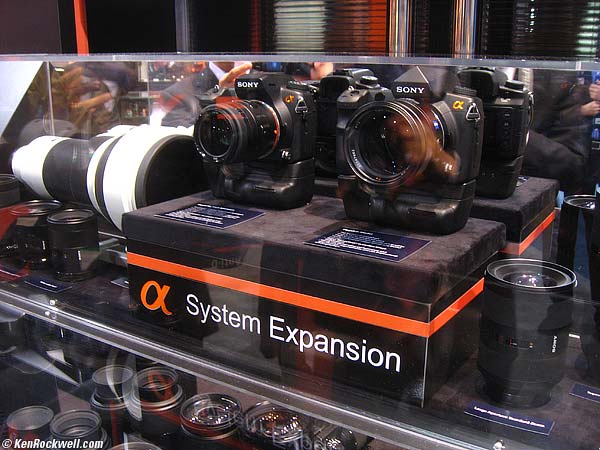 Sony's Case of Dreams
Sony has a bunch of new point-and-shoots, but nothing new in the DSLR line.
The only thing sort of new in DSLRs was a case of unmarked plastic mock-ups of potential future lenses and bodies. Nothing was marked more specifically than "fast wide zoom." What look like lenses in this photo are artist's models of lenses, with no glass and no markings for focal lengths or anything.
TAMRON back to top of PMA 2007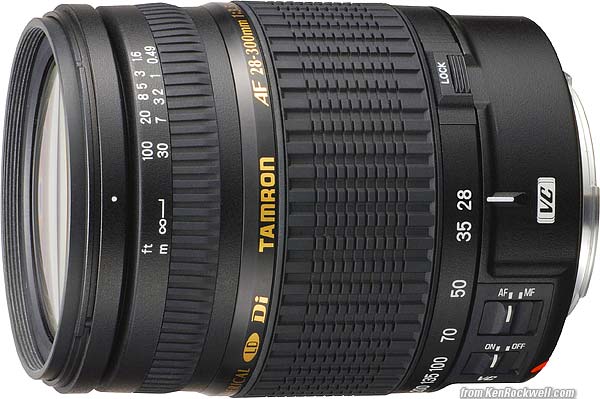 Tamron 28-300mm VC
Tamron announced a 28-300mm f/3.5 - 6.3 lens with their version of stabilization, which they call VC for vibration compensation. I avoid third party lenses, but this does offer stabilization in a range no one else does.
Specs: (Nikon Mount, also comes in Canon mount):
Formats: Digital, full-frame digital and film.
Optics: 18 elements in 13 groups.
Stabilization: Yes.
Filter Size: 67mm.
Diaphragm: 9-blades, stops down to f/22-40.
Manual Focus: Manual focus requires banging a switch. You may not simply grab the ring.
Close Focus: 19" (0.5m).
Maximum reproduction ratio: 1:3.
Size: 3.1" diameter by 3.9" long (78 x 99mm).
Weight: 19 oz (550 g.).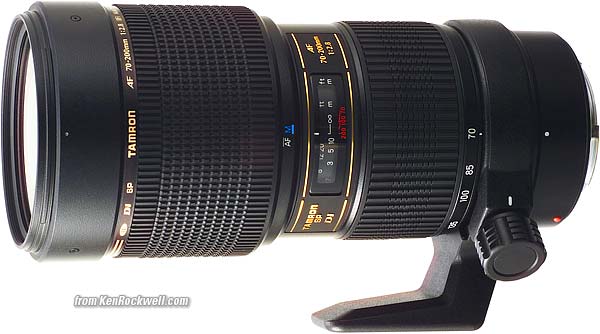 Tamron 70-200mm f/2.8
Tamron also announced a 70-200mm f/2.8 without stabilization. It focuses more closely than Canon and Nikon's fast tele zooms.
Specs (Nikon mount; comes in Nikon, Canon, Pentax and Sony):
Formats: digital and full-frame digital and film.
Optics: 18 elements in 13 groups.
Stabilization: NONE.
Filter Size: 77mm.
Diaphragm: 9 blades, stops down to a smaller than usual f/32.
Manual Focus: Manual focus requires pulling the focus ring towards you first; it's not instant as the similar Canon and Nikon lenses.
Close Focus: 37" (1m).
Maximum reproduction ratio: 1:3.1.
Size: 3.5" diameter by 7.7" long (90 x 195mm).
Weight (excluding tripod collar): 39.2 oz. (1,115 g).
I'm snotty about this, and when I want to save money, I always opt for a used camera brand lens over a new off-brand. I haven't tried these.
TOKINA back to top of PMA 2007
Tokina's newest lens remains the Tokina 10-17mm fisheye announced October 2006. They still can't get them as fast as people are ordering them, so there wasn't one I could borrow. I have a preliminary review at Tokina 10-17mm.
They also have a reasonably new 50-135mm f/2.8 for Nikon and 1.6x Canon DSLRs. Pentax brands the same lens as Pentax for their cameras, too.
WENGER (SWISS ARMY) back to top of PMA 2007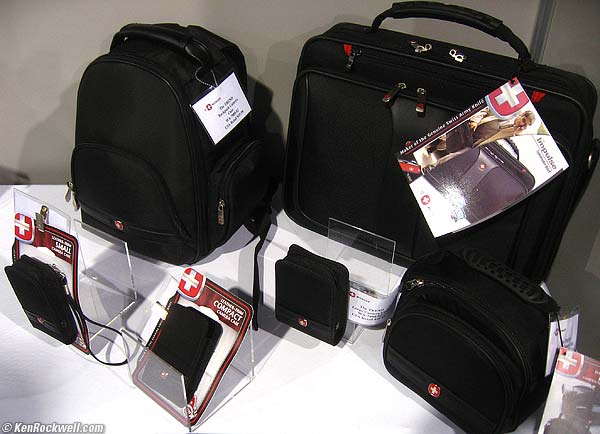 Swiss Army Camera Cases!
I'm told these are new. These come in sizes for tiny pocket cameras to small gadget bags. I love the Swiss Army products. Even though these cases don't come from Switzerland; they are well made.
Personally, my wallet and my travel bag I took to this show are the same brand.
ZEISS back to top of PMA 2007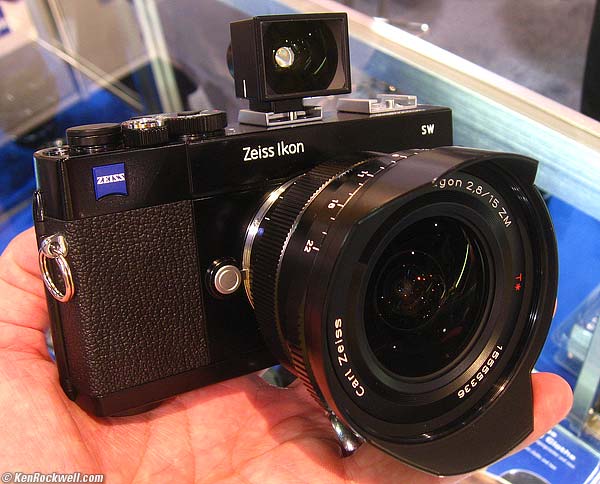 Zeiss SW Body and 15mm f/2.8 ZM lens
The handsome Zeiss rangefinder is shipping, as are a slew of ZM lenses for it. It's all made by Cosina in Japan. Unlike the Zeiss-for-Nikon 50mm f/1.4 I tried a year ago, all these lenses and bodies feel really nice, smooth and precise. They are enough to make me thaw out some of my 35mm Velvia 50!
Of course these bodies are film-only.
The bodies, finders and lenses are all interchangeable with Leica M-mount rangefinder system, thus the lenses can be used on the film and digital Leica M8.
This SW, super-wide, body, is a lower cost version of the regular Zeiss body without the viewfinder and rangefinder. It's for use with this 15mm lens (the only component of the system made in Germany along with the 85mm f/2) which is scale-focused and composed via the shoe-mounted finder. I can't recall seeing any bubble levels, which would be an un-German oversight for a wide camera or finder.
The bodies have a slick center-weighted TTL meter, and the SW has an ingeniously simple three-LED meter readout for auto and manual exposure. It's a traditional precise null display for manual exposure, and in auto mode it indicates the general range of the shutter speed selected.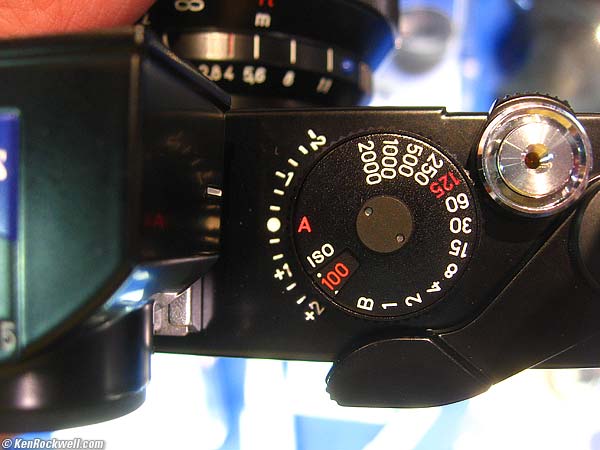 One-knob control of manual shutter speed, Auto mode and exposure compensation!
Unlike the Leica M8 Digital, which lacks the required knob for exposure compensation, this Zeiss film body has it and more. Just flick the knob with one finger to set any manual shutter speed or the Auto mode. If you spin the knob a little to put the A next to one of the + or - indications, you get A mode with exposure compensation. Brilliant!
I love the way these feel. Unlike the shutter knobs of mechanical cameras, these bodies are electronic so the knobs spin instantly and are safe to do so. On mechanical cameras, like my 1974 Minolta SR-T-102, spinning the shutter knob too fat could knock little strings and levers off-track.
I need to look into these in more depth. Unlike the Leicas, which for all I know still have hideously slow (1/50?) maximum shutter speed with flash (sync), these Zeiss have decent 1/125 speeds.
The ZM lenses for this rangefinder system are the 15mm /2.8 shown above, 18mm f/2.8, 21mm f/2.8, 25mm f/2.8, 28mm f/2.8, 35mm f/2, 50mm f/2 and 85mm f/2.
Zeiss' ZF manual-focus lenses for Nikon mount now include 25mm f/2.8, 35mm f/2, 50mm f/1.4, 50mm f/2 makro, 85mm f/1.4, and 100mm f/2 makro.
Zeiss also showed the ZV lenses, which are modern optical designs in old style chrome barrels for Hasselblad. They come in 50mm f/4, 120mm f/4 makro and 180mm f/4.
Zeiss makes everything including binoculars, scopes, lenses for spy and death star satellites, microscopes and wafer steppers. They showed the binoculars and scopes and left the rest home. Zeiss showed a magic new coating for its outdoor optics which repels water.
Zeiss showed the DC4 digital camera eyepiece. It's a dedicated digital camera for Zeiss scopes. It attaches in place of an eyepiece. and has a 2" screen and it's own eyepiece.
The DC-4 is aimed at birders who already own exotic scopes. It incorporates DxO software to improve the images.
IN AND AROUND LAS VEGAS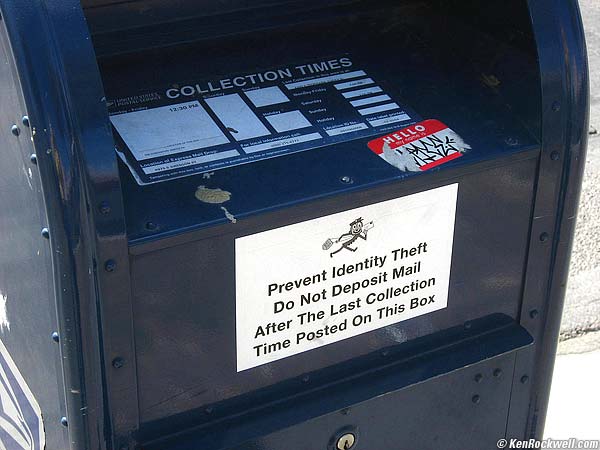 The US Postal Service has great confidence in the security of their mailboxes.
I like the Dr. Seuss-inspired Mr. Zip mailman, but am ashamed of the sloppy capitalization and punctuation.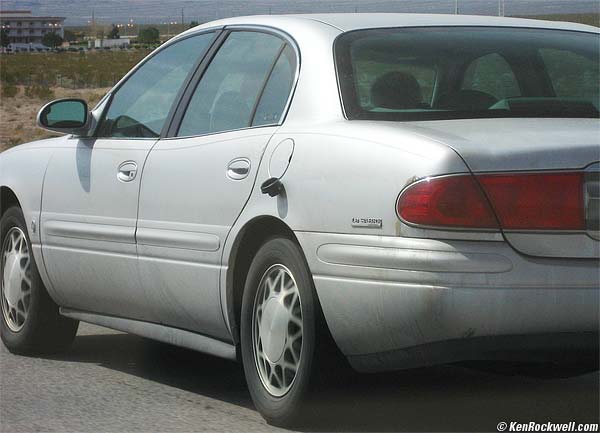 Typical American Drivers.
Note the flying gas cap; how do you do this and not notice? I saw this while it was moving!
EARLIER PREDICTIONS
I made these before the show started.
Don't ask your best friend the camera rep. He has no clue! The last people in the world who know what's coming are the reps. Camera companies deliberately keep secrets away from these guys because their job is to tell everyone. Don't ask him!
My local Nikon rep asked that I mention this, because his job was getting tough when I was predicting all the Nikon cameras before they came out, and everyone started asking him. Of course he knew nothing until it went public.
Apple
We're all waiting for the new OS. Steve says spring, so any day now.
I'm due for a new laptop. I'm hoping some new world-waking features of the new OS are support for the new NVRAM-based Apple laptops to be introduced at the same time.
These will use the same gigabytes of NVRAM (or EEPROM or whatever that Apple's been buying by the shipload to put in iPods) to store the OS and common applications. The new laptops will boot instantly, since the data's in the NVRAM and doesn't have to be spun off a hard drive.
Battery life will be much longer, since the HDD rarely needs to spin up, since the huge amount of NVRAM will be able to buffer the data for long periods, even if power dies unexpectedly. Unlike today's DRAM computers, there will be shadowing of all the active DRAM data in the NVRAM, so an unexpected power hit won't lose your projects.
Not that Apples crash, but now the once every year or two that one does, it won't matter: it will wake up exactly where you left it!
The new laptops will be much less than an inch thick and full-featured. They will use LED backlights instead of the current fluorescent tubes, letting the screen section of the laptop be only as thick as needed for mechanical support.
I'll be buying one as soon as:
Adobe
CS3 is needed because it runs natively on Intel-processor Macs.
We're waiting for CS3 to buy new Macs because the Intel Macs (all current models) aren't optimum for running CS2.
As soon as CS3 and the new OS ship, I and most solvent pros will buy the whole thing.
Canon
Canon has already announced the 1D-Mk III. It's a 10 FPS, 10 MP replacement for the 1D Mk II N. It's a 1.3x camera.
Canon's other SLRs are long overdue for replacement.
The 30D is ancient. It's the same as the 20D introduced two and a half years ago, just with with a bigger screen. The 30D still has an awful LCD: it's dim and off color.
I expect the 40D will come out at 10MP with a greatly improved LCD. Even the cheapest Nikon SLRs and Canon's point and shoots have much better LCDs than the 30D.
The 5D needs to go. As shown by the fat rebate I got on one in October, it's history. Canon will use a bigger piece of the 1D Mk III sensor and up the 7D's (or 5D Mk II) resolution to 4,992 x 3,328 pixels, or 16.6 MP, same as the 1Ds Mk II.
Since the 5D will be taking the 1Ds Mk II's banner spec, it also needs replacement. The 1Ds Mk II is over two years old! Hats off to Canon, unlike any other digital camera, they still get seven grand each for them. The 1Ds is long overdue for replacement, but since nothing is competitive to it except for Canon's own 5D, who's cared? With the 7D Canon will need to up the ante of the 1Ds Mk II to compete with the Nikon D3X.
Nikon
Confirmed New: Nikon D40X, A 10.2 MP update to the D40.
Predictions:
Nikon is much easier to predict. For decades Nikon introduces a flagship with a model number incremented by one from the previous flagship (F, F2, F3, F4, F5, F6, D1, D2...). It then introduces a near-pro version (FM, N90, F100, D100, D200) then the advanced amateur version (FA, N80, D80) then the version for my mom (EM, N55, D40).
Each new camera goes downmarket, and adds some new features. I've been watching this play out each month for the over 25 years that I've been shooting Nikon.
After Nikon makes the camera for my mom, incorporating all the new features of the flagship, they introduce the next new flagship with even crazier world-beating features. Some of these features have been motor-drive-incorporated-in-body (F4), autofocus (F4) and digital (D1).
They just offered the D80 this summer and D40 this fall. It's time for the next flagship, the D3, D3X and D3H.
Pixel densities are getting too high for the DX format. The D200 and D80 are limited more by lens performance than by their own resolution. The D2X is even tougher.
The D3X will be full format, or an idiotic, crippled 1.1x (only 90% of full frame). It has to be, unless all you want to see is noise, or start at ISO 25. (The D3H is for sports - it won't be full-frame.)
I've been predicting that Nikon will make us all buy DX lenses (I have) and wait for us to dump our film lenses (I still have mine), after which it will introduce a full-frame digital and make us buy all new lenses.
This is OK, because I love ultra wides and want to buy new ultra wides Nikon doesn't make yet, like the 15 - 35mm f/4 and 13mm f/2.8.
I'm hoping the D3X will be out for PMA and we don't have to wait for November 2007. Then again, Nikon always makes us wait. We waited for the D2X for years.
PLUG
If this saved you from having to forge credentials and travel to this show yourself, feel free to help me continue helping everyone.
Thanks for reading!
Ken
Caveat: The ads below come from a third party and I don't see or approve them. They are sent to your screen directly from a third party. They don't come from me or my site. See more at my Buying Advice page. Personally I get my goodies at Ritz, Amazon and Adorama.