PMA 2007 Report (continued)
© 2007 KenRockwell.com

I get my goodies at Ritz, Amazon and Adorama. It helps me publish this site when you get yours from those links, too.
MAMIYA back to top of PMA 2007
Nothing new.
The Mamiya 7 system, my favorite in-production film camera, and its lenses are still being made.
The ZD (medium format digital) still isn't here. I used a prototype of a ZD a year ago. It's potentially a 22 MP medium format digital SLR camera.
No one knows if the ZD will ever come out and save Mamiya, or if Mamiya will implode attempting to bring it to market. The Contax N barely came out at the same time Contax went down the drain.
That aside, even though the rumored Canon 1Ds Mk III will have the same resolution as the proposed ZD, the larger sensor of the ZD is likely to give better results than the 1Ds Mk III. Mamiya has a smaller range of lenses than does Canon, but every Mamiya lens I've used has been spectacular. We'll see.
MINOX back to top of PMA 2007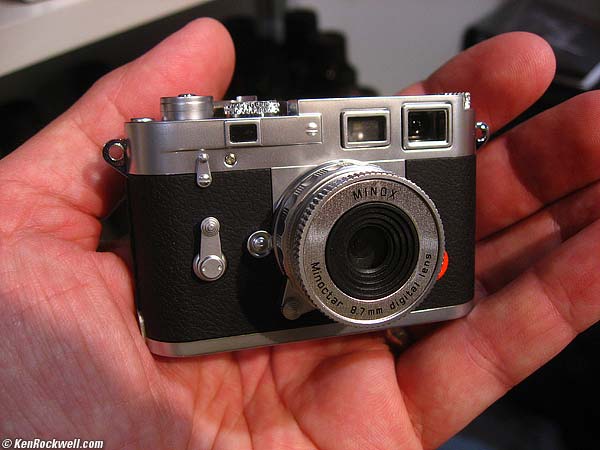 Minox DCC Digital LEICA M3: $249
Minox showed a bunch of binoculars and some toy digital cameras.
This one is a reduced-scale model of a Leica. It really works, too! Look out - the tripod socket is also miniature. It's made in the Orient. Another caution: it's really only 3MP. The 5MP mode is a fake digital zoom or interpolation.
NIKON back to top of PMA 2007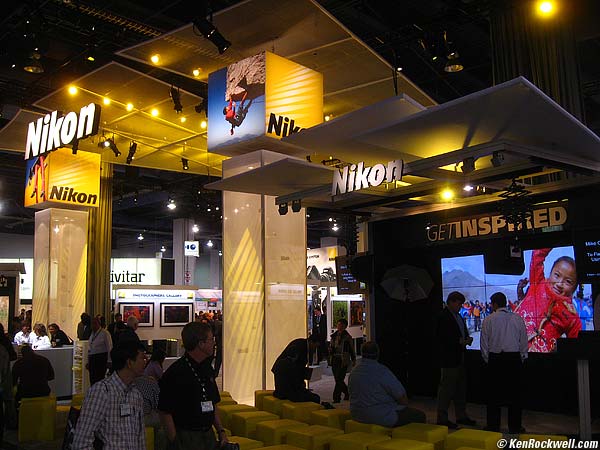 Nikon City.
DSLRs
The biggest news from Nikon was the lack of the D3X.
Nikon's best shot is the excellent 55-200mm VR and the who-cares D40x. Of course if you've been in a cave, Nikon's D40 was announced at the end of 2006 and is an excellent camera I own, highly recommend, and use daily for family photos.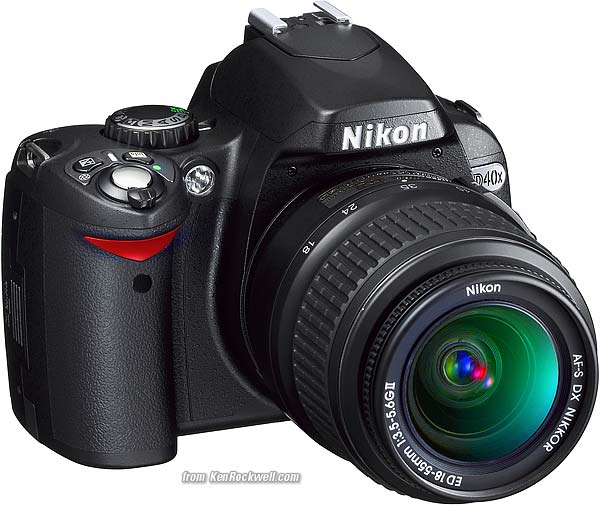 Nikon D40x and 18-55mm II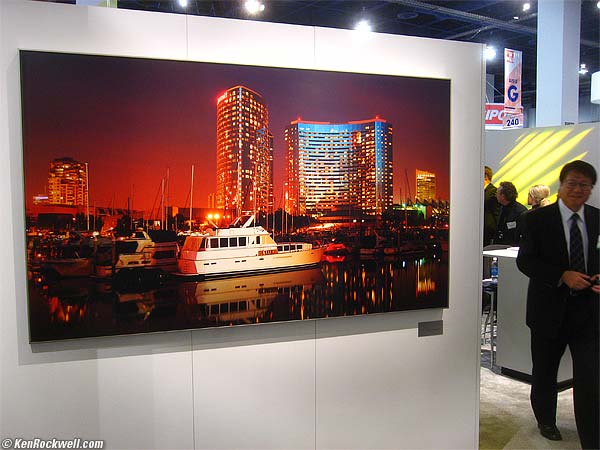 Mural prints from the D40x
The coolest thing new at the Nikon booth were the 8-foot-wide prints from the D40x, which of course were spectacular. Even more spectacular, they were made with the cheap kit lens I love so much. Usually these demo shots are made with lenses that cost several times what the body does, but the 18-55mm is so good they didn't need to.
Heck, these murals look so good that they look great even in photos of murals on the wall with people for scale! Now that's high-resolution!
Lenses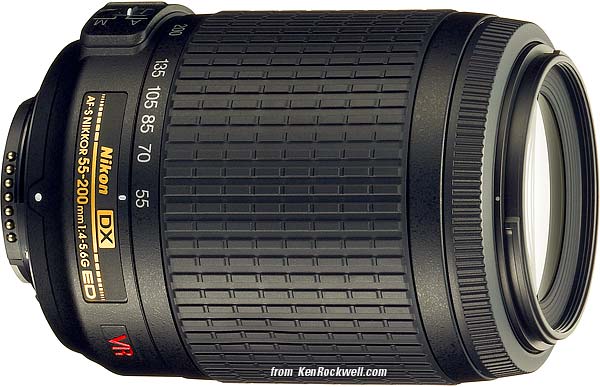 Nikon 55-200mm VR
See my review of the 55-200mm VR for details. This is a great little lens for very little money ($249) which I suggest for anyone who wants a tele and doesn't want to pay any more. I got to use a prototype: VR and AF works great, so I'd order one if you're interested.
This new 55-200mm VR, along with the kit 18-55mm II lens, does the same thing as the hard-to-get and expensive 18-200mm VR; I prefer the 18-200mm VR because I never have to change lenses which lets me get shots I'd otherwise miss and the 18-200mm offers instant manual focus override. The 55-200mm VR and 18-55mm II require moving a switch between auto and manual focus.
What's Old is New
Contrary to popular passion and Nikon's misunderstood announcement in 2006 that they were discontinuing film cameras and lenses, Nikon still makes the best film camera, the F6 and still sells the Cosina-made FM10 bodies, and weirdest of all, still makes a slew of manual focus AI-s lenses! Nikon used to make amateur AF 35mm SLRs, but discontinued them in favor of paying more attention to what we actually buy, which are DSLRs.
Want a pro film body? Grab an F6.
Want a made-like-they-used-to manual focus lens with the world's most precise and silky-smooth single-finger focusing? Nikon USA lists in their Spring 2007 catalog handed out at the show, along with the D40x and 55-200mm VR announced last week, the 24mm f/2 AI-s, 28mm f/2 AI-s, 35mm f/1.4 AI-s, 50mm f/1.2 AI-s, 45mm f/2.8P, 85mm f/1.4 AI-s, 135m f/2.8 AI-s, 500mm f/8 Reflex, 35-200mm f/3.5-4.5 AI-s and several teleconverters. These are all manual focus lenses that have been in their catalogs since the 1970s, or 1960s in case of the 35mm f/1.4.
Nikon's lens brochure from October 2006 handed out at the show lists a different set of manual focus lenses than the March 2007 "Digiguide" which includes those above, but in any case, it's impressive to me that Nikon is still making these ancient lenses. In case you forgot, 135mm f/2.8 lenses were the lenses bought by amateurs in the 1970s before zooms became popular.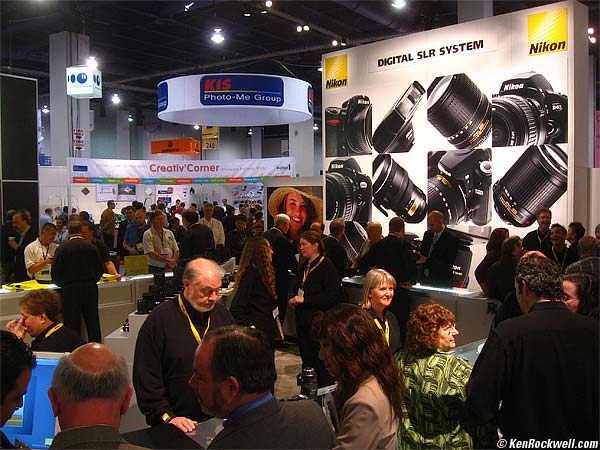 My favorite part of Nikon City: the lens tables.
Compacts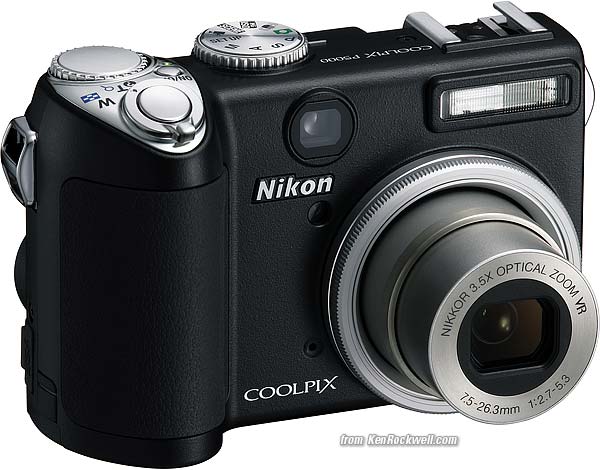 The $359 P5000 is Nikon's top compact, with a magnesium alloy case, 10MP, a 3.5x zoom, Vibration Reduction and a 2.5" LCD and even a noisy ISO 3,200 setting. It has 21MB of free internal memory, so even without a card you can make a few snaps.
The P5000's neatest claim to fame is a rear control layout similar to the excellent D40 SLR. It's also a bargain; a few years ago Nikon's best cameras used to cost real money.
Nikon P5000 with TC-E3ED Converter
Of course the P5000 has a slew of available accessories. I can't fathom why anyone would want these converters instead of a DSLR like the D40 and a 55-200mm VR, but I think it's great that Nikon (and Canon and Olympus and others) offer all this crazy stuff for people who want it.
Scanners
Nikon offers the Coolscan V, Coolscan 5000 and Coolscan 9000, as they did last year.
OLYMPUS back to top of PMA 2007
DSLRs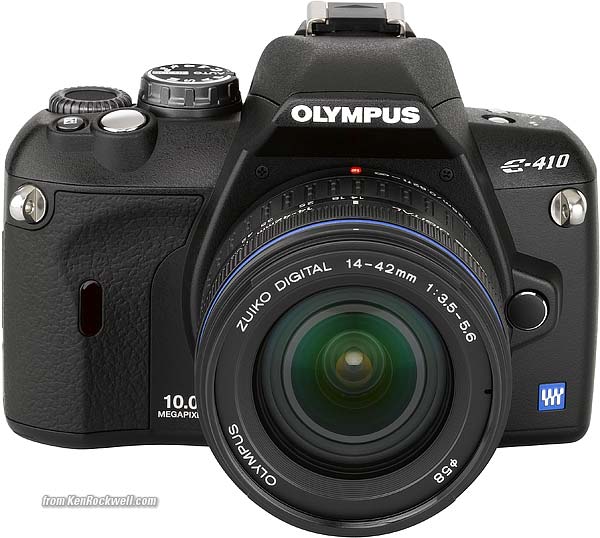 Olympus E-410
Olympus announced two totally new DSLRs: the E-510 and E410 4/3 DSLRs.
They both have 10 MP (3,648 x 2,736), live preview, 3 AF points, dust-shaking CCDs and 2.5" LCDs.
The E-410 has no image stabilization and costs $799 as shown. It also comes as a body only for $699 and a kit with the above lens and a tele zoom for $899. it arrives in May 2007.
Olympus lies, as many camera makers do, and says the E-410 has "digital stabilization." All that means is ISO boost. The E-410 has no stabilization while the others have real stabilization.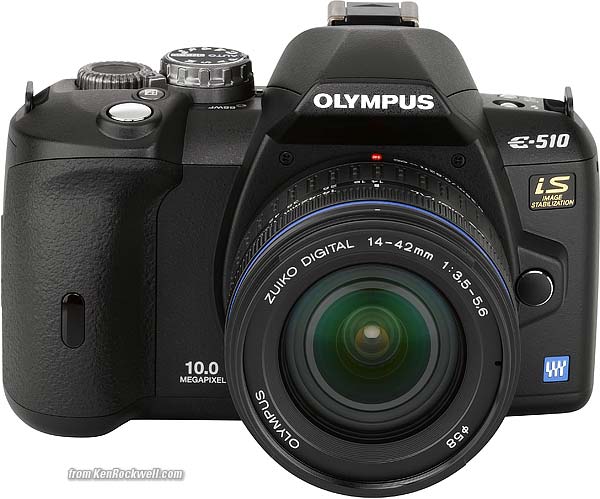 Olympus E-510
The E-510 adds real image stabilization via a moving CCD and a grip by the shutter button. It arrives in June 2007: $899 as shown, $999 as shown and adding a tele zoom, or $799, body only.
Two existing lenses that flew under my radar are an 8mm f/3.5 full frame fisheye ($700) and a 35-100mm f/2.0 zoom ($2,500). At f/2.0 it's twice as fast as any other zoom for still cameras and gives angles of view similar to what a 70-200mm lens does on a 35mm film camera.
The existing Olympus 7-14mm zoom ($1,500) is the widest camera-brand zoom in existence, giving angles of view similar to what a 14-28mm lens does on a 35mm film camera.
PANASONIC back to top of PMA 2007
Leica D Summilux 25mm f/1.4 for 4/3 system. It gives an angle of view similar to what a 50mm lens does on a 35mm film camera. It's got 10 elements in 9 groups. It's got four elements of magic glass (ED or Super ED) and one aspheric. It focuses to 15" (38cm).
Panasonic's digital cameras all have stabilization and nice lenses. I've never shot with them.
Their hot model is the DMC-TZ3, with a 10x zoom, starting at what would be similar to a 28mm lens on a 35mm film camera. The DMC-FX30 starts as wide, with a 3.6x zoom.
I skip compacts too big to fit in my pocket, like the DMC-FZ50. I prefer a real DSLR like the Nikon D40 if it has to sling around my neck.
PENTAX back to top of PMA 2007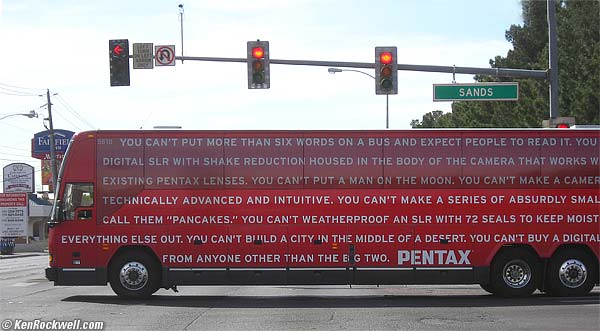 Bus-wrapping was a common PR trick by the majors. Note privacy camera atop signal pole.
Competitive Philosophy
Pentax' ads were cute, but very sad. Pentax has been one of the driving forces in Japanese photo gear for many decades. Want to know what light meter Ansel Adams used? He used the Pentax spotmeters.
It's sad that Pentax has to grovel to Canon and Nikon like this. Neither Canon nor Nikon ever made anything used by serious photographers, like Ansel's light meters or the extraordinary Pentax 67 medium-format SLR system which still creates images far better technically than anything from Nikon or Canon. Canon and Nikon have only made piddly 35mm cameras or digital SLRs used by amateurs and newsguys, not large format gear for serious artists (Nikon does make view camera lenses.)
Pentax shouldn't have to supplicate itself to Canon and Nikon.
DSLR Bodies
The K10D is $999 with lens ($899 body only) and is 10 MP with real IS-VR in the body. It works with just about every Pentax lens ever made, however since SLRs are all about the lens line to me, I prefer Nikon and Canon since I actually buy and use a lot of weird lenses that don't happen in Pentax or Sony. Most people buying these cameras couldn't care less about availability of $10,000 400mm f/2.8 AF lenses.
A pilot friend pointed out that with Pentax he could use fast manual-focus primes with body-stabilization for aerial shots in dim light, which is something that can't be done with Canon or Nikon. Canon and Nikon's faster IS or VR lenses are f/2.8 tele zooms, and with Pentax you could pop on a 50mm f/1.4. Interesting.
I want to try the K10D; everyone who has one loves it.
Lenses
Pentax 16-50mm f/2.8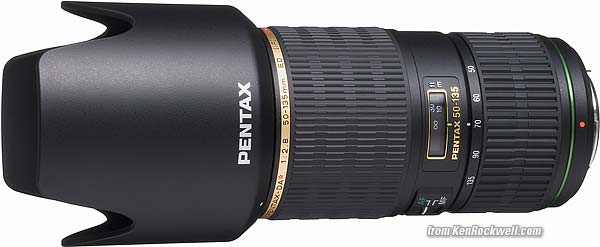 Pentax 50-135mm f/2.8
Pentax announced two new lenses: a 16-50mm f/2.8 and a 50-135mm f/2.8, both sourced from Tokina, if I remember that correctly. That's sad: manufacturing companies usually die when they try to become distributors of rebranded products.
These felt plasticy; the Tokina versions felt more solid, but Tokina versions may not be available in Pentax mount.
PLUG
If this saved you from having to forge credentials and travel to this show yourself, feel free to help me continue helping everyone.
Thanks for reading!
Ken
Caveat: The ads below come from a third party and I don't see or approve them. They are sent to your screen directly from a third party. They don't come from me or my site. See more at my Buying Advice page. Personally I get my goodies at Ritz, Amazon and Adorama.