PMA 2007 Report (continued)
© 2007 KenRockwell.com

I get my goodies at Ritz, Amazon and Adorama. It helps me publish this site when you get yours from those links, too.
DxO released v4.2 of Optics Pro, an upgrade to the software I use for fixing lens and lighting problems. It's the best I've used for fixing dark shadows, distortion, vignetting, color fringes and a whole lot more.
See my review of v4.1 here.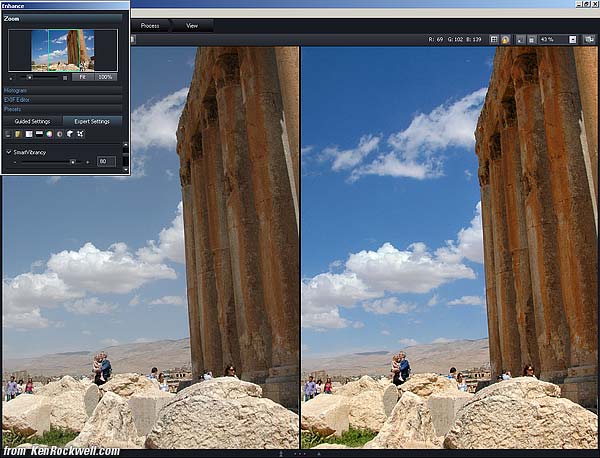 DxO Smart Vibrancy
v4.2 adds SmartVibrancy, which lets you jack up the colors without them looking jacked. I'm looking forward to trying this out!
v4.2 is a free upgrade from v4.0 and above.
DxO is still a bargain. It does what several other programs are needed to do, all as one product. You'd need to buy Nikon Capture for fixing chromatic issues, buy something else to eliminate distortion, buy Noise Ninja for noise, Lightroom for some color fixing, etc etc.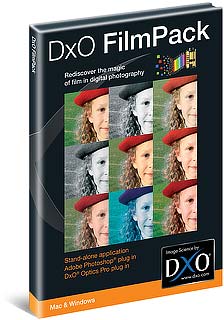 DxO Film Pack
DxO also announced a stand-alone version 1.1 of Film Pack. This is software which tweaks images from specific digital cameras to match images shot on certain kinds of film. They aren't kidding: they measured all these in a lab and the software performs exact transformations based on your exact camera model. I've tried it before and not liked the results because I already tweak my images with in-camera settings to get the look I want. Try this out if it sounds interesting; DxO knows what they are doing.
EPSON back to top of PMA 2007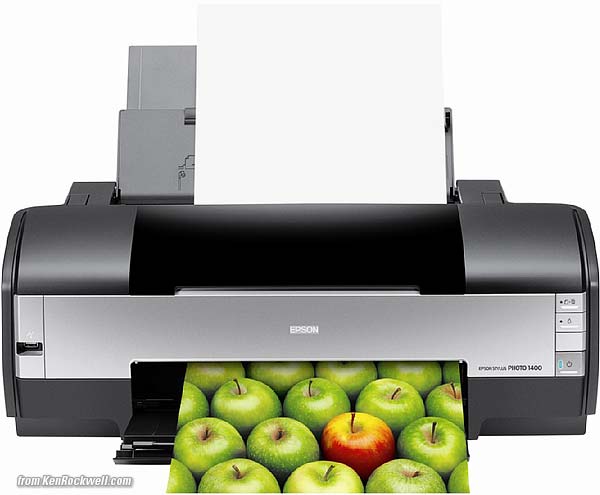 Epson Stylus Photo 1400
A new Stylus Photo 1400 printer replaces the 6 year old 1280. If I still used inkjets for printing photos, this is the printer I'd buy. It prints up to 13" wide, and most people use paper up to 13 x 19" in it.
The new 1400 is the same price, $399, and is faster and more water resistant than the 1280. It uses better real dye inks (Claria) which I prefer, not the troublesome pigment inks. I already had to throw away one Durabright ink printer, while my old model 1200 from 1999 always worked perfectly, even if left idle for a year.
The 1400 uses individual color ink cartridges, which probably cost more than the previous single multicolor cartridge. Individual cartridges sound like a great idea, until you realize that the colors are still sold together as complete sets!
Unless you're printing on-site at an event, all these inkjet printers went obsolete years ago since you can get better prints faster by printing at Costco or any other discount lab as I do. Labs use $250,000 Agfa, Noritsu or Fuji printers with real photosensitive chemical-processed print papers. Epson specs the 1400 as still needing almost two minutes to cough out a single 8x10" print or three minutes for an 11 x 14."
I've never liked the other Epson pigment printers everyone else loves. I demand glossy prints, while the pigment ink printers have dull blacks that look weird due to their differential gloss defects. The demo prints from this 1400 looked almost as good as what I get from Costco. They were almost as glossy, although I need to check this, since I didn't check the two next to each other.
A critical thing to know is that the software of the 1400 defaults to an auto-correct mode, expecting most users of the 1400 to be people not particularly skilled as photographers. It automatically fixes dark images and way-off colors. If you're advanced enough to be reading this, no problem, just be sure to uncheck the automatic corrections in the Epson Printer options in the software you'll install on your computer. Epson's more expensive printers (the ones with the pigment inks I hate) don't default to the auto correct mode as the 1400 does.
The 1400 also prints CDs and includes Adobe Photoshop Elements.
The V700 and V750 scanners introduced last year remain, as does the excellent and even less expensive 4990 scanner which sits on my own desk.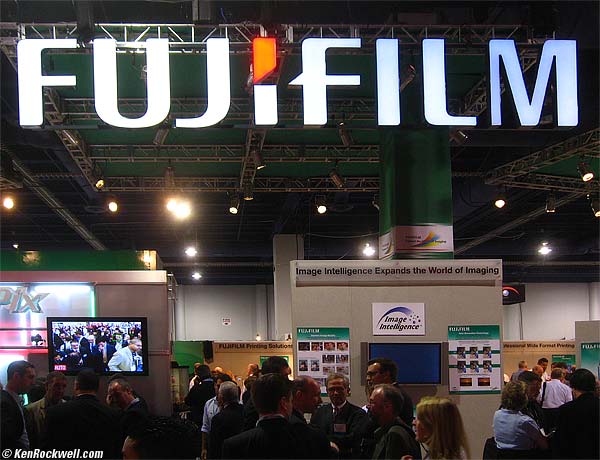 DSLRs
The S-5 Pro is just starting to ship here in the USA. A friend got one today, March 13th. Readers in the UK and Japan have had it available for a few weeks.
Many thanks to you folks who let me know it was available; since I've been seeing this shown as "coming soon" for over a year I had stopped looking.
The S5 is a Nikon D200 with a super-duper 12.3 MP Fuji sensor and an MSRP of $1,999. If it retains the D200's excellent usability (actually the best camera I've used) and can improve on image quality, I'm all for it. We'll see as soon as I can borrow one.
My friend absolutely LOVES his! He was ecstatic over how great it looked, even at ISO 3,200. I ordered one myself from Adorama here; I'll let you know my thoughts when it arrives. It's on slight backorder; Adorama's been shipping them out as fast as they get them in.
Film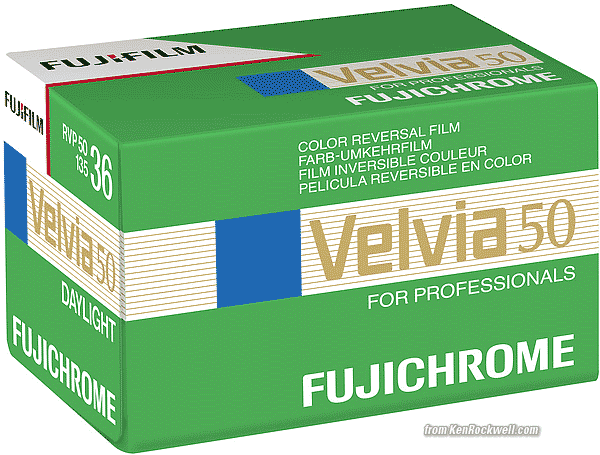 New Fuji Velvia 50
Fuji Velvia 50 returns, a little later this spring. WHOO HOO!
What made the first Velvia 50 special is that it takes warm colors and make them warmer, while leaving other colors untouched. Fuji's engineers "fixed" this in Velvia 100 and Velvia 100F, which made yellows too blue for me.
I hope Fuji has restored this wonderful defect of the original Velvia 50 in the new Velvia 50. This technical defect is an artistic landmark for landscapes. It improves and enhances the warmth of sunlight at dawn and dusk while leaving blue skies cool. This is an effect that cannot be simulated with a colored filter or white balance adjustment, since the effect only effects the warm colors. The only way to simulate it is to select the warm colors in Photoshop and add red.
Fuji also showed ISO 1,000 disposable cameras.
Processing
Fuji is the Goliath of printing and processing. My work is usually printed at Costco on their Fuji printer on Fuji paper, which looks much better than the dreary dull prints my pals spit out of their Epsons.
I didn't cover these machines. These machines cost $250,000 and are leased by photo labs and stores.
HORSEMAN back to top of PMA 2007
These were hidden at the back of the Rollei booth, and no one seemed to know much about them.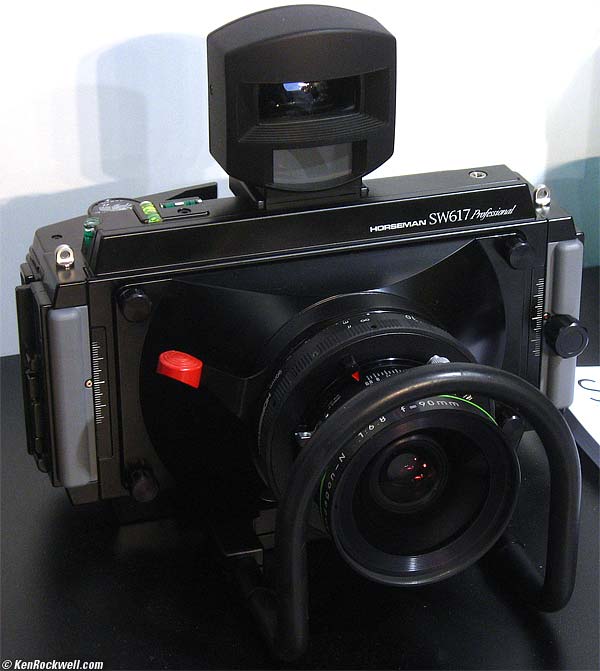 The SW617 is a 6x17cm version of the 6x12cm SW612 P I own.
It's a 120 format panoramic camera, with vertical and horizontal shifts. It has interchangeable lenses and backs. You can get them here.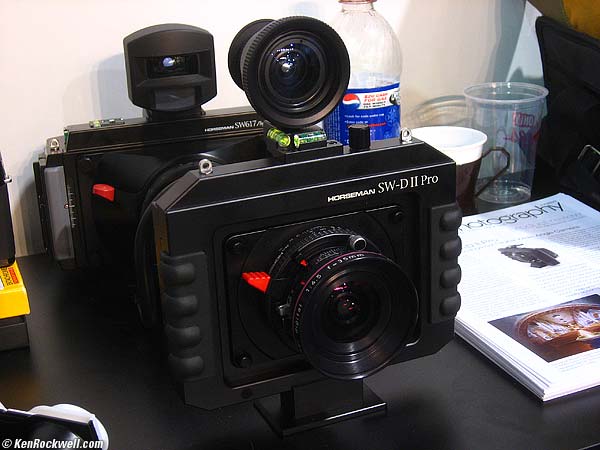 The SW-D II Pro is a digital version of my Horseman SW-612 Pro. You slap a digital pro back on this and can use ultra-wide view camera lenses as short as 24mm with horizontal and vertical shifts. The lenses are in helical mounts. You can use Hasselblad V, H or Mamiya 645 digital backs.
Maximum rise and fall are 17mm in either direction (only 10mm with a 24mm lens). Sideward shift is 15mm in either direction. By combining shift with several exposures, stitched images up to 48 x 66mm or 36 x 78mm are possible, depending on image sensor orientation.
Suggested retail for the camera frame is $2,799.
The APO-DIGITAR 24mm f/5.6 is is $3,899.
The APO-SIRONAR-DIGITAL 35mm f/4.5 is $2,499.
The APO-SIRONAR-DIGITAL 45mm f/4.5 and 55mm f/4.5 are $2,599 each.
You can get them here.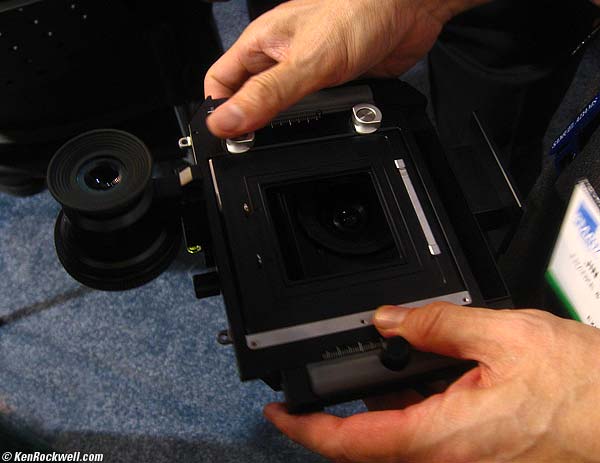 Shifting the Horseman SW-D II Pro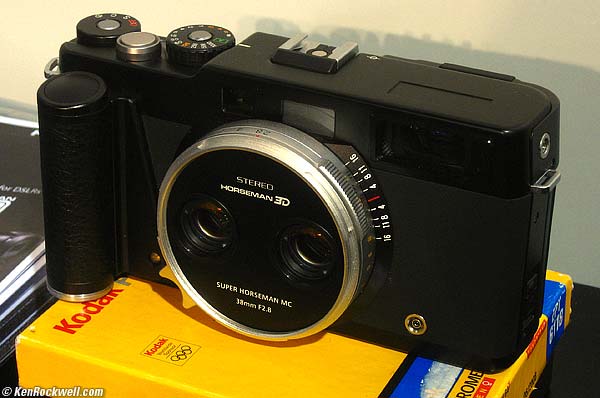 Horseman 3D Camera
Just like last year, this 35mm 3D camera was there. It had a few viewers loaded with 3D examples.
You can get it here for just under $5,000, a bargain in anyone's book.
The Horseman LD is a view camera designed to take DSLRs as backs. You can see all the parts of the system here. Unlike the other Horseman cameras above, view cameras are fairly universal.
I Jet back to top of PMA 2007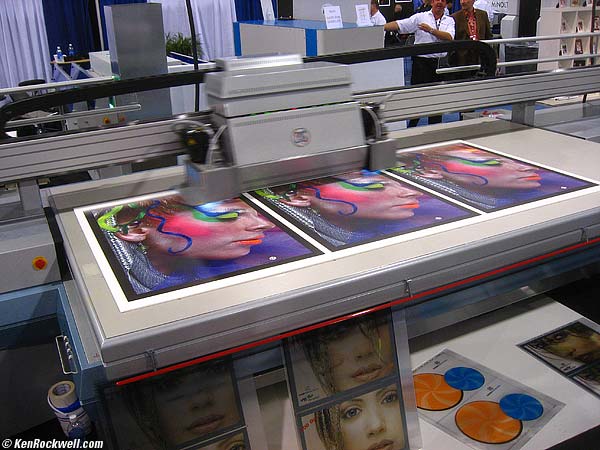 Giant 20-foot wide printer (click to see it in action)
This was a giant printer with a huge print head zipping back and forth along a 20-foot track. You needed to watch yourself: there weren't any guard rails around it.
It prints on whatever you put underneath it.
I saw no press kit from these guys, so I didn't get their name. Tough - this is a free website so you get what you pay for. I think it said I Jet or Gandolphi Graphics or something. THey were way back in the hall where Océ was a few years ago.
IMAGE TRENDS (née ASF) back to top of PMA 2007
Photoshop dust filters for removing sensor dust, as well as dust from film or print scans.
See their website for examples and to download them. They only work on PC today.
See also my page on their recent Fisheye Hemi converter software.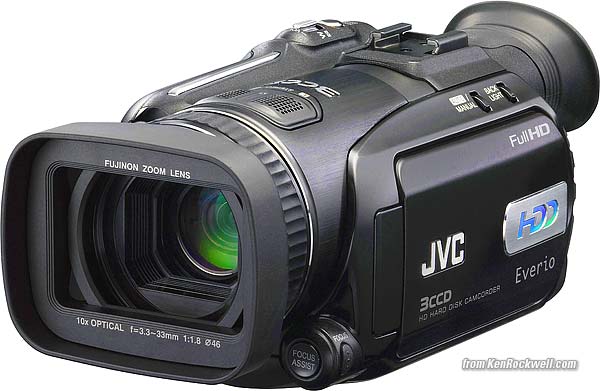 JVC GZ-HD7
JVC introduced what they claim as the world's first full 1,920 x 1,080i HD camcorder, the GZ-HD7. It has a 10x Fujinon lens and three CCDs. It has a 60 GB hard drive for 5 hours of recording at the highest quality. You can set it down for longer recording. It has USB, FireWire (iLink) and HDMI outputs.
Sorry about talking about video gear, but back when I had a real job I spent decades in the design of High Definition TV equipment, so I'm tickled when I see it hitting the price levels I could imagine affording. Holy crap; MSRP is only $1,799! (that's practically free for HD gear). There is also a "ShareStation" for $399 which archives the files to DVDs.
I know Sony has had the professional HDCam format for years, but with somewhat truncated resolution. I haven't kept track of what we use in Hollywood these past few years, I suspect JVC's claim may include "...for under $10,000 in the consumer space" for "first." I've been around HDTV gear since the 1980s.
KINGSTON back to top of PMA 2007
8 GB SDHC cards.
It's fun to see how memory makers have managed to avoid competing with each other. Lexar quotes speeds as Xs, Kingston uses classes and SanDisk used MB/s.
LEICA back to top of PMA 2007
Lenses
Leica has a three-position lens, the Leica Tri-Elmar 16-18-21mm f/4 aspherical for their rangefinder cameras.
Cameras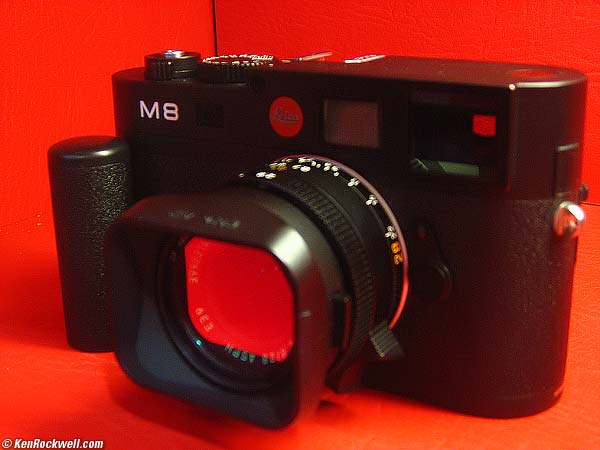 IR-cut (infra-red) filter on the lens on an M8. Note how it reflects red at this angle; it looks reasonably clear straight-on but cyan at an angle.
Leica introduced a work-around for the defective design of the M8 digital, which forgot to include the mandatory IR-cut and anti-alias filters in front of the sensor.
The hilarious part is that they expect you to put these filters on the front of each of the lenses you plan to use!
These filters are the IR-reflecting filters that Leica should have placed in front of the sensor as every other digital camera does. This is because all sensors are much more sensitive to IR than our eyes, in fact, most sensors are more sensitive to IR than they are to visible light! Forgetting this filter leads to awful color rendition which can't be completely fixed later.
Leica is giving two of these filters free to each owner; extras will cost you.
These filters change color at different angles; I'm unsure if the cameras can correct for this in the corners of the resultant images. This may be part of the new firmware they expect you to install.
This is sad; Japanese cameras and German film cameras just run and they've never had defects like this out of the box - firmware updates have been to add clever features, not to fix basic operation and design. Worse, older lenses won't work with this new firmware and will have to be updated, if possible, for $125 each!
Leica still hasn't addressed the lack of anti-alias filter.
LEXAR back to top of PMA 2007
300x cards to compete with SanDisk's Extreme IV.
These fast cards aren't for fast shooting, any card allows that.
These are for fast downloading. With these cards, everything flies out of the card and onto your computer without having to wait for downloads.
4GB SDHC cards
PLUG
If this saved you from having to forge credentials and travel to this show yourself, feel free to help me continue helping everyone.
Thanks for reading!
Ken
Caveat: The all the ads below come from third parties. I don't see them before they appear on your screen. See more at my Buying Advice page. Personally I get my goodies at Ritz, Amazon and Adorama.