Kensington K33118A 7-Port USB-2 hub
© 2005 KenRockwell.com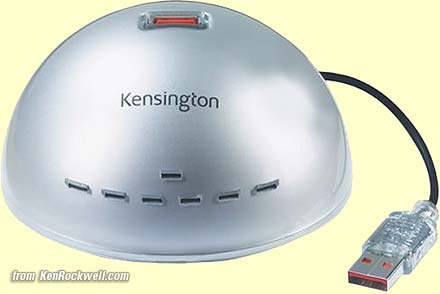 I got mine here
INTRODUCTION
This is a USB-2 hub that lets me plug everything on my desk into my little laptop computer with one plug. It cost me $40 in May, 2005. Prices drop so fast it was already down to $38 a few days later when mine arrived. I got mine at Amazon which was the lowest price with the best service. Amazon's price includes shipping, which makes it a lot less expensive than anywhere else.
I plug my Epson 1640 scanner, Epson C84 printer, Macally keyboard, Casio EX-Z750 camera cradle/reader, Memorex CF card reader and mouse into it all at the same time, and it still has an open USB port!
I had bought an IO Gear GUH284R with a built in flash card reader, but it was dead out of the box. It even smelled bad. I sent it back and got this excellent one instead. Amazon is great: I just clicked that I had a defective item and I was able to print a pre-paid (by Amazon) return label to slap on the box and drop in a mailbox. Bravo, Amazon!
This Kensington is made in Taiwan, not China, which by today's standards is almost as good as Switzerland.
FREE LIGHT!
As if this wasn't all good enough by itself, Kensington throws in a free little flexible gooseneck light that plugs into your laptop's USB port. It's powered by your laptop, no batteries required. You use it to light your keyboard or workspace at night.
SPECIFICATIONS
Seven ports total: six ports on the back and one on top.
USB-2. Works great with USB 1.1, too.
Seven status lights.
Handy thin, flexible permanently attached cord with USB plug to connect to your computer.
Also includes a USB extension cord to use this on your desk with a floor mounted computer.
2 - 1/8" tall by 3 - 7/8" diameter.
AC power supply runs from 100 - 240V, 47 - 63 Hz, automatic switching for use anywhere. It works without the power supply, however if you plug in a couple of USB devices that use power then you'll run out of power from just your laptop. The AC power supply lets you use full power from all of the ports.
Free unrelated "Flylight" USB gooseneck light for working at night, cute!
PERFORMANCE
This Kensington model is a gem. I can load my photos just as fast through this hub as I can with the card reader plugged directly into my computer. This hub has no built in card reader; I'm plugging other readers into it.
It has seven status lights. They seem to indicate power draw more than data transfer. Even at maximum data rate they don't blink very brightly. My optical mouse draws constant power and keeps the light on. Heck, I can plug in two optical mice and they both work at the same time!
It works great: everything connected to it just works. That's all it's supposed to do, which is more than I can say for other units.
The flylight tends to be a spot beam. I widened the beam to light up my whole keyboard with two pieces of Scotch Magic tape.
RECOMENDATION
Buy one if you've run out of USB ports and are tired of swapping them out every time you use a different peripheral; I did.