Home Donate New Search Gallery Reviews How-To Books Links Workshops About Contact
How to Win at eBay:
Warranties
© KenRockwell.com. All rights reserved.

Use this link to get to eBay whenever you buy and it helps me write more like this, thanks! Ken.
top of How to Win at eBay Index of detail pages
Bogus "Square Trade" Warranties
Ignore sales pitches for warranties.
I often get repeated pitches from Square Trade offering coverage, along with loads of claimed testimonials from happy customers.
I decided to read the fine print, since for about $10 they offered several years of coverage for a used Nikon FA I had bought, and I know FAs occasionally need service. I'd pay their $10 for a few years of insurance. The FA hasn't been made for over 20 years.
It would have been trivial to click the links and buy the coverage, and I almost did.
Then I read the fine print.
Square Trade explicitly denies any coverage for anything more than a few years old!
Square Trade would cheerfully have taken my money, and God help me if I ever needed to make a claim!
One of you consumer lawyers out there needs to do something to stop them from so aggressively and repeatedly offering coverage on items which clearly would have no coverage.
Google them if you're curious.
In September 2013, I saw this again. I bought a 30-year old preamplifier, and got this pitch via eMail: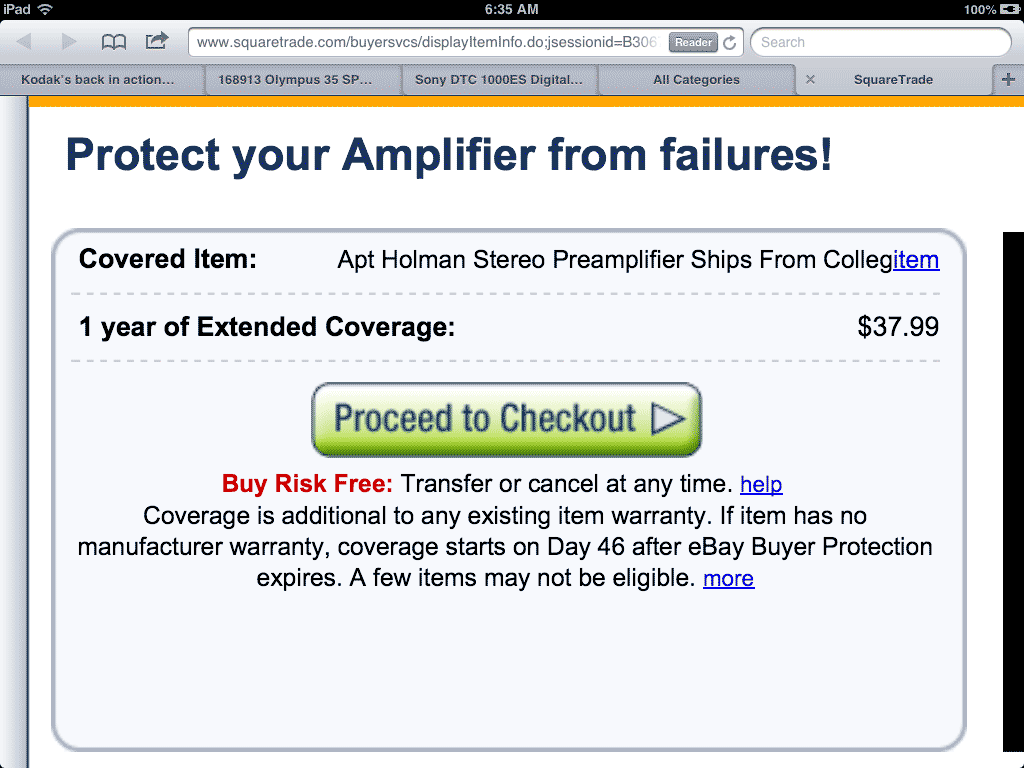 The Pitch. bigger.
When I click Proceed to Checkout > , I get to: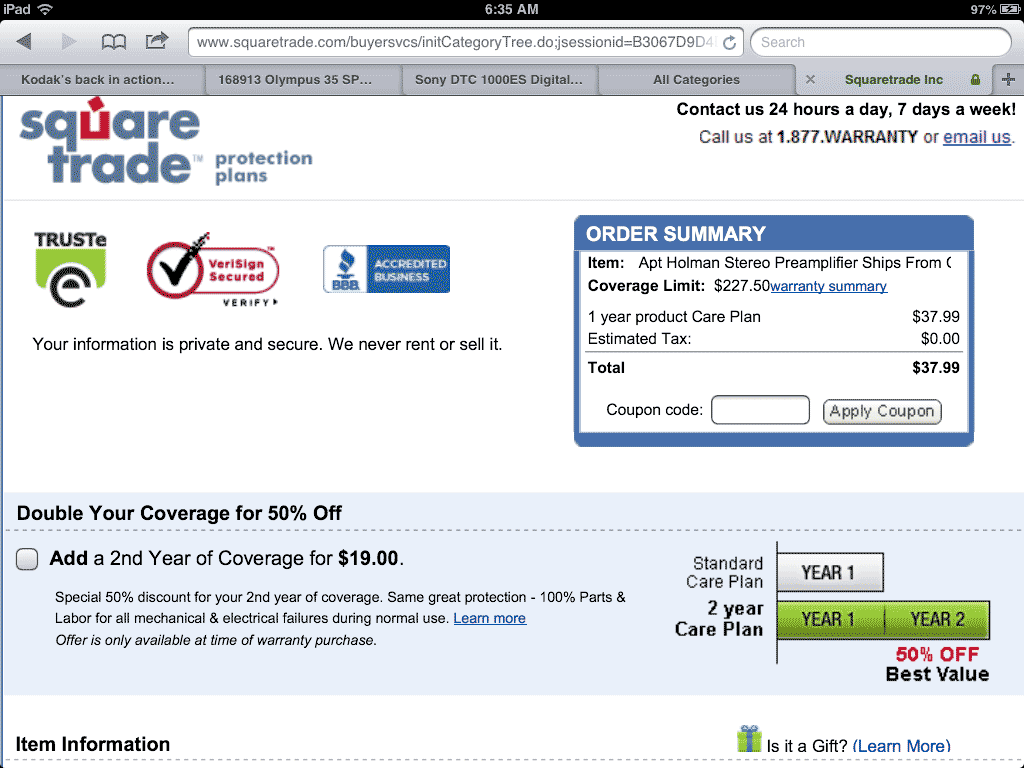 The Upsell. bigger.
From this page I can check-out, and they also try to upsell me on even more coverage since I'd bitten on this so far.
Hopefully you won't fall for this, because only if you click the "more" link after "a few items may not be eligible" well below the Proceed to Checkout > button, you'll see that I'd have been scammed and gotten no coverage, even if I had paid for it: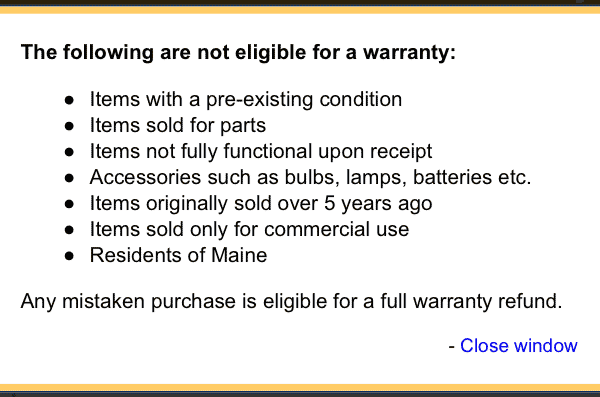 The fine print: you're not covered for anything that was new more than 5 years ago.
New Gear: Manufacturers' Warranties
If you're buying what you think is new gear in the box, but if it's not sold by an officially authorized dealer, legally it's a used product, and not covered by the manufacturer's warranty.
This is another reason to buy new gear only from real, authorized dealers, and not strangers over eBay.
eBay is for used gear. I never use it for getting new gear.
Sure, you might get the manufacturer to cover you, but like everything else over eBay, you're gambling.
What if it shows up, and it's not what you expected?
Next: Legal Obligations
back to top of How to Win at eBay.
Help me help you top
I support my growing family through this website, as crazy as it might seem.
The biggest help is when you use any of these links when you get anything, regardless of the country in which you live. It costs you nothing, and is this site's, and thus my family's, biggest source of support. These places have the best prices and service, which is why I've used them since before this website existed. I recommend them all personally.
If you find this page as helpful as a book you might have had to buy or a workshop you may have had to take, feel free to help me continue helping everyone.
If you've gotten your gear through one of my links or helped otherwise, you're family. It's great people like you who allow me to keep adding to this site full-time. Thanks!
If you haven't helped yet, please do, and consider helping me with a gift of $5.00.
As this page is copyrighted and formally registered, it is unlawful to make copies, especially in the form of printouts for personal use. If you wish to make a printout for personal use, you are granted one-time permission only if you PayPal me $5.00 per printout or part thereof. Thank you!
Thanks for reading!
Mr. & Mrs. Ken Rockwell, Ryan and Katie.
Home Donate New Search Gallery Reviews How-To Books Links Workshops About Contact