Home Donate New Search Gallery Reviews How-To Books Links Workshops About Contact
DxO ONE
Tiny & Tough 20MP iPhone Camera
Sample Images Intro Specs Performance
Compared Usage Recommendations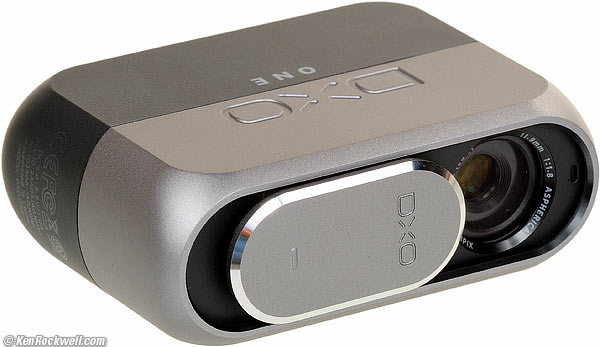 DxO ONE (fixed 11.9 mm f/1.8 lens, 2.7x crop-factor 8.8 x 13.2mm sensor, 3.9 oz./111g, 0.7'/0.2m close focus, about $599). enlarge. I'd get it at Adorama, at Amazon or at B&H.
This ad-free website's biggest source of support is when you use those or any of these links to approved sources when you get anything, regardless of the country in which you live. Buy only from the approved sources I use myself for the best prices, service, return policies and selection. Thanks for helping me help you! Ken.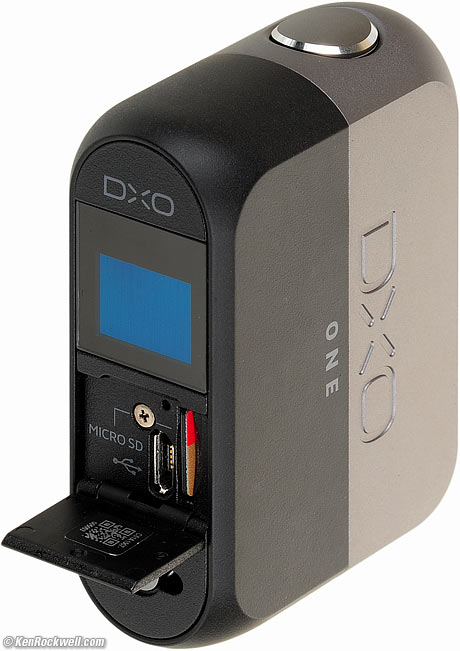 Rear, DxO ONE. enlarge.
September 2015 DxO Apple Nikon Canon LEICA Fuji All Reviews
Why Fixed-Lens Cameras Take Better Pictures.
Sample Image Files (more at Compared) top
Sample Images Intro Specs Performance
Compared Usage Recommendations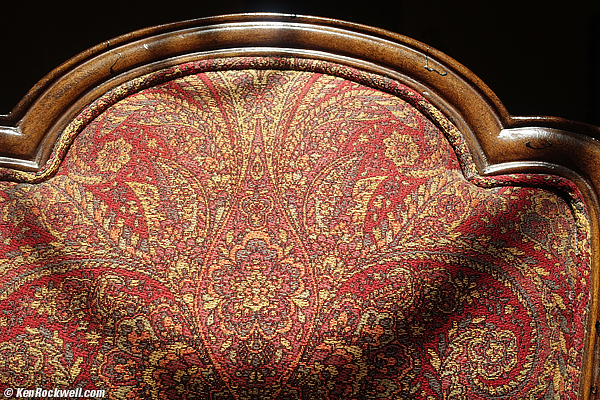 Fabric. DxO ONE as-shot JPG, f/2.8 at 1/500 at Auto ISO 100. Full resolution.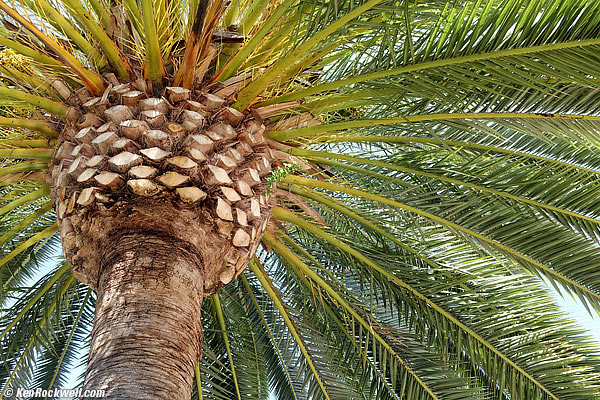 Palm, 02 September 2015. DxO ONE as-shot JPG, f/2.8 at 1/400 at Auto ISO 100. Full resolution.
Introduction top
Sample Images Intro Specs Performance
Compared Usage Recommendations
The DxO ONE is a tough little self-contained camera that shoots DNG raw files as well as JPGs.
It's designed to be plugged into an iPhone, or any iOS device with a lightning connector running iOS 8 or newer — and it works all by itself; no phone needed for shooting. It's about the size of a squashed golf ball or a section cut from a baseball, and it's about as tough.
It's best as a DNG/raw shooter. It's not so great for making JPGs compared to an iPhone 6 Plus, but it shoots 43MB DNG files and is a lot tougher than a Sony RX100 III, with which it shares the same sensor.
It will not connect to your iPhone if you use a protective case as I do; its connector is too short. I use an Incipio DualPro case; if you want to use this camera with your iPhone you need to use a thin case like Apple's that offer less protection and leave the bottom open. No big deal; I prefer to shoot this little camera without a phone for simplicity's sake.
The camera nugget has no finder and doesn't need one. With its fixed lens any photographer worthy of an instrument of this calibre already knows what's in the picture; this is one of the reasons fixed-lens cameras like this take better pictures.
The ONE does have a small B&W OLED data display with a great battery gauge. It lets you know its basics when you're shooting without a phone connected.
The DxO ONE is for people who shoot raw (called DNG files in the ONE) and want to fiddle with their pictures later in software. If you need great JPG results in-camera, the iPhone 6 Plus' own internal camera consistently makes better pictures than the DxO ONE.
The DNG files open in Photoshop CS6, so they should open in any software without needing any updates.
Images from the DxO ONE tend towards too dull and too cool (blue). They sometimes may have more resolution than an iPhone, but the iPhone usually has deeper depth of field which leads to sharper pictures, especially close-up or in dim light. The iPhone also focuses much closer.
Raw shooters usually can elicit any look they like from the DNG files depending on their choice of software, since every brand of software renders raw colors differently.
The DxO ONE is made in China and runs from its own internal battery. It is not powered from your phone; you have to keep it charged separately. Its battery is weak, rated only 200 shots per charge. If you need more power you can shoot it tethered to USB power, but that defeats the whole purpose of a tiny camera.
The DxO ONE is also an easy choice for espionage and other covert intelligence gathering. It fits in a pocket and looks more like a cigarette lighter than a camera. I'd put a Zippo logo on it. It has no LCD and shoots by itself without needing a phone, so pull out a cigarette next time you're touring a Russian or Chinese submarine propeller development facility, and you get the idea.
The ONE's lens has green-magenta lateral color fringes which are corrected automatically in-camera if you shoot JPG, or open the DNG files on DxO's own software. If you shoot DNG and use other software, like Photoshop CS6 as I do, you'll see the lateral color fringes. Be sure to shoot JPG or use DxO's software for best results here.
The ONE is not very clever; it has no optical image stabilization, no fast picture frame rates, no panoramic mode and no HDR mode as an iPhone 6 Plus has standard. (The ONE has electronic stabilization only for video, and of course DNGs can be processed later to give a larger dynamic range, while the iPhone 6 Plus has these features and shoots at full resolution at 10 frames per second.)
The ONE stores photos in its own Micro-SD slot and/or on your phone. You select this in its own app; which is also where you set what kinds of files it records when it's run disconnected from a phone.
Good
Compact and self contained.
Tough half-metal case.
Shoots raw DNG files with plenty of dynamic range.
Reasonably solid iPhone connection, so long as you're not using a typical case.
Nice charge state indicator, even while charging.
Great toy or gift idea for people who like to fiddle with raw files.
JPGs are precorrected for lens defects.
Can shoot while powered by USB.
Bad
Pictures usually look worse than if you just used your iPhone 6 Plus. Pictures tend towards cold and gray, like a BMW car brochure.
Doesn't focus anywhere near as close as an iPhone.
Poor battery life.
Powered by its internal battery; when it dies, the ONE is dead until you somehow plug it in to charge.
Slower autofocus than iPhone.
Needs to be shot as JPG, or DNGs need to be opened only in DxO's software to correct for the lens' lateral chromatic aberration.
1.5:1 aspect ratio, not 4:3.

Slow playback redraw in app when swapping among just-shot images recorded only to the camera.
Made in China.
Missing
No flash! It will use the iPhone's LED, which doesn't do much. It desperately needs a real Xenon flash for daylight fill.
No Wi-Fi; you use your phone for that.
No GPS; your phone will provide this.
Doesn't work with Android or other copy-cat phones; people who demand the best use iPhones.
Dumber than iPhone: no optical image stabilization, no HDR, no continuous shutter rates and no panoramas.
No filter thread.
No tripod socket.
Specifications top
Sample Images Intro Specs Performance
Compared Usage Recommendations
Lens
11.9mm f/1.8. (32mm equivalent).
6 elements in 6 groups.
Aspherical elements.
Diaphragm
6 straight blades.
f/1.8 ~ f/11.
Sensor
5,406 x 3,604 pixels native.
1.5:1 aspect ratio.
Sony CMOS 8.8 x 13.2mm (2.7x crop factor).
ISO
ISO 100 ~ 12,800 in Auto; to ISO 51,200 manually.
Bit Depth
The sensor's ADC is 12 bits. Depending on how the data is compressed the RAW file size will vary, but below ISO 600, all bits are recorded.
When the ISO is higher than about 600, the 12 bits are mapped to 8 bits with a look up table (LUT) since the lower bits are noise anyway.
The DNG file format allows for only 8 or 16 bits, and so DxO aligns on 16 bit.
Finder
None; guess or use connected to iPhone.
Autofocus
Claims face recognition.
Shutter
1/30 to 1/8,000.
As long as 15 seconds in some modes.
Flash
None.
Will use iPhone's LED if you're connected.
Video
1,920 x 1,080 @ 30 FPS.
1,280 x 720 @ 120 FPS.
Mono mic.
Electronic stabilization.
File Formats
Photos
JPG and/or DNG (raw).
There's also a trick raw .DXO "super raw" mode than averages four frames into one file for noise reduction. Too bad there's no tripod socket!
Video
.MOV files.
Storage
Micro SD and/or your phone.
Data Communication
USB.
Rear OLED
B&W data display.
Wipe finger left or right to go to or from video mode when shooting without a phone.
Power
Internal fixed (non-replaceable) battery, rated 200 shots.
Charges only via USB.
Can shoot while charging.
Quality
Made in China.
Size
2.66 x 1.92 x 1.03 inches.
67.5 x 48.85 x 26.25 millimeters.
Weight
3.930 oz. (111.4g) measured with battery and card.
4 oz. (108g) rated (sic).
Includes
Camera.
USB cable.
Free downloads for DxO FilmPack and DxO Optics Pro Elite.
Announced
Thursday, 25 June 2015.
Promised for
Tuesday, 01 September 2015.
Prices, USA top
$599, August 2015.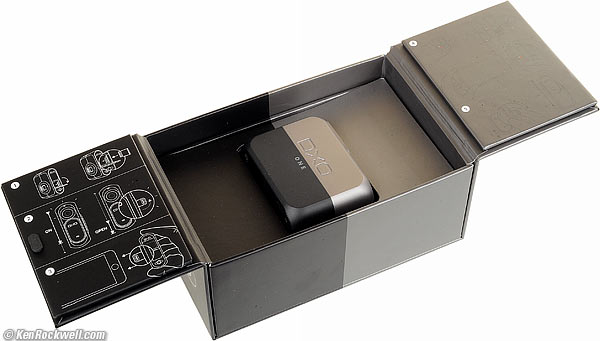 DxO ONE box. enlarge.
Performance top
Sample Images Intro Specs Performance
Compared Usage Recommendations
Overall Picture Quality High ISOs
Overall performance top
This is a tiny little camera. Its real-world image quality isn't as good as the iPhone, but it's much smaller and shoots DNG.
Picture Quality performance top
The lens has lateral color fringes which you will see in DNGs opened in most software, while the ONE's JPGs have this automatically corrected. Use DxO's raw software and it will also correct this from DNGs.
I see no distortion in JPGs, which again I presume are being corrected in-camera. You may see distortion if you use other than DxO's raw converters.
How do the pictures look? The iPhone 6 Plus is better.
Yes, the ONE is sharp and has slightly more resolution if you're printing over six feet (two meters) wide, but the colors and tone of iPhone images are much better so the pictures are better. Either has more than enough resolution to print billboards; this isn't 2004 anymore.
An iPhone has better dynamic range because iPhone automatically makes real HDR images as needed, automatically.
The DxO ONE probably has better technical performance if you don't actually shoot and instead look at test charts and lab scores, but all that matters to me as an artist is how the pictures look, and the iPhone looks much better.
It never matters how many pixels you have if they're not the right pixels in the first place; color and tone are everything.
Autofocus performance top
Autofocus is OK, but I find my iPhone faster and better. With its smaller sensor and shorter lens, it's much easier for the iPhone.
The ONE takes a moment to focus, while the iPhone 6 Plus is essentially instantaneous and always in focus.
I have gotten out-of-focus shots from the ONE (and the ONE doesn't always focus close enough), while it's almost impossible to get an unsharp shot from the iPhone 6 Plus.
High ISOs performance top
With its relatively small sensor (half the area of micro 4/3, one-quarter the area of most DSLRs and less than one-seventh the sensor area of a full-frame DSLR), high ISO shots are limited by the cartoonish-looking effects of heavy noise reduction.
ISO 12,800 looks very cartoonish; this is no DSLR.
Shutter performance top
The shutter is extremely quiet. No one else will hear it.
The shutter button has a false first detent; ignore it and press down to the second detent to lock focus. (This should be fixed on newer models).
Durability performance top
This is a tough little nugget. The gray parts are all metal while the black is plastic.
It's made in China.
OLED performance top
The OLED is great indoors, but dimmer than an iPhone and difficult to read in daylight.
Power and Battery performance top
The little battery doesn't last very long on a charge. It should last longer when shot stand-alone; it has to run all the time if you're viewing via the app.
The ONE sucks a lot of power; it will get warm when run attached to a phone because it's capturing images continuously so you can see them on the screen.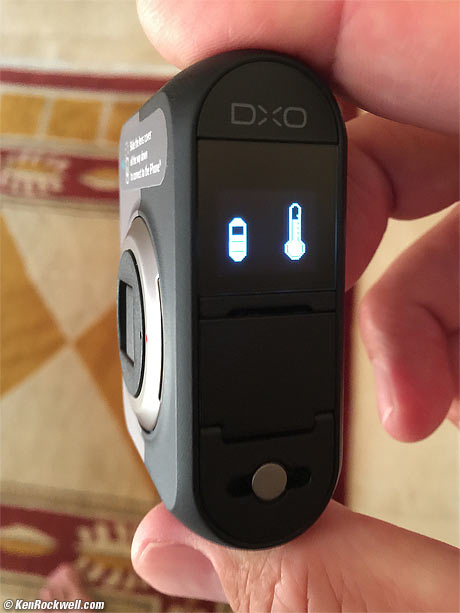 DxO ONE temperature warning.
It draws a flat 690mA while charging until it reads 100%, only after which charge current tapers off.
From a dead battery, it reads 50% after 35 minutes of charging.
It says 90% after 60 minutes.
At 87 minutes it's reading 100% but still charging at 510 mA, and charging at 350 mA after 97 minutes.
I suspect this means that 100% isn't really 100%.
Data performance top
It takes about a second to record an image to the micro SD card, even if it's a 43 MB DNG file.
Files are prefixed "DXO_"
JPGs are tagged as 300 DPI and run about 5MB. JPG file sizes vary from about 3 to 15 MB depending on the level of image detail.
DNGs are about 43 MB.
The clock sets itself from your phone for when you're not connected.
Auto ISO reads properly in Media Pro.
As with most cameras, vertical shots are not actually rotated, they're just flagged for rotation in most software.
GPS performance top
GPS data is read from your phone and encoded in the file's EXIF.
A defect in v1.1 firmware is that when I turn off Location Services in my iPhone, files are still tagged with the last known latitude, longitude and elevation. As I travel, it keeps recording the same old location to the files regardless of my actual location!
Compared top
Sample Images Intro Specs Performance
Compared Usage Recommendations
Since the ONE won't fit my cased iPhone, curiosity got the better of me and I set out shooting it and my iPhone side-by-side. I spread out the images on my light table in Media Pro and hid the identities of each. I tagged the best one of each pair, and was horrified when I looked and realized that 80% of the time the iPhone was clearly better! You have to get up pretty early to beat Apple at their own game; I've found the same with expensive music players and headphone amps that don't work as well as the iPhone's native player, DAC and headphone amplifier.
I don't want to bully the ONE, but when its purpose in life is to improve the iPhone, comparisons are mandatory.
The iPhone is the world's best camera for getting a great shot of anything under any light at its default settings (there is no other camera that does this as well), so most cameras don't do that well under an iPhone Challenge. With cameras like my LEICA M9, you just don't do that comparison since we all know LEICA is the best. With the ONE, it's hard not to make direct comparisons to the iPhone's own camera (as of this writing the iPhone 6 Plus is the state-of-the-art iPhone camera).
If all you want is great photos, the iPhone 6 Plus camera makes better pictures because it's better thought out and has better image processing behind it. The DxO ONE is for people who worry more about numerical ratings than how the pictures look; sensors are only a tiny part of making a picture.
Here's how each shoots. These are direct-from-camera, shot in their Auto modes and shown here with no twiddling. The exposure and ISO settings are all as set by the cameras themselves; I made no manual settings.
If I played in software I could make the DxO ONE shots look much better, but the point here is that the DxO ONE tends towards cool and grey, and lacks stabilization so it can't play the low light tricks the iPhone 6 Plus does.
These were shot at the same time with the DxO ONE not connected to my iPhone.
Click any for larger images.
Dynamic Range
| | |
| --- | --- |
| DxO ONE | iPhone 6 Plus |
| | |
Click to enlarge.
The iPhone automatically shoots as an instant HDR if it needs it, so we can see everything indoors and outdoors from direct sunlight to shadow much better than from the DxO ONE. The DxO ONE does have pretty decent dynamic range if shot as DNG and played with later; that's not what I'm showing here.
Real-World Skin Tones
| | |
| --- | --- |
| DxO ONE | iPhone 6 Plus |
| | |
| f/1.8 at 1/60 at Auto ISO 3,200 | f/2.2 at 1/4 at Auto ISO 400 |
Click to enlarge.
No question here; the iPhone always looks great while the ONE is cold and grey.
Low Light
| | |
| --- | --- |
| DxO ONE | iPhone 6 Plus |
| | |
| | |
| | |
| f/1.8 at 1/125 at Auto ISO 1,600 | f/2.2 at 1/8 at Auto ISO 100 |
Click to enlarge.
The iPhone photo looks better; the DxO ONE is way too cool. The wall in the photo is the color seen in the iPhone shot; it's not gray.
When shot in full auto modes, the iPhone is smart enough to use its image stabilization to let it shoot at much slower shutter speeds (1/8 versus 1/125) and therefore let the iPhone shoot at much lower ISOs (ISO 100 versus ISO 1,600), so the smaller sensor of the iPhone has less noise here. Ha!
Also you can see that the iPhone has much better depth of field due to its ability to use a shorter lens along with its smaller sensor, thus the back right corner of the table shown last is much sharper in the iPhone photo.
The ONE is no better in the dark than an iPhone 6 Plus, unless you rig up some way to attach this to a tripod and use longer exposure times.
Nature and Landscape
| | |
| --- | --- |
| DxO ONE | iPhone 6 Plus |
| | |
| | |
Click to enlarge.
The iPhone usually looks perfect, while the ONE is usually too cold, flat and gray.
The two second photos look like the sun came out, but that shows how different these two cameras look. They were all shot at the same time with the two cameras held next to each other!
Curious, I jacked-up the DxO ONE JPG in Photoshop and Perfectly Clear to make this: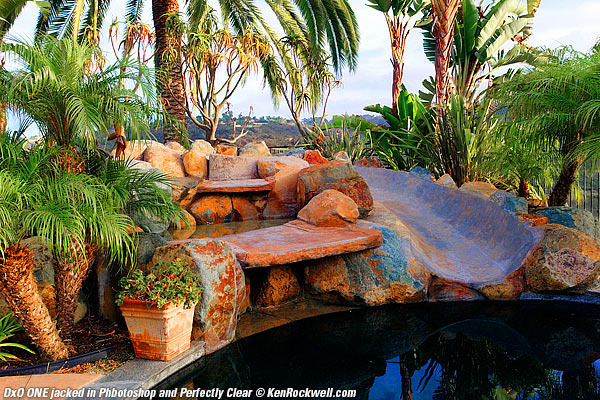 Jacked-up version from DxO ONE JPG. f/3.2 at 1/500 at Auto ISO 100. Full Resolution.
Obviously we can make anything into anything with enough work; the key is that it's better to get it direct from the camera since time is money if you have to stop to "fix" something. In this case the crazy colors come from my imagination, not the camera. The ONE made the dull gray colors, I made the vivid ones.
Halogen-Lit Closeups
| | |
| --- | --- |
| DxO ONE | iPhone 6 Plus |
| | |
| f/2 at 1/125 at Auto ISO 320 | f/2.2 at 1/15 at Auto ISO 40 |
Click to enlarge.
This is shot under 75W PAR halogen floods. Obviously the color is far better from the iPhone, but look at the enlarged images (click either) and you'll see that the iPhone also has much deeper depth of field due to its shorter lens.
Again notice how the ONE has to use a faster shutter speed and therefore a higher ISO because it lacks the iPhone 6 Plus' optical stabilization, so the iPhone shot winds up being cleaner as well as sharper and more colorful.
Macro
| | |
| --- | --- |
| DxO ONE | iPhone 6 Plus |
| | |
Click to enlarge.
The iPhone focuses much closer. Its color rendition under overcast light is also far superior. (watch: Mondaine A1323034811SBB.)
Aspect Ratio
The iPhone uses the preferred 4:3 ratio, while the ONE uses the 1.5:1 ratio.
When shown at the same width as I do above, the images from the ONE are shorter.
I prefer 4:3; it usually is the shape I need, while with 1.5:1 cameras I'm usually cropping-off the sides. This is even more important when shot vertically where I almost always have to crop-off top and bottom from 1.5:1 images.
This is art and personal preference, and 4:3 usually makes much more efficient use of the entire image.
Turn-on Speed
They both turn on about as fast, which is just a second or so.
The ONE turns on much easier: just flick its cover out of the way. The iPhone requires a tap and a flick.
Usage top
Sample Images Intro Specs Performance
Compared Usage Recommendations
When shooting by itself, you don't have to look at the OLED to see when focus is locked; just feel it and wait for it to stop focussing.
It's easy shooting without a finder when shot alone; if you're a photographer you should be skilled at imagining exactly what's in your frame. The fixed lens is a huge advantage of iPhone and the ONE.
To set it to record as JPG, set it in the app and it remembers when free-run.
The clock sets when connected to your iPhone.
Recommendations top
Sample Images Intro Specs Performance
Compared Usage Recommendations
This is a specialized camera for those who prefer to shoot raw and "fix" their photos later in a computer. As it stands, its JPGs aren't that great.
While JPGs from the LEICA M9 are even worse, the gotcha is that the ONE is just asking for us to compare it directly to the iPhone camera. The iPhone also looks better than M9 JPGs, just that those comparisons aren't so obvious.
The ONE needs much better auto white balance and color rendition for the same reason LEICA digitals lag so much: the artistry behind creating the secret image-making mojo is very special, and something Apple, Nikon and Canon do better than anyone else. It's not about accurate color under controlled conditions; it's about making images that look great in the real world.
Just as the M9 makes much better DNGs than JPGs if you process the DNGs in Aperture; I suspect the ONE will look much better after you season its images to taste in DxO's included raw software, which I didn't try.
I'm an artist who needs to get work out and published; I'm not a computer operator. I need my images to look great as-shot, with nothing needing "fixing." I'll optimize my images, usually with Perfectly Clear and Photoshop, but I have no time for fixing broken images. If something's not right, I don't take the picture.
Photography is all about seeing the picture in the first place; it's never about your camera or technical specifications. Resolution and sensor size mean nothing if the colors aren't right. What matters technically are the clever color matrices, look-up tables, transfer functions and other secret algorithms used by camera makers to make an image from the raw data pulled from the sensor. In this case Apple is much smarter at this than DxO, thus the native iPhone 6 Plus camera's images look much better than JPGs from the ONE.
Of course there's always new firmware coming for everything, but try telling that to a client who needed his pictures yesterday for a job that goes to press today.
The secret mojo (the proprietary hardware and algorithms used to create an image from raw sensor data) is why Nikon's images look so much better than from Sony, even if Sony makes the sensors in both cameras, as well as in the ONE. It's all in the mojo.
I don't use raw files, but if you do and would rather carry this tiny camera in your pocket than an ultralight DSLR, the DxO ONE is a unique and tiny little camera. If you want better quality than the iPhone and/or want to shoot raw, an ultralight DSLR like the Nikon D3300 or Canon SL1, either of which has a sensor with four times the area of the ONE, can produce images far superior for $100 less including a zoom lens.
If you expect to use a tripod, forget this camera which lacks a tripod socket. It's silly to lash something like this to a camera support; use a real camera like the Nikon D3300 or Canon SL1 if you're going to the effort of carrying a tripod.
The ONE lacks the mojo to turn its raw data into great-looking photos in-camera, but if you prefer to add your own mojo later in the computer, this DxO is the smallest little DNG gem there is.
The best things about the DxO ONE are its raw files and tiny size. That's not my bag, but if it's yours, by all means get one. With a little work from its DNGs one can create great shots that I have not shown here.
If you find my work here helpful, my biggest source of support for this free website is when you use any of these links to get yours at Adorama, at Amazon or at B&H, or any of these links to approved sources when you get anything, regardless of the country in which you live, it helps me keep adding to this free website — but I receive nothing for these efforts if you take the chance of buying elsewhere.
Thanks!
Ken
© Ken Rockwell. All rights reserved. Tous droits réservés.
Help me help you top
I support my growing family through this website, as crazy as it might seem.
The biggest help is when you use any of these links to approved sources when you get anything, regardless of the country in which you live. It costs you nothing, and is this site's, and thus my family's, biggest source of support. These places have the best prices and service, which is why I've used them since before this website existed. I recommend them all personally.
If you find this page as helpful as a book you might have had to buy or a workshop you may have had to take, feel free to help me continue helping everyone.
If you've gotten your gear through one of my links or helped otherwise, you're family. It's great people like you who allow me to keep adding to this site full-time. Thanks!
If you haven't helped yet, please do, and consider helping me with a gift of $5.00.
As this page is copyrighted and formally registered, it is unlawful to make copies, especially in the form of printouts for personal use. If you wish to make a printout for personal use, you are granted one-time permission only if you PayPal me $5.00 per printout or part thereof. Thank you!
Thanks for reading!
Mr. & Mrs. Ken Rockwell, Ryan and Katie.
Home Donate New Search Gallery Reviews How-To Books Links Workshops About Contact