Filter Size: 77 mm
Thank goodness they all take 77mm filters. 77 mm has been the professional 35 mm and digital standard for the past 10 years.
It's heartwarming to see four brands offer four lenses all with the same standard sized filter thread.
Even Nikon no longer standardizes throughout their line. I sometimes have to buy step-up rings to adapt some of their other lenses to 77 mm.
All of these wide lenses will integrate perfectly in any setup.
Filter Vignetting
Wide lenses sometimes are so wide that they can see the edge of a filter. This can result in dark corners. I love filters and stack them. This makes the problem worse.
More good news is that all these lenses work fine with any single filter or even a standard polarizer. Pay extra for a thin version if you want, but thankfully you don't have to. None of them has any vignetting with any filter, except the Tokina which has an almost invisible amount at only the very widest setting. I wouldn't worry about it.
These are measured on my D200. I confirmed that I get the same results on my D70. Their sensors are a few microns different in size, but not enough to change these.
I'm conservative. "Slight" means you would probably never see it unless you were looking for it. OK or "gone by" means there are absolutely no signs of a darkened corner. I'd have no problem using single filter even on the Tokina.
These are all excellent. In the old days many wide lenses would vignette even with one filter. Lens makers hoped you'd never notice unless you looked at unmounted transparencies.
I measured the thicknesses of my filters' mounting rings with a digital caliper. These are the extensions from the filter mount. These figures exclude the male threads. You can compare these to whatever filters you already own.
Nikon

Tokina

Sigma

Tamron

Hoya HMC color
4.97mm thick

OK

OK

OK

OK

Tiffen Haze-1
6.41mm thick

OK

slight at 12mm, gone by 13mm

OK

OK

Tiffen ND Grad
6.93 mm thick

OK

slight at 12mm, gone by 13mm

OK

OK

Hoya PL-CIR
7.21 mm thick

OK

slight at 12mm, gone by 13mm

OK

OK

Hoya Color + PL-CIR
12.15mm thick*

gone by 14 mm

gone by 15 mm

gone by 11 mm

gone by 12 mm

PL, Grad & Color
19.08mm thick**

gone by 17 mm

gone by 18 mm

gone by 13 mm

gone by 14mm
* Two filters stacked.
** Three filters stacked.
Polarizers
Even though you won't get vignetting, you have to be careful using a polarizer on an ultrawide lens.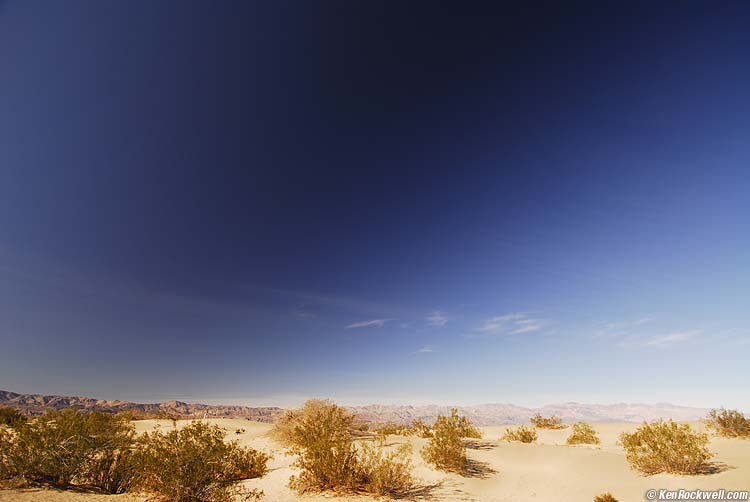 Dunes, Death Valley, or Why You Have to be Careful with a Polarizer on a 12 mm lens
(Nikon 12-24 at 12mm on D200)
The sky has different amounts of polarization at different angles from the sun. The maximum polarization is in a band 90º from the sun. You'll get a dark band or region in the sky using a polarizer on an ultrawide lens since this lens will see such a broad swath of sky.
This is normal and an quirk of physics. It's nothing wrong with your lens or filter. it's something wrong with the photographer.
Unlike most of my mistakes which are mistakes I made this shot deliberately to illustrate this article.
You may have problems at the wide end of these zooms. Be careful!
Next: Flare and Ghosts