Home Donate New Search Gallery Reviews How-To Books Links Workshops About Contact
CES 2012
Live from Las Vegas
© 2012 KenRockwell.com. All rights reserved.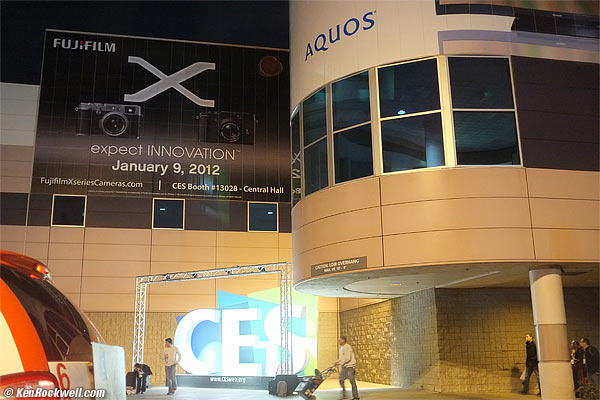 Fuji X100 at CES 2012. This free website's biggest source of support is when you use these links when you get anything, regardless of the country in which you live. Thanks! Ken.
January 2012 Nikon Reviews Canon LEICA Audio Reviews All Reviews
See How to Get It to get yours first.
CES Overview
I attended all three of these shows. CES and PMA are reported after this overview, while the audio shows and exhibits are reported at my CES 2012 Audio Report.
CES
CES, the Consumer Electronics Show, is a private to-the-trade only show, mostly at the Las Vegas Convention Center, with plenty of spill-over all over town.
The exhibitors are manufacturers, and the attendees are dealers. Specifically, the attendees are buyers from the dealers there to place orders for the coming year.
Photographers and the public are forbidden; only press members specifically engaged in reporting on this event can get in, which is why I attended.
Also at this show were the high-performance audio exhibits, mostly in individual rooms in the towers of the Venetian.
PMA
Also at this show was the PMA, Photo Marketing Association trade show, also a private trade-only show, differing only in that photo gear is shown at PMA to the buyers from major photo dealers like Adorama, B&H and Amazon.
T.H.E.
Also at this show was the T. H. E. Show (The Home Entertainment Show) at the Flamingo.
It's purely another high-end audio show for music lovers — they don't have any TVs there.
CES Report by Brand CES Audio Report
Canon
Canon G1 X: Huge sensor, 28mm 4x zoom, $799, February.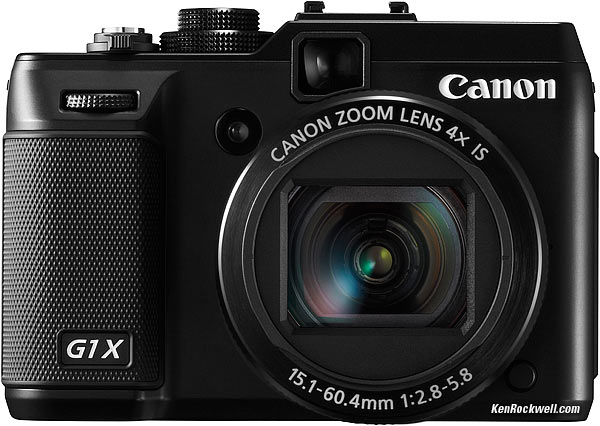 Canon G1 X.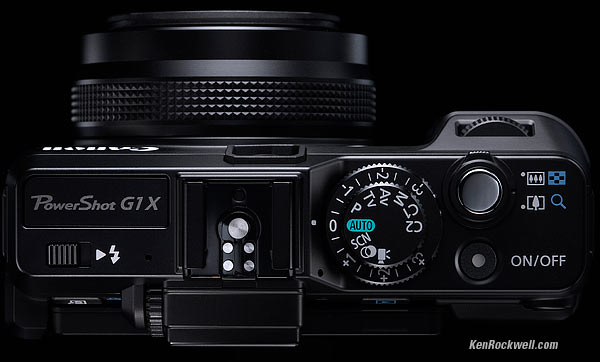 Canon G1 X.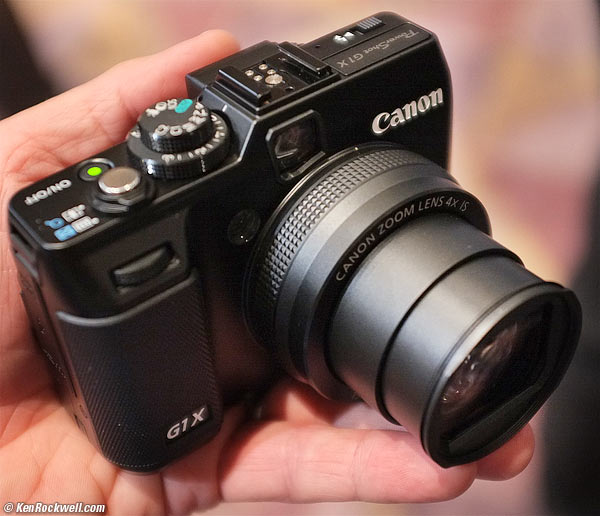 Canon G1 X.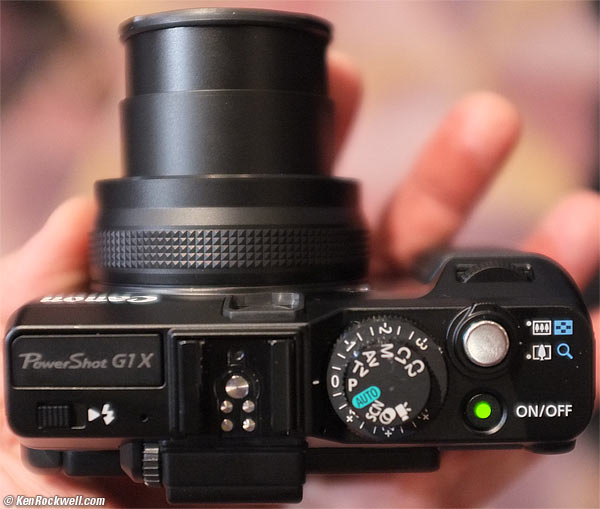 Canon G1 X.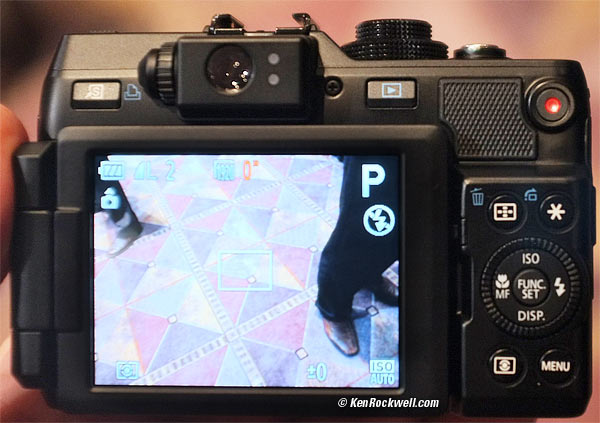 Canon G1 X.
Better than last year's X100, for only $799?
The Canon G1 X has a huge 18.7 x 14mm, 14.3 MP CMOS sensor that goes to ISO 12,800.
Clearly, giant Canon wasn't going to let Fuji's X100 step on it's dominance. (As far as cameras we actually can buy, my X100 is the only camera I bought to cover CES 2012 for it's lightness, great macro and no-light capability.)
Lens: 28-112mm (equiv.), f/2.8-5.8.
The Canon G1 X has a professional 4:3 aspect ratio (far more useful than the LEICA M9 and X100's bogus 3:2 ratios), a 23.36mm diagonal, and a 1.852x crop factor.
14-bit, RAW+JPEG shooting and compatibility with accessories such as Speedlite, Macro Twin Lite or the Macro Ring Light flashes. HDR Shooting has been included to ensure the best possible shot is captured as well. The PowerShot G1 X camera also shoots in Full HD 1080p video ensuring memorable moments are captured in the highest quality.
The Canon PowerShot G1 X camera has a bright, large 3.0-inch vari-angle LCD with 922,000 dots of resolution providing photographers with the highest quality available in a point-and-shoot. The inclusion of the Mode Dial on the top of the camera and the Front Dial helps provide more intuitive control of the camera.
The estimated selling price of the Canon PowerShot G1 X camera is $799.99 and is scheduled to be available in February.
Canon 520 HS: 28mm 12x zoom, $299, March 2012.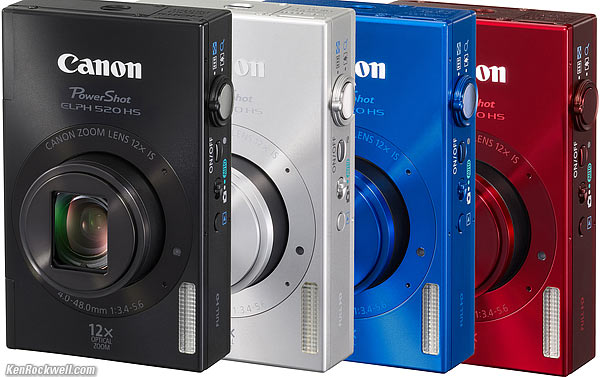 Canon 520 HS.
Order now: 520 HS - black 520 HS - silver 520 HS - blue 520 HS - red
The world's thinnest 12x optical zoom with a 28mm lens, the feature-packed Canon PowerShot ELPH 520 HS camera resurrects the original PowerShot ELPH design with a more contemporary and radiant look and feel. This new stylish model has a 10.1-megapixel High-Sensitivity CMOS sensor along with a 12X Optical Zoom lens, ISO range of up to 3200 and wide-angle capabilities starting at 28mm. For photographers on the move, this camera also has Full HD 1080p video capture capabilities, a 3.0-inch LCD for easy viewing of images and High-Speed Burst mode where images are continuously captured at 6.8 frames per second.
The Canon PowerShot ELPH 520 HS camera will be available in black, silver, red and blue in March with an estimated selling price of $299.99.
Canon 110 HS: 24mm 5x zoom, $250, February 2012.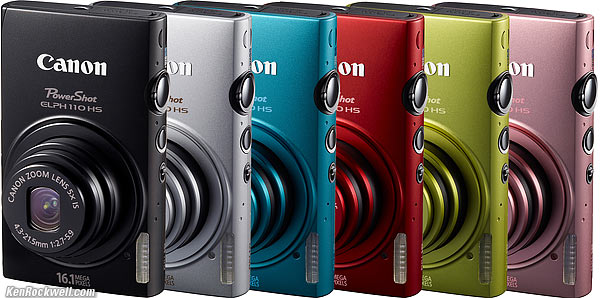 Canon 110 HS.
Order now: 110 HS - black 110 HS - silver 110 HS - blue
110 HS - red 110 HS - green 110 HS - pink
Canon's PowerShot ELPH 110 HS camera comes in a variety of fun, bright colors (black, silver, red, blue, green and pink) and is the ideal camera for new photographers. With a 5X Optical Zoom lens and wide-angle capabilities beginning at 24mm, this camera provides the user with the ability to fit an entire landscape or a specific area of a subject into one shot. The camera also features a16-megapixel High-Sensitivity CMOS Sensor, ISO range of up to 3200, 3.0-inch wide LCD and Full HD 1080p video capture for brilliant, high resolution quality. High-Speed Burst mode has also been included for continuous shooting up to 5.8 frames per second.
The Canon PowerShot ELPH 110 HS camera is scheduled to be available in February with an estimated selling price of $249.99.
Century Optics — Schneider — B+W
iPro Lens System
I got a set of Century Optics iPro wide and fisheye lenses, and for $189, they're a hoot (and good!) for iPhones and iPod Touches.
I'll be having a separate review, and for now I can report that the images are swell, and that the lenses are very well made.
Century Precision Optics has been making wide and fisheye converters since the 1960s for professional motion-picture use, so they know what they're doing.
DSLR Video Rig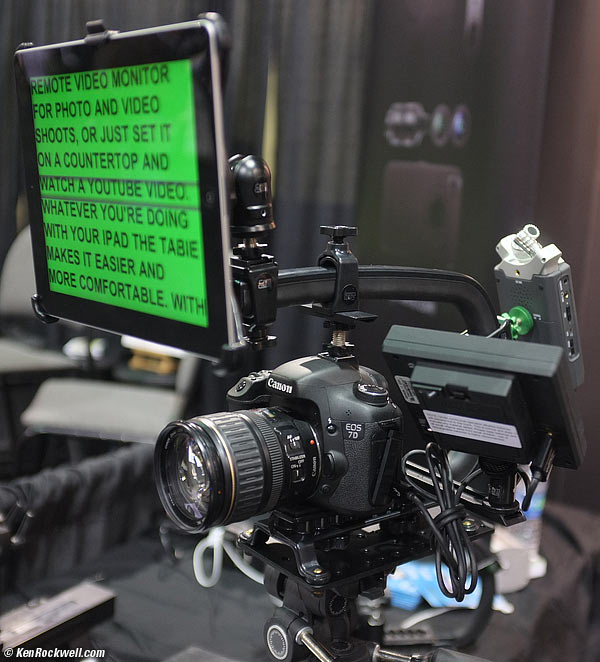 DSLR Video Rig.
Schneider also showed a modular rig that holds everything: prompter, camera, audio recorder and etc.
FUJI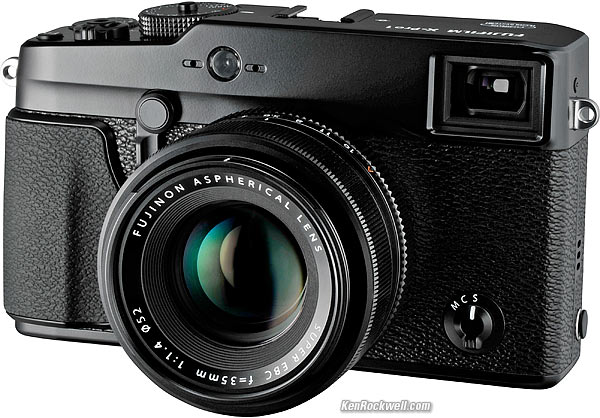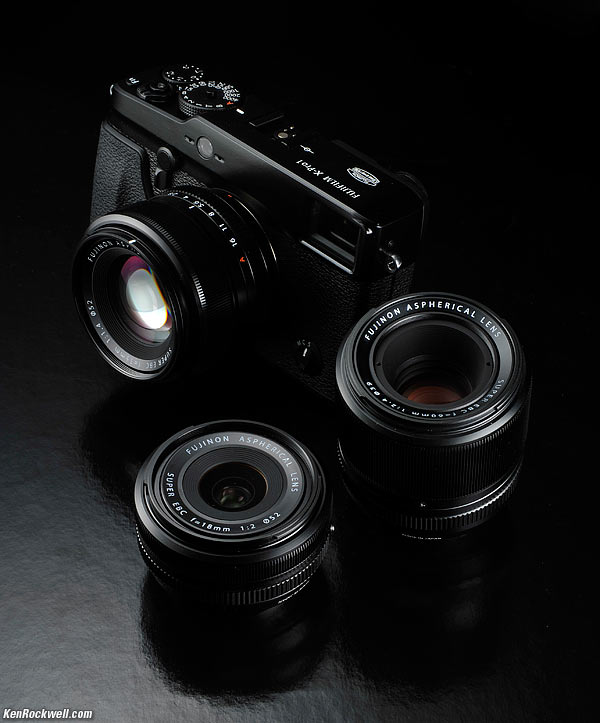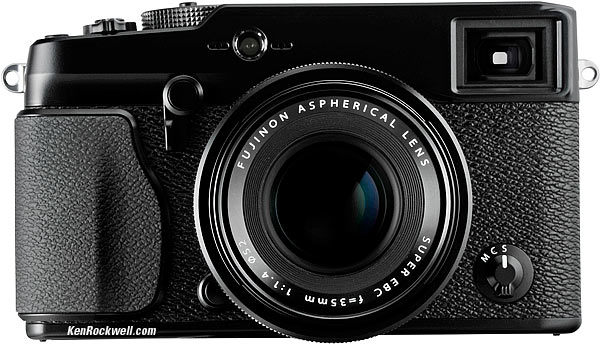 Here's a world's first announcement: look at the EXIF for the three photos above, and you'll discover that Fuji chose to have these publicity photos shot on the Nikon D3, the same camera I use for my own studio work. Aha! (Fuji's other PR shots are shot on Phase One.)
Brand new, custom developed 16MP APS-C CMOS sensor.
Three prime interchangeable FUJINON lenses:
18mm (27mm equivalent) f/2.0
35mm (53mm equivalent) f/1.4
60mm (90mm equivalent) f/2.4
New 2nd Generation Hybrid Multi Viewfinder
Magnesium alloy chassis
The three very standard (28mm, 50mm and 90mm) lenses all sound great, but the fixed lens of the X100 is still my choice for everything which is why my X100 is the only camera I bought to cover CES 2012 for it's lightness, great macro and no-light capability.
I presume more lenses will come. For this to get interesting, we need a 21mm equivalent lens.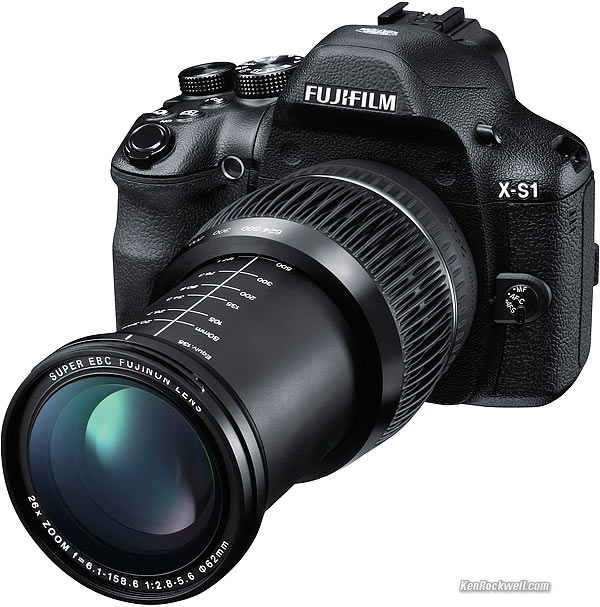 Fuji X-S1.
Point-and-shoot-sized (small) 2/3" 12 megapixel CMOS sensor.
Auto ISO: ISO 100 to 3200. (up to ISO 12800 at Small JPEG only).
RAW / RAW+JPEG
24-624mm (equivalent) f/2.8-5.6 manual metal-cam zoom, 17 elements in 12 groups.
7 frames per second at full resolution (presume with focus an AF locked).
180°, 240˚ and full 360º swinging Panoramas.
Video, with slo-mo.
1.4 million pixel electronic viewfinder (EVF), two glass lenses and one non-spherical lens (presume plastic)
3.0" titling LCD.
Made in Japan.
January 2012, $799.95.
FUJI X100 and New FUJI X100 Black Premium Edition

The X100 Black Premium Edition comes with a genuine leather case (ooooh), a lens hood (wow - a free hood!), an adapter ring and a protective filter (awesome!).
In addition, each bundle will include a Limited Edition numbered card for product authentication — no phonies here!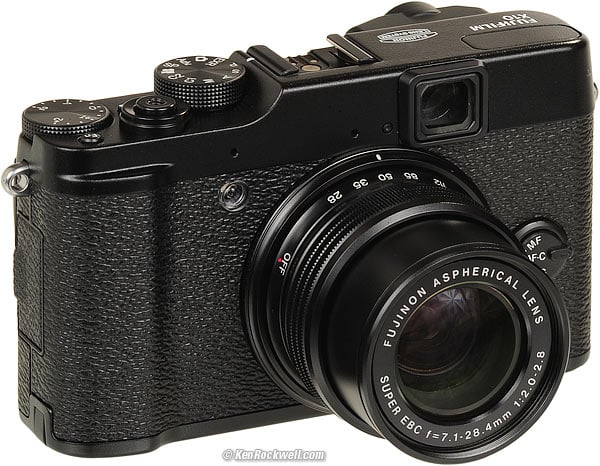 Nikon
Nikon D4
I tried a prototype Nikon D4. There are no shipping models, so anything you've read about performance is irrelevant until Nikon starts cranking out production models.
The hottest thing about the D4 is its lighter weight. It weighs a few ounces less than the Nikon D3, and with the lightweight new plastic 85/1.8G, felt about halfway in weight between a D3 and a D7000. I don't know about you, but as an actual shooter, the less around my neck in the field, the better.
Yes, the prototype cranked at 10 FPS with AF. You sports shooters know that the difference between 10 FPS and 9 FPS really is sometimes getting the shot or not because every one of those frames is different when shooting fast action.
The D4 is a no-brainer for pro action shooters. Low-light isn't much different than the D3s, but for action, the D4 is king. The magic of the D4 is it gives about the same high ISO performance of the D3s, but with more pixels.
For resolution for landscape, the D3X is still the cat's meow.
Nikon 85mm f/1.8 G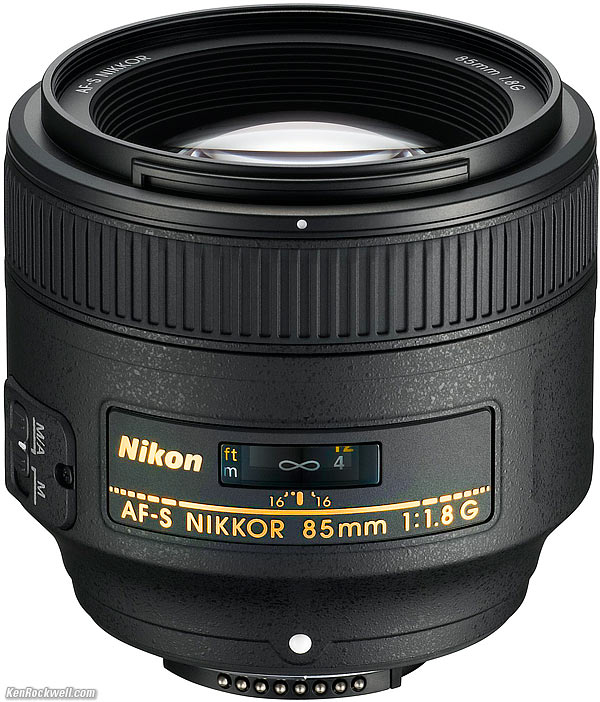 The new 85mm f/1.8 G lens is $499, more than today's living classic 85/1.8 AF-D. The new lens uses a lot more plastic (still a metal mount) and is better if you want instant manual-focus override. The new lens has a plastic filter thread and only a 7-bladed semi-rounded diaphragm.
The existing 85/1.8 AF-D has a metal filter ring, an aperture ring (deleted on the new lens) and a superior 9-bladed straight diaphragm.
Both are internal focusing; the filter threads don't move when focused, and have the same (about 0.8m) close-focus distance.
Of course if you have a D40, D3100 or other cheap Nikon without an AF motor, the new lens is the only one that will autofocus on it, and for a manual-focus 35mm Nikon only the older 85/1.8 AF-D will work on it, but for most Nikons made in the past 25 years, either lens works. (See Nikon Lens Compatibility for more.)
The existing 85/1.8 AF-D has been among my favorite lenses for 25 years, the new one is bound to be, too.
Olympus
Announced at this show:
TG-320: Waterproof, Shockproof, Freezeproof and Dustproof, 28-102mm equivalent, $180, February 2012.
SP-620UZ: a compact with a 21x optical zoom (25-525mm equivalent). $200, January 2012.
SZ- 12, a compact 24x optical (25-600mm equivalent) camera. $200, March 2012.
VG-160: 5x optical (26-130mm equivalent), $100, February 2012.
VR-340: 10x optical (24-240mm equivalent), $150, March 2012.
Announced December 2011:
M. ZUIKO DIGITAL ED 12-50mm F3.5-6.3 EZ (35mm equivalent 24–100mm). $500, January 2012.
Panasonic
I attended Panasonic's 3PM press conference, but it was mostly corporate double-talk and no news, so I bailed. Since this is a general electronics show and not a photo show, it would have been hours until they got to the Lumix cameras, and I needed to get over to Sony's 5PM shindig anyway.
What was telling was that Panasonic chose the very best lenses to use to broadcast its event: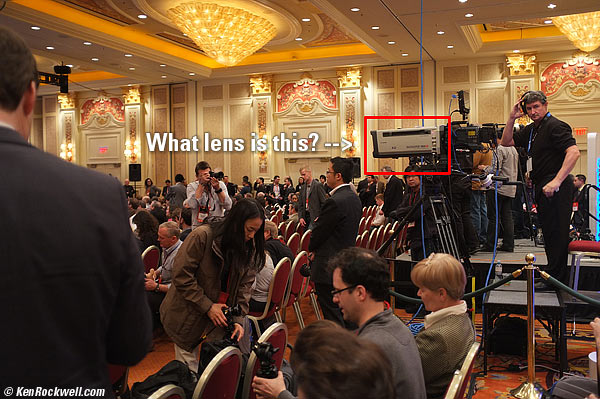 A Canon 100x Digisuper broadcast lens! (shot with Fuji X100 at ISO 1,000 at f/2)
Pentax
Pentax is now a part of Ricoh.
I didn't see anything new for the show, just last year's news.
Radio Shack showed products designed and sold only by them.
As well as headphones like everyone else, Radio Shack also had a new universal rechargeable USB battery pack, additionally certified for use with iPod and iPhone.
It has a built-in retractable USB plug. Plug it into any powered USB socket, and it charges its 1,350 mAh (5 Wh) lithium-ion battery. That's it.
To use it to power anything USB. Slide the switch to ON, and plug your doo-dad into the USB socket. Easy! It can both power USB equipment, and if that equipment charges itself from USB, will charge that equipment's batteries.
USB is everything from desktop Christmas trees to audio DACs to flashlights to iPod and iPhones.
Its maximum output is 1,000 mA at 5.0 ± 0.25V. The actual output capacity of the device is only 800 mAh (4 Wh), not the 1,350 mA advertised for the battery itself.
It includes the battery, which is about the size of an iPod Touch, a 6" mini USB to USB cable, a 6" 30-pin Apple to USB cable, and a Micro USB to Mini USB adaptor.
It even has an LED bar-graph power meter. Slick!
Ricoh
Ricoh now has a native LEICA mount module for their GXR interchangeable lens-sensor camera system.
Unlike Nikon and Canon, Ricoh had real Japanese there taking copious notes as we made comments.
I was very impressed by native LEICA lens support on this system, but since it's only a half-frame sensor like the old LEICA M8, I wasn't interested.
My input was please to make full-frame sensor, and then we'd have a winner. LEICA's lenses are by far the best in 35mm photography, but the LEICA M9 and LEICA M9P are the only digital cameras on which we can use them properly.
Nikon, Canon or even Fuji could easily make a better camera than the M9 if they felt like it, and made it full-frame.
Sony
The biggest photo news from Sony is their XQD memory cards, which only work in the Nikon D4, and as far as I know, are only made by Sony.
So? Neither Lexar nor SanDisk makes them, so this is not a standard - and no one makes a card reader, so who cares? It's like memory stick all over again.
Expect Sony's XQD cards in February 2012 for $130 (16GB) or $230 (32GB). More here and here.
Sony's press event was 99% fluff, but luckily I ran into some friends from Hollywood who had been snooping around in depth, and showed me what was hot.
Sony's Crystal LED sets are blindingly bright and colorful, making everything look like it was shot at VIVID and +3 saturation and contrast. They impressed with the usual shots of flowers and Japanese girls with red umbrellas under waterfalls so bright we needed sunglasses not to hurt our eyes, but I saw nothing to demonstrate if they can reproduce what matters, which is subtle flesh tones. Subtle flesh tones are the bane of today's plasma and LCDs. Sony isn't telling anyone what is the technology behind Crystal LED, but I'll tell you that it's a baby Jumbotron: loads of tiny LEDS.
I also got an update from my pals, and sadly CRTs are all gone from Hollywood. They were the one universal reference we had to grade (correct) color. It's important that as a program or movie goes from facility to facility to have different pieces of work done to it that the monitors always look the same. Today Hollywood is using special 50" Panasonic Plasmas for its most critical picture monitoring.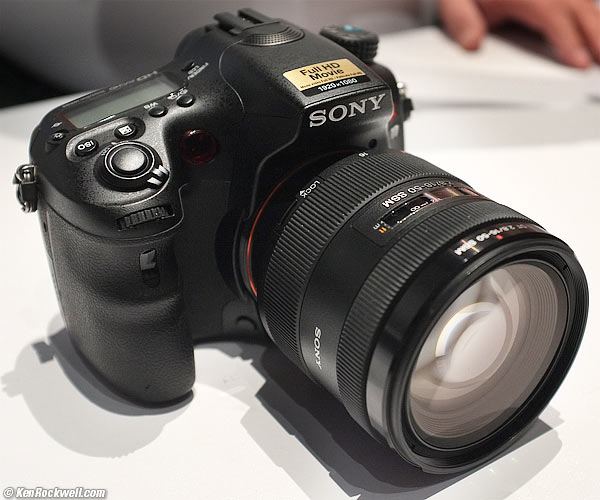 As far as cameras, once I found them in Sony's gargantuan display, the A77 is their hottest new camera, announced October 2012. It's a much better version of the Sony A55 I reviewed last year: roughly 1.6x sensor, internal image stabilization, a semi-transparent mirror, and tougher build quality than the plasticy A55.
The A77 will be $1,400, or $2,000 with the new 16-50mm f/2.8 kit lens.
Sony's other hot one is the 24MP mirrorless NEX-7, announced in August 2011. It will sell for $1,200, or $1,300 with 18-55mm lens. It has an OLED viewfinder.
I got a SteadePod to try.
It's a replacement for a tripod that fits in a pocket for $25.
It's a handy gizmo with a retracting steel cable that's used to anchor your camera to you or to the ground as you hold it.
MORE
Follow me to the CES 2012 Audio Report.
Help me help you top
I support my growing family through this website, as crazy as it might seem.
The biggest help is when you use any of these links to Adorama, Amazon, eBay, Ritz, Calumet, J&R and ScanCafe when you get anything, regardless of the country in which you live. It costs you nothing, and is this site's, and thus my family's, biggest source of support. These places have the best prices and service, which is why I've used them since before this website existed. I recommend them all personally.
If you find this page as helpful as a book you might have had to buy or a workshop you may have had to take, feel free to help me continue helping everyone.
If you've gotten your gear through one of my links or helped otherwise, you're family. It's great people like you who allow me to keep adding to this site full-time. Thanks!
If you haven't helped yet, please do, and consider helping me with a gift of $5.00.
As this page is copyrighted and formally registered, it is unlawful to make copies, especially in the form of printouts for personal use. If you wish to make a printout for personal use, you are granted one-time permission only if you PayPal me $5.00 per printout or part thereof. Thank you!
Thanks for reading!
Mr. & Mrs. Ken Rockwell, Ryan and Katie.
Home Donate New Search Gallery Reviews How-To Books Links Workshops About Contact