I get my goodies at Amazon and Adorama. It helps me publish this site if you get yours from those links, too.
23 October 2005, Sunday: Sedona, Arizona
89A, the route between Sedona and Flagstaff, Arizona, was starting to turn, probably about 1/4 of the way through. There was lots of yellow and just the occasional red. I think that the leaves may start blowing off before they turn really spectacular; we'll see.
24 September 2005, Saturday: Eastern Sierra
I was up photographing in California's Eastern Sierra. Color is just starting to turn at higher elevations. Also have a look up Bishop Creek. I saw the best color on one grove at the top of Old Mammoth Road, as seen here: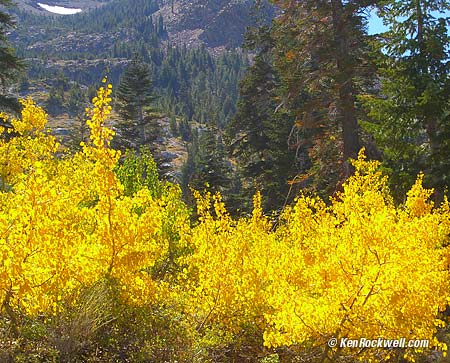 Made with my Casio EX-Z750 pulled from my pocket while scouting.