Home Donate New Search Gallery Reviews How-To Books Links Workshops About Contact
Zeiss T* FE 35mm f/2.8
Full-Frame E-Mount (NEX, A7 etc.)
Sample Images Intro Specs Performance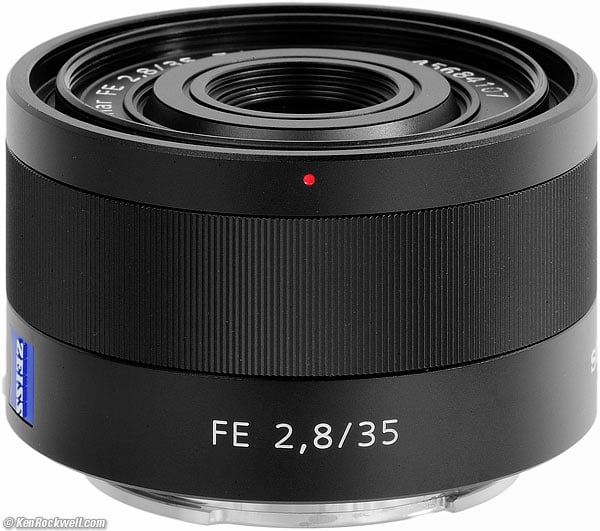 Sony Zeiss T* FE 35mm f/2.8 (Full-frame and crop-sensor coverage, 49mm filters, 4.2 oz./119 g, 1.15'/0.35m close focus, about $698). enlarge. I got mine at Adorama; I'd also get it at Amazon or at B&H.
This ad-free website's biggest source of support is when you use those or any of these links to approved sources when you get anything, regardless of the country in which you live. Sony's Zeiss boxes are not sealed in any way, so never buy at retail or any source not on my personally approved list since you'll have no way of knowing if you're missing accessories, getting a defective, store demo, damaged, returned or used product. My approved sources ship from remote automated warehouses where no salespeople or lookie-loos can ever get their greasy fingers on your new lens or drop it before you do. Buy only from the approved sources I use myself for the best prices, service, return policies and selection. Thanks for helping me help you! Ken.
October 2015 Sony Zeiss Minolta Nikon Canon Fuji LEICA All
Why Fixed Lenses Take Better Pictures
Sample Images top
Sample Images Intro Specs Performance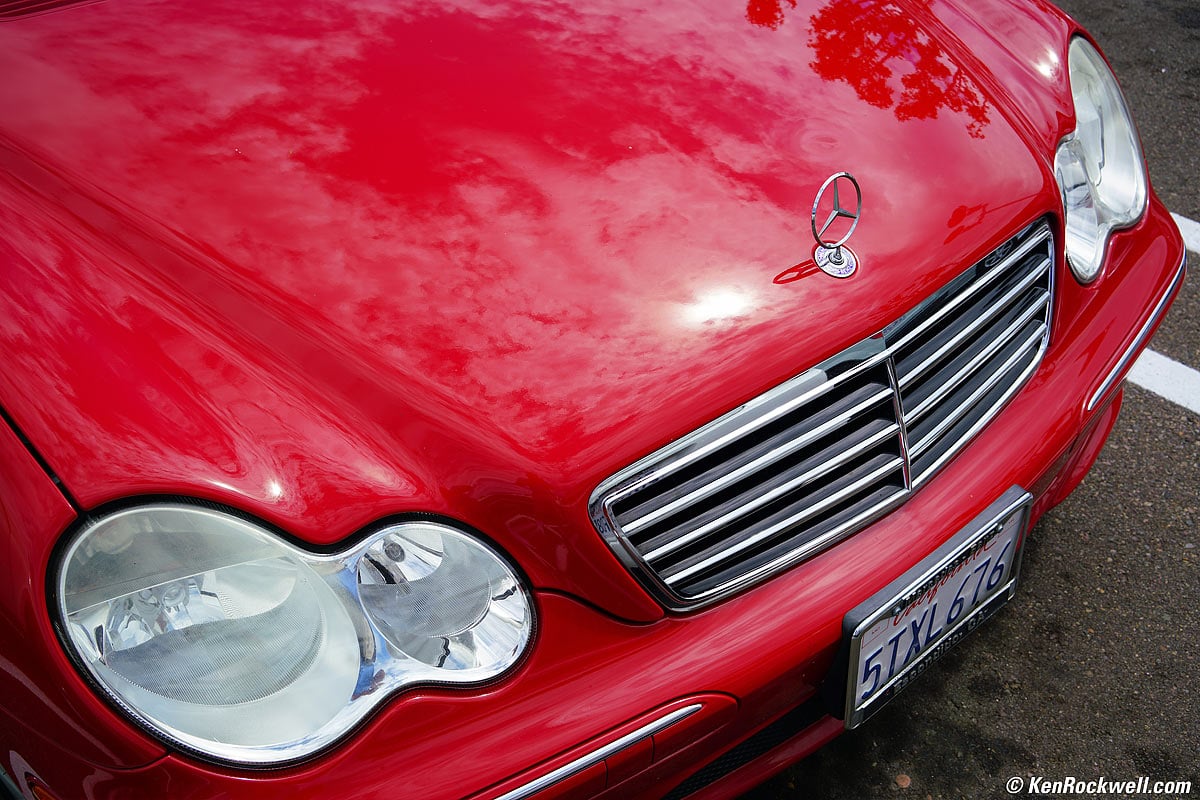 Red Mercedes, 10 September 2015. Sony A7R II, Zeiss FE 35mm f/2.8, f/8 at 1/320 at Auto ISO 100. Full-resolution image from camera's JPG.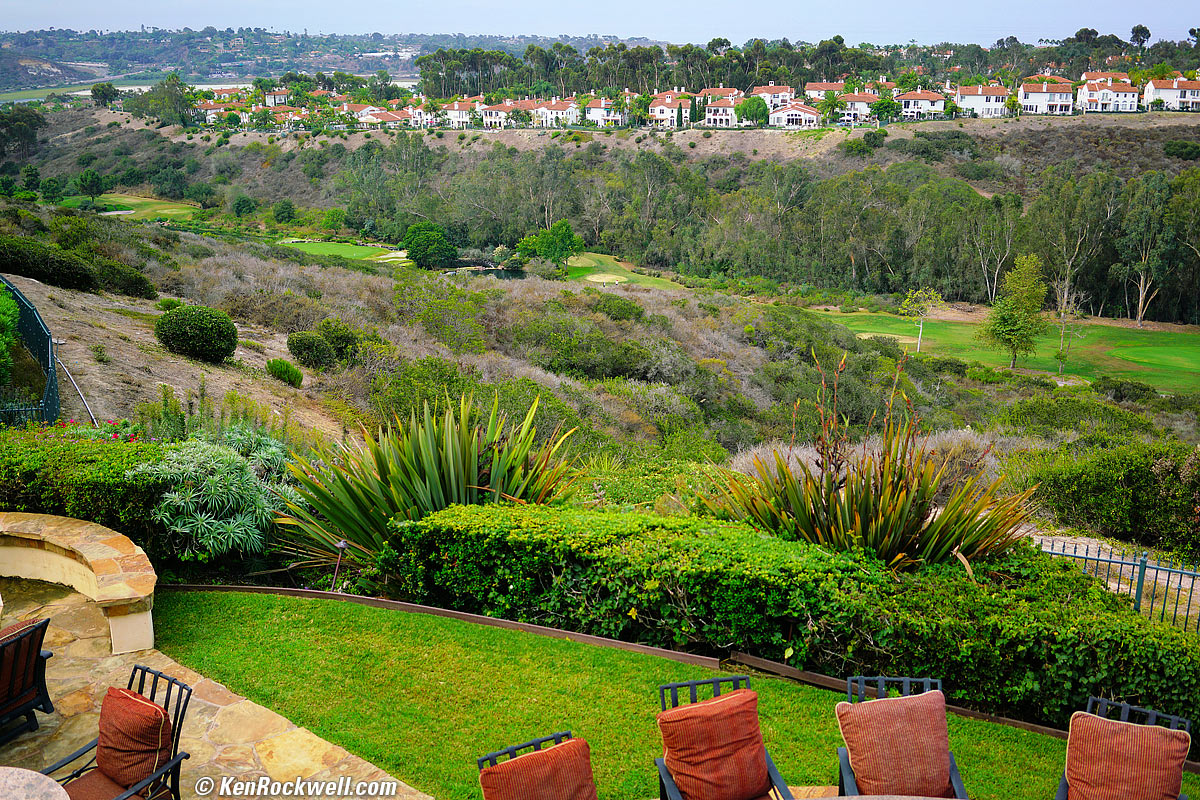 Golf Course Ocean View, 10 September 2015. Sony A7R II, Zeiss FE 35mm f/2.8, wide-open at f/2.8 at 1/1,250 at Auto ISO 100. Camera-original © JPG file.
Can your Sony A7R II do this? Not with most lenses; this is among the sharpest lenses I've tested, and this sample is shot wide-open at f/2.8, where most lenses are softest.
Introduction top
Sample Images Intro Specs Performance
This Sony Zeiss 35mm f/2.8 is a compact and ultrasharp wide lens for Sony's NEX and A7 series of cameras.
It's so sharp that it can excite aliasing on a 42MP Sony A7R II, even wide-open in the corners. Look in the windows of the houses on the upper right at the camera-original © JPG file above (you'll need to see this at 100% on your desktop computer), and you'll see green-magenta color aliases caused by slats in their window blinds — from 1,500 feet (450 meters) away!
This new satellite-grade lens uses three aspheric elements in a insanely new optical design. Its concave front element is the first tip that this isn't your father's 35mm f/2.8.
This lens takes full advantage of the lack of an SLR mirror, putting its rear elements much closer to the image plane than an SLR lens can.
Compatibility
This works on all full-frame and crop-sensor Sony E-mount cameras, which are the NEX and A7 series, among others.
It will not work on any Minolta MAXXUM or Sony A-mount SLRs or DSLRs.
Format
This is a full-frame lens and is reviewed as such.
You may make the usual inferences for use with crop-sensor cameras.
Good
Stellar optical quality.
Metal exterior.
Fast, silent auto and manual focus.
Bad
Not priced like your father's 35mm f/2.8.
Sony Zeiss FE 35mm f/2.8 T*. enlarge.
Specifications top
Sample Images Intro Specs Performance
Name top
Sony calls this the Carl Zeiss Sonnar FE 2,8/35 ZA T*.
Carl Zeiss: Name of a German lens design company.
Sonnar: Zeiss' trademarked brand name for some of their lenses back in 1932. Means nothing today, but since it's registered as a trademark, no one else may use it today. Back in 1932 the Sonnar wasn't as good as the Planar normal lens, but used fewer lens groups for more contrast back before lens coatings were invented.
T*: Zeiss' trademark for its multi coating.
FE: Full-frame coverage lens for Sony E mount.
ZA: Solidarity with South Africa.
Optics top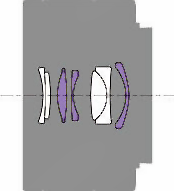 Sony Zeiss 35mm f/2.8 internal construction. Aspherical.
7 elements in 5 groups.
3 aspherical elements.
Linear stepper motor internal focus; nothing moves externally as focussed.
No Fluorine coatings on outer surfaces, no extra ability to repel water, dirt or fingerprints.
Claimed dust and moisture resistant housing.
Diaphragm top
Sony Zeiss FE 35mm f/2.8 T*. enlarge.
7 rounded blades.
Looks straight from about f/8, but has poor sunstars.
Stops down to f/22.
Close Focus top
1.15 feet (0.35 m).
Maximum Reproduction Ratio top
1:8.3 (0.12x), rated.
Focal Length top
35mm.
On APS-C (aka DX or 1.5x or crop-frame) cameras, it gives angles of view similar to what an 50mm lens would give on a 35mm or full-frame camera. See also Crop Factor.
Angles of View top
63º diagonal on full frame.
44º diagonal on APS-C.
Hood top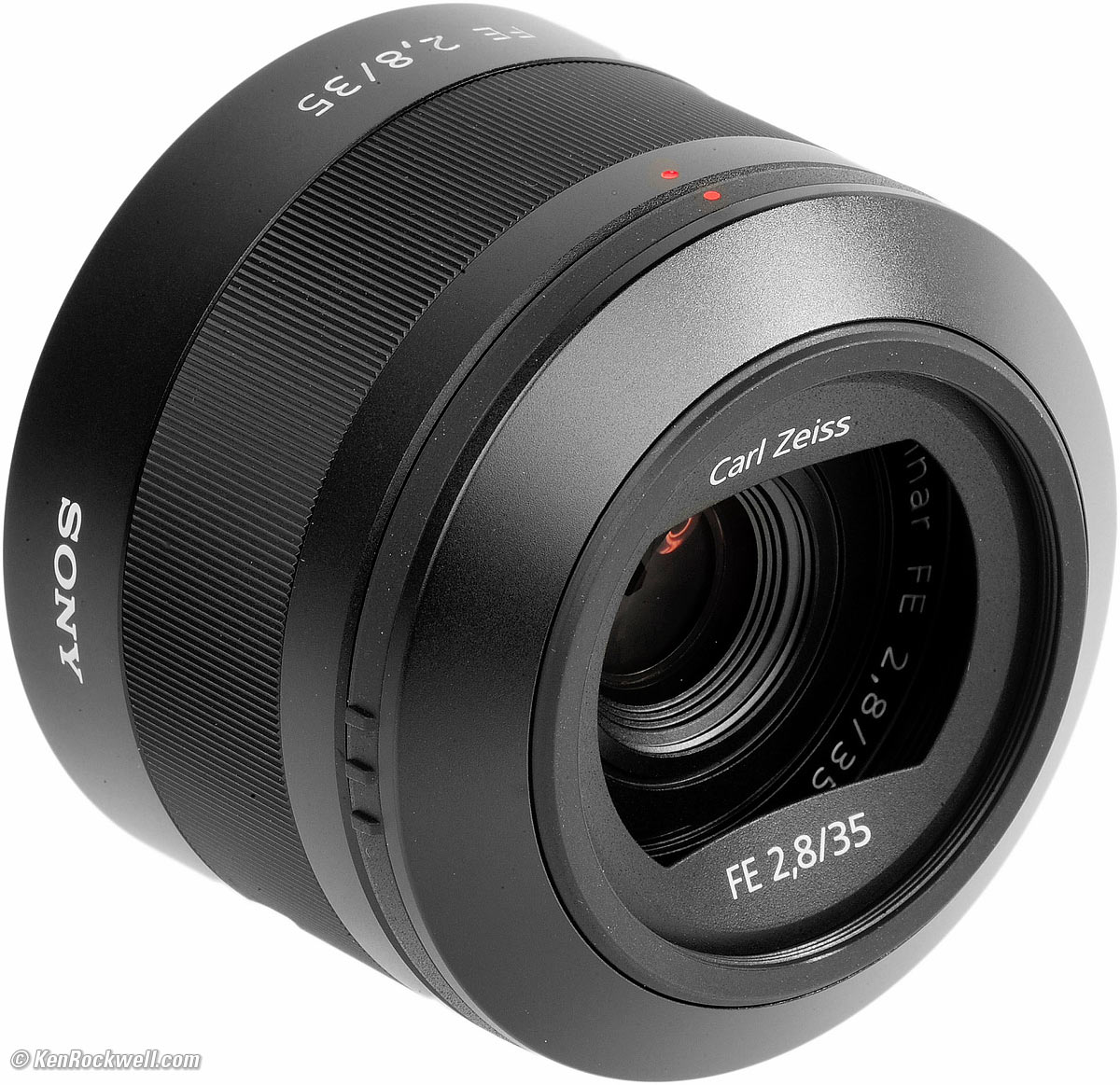 Hooded Sony Zeiss FE 35mm f/2.8 T*.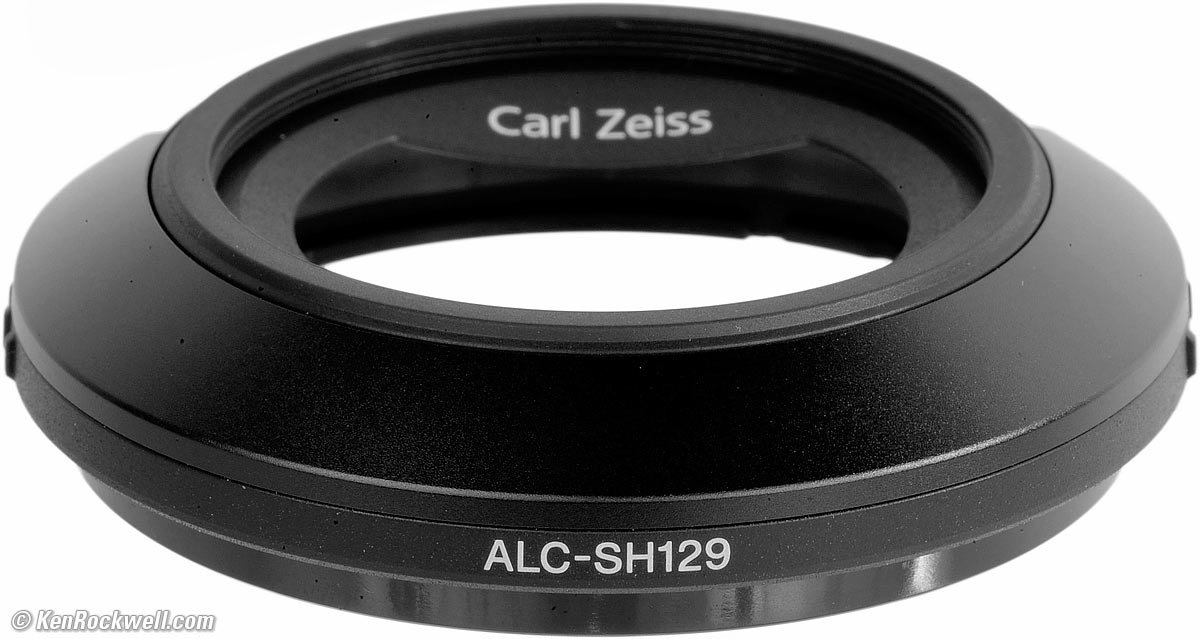 ALC-SH129 Hood for Sony Zeiss FE 35mm f/2.8 T*.
ALC-SH129 plastic bayonet hood included.
If you use it, it has a 40.5mm filter thread.
It is more a filter adapter to use 40.5mm filters instead of 49mm; it offers very little light shielding.
Case top
None included.
Honestly, the bubble wrap that is included is actually a much better case than the vinyl sacks that come with other Zeiss lenses.
The included bubble-wrap envelope both protects the lens, and lets you see what's inside.
Size top
2.42" (61.5 mm) diameter x 1.44" (36.5 mm) long.
Weight top
4.213 oz. (119.45 g), actual measured, without hood.
Sony specifies 4.3 oz. (120g).
Zeiss specifies 4.6 oz. (130g), probably with hood.
Sony Part Numbers top
SEL35F28Z (complete lens kit).
ALC-SH129 (replacement hood).
Announced top
January 2014.
Includes top
Lens.
Caps.
ALC-SH131 plastic bayonet hood.
Price, USA top
$698, September 2015.
$798 at introduction in January 2014.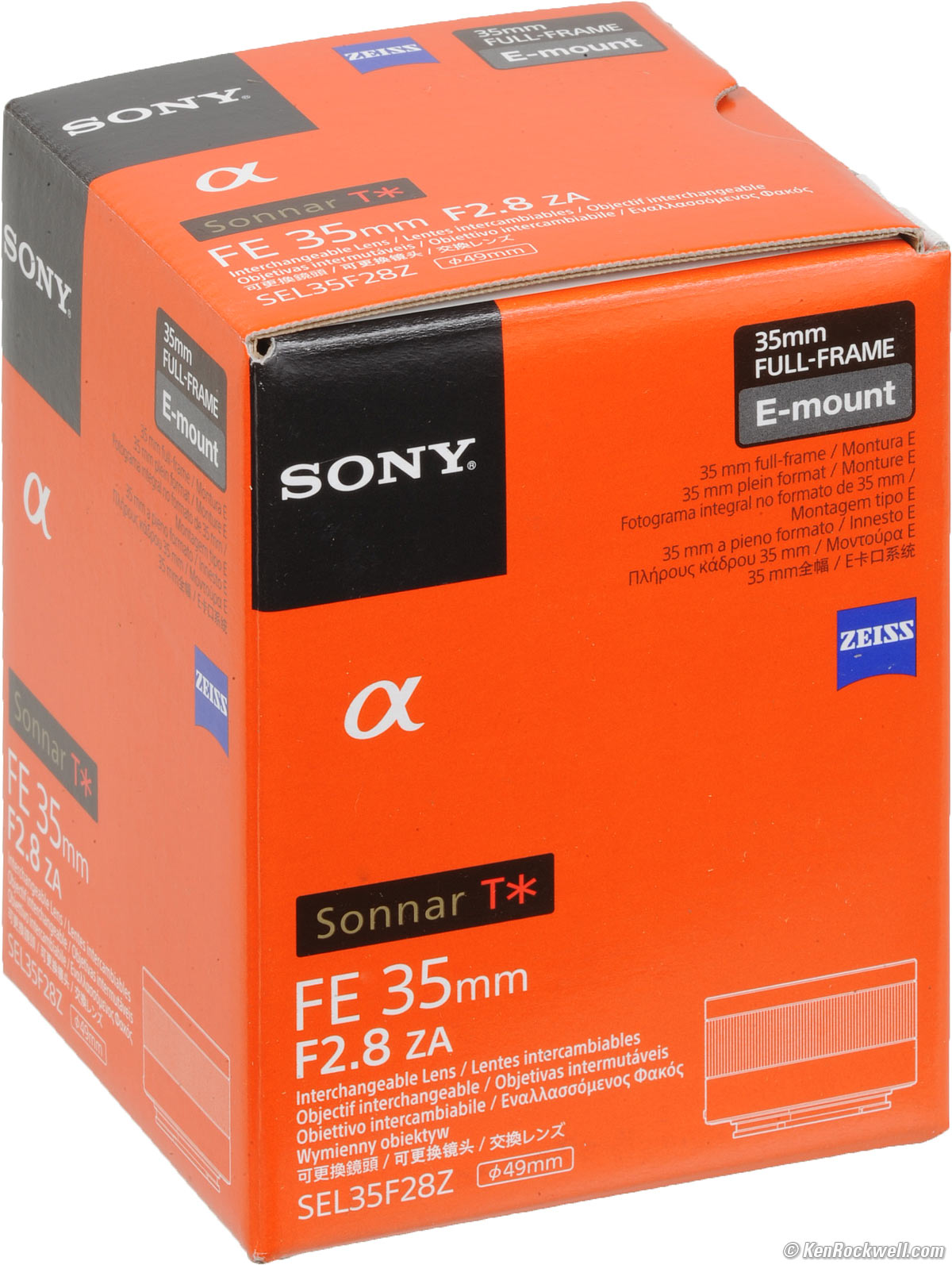 Box, Sony Zeiss FE 35mm f/2.8.
Performance top
Sample Images Intro Specs Performance
Overall Autofocus Bokeh Distortion
Ergonomics Falloff Filters Focus Breathing
Ghosts Lateral Color Fringes Macro Mechanics
Sharpness Spherochromatism Sunstars
Overall performance top
The Sony Zeiss FE 2,8/35mm is an optically superb gem.
Focus performance top
Focus is via a linear stepper motor, the same thing as Canon's STM lenses.
AF is fast, silent and accurate.
AF Speed
Autofocus is very fast on an A7R II.
Auto/Manual Switching
Just grab the focus ring anytime for instant manual-focus override — but only if you've set your camera to DMF focus mode.
Bokeh performance top
Bokeh, the quality of out-of-focus areas as opposed to the degree of defocus, is superb.
You won't often see anything out of focus unless you're close and shooting at f/2.8, but if you are, it's very smooth.
Here's a full-frame sample shot wide open from headshot distance. Click for the original © file: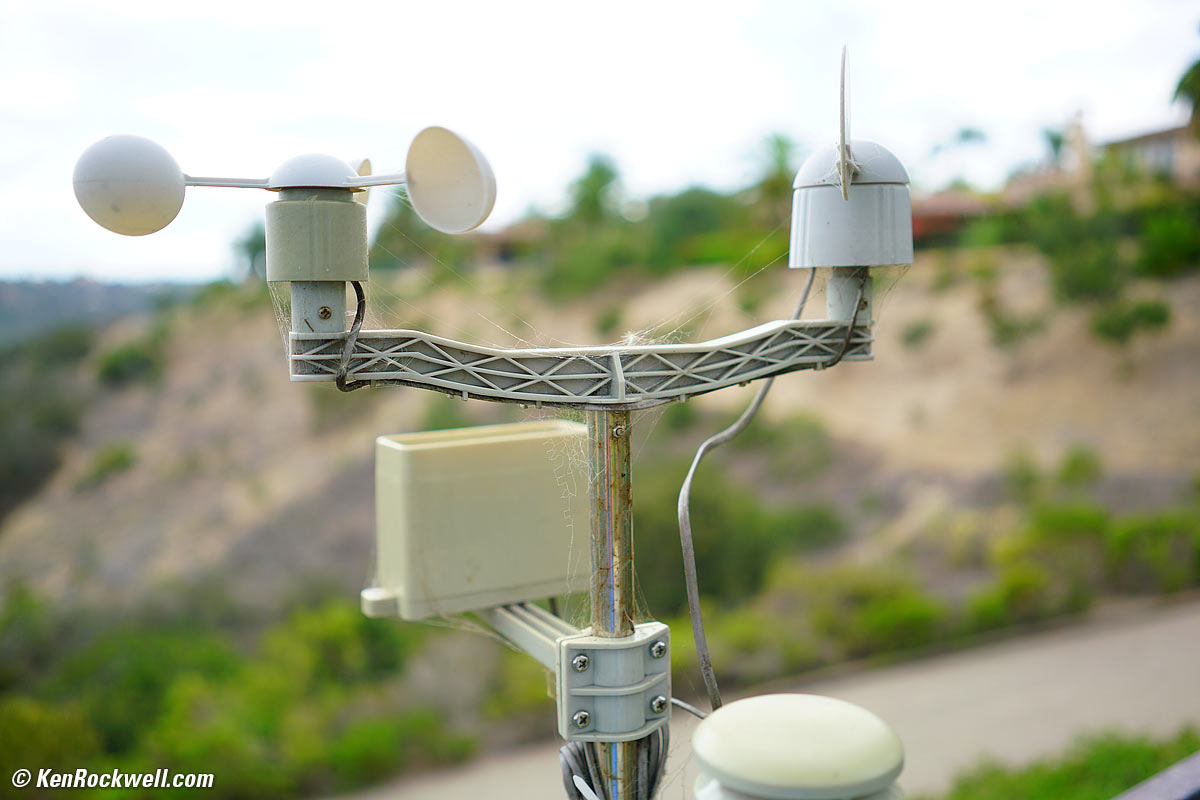 Shot at f/2.8 on full-frame on an A7R II. Camera-original © file.
Distortion performance top
The Sony Zeiss 35 2.8 has no visible distortion as shot on the Sony A7R II, which is probably correcting it.
For more critical photogrammetric, reconnaissance, mapping and surveying, use a value of +0.40 Photoshop's Lens Distortion tool to remove any residual distortion shot at 3m (10'), although there is some minor waviness left over.
These aren't facts or specifications, they are the results of my research that requires hours of photography and calculations on the resulting data.
Ergonomics performance top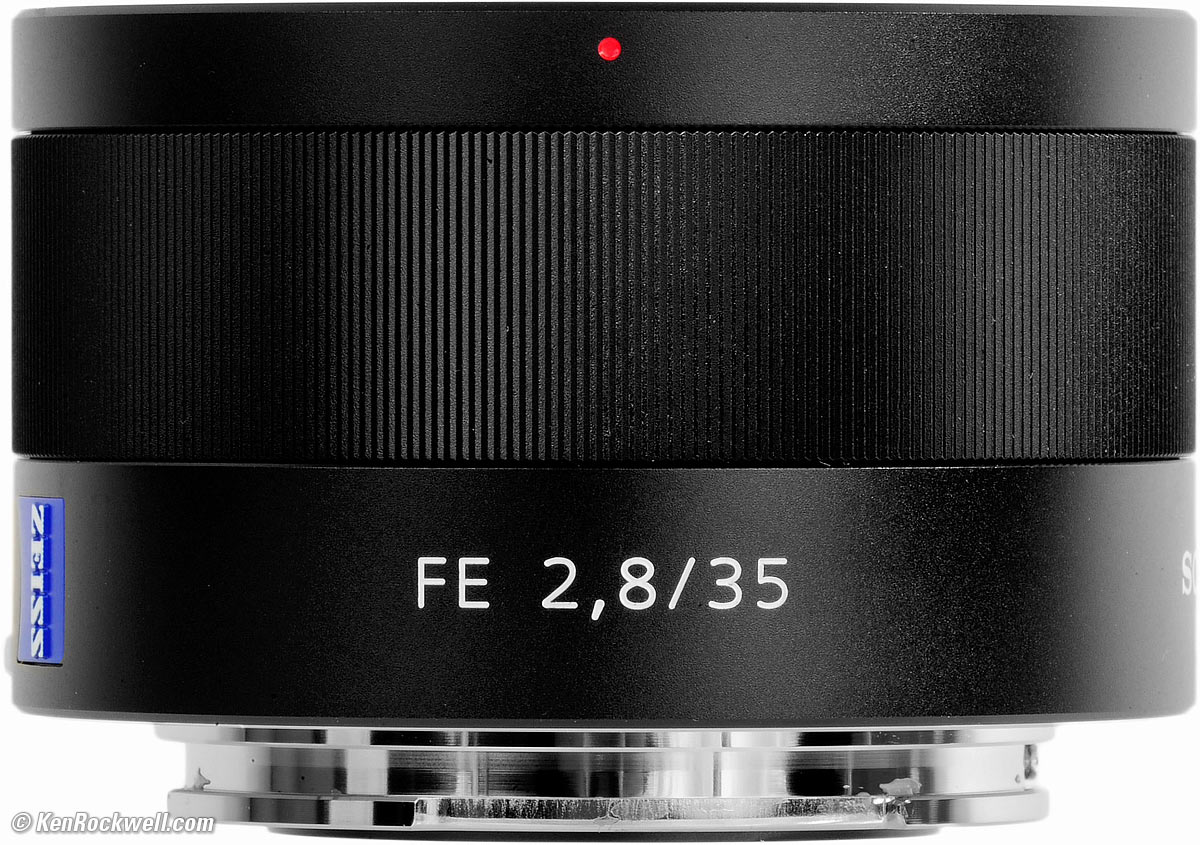 Sony Zeiss FE 35mm f/2.8 T*.
It's a metal shell covering plastic guts.
The focus ring isn't connected to anything; it's just an encoder which hopefully will be interpreted properly by your camera to drive the electronic focus motors.
On my A7R II manual-focus is mediocre. It works, but it feels disconnected because it is.
Falloff (darkened corners) performance top
Falloff is completely invisible as shot on the A7R II, which I presume is correcting much of it.
I've greatly exaggerated the falloff by shooting a flat gray target and presenting it against a gray background:
Sony Zeiss 35mm f/2.8 falloff on A7R II
© 2015 KenRockwell.com. All rights reserved.
Filters, Use with performance top
There's no problem with vignetting even with a huge stack of many filters.
There's no need for thin filters; any regular thick or rotating filters work great.
Focus Breathing performance top
Focus breathing (the image changing size as focused) is mostly of interest to cinematographers who don't want the image changing size ("breathing") as the lens is focused among different subjects.
Focus breathing is minimal. The image gets only very slightly larger as focussed more closely. I wouldn't worry about it, this is about as breathing-free as you can get.
Flare & Ghosts performance top
Flare resistance is excellent. I see no ghosts: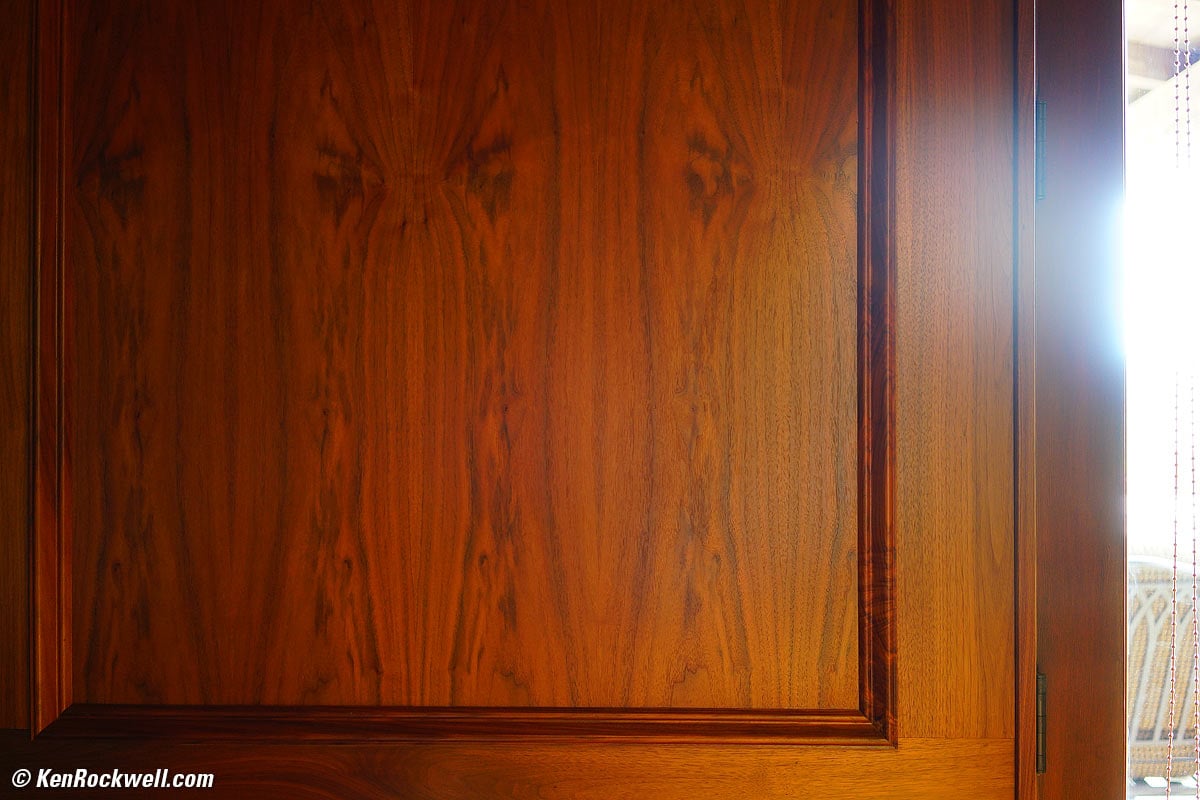 Bright light on right.
I see no ectoplasm.
Lateral Color Fringes performance top
There are almost no lateral color fringes, at least as shot on the A7R II. There may be a fraction of a pixel of blue-yellow, but you won't see it outside the lab.
There will be some spherochromatism if you aren't in perfect focus, but that's a completely different aberration.
Macro performance top
Macro doesn't get that close. Here's the best you'll get on full-frame: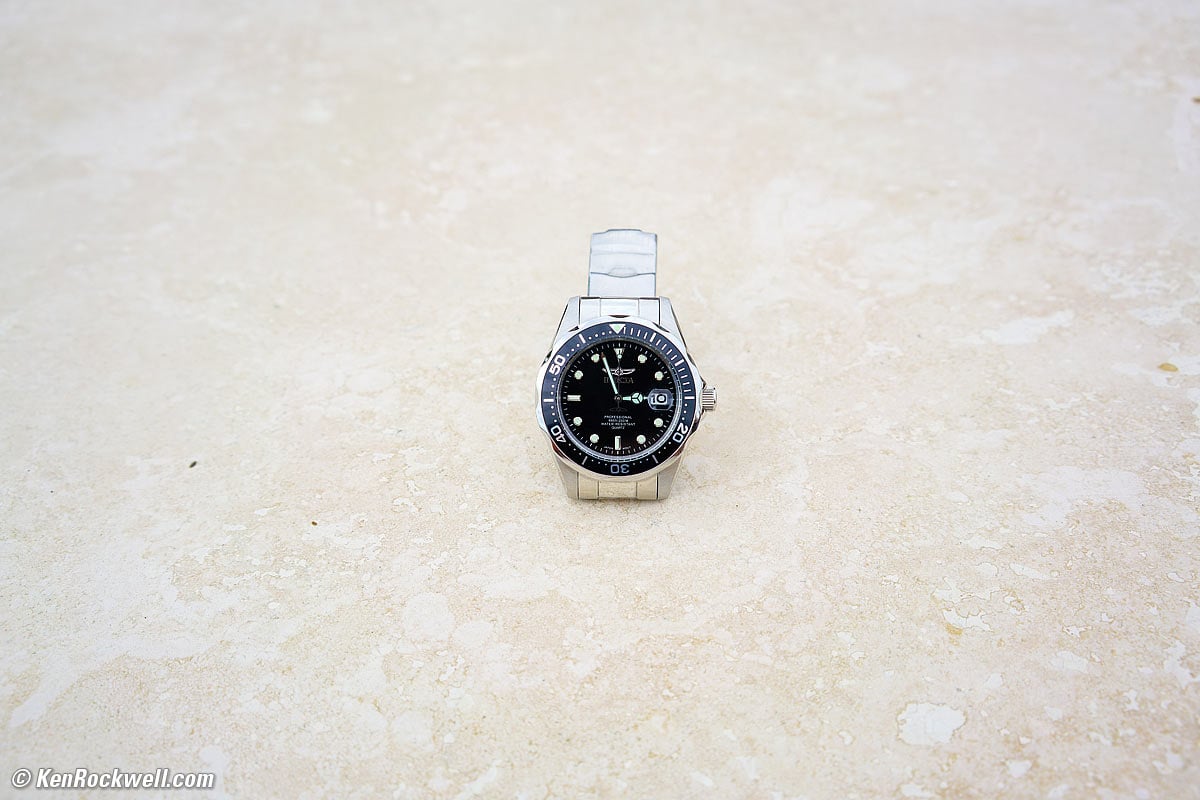 Genuine Rolex Submariner at close-focus distance at f/8 on full frame.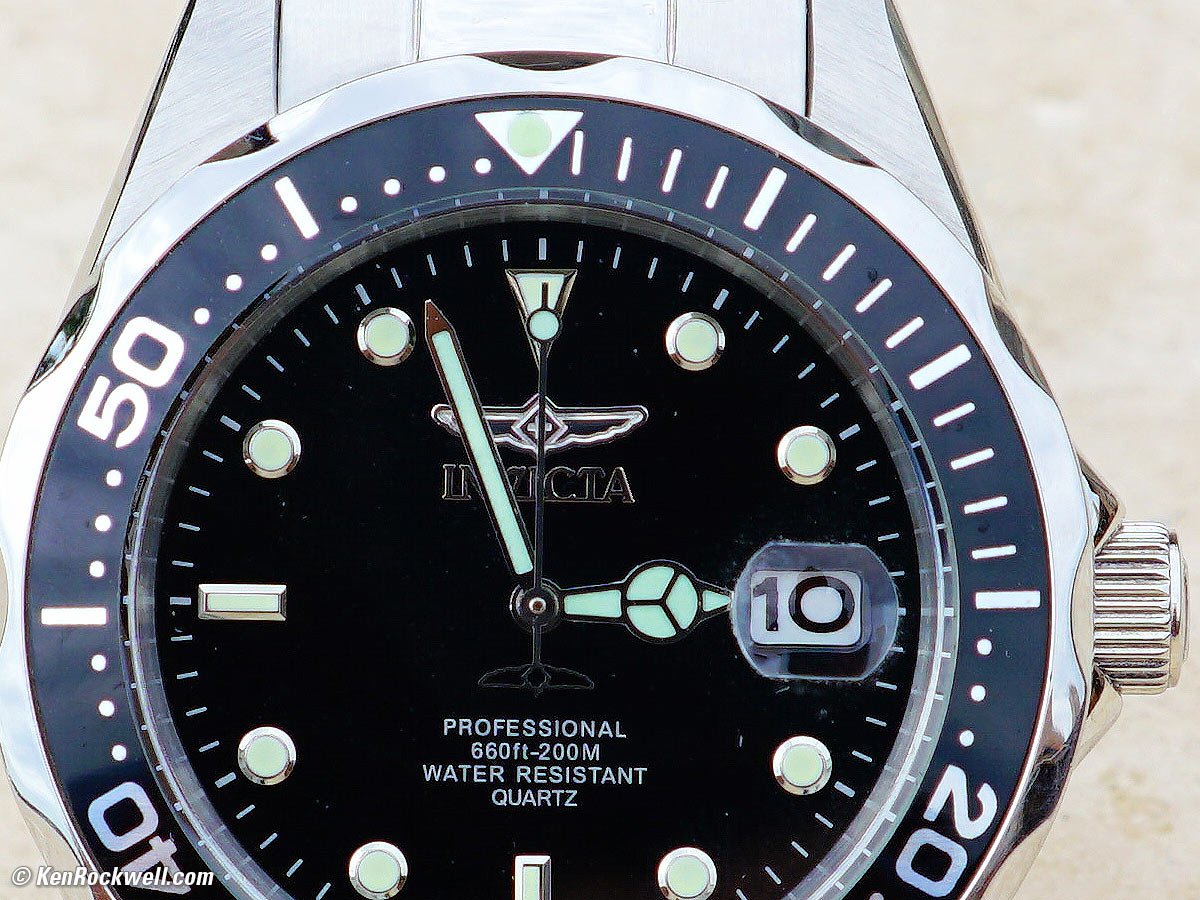 Crop from above at 100%. If this is about 6" (15cm) on your screen, printing the complete image at this same high magnification would result in a 80 x 55" (6.5 x 4.5 feet or 2.1 x 1.4 meter) print!
This is super-sharp. At f/2.8 you usually will get some color fringes due to slight defocus and spherochromatism.
Mechanics performance top
Sony Zeiss FE 35mm f/2.8. enlarge.
The Sony Zeiss 35/2.8 is mostly metal on the outside and mostly plastic on the inside. It feels nice compared to plastic, but not as nice as an all-metal lens
Filter Threads
Plastic.
Identity Ring
Plastic.
Hood Mount
Plastic.
Front Barrel
Anodized aluminum.
Focus Ring
Anodized aluminum.
Internals
Mostly plastic.
Rear Barrel
Metal.
Moisture seal at mount
No.
Markings
Mostly engraved.
Serial Number
Sticker glued on bottom of barrel.
It's simply stuck on the flat of the barrel; there is no indentation.
— also —
Engraved and filled with paint on front of lens.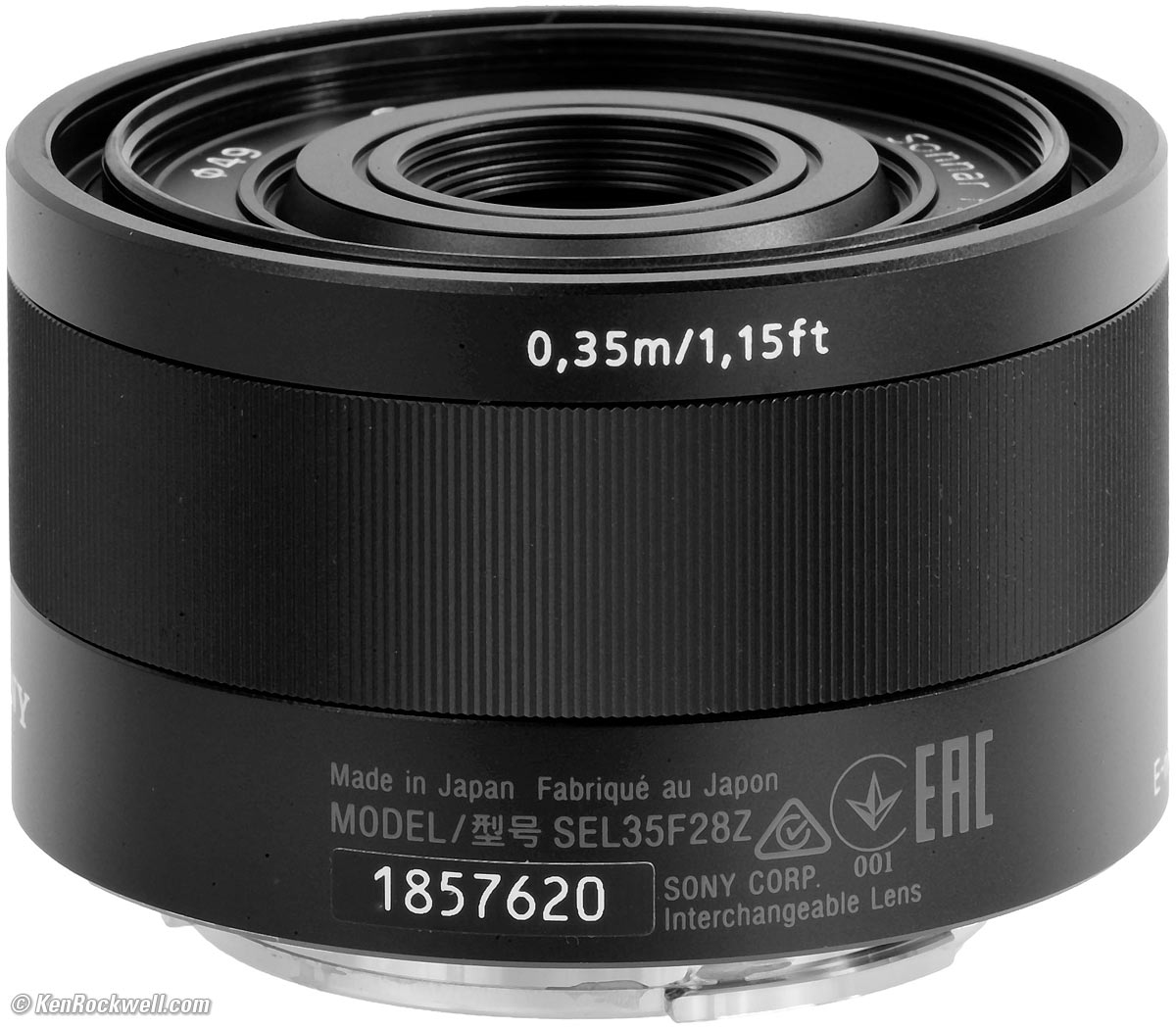 Made in Japan — with a stick-on serial number!
Mount
Chromed metal.
Noises When Shaken
Very light clicking.
Rear Light Baffle
Plastic.
Made in
Japan.
Sharpness performance top
Image sharpness depends more on you than your lens, and lens sharpness doesn't mean much to good photographers. It's the least skilled hobbyists who waste the most time blaming fuzzy pictures on their lenses, while real shooters know that few photos ever use all the sharpness of which their lenses are capable due to subject motion and the fact that real subjects are rarely perfectly flat.
This Zeiss 35mm is extremely sharp throughout all of the full frame image at every setting. If you're not getting sharp images, you're doing something wrong.
It's super-sharp wide open, and diffraction will dull the image at the smallest apertures.
Sony's Zeiss MTF curves:
| | |
| --- | --- |
| 10 cyc/mm, 20 cyc/mm and 40 cyc/mm. | MTF at f/2.8 |
| 10 cyc/mm, 20 cyc/mm and 40 cyc/mm. | MTF at f/8 |
Spherochromatism performance top
Spherochromatism, erroneously called color bokeh by laymen, isn't usually seen in slow wide-angle lenses, but I can see some in this lens.
Senal ASM-5: Spherochromatism at f/2.8. bigger.
Out-of-focus highlights just behind the plane of focus might have green fringes, and out-of-focus highlights closer than the plane of focus will have magenta fringes at the largest apertures.
This makes for very smooth background bokeh when plants are behind your subject, but also often visible color fringes near the plane of perfect focus if you have sharp white/black transitions.
Sunstars performance top
Sunstar, f/11. bigger.
Sunstar, f/16. bigger.
With its 7-blade rounded diaphragm, this Sony Zeiss 35mm f/2.8 makes crummy sunstars, if any at all. Good luck, this is the best I could do.
Compared top
Sample Images Intro Specs Performance
This is a unique lens.
No other 35mm f/2.8 lens has anywhere near the optical technology of this lens. It is significantly sharper wide-open than anything from Canon or Nikon.
Recommendations top
Sample Images Intro Specs Performance
This 35/2.8 is significantly sharper than any zoom for Sony, so it you really want to get all the pixels for which you paid with Sony's latest cameras, you need this lens.
Like taking a foreign-language class for a language in which you are already fluent, this lens gets an easy A+ for anyone shooting with the Sony system.
There are very few lenses native to Sony's unique E mount, whose short flange focal distance lets lens designers design superior lenses like this that cannot be made for SLRs. Because there is no flipping reflex mirror to clear, this lens has all the sharpness advantages of rangefinder lenses.
If shooting a Sony E-mount camera, you need one of these, and there are no real substitutes other than the significantly bigger and heavier Sony Zeiss FE 35mm f/1.4. Attempting to adapt a Sony or Alpha or MAXXUM lens will work, but be bigger, clunkier, and lack the optical performance.
If you're reading this, just get one. Like a Porsche, there is no substitute, unless you prefer the faster Sony Zeiss FE 35mm f/1.4.
This ad-free website's biggest source of support is when you get yours via these links to it at Adorama; I'd also get it at Amazon or at B&H. When you use those or any of these links to approved sources when you get anything, regardless of the country in which you live, it helps me keep adding to this free website — but I receive nothing for my efforts if you take the chance of buying elsewhere. Unlike a bottle of milk or a CD, Sony and Zeiss don't seal their boxes at all, so you have no idea if you're getting a used, returned, incomplete or damaged product if you risk buying at retail. Never buy at retail. I use the sources I do because they have the best prices, service, return policies and selection— and they ship from secure remote warehouses where no customers or salesmen can get their sticky hands on your new camera before you do.
Thanks for helping me help you!
Ken.
More Information top
Sample Images Intro Specs Performance
© Ken Rockwell. All rights reserved. Tous droits réservés. Alle Rechte vorbehalten.
Help me help you top
I support my growing family through this website, as crazy as it might seem.
The biggest help is when you use any of these links to approved sources when you get anything, regardless of the country in which you live. It costs you nothing, and is this site's, and thus my family's, biggest source of support. These places have the best prices and service, which is why I've used them since before this website existed. I recommend them all personally.
If you find this page as helpful as a book you might have had to buy or a workshop you may have had to take, feel free to help me continue helping everyone.
If you've gotten your gear through one of my links or helped otherwise, you're family. It's great people like you who allow me to keep adding to this site full-time. Thanks!
If you haven't helped yet, please do, and consider helping me with a gift of $5.00.
As this page is copyrighted and formally registered, it is unlawful to make copies, especially in the form of printouts for personal use. If you wish to make a printout for personal use, you are granted one-time permission only if you PayPal me $5.00 per printout or part thereof. Thank you!
Thanks for reading!
Mr. & Mrs. Ken Rockwell, Ryan and Katie.
Home Donate New Search Gallery Reviews How-To Books Links Workshops About Contact