Home Search Gallery How-To Books Links Workshops About Contact
Mercedes SL600
© 2006 KenRockwell.com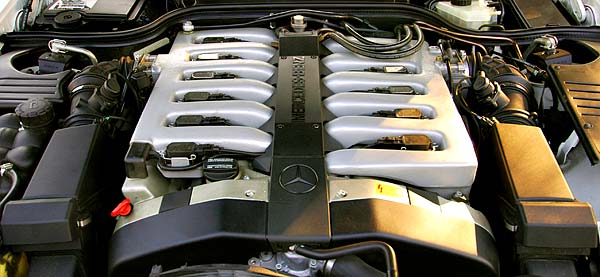 San Diego, California, November 2005
1999 SL600 V12 Powerplant (similar to 1993 - 2002). click to enlarge.
INTRODUCTION
Wow, I could have had a V-12! Every SL500 owner with a pulse lusts after the V12 SL600 made from 1993 through today.
I got my 1997 SL500 back when I actually drove it and considered the V8 more practical than the V12. Today I drive my museum piece so little I thought I'd rather have the V12 if I could go back in time, even though they don't really feel any different to drive.
Therefore I couldn't resist a newspaper ad for a 1999 SL600 in the same colors as my SL500! I checked it out as a potential replacement for my SL500.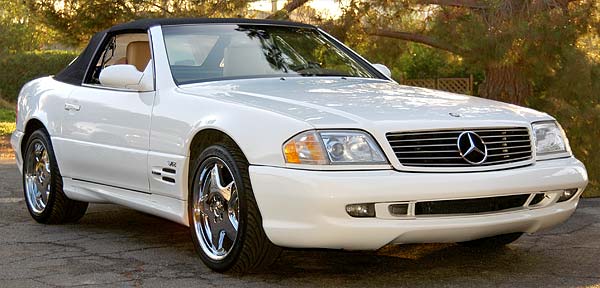 San Diego, California, November 2005
1999 SL600
Comparison Table: SL500 vs. SL600
| | 1997 SL500 V8 | 1999 SL600 V12 | difference |
| --- | --- | --- | --- |
| Displacement | 5.0 L | 6.0L | +20% |
| Torque | 347 ft-lbs | 420 ft-lbs | +21% |
| Power | 315 hp | 389 hp | +24% |
| 0 - 60 MPH | 6.4 seconds | 5.9 sec. | 0.5 seconds |
| | | | |
| Weight | 4,165 lbs. | 4,445 lbs. | +7% |
| Power-to-weight | 13.2 lbs./hp | 11.4 lbs./hp | -16% |
| Length | 176.0" | 178.0" | 2 inches longer |
| Turning Circle | 35.3' | 35.5' | 2 inches wider |
| | | | |
| MSRP, base | $91,795 | $130,095 | +42% |
Compared to the SL500
The SL600 includes probably everything that may have been optional for the SL500, like dashboard-adjustable shocks and ride height control, CD changer and xenon lights.
The SL600 doors and dash are covered in leather, not MB-Tex. Newer SL600s smell like a lot of leather!
My 1997 fog lights are conventional reflector-lens designs. The 1999 SL600 I saw had combination reflector-refractive fog lights in the same positions.
I'm unsure where the two extra inches in length lies in the SL600.
The seat leather of a 1999 SL600 seems softer and more delicate than my 1997 SL500. The SL600 leather seems to stick me in the seat better; I put sheepskins on my SL500 to keep me from sliding around.
Operating Expenses
Everyone agrees that it costs about twice as much as an SL500 to service. Parts are scarcer, and of course the huge engine uses about 10.5 quarts of expensive oil compared to smaller engines.
I was concerned back when I used to drive other cars 30,000 miles a year, but now that I drive my SL only 3,000 miles a year I wouldn't worry about it. You get an SL600 to enjoy, not to worry about costs.
The good news is I've never heard about any reliability issues with the V12, not that I would with a car this rare. Everything I've heard is that these are bulletproof engines very happy to be driven hard everyday. The V12 is exactly double the engine of most family sedans with the same weight, so the V12 is never working very hard even at 120 MPH.
Fuel Economy
I average about 17 MPG in my SL500. Ben says he gets about 14 - 15 MPG in his V12. As V12s go it gets fantastic fuel economy due to the transmission's tall overdrive and overall efficient design.
Driving Experience
Oddly the SL500 and SL600 are pretty similar.
Both are silent runners. The 1999+ models have slightly louder exhausts, thus I think the V12 made a little more noise then my 1997 V8 based on model year rather than engine.
Both are big, heavy, sold, powerful cars that feel pretty similar. I'm unsure of the gear ratios: axle ratio on both is rated 2.65:1, but top gear seemed taller with the SL600 running about 75 MPH at 2,000 RPM vs my SL500's 65 MPH at 2,000 RPM. Lower gears seemed the same with 2/3 shift coming at 75 MPH on both.
They both pull about the same as born out in similar 0 - 60 ratings. The biggest difference is at part-throttle mid-RPMs at which the V12 pulls harder. If you floor either of them you get a similar result, with both of them downshifting and spinning towards redline pretty darn quick.
So why didn't I buy this SL600?
The two cars are so similar it didn't make sense for me to go through the efforts of buying and selling. If you don't already have an SL I'd give this one a look. Also Ben's honest that his isn't a museum piece (for which I was hoping) and has double the miles that mine does. He's also asking less than I would. That's why I mention that it's for sale if anyone's looking. It's better than used most SLs I saw for sale when I was shopping and Ben tells me it's even covered by Mercedes' Starmark extended warranty!
I prefer the Java tan leather and light chestnut wood interior colors of this SL600 over the similar colors of the Parchment tan leather with darker wood of my SL500.
This was for sale in November 2005 by Ben at (760) 613-5360 in northern San Diego, California. It had 52,000 miles on it and he was asking $34,000.
SL600 Variation by Model Year
The great news is that this magnificent V12 engine was never downgraded as the V8s were in 1999. The V12 was always a quad cam, 4-valve per cylinder 48 valve engine. Only in 2003 did it go down to 3 valves, but since two turbochargers were added no one is complaining.
The rest of the body and other features are the same as the other SLs, although of course the SL600 includes just about everything standard that may have been optional on the SL500 or SL320.
skip straight to comparisons of model years
HISTORY and COMPARISON OF MODEL YEARS 1990 - 2005