Home Search Gallery How-To Books Links Workshops About Contact
2007 Mercedes S-Klasse Sedan Engines
© 2006 KenRockwell.com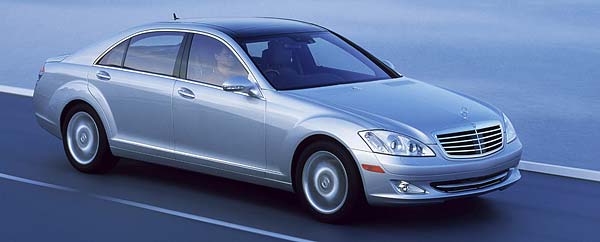 Background
Mercedes introduced high performance variable-valve-timing quad-cam 4-valve V8 in the 1990 SL500 and continued through 1998. Chrysler era cost reductions replaced these engines with lower performance 3-valve V8s in the 1999 - 2006 SL500s, including the V8 offerings in every other 2006 model. The 3-valve engines offer the same EPA fuel economy with less power and less torque compared to the 1990 - 1998 4-valve engines. Of course marketers promoted this downgrade as some sort of benefit. Even the six-cylinder models stepped back to simpler technology and lower performance.
That's right: the 1990 5.0L V8 had 322 HP while today's cheaper 5.0L V8 has only 302 HP, all with the same fuel economy.
Thank God Mercedes returns to the better engines for the 2007 S-Klasse.
2007 S-Klasse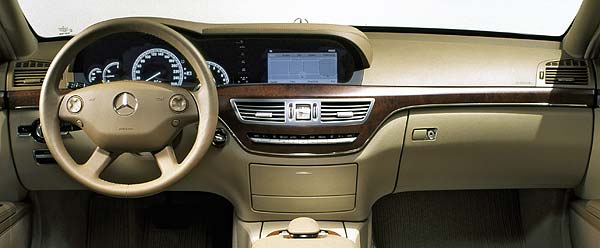 2007 Mercedes S550 interior. Click to see more. iDrive knob in middle and funky column shifter makes it look like the 2002 BMW 745i. Mercedes calls their iDrive COMAND.
Thank goodness Mercedes is returning to high-performance quad-cam, four valve V8 engines in the S class for 2007 after the doldrums of 1999 - 2006. Even Mercedes' sixes returned to 4-valve designs in 2006.
I have to giggle that Mercedes calls these V8s "new-generation." Mercedes is simply returning to the superior 4-valve technology they introduced in 1990 and abandoned in 1999.
The V12 turbo remains at 3 valves and no one is complaining.
The 2007 S class grows 1.7" to 204.9" long and grows 2 CF to a 19.8 cubic foot trunk.
There are three S Class sedan engines for the USA for model year 2007:
S450
The S450 has a 4.6 litre V8 with 339 ft-lb of torque and 335 HP. This smaller engine has the same torque as the dumbed-down 1999 - 2006 5.0 liter SL500 engine and 10% more power. It comes with a 7-speed automatic. It should go on sale in April 2006.
S550
The S500 has a 5.5 litre variable-valve-timing V8 with 391 ft-lb of torque from 2,800 to 4,800 RPM and 382 HP. Now we're talking! Hallelujah! 0 - 60 MPH comes up in about 5.0 seconds, compared to the 3-valve V8's 6.0 seconds. European fuel economy is rated at 20 MPG. Hopefully we'll get this to replace the old 3-valve engine in 2007 SL500s and E500s. The S500 comes with a 7-speed automatic and goes on sale in February 2006.
S600
The S600 has a twin-turbo intercooled 5.5 litre V12 with 612 ft-lb of torque and 510 HP. 0 - 60 MPH is rated at 4.4 seconds and European combined fuel economy is 16 MPG. Premium fuel costs about $8 a gallon in Germany. It comes with a 5-speed automatic. It should go on sale in April 2006. (The 2006 S600's torque was 590 ft-lbs.)
Europe
S350
Europe also gets a 268 hp V6. European fuel economy is rated 23 MPG and 0 - 60 is 6.8s.
S320 CDI
The S320 CDI is a V6 Diesel with 398 ft-lb of torque and 232 HP. It hits 60 MPH in 7.0s and has a European combined fuel economy rating of 28 MPG.
HISTORY and COMPARISON OF MODEL YEARS 1990 - 2005