Home Search Gallery How-To Books Links Workshops About Contact
Mercedes SL500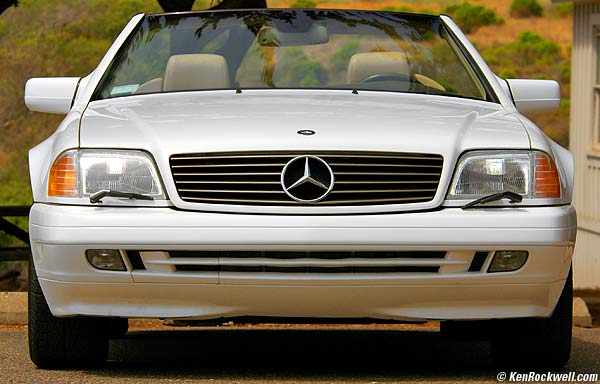 Montaña de Oro, California, July, 2004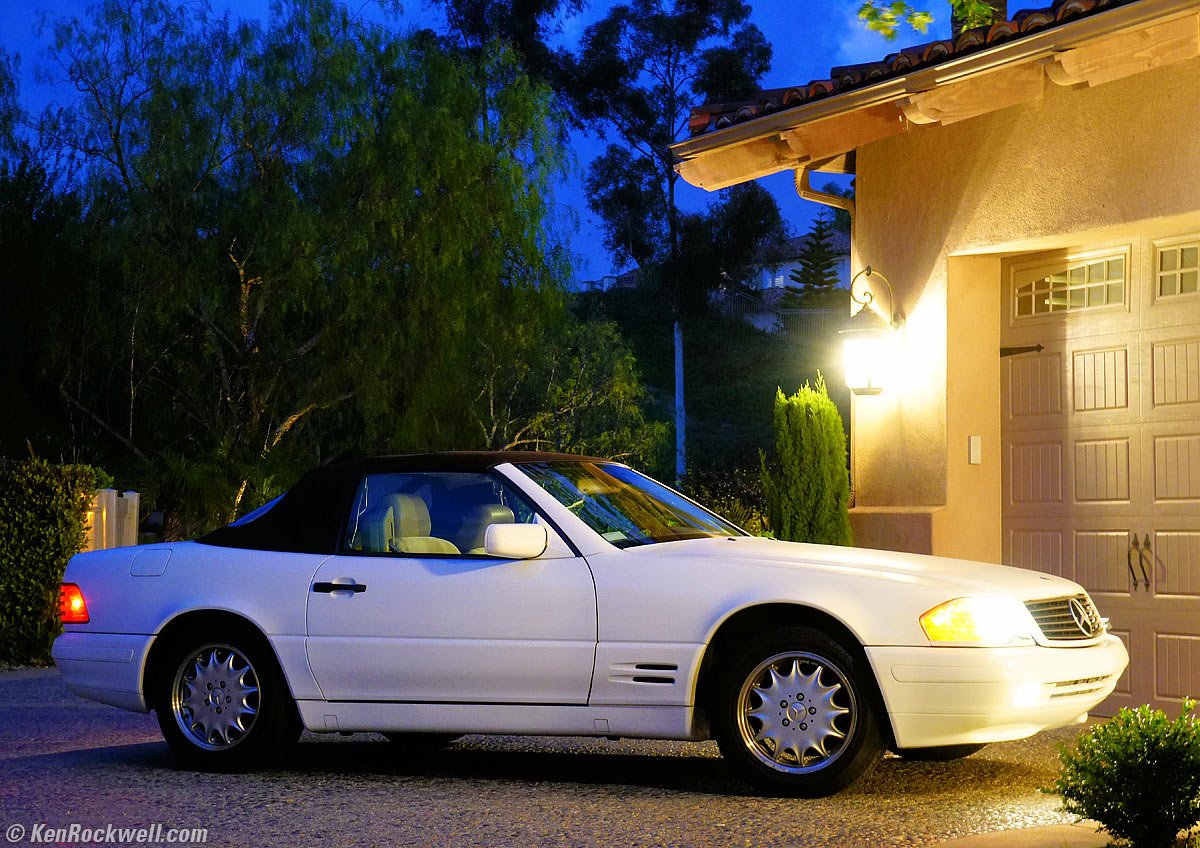 Rancho Santa Fe, California, March, 2016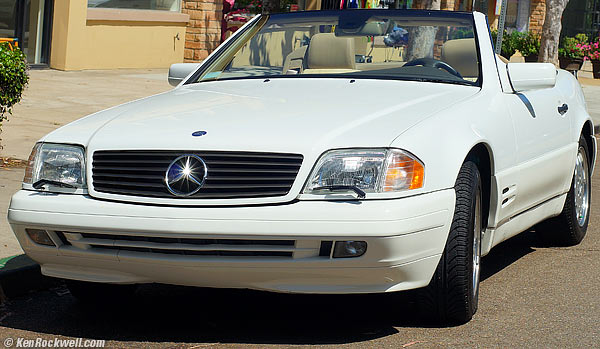 La Jolla, California, May, 2013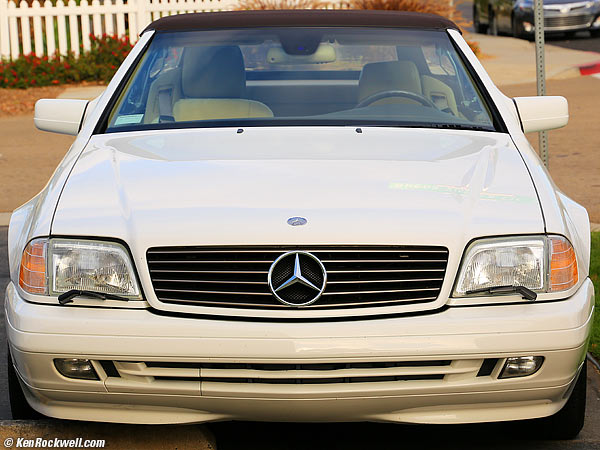 SL500, Carlsbad, California, 31 March 2015. (Canon 5D Mk III, Canon 24-105mm STM at 100mm, f/8 at 1/200, Perfectly Clear V2. Full-resolution.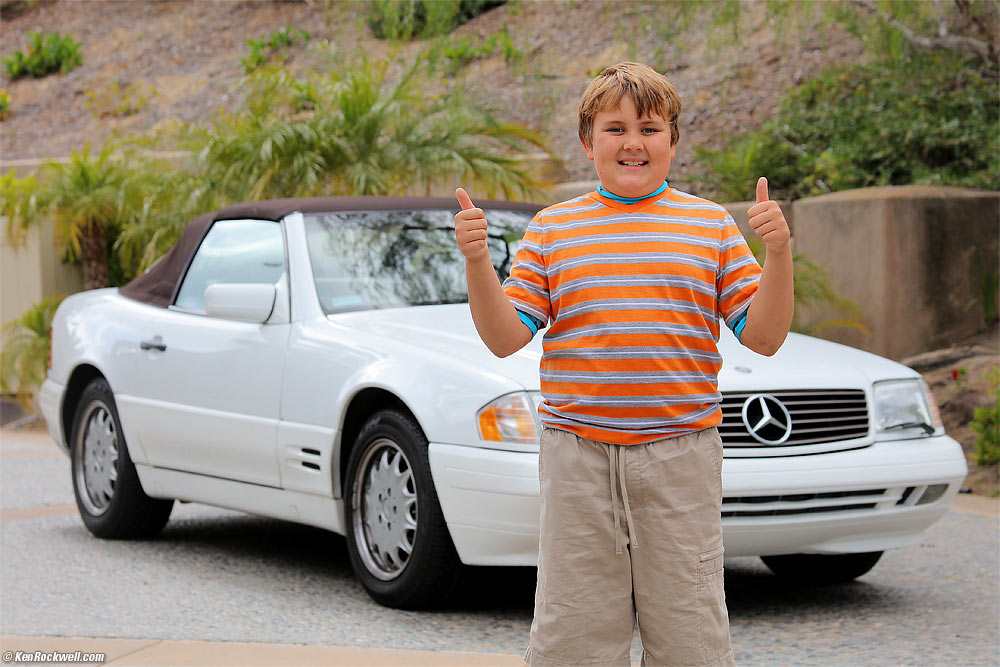 Ryan loves the SL500, 25 April 2016. Ryan loves going for rides with the top down, and asks just about every day to go for a ride. Canon 5DSR, Canon 28-135mm IS at 100mm, f/7.1 at 1/160 at Auto ISO 100, Perfectly Clear. bigger.
INTRODUCTION
How to Keep your Mercedes in Collectible Condition
New: See my report on the 2007 SL550, the first conventional SL that can outrun even the 1990 SL500.
The Mercedes SL series is quite likely the very finest automobile ever made.
The SL500 is visual poetry parked in your garage, and poetry in motion while driven.
Driving the SL500 one learns what it must feel like to be a deity when freed from the shackles of place and time and the cares and worries that haunt ordinary drivers.
The SL500 engine runs without sound or vibration at idle and normal speeds. It has more power than even the largest military Hummer, yet when pushed merely makes a slight whooshing sound while objects from afar get very big very fast and evaporate in your rear view mirror almost instantly. Shifting through the gears the SL500 gives no jerking forward and back, but instead offers continuous, unbroken smooth acceleration more like a silent turbine jet engine. The SL500's ground speed exceeds the speed at which aircraft lift off, and ten SL500s have more power than a locomotive with a lot less weight and noise.
While moving the SL500 reminds one that it costs over five times what a normal car does not by excess, but by the absence of all the little noises, inconveniences and compromises of lesser cars. As many world religions have noted, pleasure and Heaven are not obvious pleasures, but the complete lack of unpleasantness.


Torrey Pines, California, July, 2004
Driving the SL500 is salvation. Behind the wheel your life is perfect.
The SL500 is a masterpiece of beauty, power, smoothness, safety and convenience which cannot be put into words by any living poet. The rest of this is all technical. Other cars occasionally can offer better performance on paper in one aspect or another, but always at the expense of something else at which the SL continues to excel. The rest of this cannot possibly convey the pleasure received from owning an SL500. I present the rest of these facts for my personal reference after having researched them.
skip straight to comparisons of model years

Palm Desert, California, May, 2004
The only convertible that looks sharp with the top up. Note the perfect flowing line from the top of the door moving rearward.
DEALERS
Service and support are one of the reasons to drive a Mercedes: not only do you get eternal free roadside service, but everything the dealers do is just done right. If you ever have any questions or need anything just call (800) FOR-MERC any time of the day or night. Mercedes roadside assistance is perpetual. Other brands have so-so service, and then it expires!
I got mine from Jim Waldruff at Hoehn Mercedes in Carlsbad (San Diego), California. By all means give Jim a call at (760) 815-6033 if you need anything. He and Hoehn Mercedes, who also has done all the service, have all always done a great job. I always get the service I expect and everything is just taken care of.
I took this level of service for granted until I bought a BMW 540 and got a different kind of service. The BMW 540 is a great car if you don't mind a sedan. It's the dealers that set the two apart. I compare the two cars here. Sadly auto magazines skip the dealership experience when they rate cars.
Mercedes, regardless of whether or not you like today's models, stands behind their cars incredibly well. Mercedes always goes the extra distance to make everything right.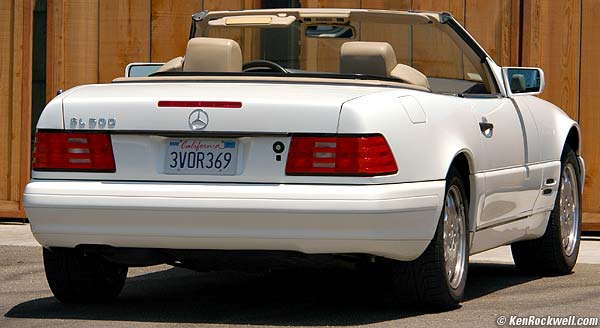 Cambria, California, July, 2004
Projecting perfect proportions from every angle, the R129 SL500 is the crown jewel of the automotive designers' art. Designed with passion and vision, the R129 SL500 looks as astonishing today as when it was introduced.
1997 SPECIFICATIONS
Production Levels:
There were 5,632 model year 1997 Mercedes SL500s sold in the USA.
About 8% were white, making only 451 white 1997 SL500s.
Only some have the optional heated seats.
A smaller percentage still have brown soft tops instead of common black.
Thus this featured SL500 may be rather unique as well as classic.
DIMENSIONS
177.1" long, 71.3" wide and 51.3" tall. This is shorter and wider than you suspect.
4,165 pounds, over two tons of Mercedes-Benz with none of the rollover hazards of SUVs.
Tight 35.4' turning circle for easy U-turns anywhere. The microscopic Mini only turns 7 inches tighter.
Roomy 7.9 cubic foot trunk, carpeted to match the interior. You can use all of its big rectangular space. None of it is wasted with the useless odd shapes and small nooks and crannies of other convertibles. Other convertibles are too shallow to swallow a grocery bag or allow the top to take up much of the trunk. The 1990 - 2002 SL500 has a full trunk with any top configuration, unlike the 2003 - on SL500 and SLK and other brand copy-cats like the Cadillac and Toyota (Lexus) which allow the roof to collapse into your trunk. TRICK: there is a light switch on the inside of the trunk near the latch on the body. It's not visible from behind the car, you can see it from inside the trunk to learn where it is. You use this switch to turn off the light if you choose to leave the trunk wide open in your garage till your next trip. It automatically resets the next time the trunk is closed. TRICK: There is a little black plastic slot on the bottom of the trunk lid visible while open. Insert the end of the strap which lifts the trunk's false floor to keep the false floor raised while working with the spare.
21.1 gallon fuel tank. My fuel gauge, like most Mercedes fuel gauges, is linear and accurate: each 1/4 tank mark corresponds to 5 gallons, and filling up from the "0" mark takes 20 gallons.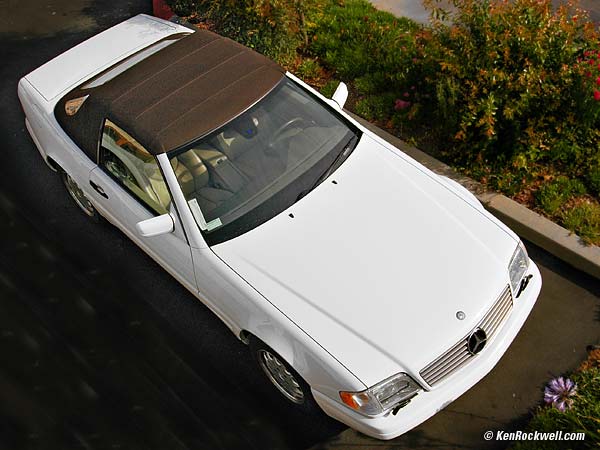 San Luis Obispo, California, July, 2004
1997 SL500 with an almost unheard of brown soft top (click to enlarge)

Carlsbad, California, May, 2007
1997 SL500, hardtop attached, in the motorcourt of a fine home.
ENGINE
V-8, 5.0L, 304 CID, DOHC, 32 valves, four cams, Variable Valve Timing (VVT)
347 ft-lbs torque @ 3,900 RPM, 315 Horsepower @ 5,600 RPM, more than a huge SUV, Escalade or Hummer. That's right, the SL500 has over twice the horsepower of a full military HMMWV Hummer H1. 347 foot-pounds of torque is what shoots the SL500 forward smoothly as if moved by the very Hand of God or a hydraulic carrier jet launcher. Many people exclaim "Jesus Christ!" the first few times they undergo this acceleration to confirm the Hand of the Almighty's involvement. The SL500 weighs over two tons and accelerates to over 100 MPH in under 15 seconds.
This dwarfs BMW's 12 cylinder 5.0l engine (1989 - 1994) which only has 296 HP and 332 ft-lbs of torque.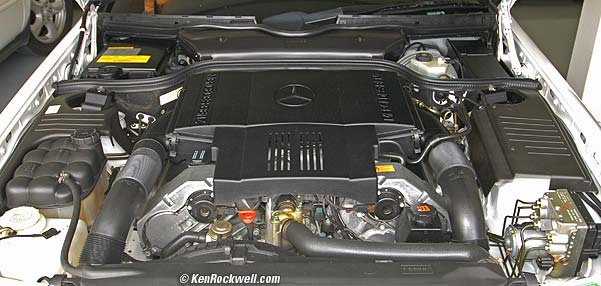 Olivenhain, California, July, 2004
The engine bay with standard dual ram cold-air induction system. The black circles on the ends of the intake cams are the electromagnetic clutches for the variable valve timing. (click to enlarge)
The SL500 accelerates smoothly and brutally at any speed. Acceleration comes from torque, not horsepower. The horsepower advertised by sub-six-figure vehicles has much less to do with acceleration than torque. A normal car has only about 150 ft-lbs of torque, peak. The SL500 not only has 347 ft-lbs, it does this over most RPMs.
This is more torque than tomorrow's new not-yet-available 2005 Ferrari F430, which only has 343 ft-lbs. Today's state-of-the-art 2004 Ferrari 360 Modena, for which many people are still on waiting lists, only has 275 ft-lbs. Chevrolet took out a three-page ad in Autoweek's January 24th, 2005 issue (pages 5 - 7) to brag about the power of their Vortec engine in their huge Silverado Z71 truck. It can't even make 300 HP. You could win more mud bog races with the SL500 powerplant than one from an exotic or an American truck, and the SL500 plant did this even 15 years ago.
The SL500 is more potent than almost anything. The 2005 Maserati GranSport ($98,172) has only 332 ft-lbs. The 2006 Aston Martin V8 Vantage ($110,000) has only 302 ft-lbs. The 2005 Porsche 911 Carrera S ($79,100) has only 295 foot-pounds. Torque is what accelerates a car, not horsepower. Horsepower only relates to top speed, and cars today are electronically limited for top speed so horsepower is irrelevant even if you could drive anywhere near top speed.
Variable Valve Timing. This give the engine the unGodly power above when you need it, and lets it idle almost silently and give fantastic gas mileage for normal use. Yes, the biggest problem with this usually silent engine is that you now are aware of everyone else's car maintenance problems since you can hear them so clearly with the top down. This advanced feature is what makes this engine have such extraordinary power and fuel efficiency and silence, all in the same engine.
96.5 mm bore, 85 mm stroke. Mercedes calls this the M119 engine. Aluminum alloy block and head. This 4-valve, quad cam high-performance engine is similar from 1990 - 1998, although the torque rating of the 1997 is a little more than any other year. In 1999 - 2006 Mercedes now uses a less powerful, less torquey 3-valve-only engine in all their 500 models.
Sequential Multiport Fuel Injection
Dual Ram-Air Cold Air Intakes, located to the sides of the radiator just hidden inside the front grille
Stainless steel exhaust. Oddly, this car makes all this power without headers!
DRIVELINE
5 speed automatic electronic overdrive lockup transmission
1st: 3.59:1 or 45 MPH max @ 6,000 RPM. (3,650 RPM at 45 MPH after upshift)
2nd: 2.19:1 or 74 MPH max @ 6,000 RPM. (3,850 RPM at 75 MPH after upshift)
3rd: 1.41:1 or 115 MPH max @ 6,000 RPM. (4,250 RPM at 115 MPH after upshift)
4th: 1.00:1, firmware limited to 155 MPH @ 5,650 RPM
5th: 0.83:1; firmware limited to 155 MPH @ 4,650 RPM
Reverse: 3.16:1 in normal mode, 1.95:1 in winter mode.
That's right: the SL500 has TWO reverse gears! Select the "W" winter mode for high-speed reverse driving. At redline you can hit 50 MPH in the usual reverse gear, or 84 MPH in the winter-mode reverse gear! I hope Mercedes' firmware stops you from doing this. Let me know if you try.
Changing a few lines of code in the engine management firmware ought to delay the upshift from fourth to fifth to 6,000 RPM at 165 MPH and hit 185 MPH at 5,600 RPM in fifth on level ground. Don't do this. I calculate if you found a long enough downhill with a strong tail wind you'd get to 198 MPH at 6,000 RPM in fifth!
The power never stops while shifting since each upshift puts you back on the top of the torque curve. There's no letdown of power at each shift giving the SL a seamless flow of power at any speed. There's no jerking forward and back like other cars searching for a powerband while shifting. You get thrown into your seat and aren't released till you cry "uncle!"
1,800 RPM @ 60 MPH in 5th
2.65 rear axle ratio
Standard tires: Michelin Pilot 225/55ZR16, 806 revs/mile.
W and S settings on transmission. Normal is S, which stands for Standard or Sport or Summer. W stands for Winter or Wet and gives 2nd gear start and a taller reverse gear to keep you from spinning your tires in crummy conditions.
The Winter position is quite clever: it gives smooth second gear starts in casual driving, and has no qualms about downshifting instantly back into first if you punch it. This needs more research since the Winter position might save fuel, give a comfier ride and not lose any performance.
SUSPENSION
Four-wheel fully independent suspension, just like the military HMMWV Hummer H1 and every Mercedes, BMW and other decent car made in the past several decades. Compare this to economy vehicles like the Hummer H2 and H3 and most Jeeps and Explorers and SUVs which lack independent suspension. Independent suspension means each of the four wheels can move freely without affecting the motion of any other wheel. Each driven axle requires an additional four universal or CV joints to add this feature. Lesser vehicles economize with a single solid axle for the front and/or rear wheels, which means that the motion of one wheel affects the motion of the wheel on the opposite side.
Independent suspension improves traction, road and trail holding and ride quality all at the same time, and it's expensive to add. That's why few American vehicles go to the trouble.
FUEL ECONOMY AND EFFICIENCY
EPA rated at 15 MPG City, 23 MPG Highway on premium unleaded. I get much better: 24 MPG on the highway with the top up and 17 MPG blasting around town like an idiot and coming to full stops at stop signs with the top down. Most cars and people get less than the EPA ratings. (This is why the EPA updated the rating procedure for the first time since 1972 for the 2008 model year.) This is incredible for a 300+ horsepower, 2 ton+ behemoth. This is a benefit of the 5 speed overdrive added with the 1996 model year and Variable Valve Timing. I'm unsure why the 1997 model is unique with only 15 MPG EPA city, since the other models are rated at 17 MPG city and that's what I get driving hard, and people usually get much worse than the EPA ratings. I suspect something was different in the test procedure that year, not the car. EPA ratings are with professional drivers, top up and the air conditioning turned off. I'm an amateur and leave the top down and the A/C on.
Earlier models with the inferior mechanical 4 speed automatic transmission which lacked overdrive and took forever to downshift when you stepped on the gas only got EPA ratings of 14 MPG city / 18 MPG highway (1990 - 1993) or 16 MPG city / 20 MPG highway (1994 and 1995). It had just about the same ratios for the first four gears and lacked overdrive. It may also have lacked lock-up.
The drag coefficient (Cd) is 0.32 for the cloth top, 0.31 for the hard top, and unspecified for the top down. Most convertibles are about a Cd of 0.7 with the top down, which is why Mercedes chooses not to publish it. It is laudable to have a cloth top with such a low Cd, this took a lot of work on their part. As the charts below show, the 1996 - 1998 models have the best Cds of any of the SLs, from 1954 through 2002. By comparison the 2006 Corvette Z06 that's been optimized for low Cd to run at 187 MPH (300 km/h) has the same Cd: 0.31 (AutoWeek, 10 January 2005, p. 28.)
WHEELS AND TIRES
16 x 8.0" wheels, P225/55ZR16 tires, (806 revs/mile). Full sized spare. By comparison the $125,000 2004 SL55 AMG has NO spare, just a can of fix-a-flat and the same toll-free roadside service number! Many convertibles, especially those under six figures, are going this way today, so beware. Today's 2005 regular SL500 has a spare.
Automatic Slip Reduction (ASR) works at all speeds to eliminate rear wheel spin, called burnouts by we scientists. It helps prevent burn-outs at stoplights and also prevents wheelspin even at 70 and 80 MPH in corners and on crummy pavement. You can turn it off to do burnouts to impress the innocent.
The SL500's gears, tires and engines are calibrated to give maximum launch with the hammer down from a stop, presuming you have the correct OEM Z-rated sticky tires. If you've gotten cheap and replaced them with H-rated or discount tires you'll see the ASR traction control light blinking as you launch, meaning the less sticky tires started to lose contact and the SL500 had to shut down a little to let them hook up again. This really slows down your times so be sure to get the correct tires.
SAFETY
The SL is the world's safest convertible.
Two airbags per person; four total.
Explosive charges in each seat called "Emergency Tensioning Retractors," or ETR, snug down the seatbelts in case of crash.
Sensor in passenger seat prevents passenger airbags from going off if there's no passenger, saving us the costs of two airbags if not needed.
Automatic rollbar pops up in event of crash, even with the hard top attached! I got the rollbar to pop up without crashing. it surprised me at first, and then I realized that as far as the blind computer knew I could have been about to hit something.
I was out buzzing around on some twisty two lane roads and came to a safe place to pass. I hammered it and got on the passing side of the road and determined that I really didn't have as much room as I'd like for safety, so I got on the brakes reasonably hard and turned back into my lane. The rollbar popped up, and I wondered why. Then it dawned on me: firm braking and a sudden turn meant that for all the computer knew I was trying to avoid something. This hadn't happened before braking before turns. Who knows; it's nice to know my car cares as much about my safety by erring on the safe side as my fiancée does. I also later wondered why my doors were unlocked, and realized that it also did that for me so if I did crash people could get me out. Getting the rollbar back down after the SL raises it has a slight trick as explained in the manual: you have to hold the UP button for about five seconds until you hear an engagement click, and then hit the down button. If you just press the down button nothing happens.
The windshield frame is strong enough to support the entire car. This is stronger than ordinary cars with roofs that collapse in crashes.
Auto-dimming rear view and driver's side mirrors
Automatic rain-sensing windshield wiper system. One time I did get caught in the rain and drizzle and the system worked perfectly. When the rain stopped the wiper stopped, when mist happened it magically wiped when it needed to, and when rain fell it just ran all the time. It did exactly what I would have done without me having to touch the wiper control. It freed me to concentrate on traffic and driving and not have my attention distracted by having to twiddle with the wipers. BRAVO, this could save my life in these conditions where one tenth of a second of inattention can cause an accident.
Single cam-operated wiper blade sweeps the entire window. This is much better than 2 wimpy wipers on less expensive cars, like the 2003 and newer SLs, because all the rain is immediately thrown off the window. With 2 wiper systems most of the water is just pushed to the other side of the window and it then takes a second sweep to clear it.
Rain channels along sides of windshield channel rain up and over roof, eliminating wet side windows and mirrors.
Rain channels in side window moldings channel rain from top of windshield when the top is down. Of course who cares, no one has to drive these in bad weather anyway. Even the cloth top has some rain channeling where it meets the windshield, and the hard top has rain channels running its length and around the rear window to keep the rear window dry!
Antilock Braking System (ABS). 11.8" discs front, 10.9" discs rear.
ELECTRICAL
Sound System
All the SLs, at least since about 1993 though at least 2002, have wonderful Bose sound systems. They were standard, never an option. Only the CD changer was optional. This is the first sound system in the history of the world to have been custom designed and voiced to fit a specific vehicle. The SL sound system uses multi-amplified subwoofers and sounds great at any level. Compared to a $25,000 home system the bass is a little boomy, but better than any other automotive system I've heard. The voicing is a little crisp around 8kHz, and this helps add clarity over the road noise. I think I'd prefer it a little flatter, but I suspect if it was I'd be less happy.
This system is designed to be loud enough to be heard at 155 MPH with the top down, which means it also can make you deaf. Playing a typical dynamically compressed FM radio station I measure 106 - 108 dBC continuous with slow weighting in the driver's seat, top down. This means it's loud enough to hear your music echoing back from under freeway underpasses, or as I said before, make you deaf. The U.S. Department of Labor's Occupational Safety & Health Administration's laws (OSHA) permits workers exposed to this noise level only one hour of exposure per day, and at that level you can expect some hearing loss. Here's OSHA's table. I measured dBC, OSHA looks at dBA, and both are similar at this level. Of course if you turn it down this is not a problem; just beware that it sounds so good that it's very easy to turn it up and not realize how loud it's gotten. I don't know it it's stupid-proof enough to prevent clipping if you turn it up too far.
Radio
AM, FM, Cassette and Weather band radio standard gets weather reports direct from NOAA in the USA. These radios are made by Becker in Germany. FM and cassette are stereo, AM and weather are mono. Earlier model year radios also provided AM stereo, as if anyone outside of broadcasting cares. Dolby B and C noise reduction for tape, none for FM.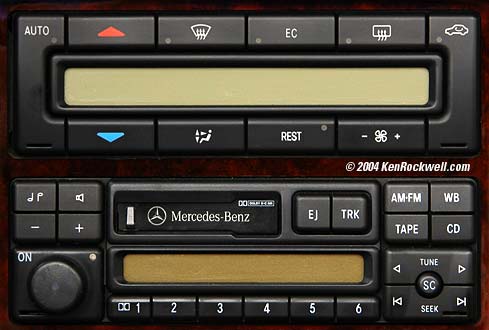 Radio and HVAC controls on 1997 SL500, same on SL320 and SL600. HVAC controls are the same from 1996 - 2002, radio is the same from ?1992 - 1998.
The volume automatically varies slightly with speed. With the top down you'll still want to duck the levels when stopped to avoid sharing with the neighbors. It's effect is subtle. I hear it ramp up about 4 dB as I accelerate through 79 MPH. It ramps down a little at a slower speed to keep it from pumpiikng up and down. (Engineers call this hysteresis.) . This is great, it eggs you on to keep going faster! The faster you go, the louder it gets.
Amplifiers
The SL has a multi-amplified system. Bi-amping or multi-amping means that different amplifiers are used for different frequency ranges. Each speaker driver has its own amplifier. Different frequencies are sent to each amplifier and then these signals are connected directly to each speaker driver, exactly as in professional sound systems used in concert halls. This is standard procedure in movie theaters and concert sound because it allows much higher efficiency, power and freedom from distortion. Even better, if one amplifier distorts, clips or is overloaded it usually prevents the tweeters from burning out since in conventional systems all the distortion is sent to the tweeter. Home systems by comparison use a single amplifier is used to handle all frequencies and a network in the speaker cabinet attempts to divide the frequencies among the drivers, which is why the tweeters blow out when fed with high frequency and inaudible distortion products.
Speakers
The speakers and amplifiers are a 200 Watt Bose multi-amplified speaker system system with a 12 litre 5.25" Acoustimass subwoofer behind the driver's seat. Front speakers are two 2" tweeters and two 6.5" midrange/woofers. Rear speakers are two 2.5" in the back deck. Mercedes called the 6.5" and 2.5" mid-to-high range speakers "twiddlers" in the 1994 brochure.
CD Changer
6 disk trunk-mounted CD changer optional. It was standard on the SL600. The SL500 is prewired; today you can buy the same Alpine unit Mercedes used for about $250 and drop it in. My dealer installed an Alpine CHM-5630 at the recommendation of Mercedes' parts dept. in New Jersey in June of 2004. Mercedes no longer stocks the version with "Mercedes" on it. Later models (1999 and newer) have fiber optic digital connections to the head, my 1997 uses copper analog connections.
Alarm
An alarm comes standard as it has on every Mercedes since the 1980s. Like most other Mercedes since the 1980s, it arms and disarms silently and automatically so you aren't discourteous to others and may never know it's there. It never honks or beeps when it turns on or off. This is a bit ironic; we who own these SLs live in palatial estates with no neighbors to would be bothered by our alarms beeping every time we come and go (and of course we armor these in garages anyway where they don't need to be locked), and the people who have to settle for Lexus or Chevrolet live in apartment houses or tract developments where everyone gets woken up when people get in and out of their cars at all hours. Oh well; you can turn off the beeps in lesser cars if you read the manuals. Thank God there is no way to set the Mercedes to make those callous beeps every time you lock and unlock the vehicle. Just look for the flashing LED on the dash if you're unsure if it armed.
Want to hear it? Just let yourself into your car using the inside door handle from the outside with a locked car and you'll set it off. Otherwise it's always silent.
Locks and Windows
Remote locking and window raising comes standard.
Secret trick: trunk unlocking with a double-click of the remote. I've never had the right touch to get it to work however that feature is in the manual.
Single-button remote, much handier than the three-button version that started in 1998.
Remote control is infrared, not radio as newer models and sub-$100,000 cars today. The 1996 model only has an ugly infrared sensor dangling from the rear view mirror, other models including the 1997 have the sensors integrated in each of every three external locks.
Battery and Alternator
143 A alternator, 100 CCA trunk mounted battery
Headlights
All years' models have a pair of 55W H-1 halogen fog lights. Different years have different lens, optics and reflectors. None of them seem as good as the fog lights integrated with the headlight assemblies of most of the sedans, sorry.
The SL500's standard US halogen headlights are awful. Every model year 1990 - 2002 uses the same awful setup. Most US Toyotas have European standard H4 lights far superior to the lights on this $125,000 US standard Mercedes. The US SL500 low beams are just two dim blobs of light. The high beams are fine. The silly headlight wipers have to jump over the aiming nubs that poke out of the US lenses. The model sold in Europe has far superior H4 lights which work as well most European version automobiles. The high beams are the same; it's the low beams which are superior in the European version simply because they light up the road so you can see safely on low beam while not sending any glare to other drivers. Also if you're into headlight wipers the H4 versions have flat faces so the wipers can wipe.
The optional xenon lights are swell, with the usual annoying blue edge chromatic aberration at the top of the Z-beam pattern, automatic leveling and conventional halogen high beams. The xenons were about an $800 option but are about $2,000 to buy new and swap out. This is the warning sticker under the hood for people who wish to tinker inside the Xenon lights: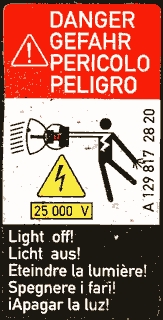 Of course the headlight lenses of the US and European standard lights are solid glass and won't become yellow or cloudy in several years like every other shiny new Lexus today. I think the Xenon lights are behind plastic, which also will yellow if you leave your car parked outside. Tap on them and see.
Headlight Wipers and Washers
These standard on all SLs as far as I know. These are the little black wipers you see on each headlight. Washer fluid sprays and they wipe when you press the wash button stalk when the lights are on. These are for driving in sleet and snow at night to keep the lights clean so they can light the road for you.
These strike me as silly. Who would drive an SL in the rain or snow? Egad! We own other cars for that. Life must be tough in Germany, and having been there I've never seen anyone driving SLs or Porsches. Germans are far too practical; most cars in Germany are Diesels.
All these washers do for SL owners is overspray washer fluid on our carefully detailed hoods. The wipers also look silly, which is why many of the images you see have them Photoshopped out. Again this is ironic: the people who really need these (people stuck in Michigan winters driving Chevys with one light broken) don't have them, and we SL drivers don't need them and rip them out.
If you have these removed be careful and keep all the parts to put back on when you donate your SL to the charity auction, since without the washers intact the value plummets.
I think all you need to do on each side is remove the stainless steel shaft that connects the wiper motor to the wiper arm and goes through the bumper, and the hose that goes to wiper nozzle. Then of course plug the fluid connections inside the SL and remove and cover the electrical connectors from the electric pump in the washer fluid reservoir that otherwise would pump washer fluid all over the inside of your engine bay. Don't just plug the fluid lines or pull off the electrical conectors. The pump would probably pop off the plugs and still flood the engine bay, and if the plugs stayed on it's not making the pumps happy either. Likewise, pulling off electrical connectors will allow the connections to get dirty if not covered under the hood.

Once the shafts and hoses are removed you can then plug the holes in the bumper by any of:
1.) leave the tiny hole in the bumper pieces and forget about it,
2.) cover them with tiny plugs from the electronic or other industries (glad I have a white car!)
or
3.) Look on the inside of the piece for the part number. There is a part number for the piece with a hole and a different part number for the piece without. Order the pieces without holes, have them painted to match and you're done.
Don't take off the washers or ever modify your SL from the way its Creator intended. If you insist, have an authorized dealer do this.
BODY and TOPS
Hard Top
The removable aluminum hard top is included standard with all SLs. Any SL missing the hard top is incomplete and may as well be missing a wheel. Seriously, avoid any SL that is missing the top since it shows obvious owner neglect. A replacement top is $10,000 from Mercedes, so missing the top is even worse than missing all four wheels and tires!
If you are shopping the secondary market beware any SL500 missing its roof. Some owners and dealers lose, damage or otherwise get rid of these tops and then try to claim that they were "just an option" when pawning off incomplete cars on less savvy buyers. Salespeople and private parties will feign all sorts of assurances of why their incomplete car is perfectly normal. If you're a first time SL500 buyer you might fall for it, unlike all the other familiar used car excuses you're expecting. Rest assured when you look at book values for cars they are for complete cars, not cars missing major body parts like roofs, wheels, doors or hoods. Even if you don't want the hard top you'll take a big price hit when selling an SL500 so don't get conned into buying a partial car for full price. Use the lack of a hard top to get a big discount, since whoever buys your SL500 from you sure will!
My local dealer tells me you can order replacement tops just like anything else for the SL500, however the hard tops cost $10,000. Be sure to factor that in if considering the purchase of an incomplete SL500.
The hard tops are a bit of folk lore here in sunny California where none of us, myself included, really want it. Many people get rid of them, thus I've heard all the stories. We never use them since we run the SL500 top down and put up the soft top if needed. We find ways to get friends to store them for us, hide them in friend's garages without them knowing and rent storage lockers for the tops until we sell our SL500s. Many better dealers, like Fletcher-Jones and MB of Laguna Niguel, offer to store these tops as part of their premium programs. Personally I use a block-and-tackle to hang it from the roof of my garage. I got it here. Others use little rolling carts to get them out of the way.
The top only weighs 73 pounds since it's aluminum. The rear window has very special invisible heating elements for the defroster. The SL doesn't have the ugly horizontal lines painted on the inside of the glass as under-$100,000 cars do. The SL instead has about a hundred smaller invisible wires embedded inside the glass.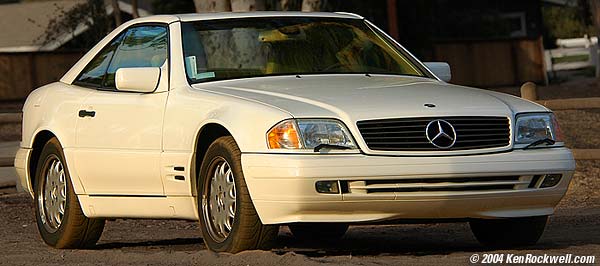 Olivenhain, California, September, 2004
1997 Mercedes SL500 with standard removable hardtop
The Three Tops
The SL500 is a bargain when you consider it's three cars in one: a coupé with the hard top attached, a roadster with the top down, and a ragtop with the cloth top up. The cloth top is always with the car while the hard top is removable. If you get an SL with the hard top rest assured the soft top is snuggled away underneath.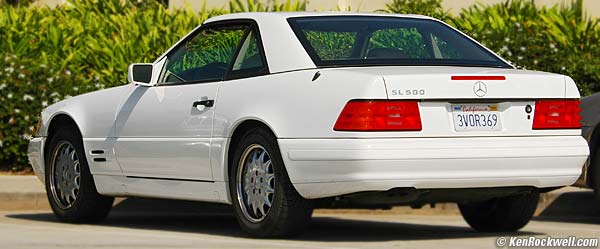 La Jolla, California, September, 2004
With the standard removable hard top the SL500 is one of the world's most accomplished and beautiful 2-door coupés.
The Soft Top
My power soft top lowers in 18 seconds and raises in 24 seconds. This is important; longer times with budget cars like the 2005 Cadillac XLR mean you can't do this while stopped at a red light.
The SL500 is smart enough not to let you move the top while it's moving.
The entire raising or lowering requires no more than a single touch of one button, a world's first. My 1970s American power-top convertibles were the same as today's domestics: you always had to grab and release one or two front latches and then manually attach or remove the tonneau cover. The tonneau cover covers the lowered top. Most users forgo using the tonneau since it requires more effort. The SL does all that for you electrohydraulically, including the tonneau cover!
The SL is a $100,000 car, not a $20,000 Dodge Chrysler Sebring or similar. At speed the soft top of the SL is quiet and makes no wind noise. I never appreciated this until we got stuck with a Chrysler Sebring rental. Drive the Chrysler with the top up and you hear a ruckus coming from where the soft top and windshield meet, and whistling from above the side windows. Mercedes designs the tops and interfaces for perfect aerodynamics, airflow and quiet. It costs more to do it correctly. My American convertibles had big seams at the top of the windshield; the SL500 is completely smooth.
The soft top of the SL even includes rain gutters to keep rain and windshield washer fluid off your side windows, just like Mercedes hard tops. These gutters are the slight indentations towards the front that channel water to the rear instead of letting it slip off to the side.
Doors
The SL500 doors are precision instruments. The handles are strong enough to use as tie points to pull an SL500 out of an arroyo, canyon, lake or ravine.
The SL500 doors close with a sharp click with the lightest touch, so long as the SL500 top is down or the windows are open. Don't slam them like a Lexus. If the windows and top are up you need more force to counteract the air compression from the airtight cabin.
In the 1950s people associated quality with a solid thunk when slamming doors. Today discount brands like Lexus get that feel with big rubbber gaskets to cushion meat-handed door slamming.
Things are better today. The SL500 requires only the very lightest touch to secure the doors with the top down. The SL500 is designed for the pleasure of the educated aristocrat, not a 16 year old valet. If your valet slams your SL500 door it won't be hurt, but you may hear the innards bouncing around. This is normal if you close the door improperly.
Hood
Ordinary cars have a single catch at the front center to hold the hood closed. The SL500 is designed for serious high-speed long-distance driving. Thus the SL500 hood has two latches at the front, one on the left and one on the right. This holds the hood down and keeps it from flapping at sustained speeds of over 150 MPH for hours on end.
You can see these double latches by popping the hood. This is reminiscent of hot rods which also often have two deck pins holding the hood closed. The SL500 does the same thing with more finesse than two padlocks sitting on top of your hood.
The hood is so well insulated and everything is so carefully ventilated that the hood doesn't get warm when driving. Park a car that's been driven hard and it feels like it's not even been turned on. You have to stick your hands underneath to feel the heat.
Trunk Lid
The trunk lid reinforces the German's reputation as the world's most brilliant mechanical engineers. The system is perfectly balanced and damped with two hydraulic dampers and quite a few links in the mechanism. Just lift it a little and it slides open smoothly and comes to a quiet stop. The real magic is on closing: just move it halfway down and let it go. As soon as you glide it past the midpoint the mechanism closes the lid smoothly with just just the perfect amount of force, all without any electronic assist. Even with all this complexity it is as solid as a bank vault. This is a far cry from an ordinary or even damped trunk hinge! The cost-reduced 2003 - current model SL500 is much flimsier.
Grille
The front grill slats are made from spare titanium Daimler-Chrysler Aerospace fighter jet engine blades. These are from the Eurofighter first flown in 1994 at Daimler-Benz' facility in Manching. The titanium blades are perfectly aerodynamic, are hollow and weigh less than painted plastic used on discount cars like Toyota's Lexus brand, and are stronger than steel for resistance to road grit at high speeds. Remember the SL500 is one of the world's fastest cars and at 150 MPH+ continuous cruising speeds in Europe abrasion from even the smallest grit, bugs and pebbles has the effect of sand-blasting lesser cars.
These blades individually sell for over $756.00 as replacement engine parts, but since EADS (the current name for D-B Aerospace, formerly DASA), gets them for free as blades falling just under the weight tolerance for fighter use it's your gain. This is another advantage to Mercedes: Toyota has no aircraft division! I've never needed to replace one, but as replacement parts they are cheap since again these are leftovers that can't be used for fighter jet repairs, and they are also cut a little shorter so D-B has no fear of tempting air forces to buy the cheaper grille replacement parts. If you have a pal in an air force who can get the aviation slats think twice: twelve of them are costing his government over $9,000 and you'd still need to machine the titanium to the correct lengths.
Assembly
The SL500s are assembled in Bremen, Germany, also the home of pet bunny food maker Vitacraft.
INTERIOR
Seats
Leather seats are standard on all years of SL500. The SL600 additionally has a leather dashboard and doors, so it smells like a cow. Of course the seats have three position electronic memories.
The seats are designed for old rich guys fatter than me, so I slide around a bit on the leather. As of March 2005 I added sheepskin seatcovers and it feels like an entirely different vehicle. The sheepskins snug me into the seat and don't let go, as well as being both cool in daytime and warm when it gets cold with the top down. The best $400 you can spend on upgrades is to get a set from Sheepskin Experts in Los Angeles' San Fernando Valley, the center of much of the world's custom car industry. I called them on the phone in response to an ad in the AAA magazine; I presume they'll ship wherever you like. The seatcovers, like the seats, are special. The seats are totally separate magnesium frame assemblies with integral motors, safety belts with explosive tensioning retractors, heaters and separately moving backrest and seat rest sections. Thus the seatcovers are more expensive since they are special for the SL. They cover the backrest and seat pads, but not the rest of the framework.
Storage
The interior storage areas automatically lock and unlock with the rest of the car. Specifically, one click of the remote or a twist of the key in any lock locks both center consoles, both rear seat bins and the dashboard cubby along with both doors, the trunk and the fuel tank filler. There are also two hidden map pockets in the doors that don't lock. The spring on them is so solid that the forces of evil are not likely to figure out that they open. If you are really paranoid about your free Auto Club maps then the 1990 - 1995 models locked the map pockets along with everything else. Those earlier models have an awful transmission that isn't fun to drive and sucks much more fuel.
The center dash cubby was originally designed for the integrated cell phone, which of course today would be useless with modern mobile telephone systems. Presuming you ordered the car without the phone the storage area has internal dimensions of 1.5" high by 9" wide and 3 to 4" deep. Otherwise you'll have to pay about $80 to have the factory cell phone removed to reclaim the space. It's perfect for storing a modern cell phone, GPS, hair brush, glasses, lady's handgun, iPod or plastic lizards. Of course no SL owner has to talk on a phone while driving; this is considered DUI.
Gauges
The gauges are perfect: bright red needles on black faces with white numerals and divisions. I can read the tach without taking my eye from the road.
The Mercedes SL500 speedometer is dead on, like all my other Mercedes. It's accurate to within a small fraction of a MPH. It's electronic and even reads in reverse.
The fuel gauge is a unique gauge with as wide a swing (about 270 degrees) as a speedometer. Therefore it has a long scale and can be read to great precision. It's completely accurate and linear. For my 21.1 gallon tank I can get in 20 gallons when it reads empty, and each 1/4 really does correspond to 5 gallons.
The MPG gauge appears to be a simple vacuum gauge. It gives meaningful readings at all throttle openings and only pegs when you punch it.
The classic Mercedes water temperature gauge is calibrated from 40 to 120 degrees C.
The oil pressure gauge reads from 0 to 3 bar. Oil pressure while running is usually more than 3 bar; the gauge stops there and is supposed to be pegged anytime you're moving. It comes down to about 1.5 or 2 bar at idle after the oil is heated up. Cold oil is thicker and will keep the pressure gauge pegged even at idle. Thus the idle oil pressure tells you oil temperature, and you should wait for full throttle and high RPMs until the oil has warmed fully and comes off the 3 bar peg at idle.
The Tachometer is electronic.
Clock
The SL500 has a real clock with hands. It clicks ahead by one minute each minute. Unfortunately the steering wheel usually blocks it, a rare ergonomic faux-pas by Mercedes. The 2003 and newer SLs no longer have real clocks, just digital ones. The 2006 S-klasse (not SL) adds a tiny clock with hands on the center dash, but it's too small to read even if it didn't have silver hands on a silver face.
PRICE
The 1997's base price started at $89,900. That's $109,000 in 2005 dollars before sales taxes or options like CD player or heated seats.
HEATING, VENTILATION AND AIR CONDITIONING (HVAC)
HVAC is fully automatic. Just tell it what temperature you want and it adjusts the fan, vents and everything to keep you comfortable. It also includes a five micron air filter, helpful if you're driving around unclean places with the top up.
Since the SL500 is designed purely as a convertible the HVAC has a huge output of hot or cold air, since you need it with the top down. It keeps me comfy from 50F to 100F (10 - 40C) without even having to put on long sleeves. Living in California I have never driven at at temperatures below 50F, sorry.
ROADSIDE AND TECHNICAL ASSISITANCE
Eternal free roadside assistance and technical support. Just phone (800) FOR-MERCedes in the USA and see for yourself.
Rockwell's Mercedes SL500
Our car, as of September, 2005, only has 25,500 miles on it. It's only driven for fun, and never left parked anyplace.
It's never even had a license plate screwed into the front bumper.
It has the optional heated seats.
MORE INFO
See also carsdirect.com and intellichoice (1997), and here (1999) here (2000) for more detailed specs.
Also see some collector sites at mbcoupes.com
Here's one with a green interior offered by Mercedes as a golf commemorative, press release here.
PERFORMANCE
Road and Track got this from the 1997 SL500:
| | |
| --- | --- |
| MPH | Seconds |
| 0 - 30 | 2.4 |
| 0 - 40 | 3.5 |
| 0 - 50 | 4.8 |
| 0 - 60 | 6.2 |
| 0 - 70 | 7.8 |
| 0 - 80 | 9.7 |
| 0 - 90 | 12.1 |
| 0 - 100 | 14.7 |
| quarter mile | 14.5 s @ 99.2 MPH |
| 60 - 0 | 125 feet |
| 80 - 0 | 217 feet |
| skidpad | 0.80 g |
Motor Trend got 0 - 60 MPH in 5.9 seconds, a 14.3 second quarter mile at 99.6 MPH and 60 - 0 in 117 feet from the 1997 sport version. The sport version is the identical car and powertrain just with fatter tires. Car and Driver took 18.3 seconds to hit 110MPH, 22.3 seconds for 120MPH and 28.3 seconds to hit 130MPH in the slightly slower 1990 model.
The car is so powerful that the fatter tires help, since the SL500 has more power than the regular tires can handle off the line. Watch it: if you replace the original Z-rated tires with cheaper, longer wearing ones you'll be spinning the tires all the time and the ASR will keep kicking in and throttling you back as you try to launch.
MODIFICATIONS
The SL500 is an out-of-the-box supercar, no tweaking required. If you need to spend an extra couple of hundred thousand dollars to make it something even less likely your neighbors might have, try Brabus. Only thing I'd suggest is sheepskin seatcovers above and a mechanism for storing your hard top.
HISTORY and COMPARISON OF MODEL YEARS 1990 - 2005