Home Donate New Search Gallery Reviews How-To Books Links Workshops About Contact
Nikon TC-20E
Teleconverter(1992-Today)
© KenRockwell.com. All rights reserved.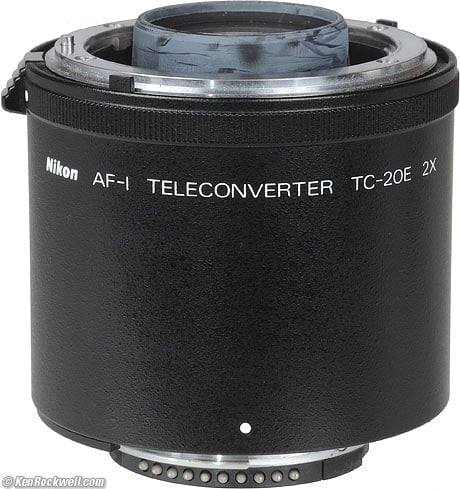 Nikon TC-20E. enlarge. I bought mine at Adorama, and Amazon is also a great place to get it. I helps me keep adding to this site if you use these links to get yours, too. Thanks!
June 2008 More Nikon Reviews TC-14E TC-17E
TC-20E III 10 December 2009
Introduction top
Intro Specifications Performance Recommendations
The Nikon TC-20E is an expensive (about $400) 2x teleconverter.
Its front elements poke out, so they are shrouded in rubber. After about ten years, this rubber develops a little bit of a gray haze on it, which wipes right off.
Compatibility
It works only with the more exotic of Nikon's AF-I and AF-S lenses. One cannot mount any other lenses on it unless one grinds down lugs on the female teleconverter mount at a machine shop.
Nikon makes no AF teleconverters for its general line of AF lenses. One must instead use a Nikon manual focus converter and focus manually, or screw with discount brands and hope the matrix metering couples correctly. See Teleconverters for more.
History
1976-2005
Nikon has also made manual-focus 2x teleconverters for decades. I'm ignoring them here.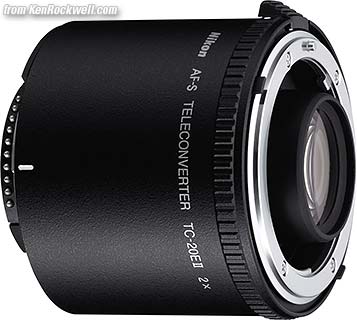 Nikon TC-20E II.
1992-2001
Nikon's first AF 2x teleconverter was called the TC-20E. It was marked "AF-I" for the only kind of lenses with which it worked when it was introduced. As Nikon introduced AF-S lenses, these converters worked perfectly, but innocent people were confused as to why it said AF-I instead of AF-S.
2001-Today
Nikon tweaked the cosmetics, changed the lettering to read "AF-S" and renamed it the TC-20E-II.
Nikon made about 20,000 of the original TC-20E, and as of 2008, has made about 15,000 of the newer TC-20E II.
Both converters are identical except for the name and trim. Both work with both AF-I and AF-S lenses.
I use the names TC-20E and TC-20E II throughout the text interchangeably. They are the same product.
Specifications top
Intro Specifications Performance Recommendations
Optics
7 elements in 6 groups, multicoated.
Size
2.588" diameter by 2.174" flange-to-flange (65.73 x 55.22mm), measured (TC-20E), excluding lens release pip.
Nikon specifies 2.6" (65mm) around by 2.2" (55mm) long.
Weight:
12.577 oz. (356.6g), measured without caps; 13.160 oz. (373.05 g) with caps.
Nikon specifies 12.5 oz (355 g).
Front Cap
Special extended BF-3 or BF-3A (albino) cap.
Rear Cap
Standard LF-1.
Case
CL-31S, not included.
Nikon Product Number
2130 (TC-20E II).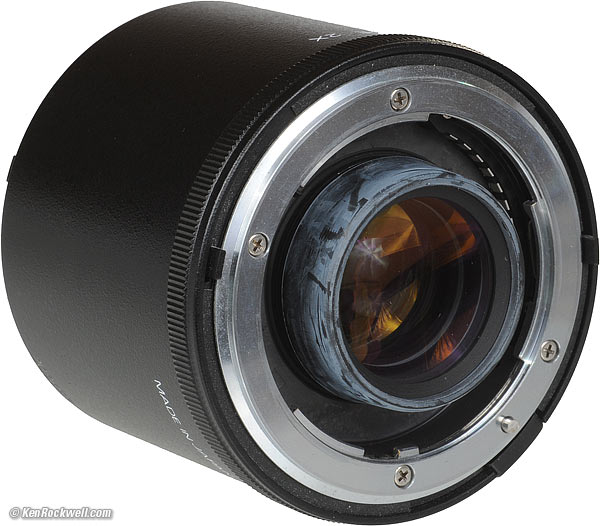 Front, Nikon TC-20E. enlarge.
Performance top
Intro Specifications Performance Recommendations
The TC-20E provides perfect data and signal interchange with Nikon cameras. This means the f/stop correctly reads two stops different both on the camera and in the EXIF data. VR works swell. Focal length reads double in the EXIF data, too.
The TC-20E has so much magnification that, at least on a D3, there is usually some loss of sharpness wide-open.
I've used the TC-20E with the 70-200mm VR, 400/2.8 AF-I and the 80-200/2.8 AF-S. See those reviews for details of performance with this converter.
If you're splitting pixels, the TC-17E gives sharper results at the largest apertures. If you need 2x, the TC-20E is your converter.
This shot looks great to me, and needed the full 2x 400mm to give me an 800m lens.