Home Donate New Search Gallery How-To Books Links Workshops About Contact
Nikon TC20E III
$500, January 2010.
© 2009 KenRockwell.com. All rights reserved.
Intro Specs Performance Recommendations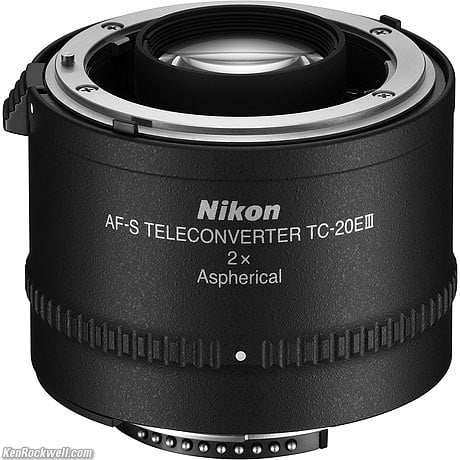 Nikon TC-20E III (AF-I and AF-S AF only, $500). enlarge. I'd order it at this link to Adorama. It helps me keep adding this site when you get anything from these links, thanks! Ken.
Adorama pays top dollar for your used gear, especially the older model TC-20E II. As of February 2010, they have been paying $200!
December 2009 More Nikon Reviews
Introduction top
Intro Specs Performance Recommendations
The Nikon TC-20E III is Nikon's first new teleconverter since the 1990s.
The older TC-20E and TC-20E II are the same thing as each other.
This new TC-20E III offers a new optical design, adding an aspherical element, which may offer better performance with some lenses. It is also shorter than the TC-20E and TC-20E II.
Compatibility
This is a $500 teleconverter only for Nikon's professional f/2.8 super teles.
It will autofocus only with AF-S and AF-I lenses. It only works well if you start off with an f/2 or f/2.8 lens, like the 400mm f/2.8 or 300mm f/2.8.
It will not autofocus with conventional Nikon AF lenses, and it will not work with most zooms. Don't even think about trying to use it with the 70-300mm VR.
This is a converter for pros who already own super tele lenses. It is not for use on consumer lenses.
See Teleconverters for more.
Nikon says it works only with the:
AF-S 80-200mm f/2.8D IF-ED Nikon's best 80-200mm
AF-S VR 200mm f/2G IF-ED "Super Chubb"
AF-S 300mm f/2.8D IF-ED II
AF-S 300mm f/2.8D IF-ED
AF-S 400mm f/2.8G ED VR
AF-S 400mm f/2.8D IF-ED
AF-I 400mm f/2.8D IF-ED "KIng of Lenses"
It works with these, but without autofocus:
AF-S VR 105mm f/2.8G IF-ED Micro
AF-S 500mm f/4G ED VR
AF-S 500mm f/4D IF-ED II
AF-S 500mm f/4D IF-ED
AF-I 500mm f/4D IF-ED
AF-S 600mm f/4D IF-ED II
AF-S 600mm f/4D IF-ED
Specifications top
Intro Specs Performance Recommendations
Name
Nikon calls this the Nikon AF-S Teleconverter TC-20E III
AF-S means Auto Focus - Silent, meaning that this converter only autofocuses with AF-S and AF-I lenses.
Optics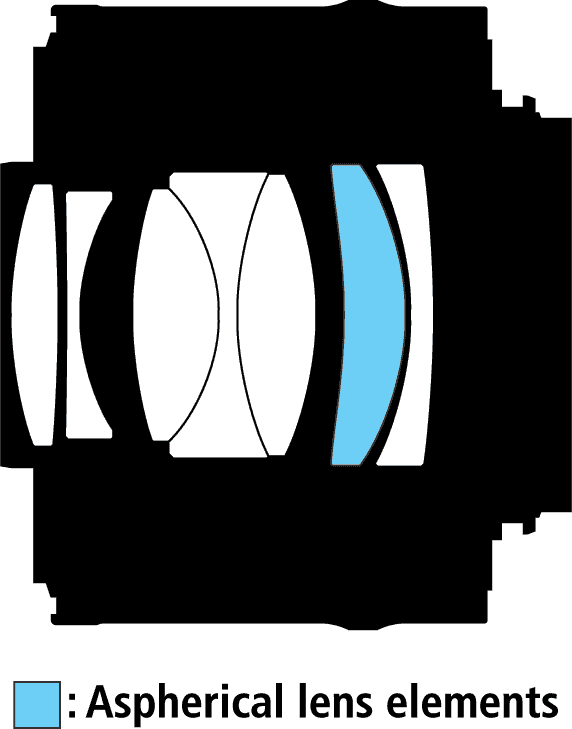 7 elements in 5 groups.
One is aspherical.
Included
Teleconverter Cap BF-3A
Rear Lens Cap LF-1
Flexible Lens Pouch CL-0715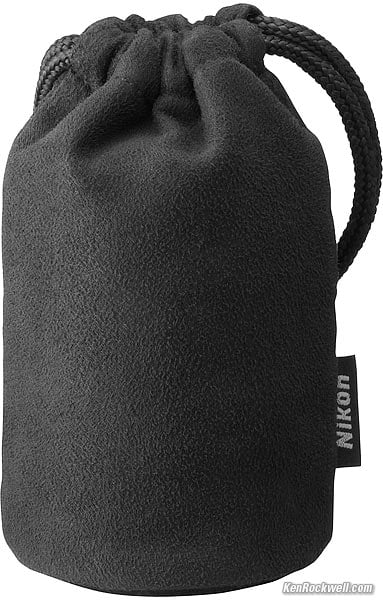 Sack CL-0715.
Size
2.6" (66mm) diameter x 1.9" (48mm) extension from flange.
Weight
11.6 oz.(330g).
Announced
10 December 2009
Available
January 2010
Price
$500, USA, December 2009
Performance top
Intro Specs Performance Recommendations
Teleconverters don't work alone.
They work only with another lens.
Every lens will work differently. You'll have to see for yourself if the marked decrease in autofocus speed and possibly accuracy, and potential loss of sharpness, is bearable for you.
Recommendations top
Intro Specs Performance Recommendations
2x teleconverters have always been too much. They've robbed too much sharpness, and make autofocus poor.
We'll see if this new teleconverter is any better.
I'm not a fan of 2x teleconverters.
1.4x, and maybe1.7x converters give much better results, but since they offer negligible extra magnification, why bother?
More Information
Help me help you top
I support my growing family through this website, as crazy as it might seem.
If you find this as helpful as a book you might have had to buy or a workshop you may have had to take, feel free to help me continue helping everyone.
If you've gotten your gear through one of my links or helped otherwise, you're family. It's great people like you who allow me to keep adding to this site full-time. Thanks!
If you haven't helped yet, please do, and consider helping me with a gift of $5.00.
The biggest help is to use these links to Adorama, Amazon, Calumet, Ritz, J&R and when you get your goodies. It costs you nothing and is a huge help to me. eBay is always a gamble, but all the other places have the best prices and service, which is why I've used them since before this website existed. I recommend them all personally.
Thanks for reading!
Ken
Home Donate New Search Gallery How-To Books Links Workshops About Contact