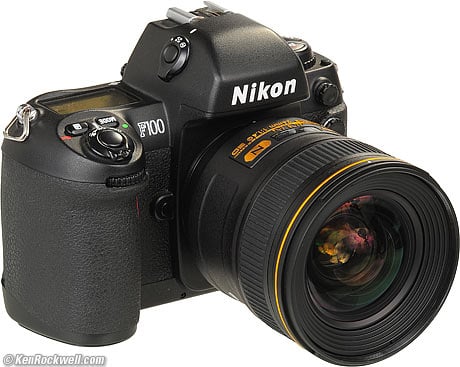 Nikon F100 and Nikon 24mm f/1.4. I'd get it here, and check here, too.
METERING
10 segment 3D Matrix Meter
Flash metering: 3D Multi-Sensor Balanced Fill-Flash narrows the range of contrast within a scene
Exposure Metering TTL full-aperture exposure metering system; three metering systems selectable (limitations with lens used): 10 segment, 3D Matrix Metering, Center-Weighted Metering (75% of the meter's sensitivity concentrated on the 12mm dia. circle) and Spot Metering (4mm dia. circle, approx. 1% of entire frame)

Metering Range 3D Matrix Metering: EV 0-21; Center-Weighted Metering: EV 0-21; Spot Metering: EV 3-21 (at normal temperature, ISO 100, 50mm f/1.4 lens)
ISO Range DX 25-5000, Manual - ISO 6-6400 in 1/3 steps
EXPOSURE
Modes: Program, Flexible Program, Shutter Priority, Aperture Priority, Manual.
Bracketing: 1/2, 2/3 or 1 steps. Also Flash Bracketing.
Compensation: ± 5 EV in 1/3rd EV increments
FOCUS
Dynamic Autofocus tracks moving subjects across the frame. Focus Tracking with Lock-On to 5 FPS w/optional MB-15 High Speed Battery Pack
5 Area Cross Array Autofocus System includes 3 Cross Type AF sensors
Cross-Type AF Sensors operate with every AF Nikkor lens
TTL phase detection, Nikon Multi-CAM1300 autofocus module
Single Servo AF (S), Continuous Servo AF (C), Manual focus (M); Focus Tracking with Lock-On automatically activated in subject's status in Single Servo AF (S) or Continuous Servo AF
Focus Sensitivity Range EV -1 to 19 (@ ISO 100 with f/1.4 lens)
VIEWFINDER
Fixed eye-level pentaprism, approx 96% Coverage
Diopter Correction -3 to +1
Focus Screen B-type BriteView clear Matte screen III, interchangeable with optional E-type screen with grid
Also shows: Metering system, In-focus indicator, 5 Focus areas, selected focus area lit in red, Exposure mode, Aperture, Shutter speed, AE Lock, Analog exposure display, Exposure compensation, Flash ready light & Frame counter
Top LCD Display Panel
Aperture, Shutter speed, Aperture/shutter speed lock, Exposure mode, Focus mode, Focus area, Custom setting, Exposure compensation, Autobracketing, Flash sync mode, Electronic analog display, Battery power & Frame counter
SHUTTER
30 seconds to 1/8,000 and bulb. Time exposures with MC-20 remote cord.
10-pin remote control socket for MC20 and MC30 remotes.
Multiple Exposures
Self Timer: 10 sec.
FLASH
1/250 Flash Sync. Rear and Slow Sync, FP Sync, Red-Eye Reduction.

PC Terminal
FILM ADVANCE
Single shot or Continuous at 3 or 4.5 frames per second(up to 5 fps with MB-15 Battery Pack)
TRICKS
Depth Of Field Preview
22 Built-in Custom Settings let you customize F100 for the way you shoot
Nikon Exclusive Photo Secretary for F100 downloads shooting information, links photographs to shooting information and sets Custom Settings
LENSES
F Bayonet Lens Mount accepts every Nikon AF Nikkor and most manual AI or AI-S Nikkor lenses
POWER

Four-AA battery holder MS-12 (alkaline or lithium batteries); optional 3V lithium battery holder MS-13 for two CR123A or DL123A batteries; optional Multi-Power High Speed Battery Pack MB-15 and AA-type battery holder MS-15 for six alkaline or lithium batteries or optional Ni-MH battery MN-15.
MECHANICAL
Size: 6.1 x 4.4 x 2.6 in. (155 x 113 x 66 mm)
Weight: 31.010 oz. (879.15 g), measured, with 4-AA alkalines but no lens, cap or strap. (Nikon's spec is 785g, 27.7 oz. without batteries, but who shoots that way?)
Body: Magnesium alloy