Home Donate New Search Gallery How-To Books Links Workshops About Contact
Nikon D5000 User's Guide:
Rear Controls
© 2009 KenRockwell.com. All rights reserved.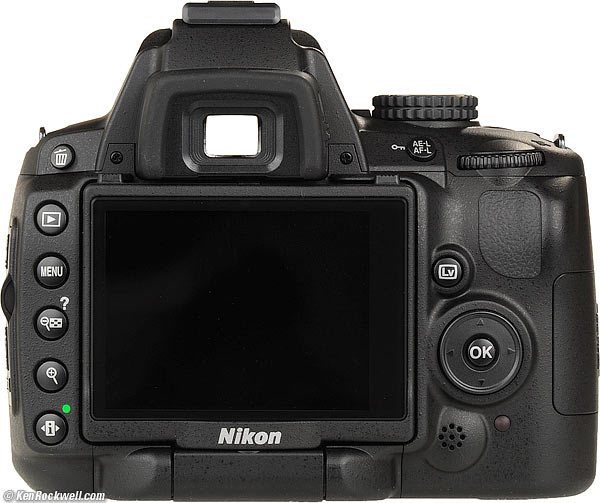 Nikon D5000 rear. enlarge.
June 2009 Top of D5000 Users Guide D5000 Review More Nikon Reviews
NEW: Nikon D5000 Users Guide for iPhone and iPod 23 December 2009
Want free live phone support? In the USA, call (800) NIKON-UX, 24 hours a day, 365 days a year.
Left side, top to bottom:
Trash - Delete top
With an image on the LCD, press once. You'll get an "Are you sure?" message. Press again and the shot's gone.
The D5000 ignores this button if it's not playing back.
Play [>] Button top
Press it to see your pictures. Press it again to turn them off.
MENU top
This gets you inside most of the hidden features of your D5000.
I'll cover what you can screw up with this in the 11 long pages that follow.
"(-) / Checkerboard / ?" Button top
This button does differ net things depending on what you're doing.
While Playing Images, or in Live View
Press this to zoom out. This refers to the (-) symbol.
If you're playing just one image complete image, press it and the D5000 shows progressively more and more images, or a calendar of what you shot on what day. This refers to the checkerboard symbol.
While in Menus
If you see a gray "?" on the lower left of the color LCD, press "?" for more information about whatever you're setting.
If there's no gray "?," then there's no more help available.
(+) Button top
This is the zoom-in button.
It only works in playback and Live View.
INFO [i] Button top
This is the same at the INFO button on the top of the D5000. It lights up the INFO panel on the rear LCD, from which you can see and set just about anything as I explained in the introduction.
This rear INFO button also allows you to change the settings on the INFO display, which the INFO button on the top of the D5000 won't.
If the INFO panel is lit, a second press of this rear INFO button lets you change the settings, while a second press of the top INFO button turns off the INFO panel.
---
Eyepiece Focuser top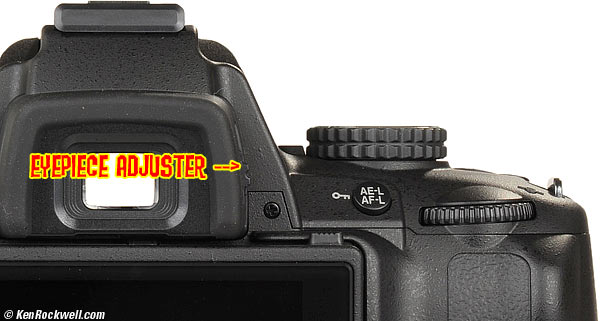 Nikon D5000 eyepiece focus adjustment.
Twiddle the little knob, under the rubber just above the right of the eyepiece, until the finder is sharpest.
This is also called the dioptometic adjustment.
---
AE-L/AF-L Button top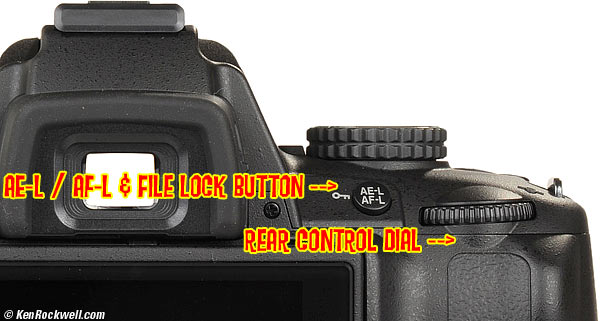 D5000 AE-L / AF-L and rear dial.
Hold AE-L (Auto Exposure Lock) to lock exposure settings while shooting. You may change what this button does in the Custom Setting Menu f2.
I leave set mine at AEL.
Avoid pressing this button while playing back. It locks the file so you can't delete it from the camera, even though formatting your card will erase everything. The reason you don't want to press it is because locked files become very difficult to erase from your computer. You'll probably need to select them and remove this lock in your computer, otherwise you won't be able to empty them from your trash!
The rear control dial controls just about everything depending on what other buttons you press.
---
D5000 Live View button.
Live View button [Lv] top
Press the [Lv] button, and bingo, you're in Live View. Press it again and you're back to normal. You set the AF mode in Custom Settings Menu a3.
Want to make a movie? Just press the OK button while in Live View, and you're rolling. You set the movie parameters in the Shooting Menu.
Live View is so well designed that its easier to figure out by playing with it than for me to try to describe it. Have fun!
Rear Multi-Controller top
This is used for everything: menu navigation, selecting AF areas, scrolling through playback images and a whole lot more.
OK Button (center of rear multi-controller) top
While playing back at normal size
Tap it to get to the Retouch menu.
While playing back with any sort of zoom in or out
Tap it to return to one image at normal size.
While in menus
Takes action on what you've set.
---
My D5000 User's Guide continues below.
I support my growing family through this website.
This guide is free to read online, but copyrighted and registered. If you haven't helped yet and would like to save or make a printed copy of this article for your camera bag, please send me $5.00 for each complete or partial copy that you print or save, for personal use only. Others charge $29.99 for crappier information, and with your honesty I can continue to offer these guides online for less.
If you bought your D5000 by clicking through my links, then you've saved money and also helped me write this guide. Thank you and please enjoy it. It's great people like you, and those who help me otherwise, who allow me to keep adding to this site for everyone's benefit.
The biggest help is to use these links to Adorama, Amazon, B&H, Ritz and J&R when you get your goodies. It costs you nothing and is a huge help to me. These places have the best prices and service, which is why I've used them since before this website existed. I recommend them all personally.
Thanks for reading!
Ken
---
Back to Top of D5000 User's Guide or Top of Nikon D5000 Review
KNOBS and BUTTONS
MENUS
PLAYBACK < < NEXT
RECENT ITEMS (or MY MENU) MENU
Home Donate New Search Gallery How-To Books Links Workshops About Contact