Home Donate New Search Gallery Reviews How-To Books Links Workshops About Contact
Nikon D3100 User's Guide
© 2010 KenRockwell.com. All rights reserved.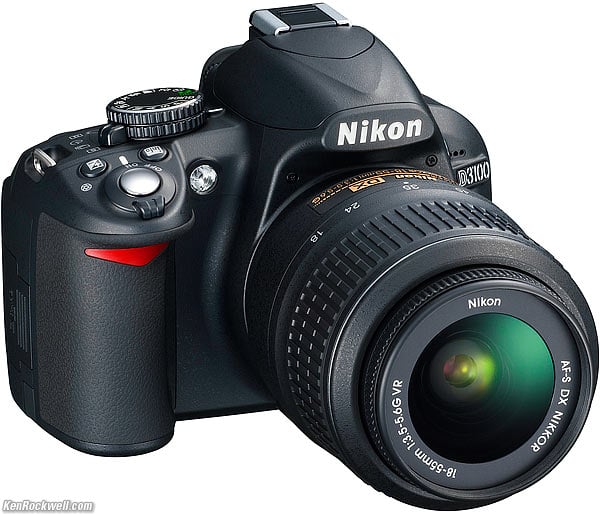 September 2010 More Nikon Reviews Nikon Lens Reviews
Initial Set Up
As I go through the menus, I set these away from their defaults:
PLAYBACK MENU (top blue tab) top
Display Mode
Detailed photo info > check RGB histogram and Data > DONE > OK.
Transition effects > OFF > DONE > OK. By default, there are some time-wasting animations as you move among your photos
Be sure to select DONE and click OK, otherwise your Display Mode preferences won't be saved.
SHOOTING MENU (next green camera tab)
Set Picture Control
Standard > +2 Saturation > OK. (used for people.)
Vivid > +3 Saturation > OK. (use for places and things.)
Be sure to press OK after changing or selecting either, otherwise your Picture Control changes won't be saved.
Image Quality
Basic.
BASIC JPGS look the same as FINE or NORMAL JPGs, but take up only 1/2 to 1/4 the space.
White Balance
Auto > click right to A3 > OK.
This gives warmer (more Amber) images. Adjust this to your personal taste; it is one of the biggest changes you can make to your images.
ISO Sensitivity Settings
Auto ISO Sensitivity > ON.
Min. Shutter Speed: leave at 1/30 for still subjects. Set to 1/125 for moving people. Set to 1/8 for wide-angle or VR lenses. Set to 1/60 with VR teles, or 1/125 with non-VR teles.
I leave the Max ISO at its default of 3,200 and the standard ISO at its default of 100.
Active D-Lighting
This lightens shadows and controls washed-out highlights.
I set it ON.
Auto Distortion Control
This keeps straight lines from curving, if caused by lens limitations.
I set it ON.
This controls how the D3100 uses its 11 AF sensors.
Default is MENU > SHOOTING > Viewfinder > Auto-Area AF, which is perfect for most things, and especially if you hand your D3100 to a non-photographer to take a picture.
If I'm photographing something more difficult, like moving kids or subject behind other things, I set [ 3D ] > OK. Now you select an AF point with the big rear control, and if the subject moves, the D3100 moves the AF point to track the motion of either the camera or your subject!
Movie Settings
By default, the D3100 makes large 1080/24p HD files. For more reasonably-sized files, use the 640x424 quality setting.
SETUP MENU (orange wrench tab) top
Format Card
I do this every time I insert a card. It erases all the previous images, and gives me a clean, orderly card on which to record more with the least risk of data corruption.
Info Display Format
This controls the look of the rear Info LCD that we see when setting the camera.
I prefer Classic Blue.
Auto Info Display
I set this OFF.
If ON, the rear settings screen on the LCD (a.k.a. the Info Display) turns on every time you tap the shutter halfway.
Image Comment
I set this to record my © name, website and phone number in the EXIF of every shot.
It's easy to do this: first select Input Comment, and enter what you'd like to have added to every file's EXIF. Then click Attach Comment, and then remember to click DONE and OK, otherwise the D3100 will forget everything you just entered.
Beep
I set this OFF.
It is rude to beep when you're in public, and it doesn't tell us anything anyway.
Professional cameras default to OFF, while the D3100 defaults to ON.
Rangefinder
This is a bar-graph on the bottom of the viewfinder when focusing lenses manually.
I set this ON.
File Number Sequence
Set this ON. It defaults to off due to a firmware defect.
If left OFF, files will start at 0001.JPG every time a card is formatted, or a blank card is inserted.
If left off, as time goes on you will have a hundred files with the same number, like DSC_0024.JPG on your hard drive, and never be able to search or catalog them properly.
By setting this to ON, the D3100 numbers files up to DSC_9999.JPG, and only then does it repeat. This prevents too much file name duplication on your hard drive, or on your online galleries.
Buttons
I prefer my Fn button to set the white Balance.
I prefer my AEL-AFL button only to lock auto exposure, not focus.
I set AE lock OFF, since I prefer to lock it with the AEL-AFL button when needed.
I let the camera focus and lock, then point the camera as needed for proper exposure and hold the lock button, if needed.
Picture Controls top
I can't find a Manage Picture Controls menu option, and it may not be in the D3100's simplified menus,compared to more complex Nikons.
Therefore, you may alter any of the preset STANDARD, NEUTRAL, VIVID, B&W, PORTRAIT or LANDSCAPE Picture Controls to your liking, but you cannot save, recall and rename them as you can on other more complex Nikons.
I photograph products that need accurate color reproduction in the STANDARD picture control, I photograph people in the STANDARD picture control with +2 saturation, and photograph other things in the VIVID picture control with +3 saturation.
Movies top
Flick the lever (around the red dot) to the right.
The screen lights, and the viewfinder goes black.
Press the lower left < i > button, select the focus modes on the right, press OK, and select AF-F, for continuous focus. Press < i > to get back to the picture on the screen.
If you leave the focus at its default, the D3100 will focus a movie only as you hold the shutter button, and leave it fixed the rest of the time.
Press the red button to start and stop.
Flick the lever to the right again to get out of the movie recording mode. The screen turns off and the viewfinder is working again.
Playback top
Nikon uses a new trick to allow us to select other images during Image Review right after shooting, but prevent inadvertent dial-motion from resetting our shooting settings.
If we want to see a previous image while a just-shot image is on the LCD, first tap the left or right button on the big rear control switch, and then the dial and /or that switch will let us change to the other images.
If you fail to tap left or right, the dial is ignored during image review, which prevents inadvertent settings changes.
You may hit Zoom and it works, but if you hit Zoom first, the dial will be locked until you come out of zoom and hit left or right to activate the rear dial. (Hitting left or right during zoom scrolls around the image, instead of selecting another image.)
Help me help you top
I support my growing family through this website, as crazy as it might seem.
The biggest help is when you use any of these links to Adorama, Amazon, eBay, Ritz, Calumet, J&R and ScanCafe when you get anything, regardless of the country in which you live. It costs you nothing, and is this site's, and thus my family's, biggest source of support. These places have the best prices and service, which is why I've used them since before this website existed. I recommend them all personally.
If you find this page as helpful as a book you might have had to buy or a workshop you may have had to take, feel free to help me continue helping everyone.
If you've gotten your gear through one of my links or helped otherwise, you're family. It's great people like you who allow me to keep adding to this site full-time. Thanks!
If you haven't helped yet, please do, and consider helping me with a gift of $5.00.
As this page is copyrighted and formally registered, it is unlawful to make copies, especially in the form of printouts for personal use. If you wish to make a printout for personal use, you are granted one-time permission only if you PayPal me $5.00 per printout or part thereof. Thank you!
Thanks for reading!
Mr. & Mrs. Ken Rockwell, Ryan and Katie.
Home Donate New Search Gallery Reviews How-To Books Links Workshops About Contact