Nikon D3 Specifications
© 2008 KenRockwell.com. All rights reserved.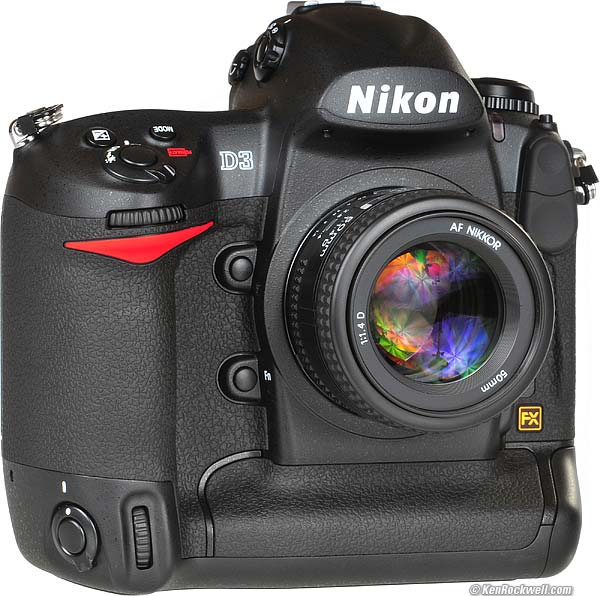 The Nikon D3 with 50mm f/1.4 AF-D. enlarge. I got mine from Ritz. Just as well I'd get another from Adorama, Amazon or B&H Photo Video. It helps me keep adding to this site when you use these links to get yours, thanks! Ken.
back to top of Nikon D3 Review
back to Page Index of Nikon D3 Review
January 2008
Body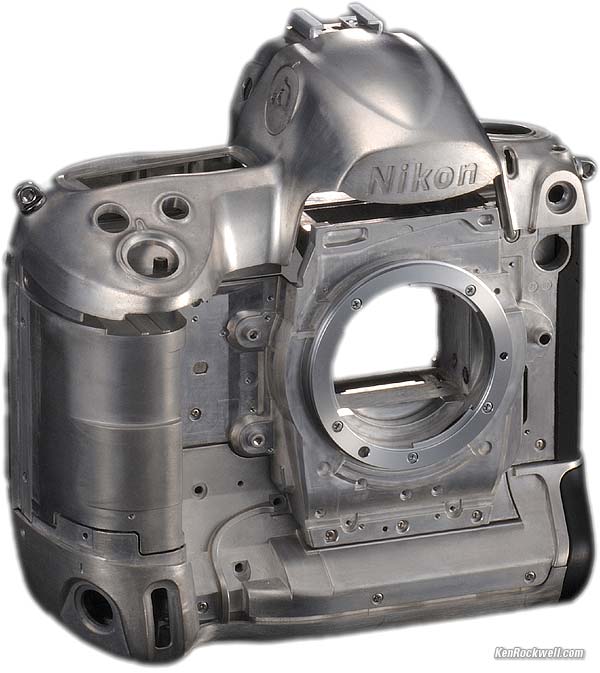 Nikon D3 Frame.
Magnesium alloy covers, chassis and mirror box.
Tempered glass rear LCD cover - no clear plastic condom needed.
Lots of gaskets and seals.
Finder Top
Automatically masks itself to the format in use (FX, DX and 5:4).
100% coverage.
0.7x magnification (50mm lens). Note: this gives a puny image if shooting in DX format.
If you're shooting in DX format, the D300 has a much bigger 0.94x finder. The D3 only masks the focus screen; it doesn't increase the magnification.
18mm eye relief (eyepoint).
-3 to +1 Diopters.
The finder isn't obliterated with AF sensors so we can compose clearly. The sensor markings are only visible for the moments the sensors are in use.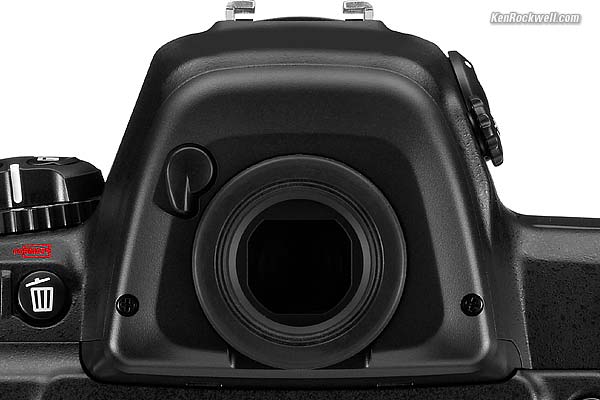 Nikon D3 Eyepiece.
Autofocus Top
51 points. Multi-CAM 3500FX auto focus module.
The center 15 sensors see detail in any orientation (cross sensors), while the other 36 sensors can only focus on details if they run in the correct direction (Nikon calls these horizontal sensors).
Numerous selection modes few people will ever figure out. The good news is that my other Nikons always work great, even if no one really knows what's happening inside.
Very sensitive, as most AF systems, rated down to EV -1.
In Live View Mode, the AF system has another completely separate system that can autofocus directly from the image gathered by the image sensor, as point-and-shoots do.
AF Illuminator: NO. Most other Nikons have this, but I've never had any problems focusing in the dark with my D3.
Shutter and Advance Top
Frame Rate: 9 FPS, with frame-to-frame updates of exposure and focus, in full frame, 4:5 (24 x 30mm) and DX (cropped) modes.
Like most cameras, 9FPS doesn't give the D3 much, if any time, to focus and measure exposure between frames. The D3 has to run more slowly if you want your photos in focus and properly exposed from frame-to-frame if the subject is moving.
10 FPS in DX (cropped 5MP) mode, with the exposure locked for all frames in the sequence.
11 FPS in DX mode, with autofocus and exposure locked for all frames in the sequence.
Selectable speed from 1 FPS through the maximum in CL mode.
Live View mode: set as an advance mode.
Self Timer: 2, 3, 10 or 20 seconds.
Mirror Pre-Release: Mup mode.
Buffer Depth: 13 shots JPG, with ADR ON. 64 JPG, 20 (12-bit raw), 17 (14-bit raw), with ADR OFF.
Shutter Death: Tested (not guaranteed) to 300,000 cycles.
Shutter: 30 - 1/8,000 and bulb. 1/250 sync. Carbon fibre and Kevlar. Closed-loop shutter monitor.
Mirror Balancer: Like most of Nikon's single-digit flagship SLRs, the D3 balances the motion of the mirror for less vibration and therefore sharper photos at slower speeds.
Sensor, Image and Exposure Top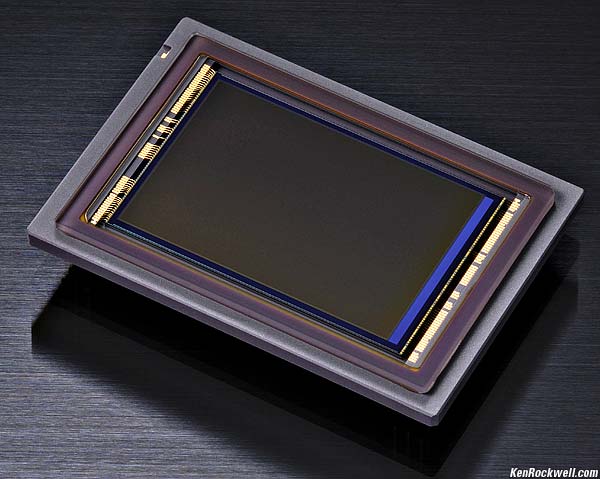 Nikon D3 Image Sensor.
Image Sensor: 12.1MP CMOS. 23.9 x 36mm. 12-channel parallel readout. Designed by Nikon; fab unknown.
Image Sizes:
FX (24x 36mmm): 4,256 x 2,832 (L, native), 3,184 x 2,120 (M), 2,128 x 1,416 (S).
4:5 (24 x 30mm): 3,552 x 2,832 (L, native), 2,656 x 2,120 (M), 1,776 x 1,416 (S)
DX: (16 x 24mm): 2,784 x 1,848 (L, native), 2,080 x 1,384 (M), 1,392 x 920 (S)
The D3 can be set to any of these crop modes, including DX, with traditional full-frame and DX lenses. It automatically selects DX for DX lenses, but you easily can be silly and shoot DX lenses full-frame.
ISO: 200 - 6,400 in normal modes, ISO 100 - 25,600 if you insist. ISO 100 - 12,800 set in 1/3, 1/2 and full stops. ISO 25,600 is set as a full stop only; there is nothing between ISO 12,800 and ISO 25,600, which is too bad because only at those extremes are where things look so nasty that I would want to set ISO in anything other than a full stop.
White Balance: Auto with 1,005 pixel sensor, seven of the usual presets (each with individual fine-tuning, a huge advantage of Nikon over Canon) and degrees Kelvin. Four or five gray-card memories.
Metering: 1,005 pixel RGB Matrix, center weighted (selectable diameter) and spot. Couples to AI manual focus lenses, and if you enter information about your manual lens, you can get matrix metering with them, too.
Flash Top
Built-in Flash: NO, buy your own.
Maximum Shutter Speed With Flash: 1/250 in normal modes. Trick FP mode for faster speeds with greatly reduced flash efficiency. (see Flash Sync Speeds.)
Flash Metering: Nikon's superb 1,005 pixel RGB iTTL sensor. Only works with SB-400, SB-600 and SB-800; other flashes can't use any TTL mode. Tip: If you have an old Nikon flash like an SB-20 or SB-80DX, use its A mode and set the D3 accordingly. It works reasonably well.
Data, Files and Storage Top
Formats: JPG, NEF raw and TIFF.
JPG has the option for smart compression (Nikon calls it "Optimal Quality") and dumb compression, standard on most Nikons, called "size priority." I go into these subtleties at D200 File Types. The D3 does the same things.
Raw comes in your choice of 12 or 14 bits, and lossless or lossy compression, or no compression.
Storage: CF, two slots, type I/II. UDMA and microdrive compatible. It can spit data to the card four times as fast as a D2Xs.
Data Transfer: USB. With optional WT-4: wireless and ethernet.
LCD Monitor Top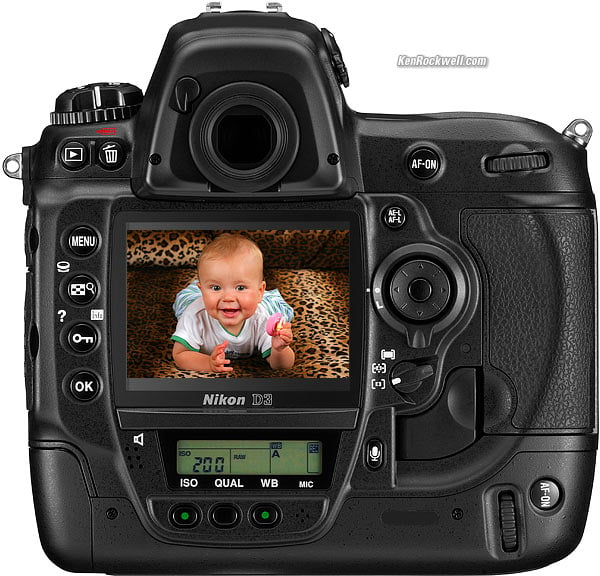 Nikon D3. enlarge.
Awesome, bright and almost 3D super high-resolution 3" LCD.
Visible from all angles.
Protected by a solid slab of tempered glass, no condom needed.
Live viewing ("Live View") feature.
920,000-dot high-resolution, which is four times the area resolution (double the linear resolution) of every previous Nikon and the Canon 40D, $4,500 Canon 1D Mk III and $8,000 1Ds Mk III.
Color Playback Histogram: Yes.
Live Histogram: No.
Day and Night Switching: Like my Garmin GPS, the Nikon D3 claims to let you choose different colors for the rear LCD info readouts for day and night. It will switch automatically between them if you like. It seems to do it, but I've not figured out how it knows.
Video Out: Analog NTSC or PAL mirroring the LCD monitor. Digital HDMI, but only with the LCD off.
Size, Weight and Power Top
Size
6.3 x 6.2 x 3.4" (159.5 x 157 x 87.5mm) W x H x D, specified.
Weight
49.985 oz. (1,417.0g), measured with two cards, battery and strap lugs, but no lens or strap.
52.630 oz (3 pounds, 4.630 oz. or 1,492.0g), measured also with UpStrap.
Nikon delicately specifies only the stripped weight of 43.7 oz. (1,240g) with no battery, no CF cards and no strap. All these are measured without lens.
Power
EN-EL4a/EL4 lithium-ion battery or optional EH-6 AC Adapter.
Battery Life
Nikon specifies about 4,500 shots (page 437 of USA User's Manual). I get 2,000 - 3,000 shots per charge.
Accessories (a separate page)
Price and Availability Top
Price
$4,350, December 2009.
$4,999.95, August 2007.
Announced
23 August 2007.
First Sold at Retail
30 November 2007 to those who ordered in August 2007.
Availability
January 2008: Dismal. People who waited to order will be waiting a long time to get theirs. There is a huge backlog.
March 2010: All sold out and replaced by the D3s.
back to top of Nikon D3 Review
back to Page Index of Nikon D3 Review
PLUG
If you find this as helpful as a book you might have had to buy or a workshop you may have had to take, feel free to help me continue helping everyone.
Thanks for reading!
Ken
Back to Nikon D3 Review