Nikon D3 Accessories
© 2008 KenRockwell.com. All rights reserved.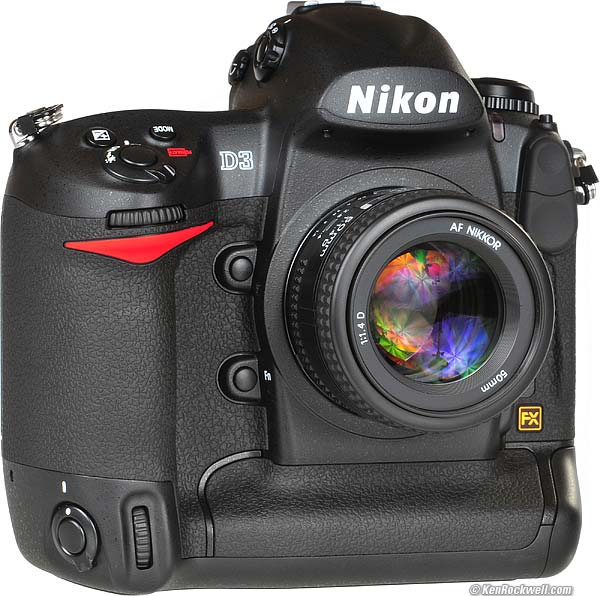 The Nikon D3 with 50mm f/1.4 AF-D. enlarge. I got mine from Ritz. Just as well I'd get another from Adorama, Amazon or B&H Photo Video. It helps me keep adding to this site when you use these links to get yours, thanks! Ken.
back to top of Nikon D3 Review
back to Page Index of Nikon D3 Review
January 2008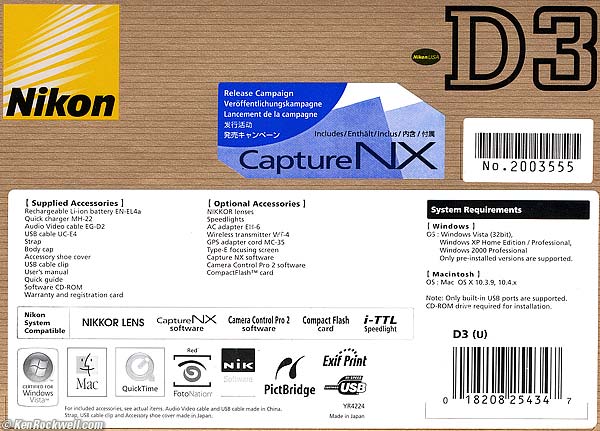 Included Accessories
These will vary by country. Here in the USA, my D3 came with what would have cost me close to $500 to replace if I bought my camera from a scam outfit that holds these accessories hostage. (The scam outfits then charge you far, far more than these discount prices.) I also got a free copy of the $130 Nikon Capture included in my box, but I think that was a special promotion for early purchasers.
EN-EL4a Li-ion Battery. ($110 if bought separately in 2008)
MH-22 Dual Battery Charger ($240 if bought separately in 2008)
UC-E4 USB Cable ($25 if bought separately in 2008)
EG-D2 Video Cable ($9 if bought separately in 2008)
AN-D3 Camera Strap ($25 if bought separately in 2008)
BF-1A Body Cap ($8 if bought separately in 2008)
BS-2 Accessory Shoe Cap
DK-17 Eyepiece ($13 if bought separately in 2008)
BL-4 Battery Chamber Cover. ($18 if bought separately in 2008) This piece detaches from the battery. It is the end-cap which becomes part of the outside of the camera body. It covers the otherwise naked end of the battery. Unlike other Nikons which have either a battery door or latches attached to each battery, you have to buy one of these for each battery if you want quick-change. This means each naked battery is easier to carry in a pocket, and also easier for others to counterfeit. when I tried non-Nikon batteries for my D1H, the part that never worked were the battery catches.
USB Cable Clip. This supposedly helps keep the USB cable from being pulled out of the D3, of course it likewise could ensure that your D3 gets pulled off a table when someone trips on a cable.
Software CD, including Nikon View NX (sorting and display) and Nikon Transfer (for transferring files. My D300 also included a code for a free copy of Capture NX.
Optional Accessories top
E-type focusing screen with grid. ($32 in 2008)
WT-4a Wireless Transmitter ($730 in 2008)
The WT-4a transmitter lets you connect the Nikon D3 to your computer via Wi-Fi and Ethernet. The Nikon D300 uses the same transmitter.
You can see thumbnails of images shot, and transfer the images you desire without having to download from CF cards.
You can buy more software, Nikons Camera Control Pro 2, (I think Canon includes this for free with their transmitter), and control the D3 from your computer.
Using the Live View function and the extra-cost software, you can see what you're doing or use the D3 as a remote spy cam. You can put your D3 someplace, and control and photograph with it from the secrecy of your remote laptop with Live View. If your target sees your camera you might lose your D3, but you can get away before they find you.
DK-17M Magnifying Eyepiece ($33 in 2008)
EH-6 AC Adapter ($73 in 2008)
MH-21 Single Battery Charger ($120 in 2008)
Capture NX Software ($130 in 2008)
Camera Control Pro 2 Software ($160 in 2008)
Image Authentication Software ($500 in 2008)
back to top of Nikon D3 Review
back to Page Index of Nikon D3 Review
PLUG
If you find this as helpful as a book you might have had to buy or a workshop you may have had to take, feel free to help me continue helping everyone.
Thanks for reading!
Ken