Film vs. Digital About these reviews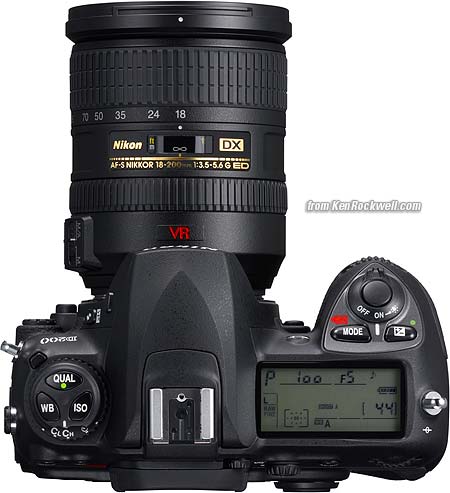 Nikon D200 with new 18 - 200 AFS-VR f/3.5-5.6G lens.
I bought mine from Ritz here. I bought another D200 from Adorama here. Also try Amazon here. Adorama usually has D200/18-70 kits in stock here. It helps me keep adding to this site when you click these links to get yours.
Use with Manual Focus Lenses
My D200 works GREAT! Metering works fine in manual and aperture-priority (A) automatic modes just by popping on a lens.
Unlike the D70s and D50, you may enter the lens' focal length and maximum aperture under SHOOTING Menu > Non CPU Lens Data. Once you've done that you get full matrix metering and the apertures displayed in the finder and recorded in the EXIF data!
You'll possibly get faster operation since the D200 will never have to wait for autofocus. It just goes off when you press the shutter regardless of if you're in focus or not.
The EXIF data also reflects the exact exposure and focal length data. The EXIF data does not know the actual lens model (is it a 28mm f/2.8 or f/2.0?) or the set focal length of a zoom, unless of course you tell it the hard way through the menus.
All the focus points work. Just turn the focus ring till the green dot on the lower left of the finder lights.
back to PERFORMANCE
or back to D200 review page index
or back to top of D200 review