Index of individual test pages
FILM versus DIGITAL
This page is a sloppy excuse for a comparison.
I shot some Velvia 50 along with the 50mm sharpness tests. I scanned it on my 4800 DPI Minolta Multi Pro, which is an amateur scanner. A good scanner would have pulled much more out of the film.
The film looks bad. It has too much grain compared to the smooth digital results.
The first image puts film at a 1.5x disadvantage, since I had to enlarge the film an extra 1.5x to match the digital's reduced field of view. If I had intended to do this correctly I would have used a 75mm lens on film and enlarged it less.
The last image looks smaller. It is the 35mm film not enlarged the extra 1.5x.
The third image is shot with a 105mm lens to compare to medium format film. Again this puts film at the 1.5x disadvantage. I should have used a 150mm lens and enlarged it less to give the same field of view as the 50mm lens on digital to be fair.
Those caveats aside, I wanted to see how it looks. You can see a much better comparison to 4x5 film here and details here.
More important than these images is what a pain it is to scan film. You have to be kidding!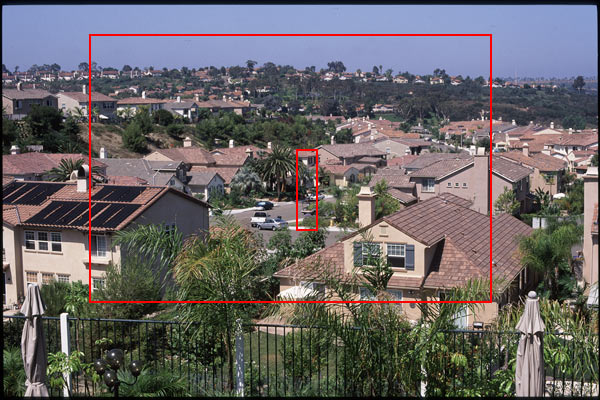 Guide Image, film. Digital includes only area inside large red rectangle. Small rectangle is crop area shown below.