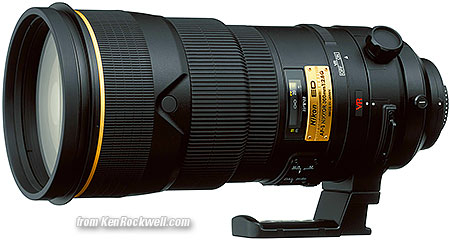 I'd get it here, here or here. It helps me publish this site when you get yours from those links, too. Enlarge.
History of the Nikon 300mm f/2.8
OLD MODEL. THE NEW MODEL IS THE 300mm f/2.8 VR II.
INTRODUCTION
This was introduced in September 2004 at Photokina. Here's the press release. This is the latest iteration of the 300mm f/2.8 which was first invented by Nikon in the 1970s. The 300 f/2.8 has always been the world standard for sports, news and paparazzi photography.
This model adds vibration reduction for better hand-held photography of still subjects, smaller size and less ghosting from the previous version.
It's other huge advantage over the other 300mm lenses is the many ways one may command focus. AF-Lock and AF-ON switches start or lock autofocus from the lens itself. Focus Preset recalls a preset focus distance, a very useful feature in sports, nature, research and reconnaissance photography where one may mark a nest, first base or other spot. If your subject returns unexpectedly just tap the switch and you have focus without having to refocus and recompose. Even better, you can set focus while the light is good and regain focus after it gets dark or the lights are off and you don't want to startle your subject with an AF illuminator.
Nikon claims some new tricks to reduce ghosting for stage, recon and sunset work. They've got a spiffy new coating developed from their work in semiconductor manufacturing. They also did something quite patentable: they realized that if one curves the protective front plate one mostly eliminates lifesize ghosts.
SPECIFICATIONS
Name: Nikon calls this the Nikon ED AF-S VR Nikkor 300mm f/2.8G IF.
Optics: 11 elements in 8 groups. Three are ED. There is an extra protective glass cover, with a meniscus shape to minimize internal reflections with digital cameras. Nano Crystal coat.
Diaphragm: f/2.8 to f/22.
Close Focus: 7.2 feet (2.2m).
Reproduction Ratio: 1:6.1.
Size: 4.9" (124 mm) around by 10.6" (268 mm) long.
Weight: 6.3 pounds (2,870 g).
Filters: 52mm filters in a drop-in slot.
Nikon Product Number: 2154, in catalog as of spring 2008.
PERFORMANCE
Even the first 300mm f/2.8 ED-IF of 1977 is one of the sharpest lenses ever made, and the same has been true for every other Nikon 300mm f/2.8 since then. I have not shot with this latest new version, but considering the heritage and the fact that every f/2.8 supertelephoto ever made by Nikon has been spectacular I see no reason that this lens will be anything less than incredible. These superteles have always been Nikon's forté.
RECOMMENDATIONS
You know who you are if you need this lens. This is a great lens, and likewise a new model means discounts on previous models, all of which are spectacular. The non-VR AF-S II lens as of December 2004 has an $800 rebate meaning it only really costs $3,600 (get the non-VR lens here or here). I have no idea when the VR will be available or what it will cost.