Minolta MC Rokkor - PG 50mm f/1.4 Test Review
© 2005 KenRockwell.com about these reviews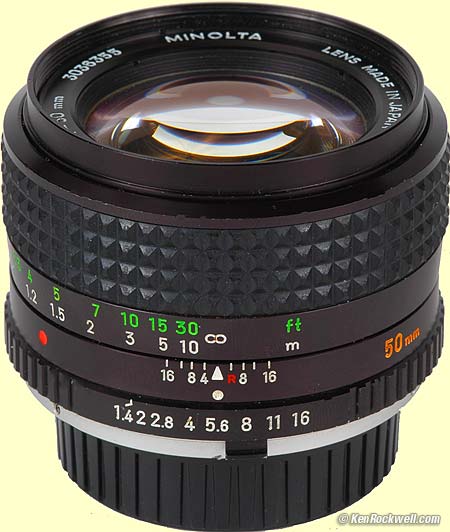 Minolta MC Rokkor - PG 50mm f/1.4
INTRODUCTION
This is an excellent manual focus lens from the 1970s.
SPECIFICATIONS
It has 7 multicoated elements in 6 groups.
It extends 1.8" (46mm) from the camera lens flange and is 2.5" (64mm) around
It is heavy: 11.1 oz (315g).
Full click stops are at f/1.4 and f/2. Half stop clicks are from f/2 through f/16. This is weird, but typical for Minolta.
It has a 55mm filter thread.
Focus is to 1.75' or 0.5m.
It's made entirely of metal.
PERFORMANCE
There is very little barrel distortion, use +1.2 in Photoshops' lens distoetion filter at 3 meters (1o feet.) THis is better than the Nikon 50mm f/1.4.
It's sharp at all apertures. It's a little less contrasty due to some veiling at f/1.4 caused by some residual spherical aberration, however there is still a very sharp image inside the veiling, unlike the Nikkor which is soft all over at f/1.4
Color balance is neutral.
Focus is a dream: the waffle-pattern rubber has perfect grip, and the smooth and precise focus helicoids respond to focus with one fingertip.
RECOMMENDATIONS
This is an excellent lens. I paid $6.95 for mine at a thrift store in Santa Barbara in 2000. Go get one if you can find it, no one wants 50mm lenses any more so they are pretty much yours for the asking.