Minolta MD W.Rokkor-X 24mm f/2.8 Test Review
© 2004 KenRockwell.com about these reviews


You can look for it used here.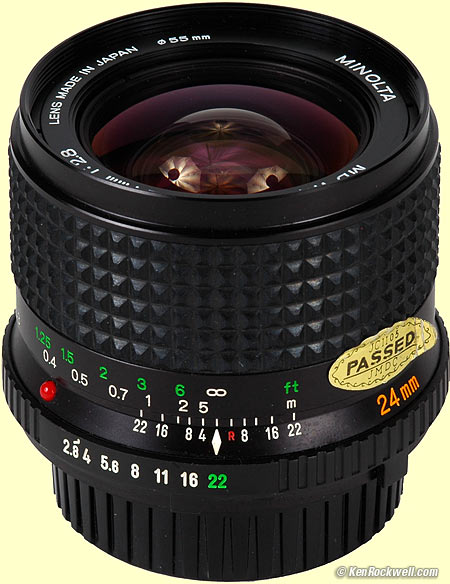 Minolta MD W.Rokkor-X 24mm f/2.8
INTRODUCTION
This is a swell little manual focus lens from the 1980s.
SPECIFICATIONS
It has 9 multicoated elements in 7 groups.
It uses floating elements, just like Nikon's CRC and some wide angle Zeiss lenses for Hasselblad.
It extends 2.0" (50mm) from the camera lens flange and is 2.5" (64mm) around.
It weighs 7.6 oz. (215g), pretty ordinary.
Full click stops are at f/2.8, f/16 and f/22. Half stop clicks from f/4 through f/16. This is weird, but typical for Minolta. Of course you may select any aperture you want regardless of the click stops.
It has a 55mm filter thread.
Close focus is 1' or 0.3m.
The aperture ring is plastic, the rest is all metal.
PERFORMANCE
I get no vignetting with a Hoya HMC filter.
Distortion is very mild barrel, better than the Nikkor 24mm f/2.8.
It's sharp, even at f/2.8. This is better than the Nikon Nikkor 24mm f/2.8 which gets fuzzy in the corners wide open.
Light falloff is typical.
Color balance is neutral
RECOMMENDATIONS
This is an excellent lens blessed with much lower distortion than other brands. Go get one. I have not tried the smaller, newer version with the 49mm thread. The newer version also has floating elements.
You can look for it used here.