Minolta MD W. Rokkor-X 20mm f/2.8 Test Review
© 2006 KenRockwell.com about these reviews


You can look for it used here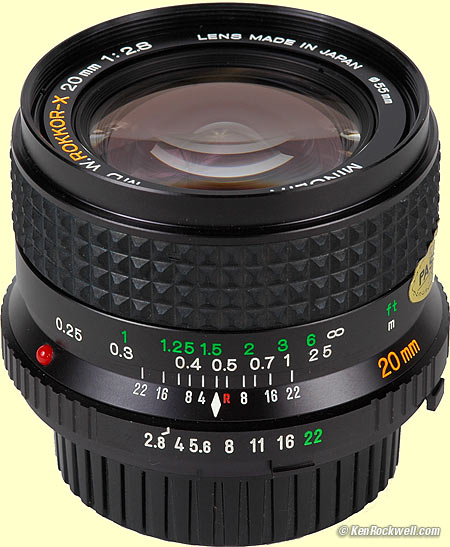 Minolta MD W. Rokkor-X 20mm f/2.8
INTRODUCTION
This is a gem of a manual focus lens from the 1980s. It's made the way they all should be: solid metal with engraved markings. Even the aperture ring is solid, engraved metal.
SPECIFICATIONS
Optics: It has 10 multicoated elements in 9 groups. It uses floating elements, just like Nikon's CRC and some wide angle Zeiss lenses for Hasselblad. The front elements rotate while focusing while the rear elements simply move in and out on slightly different thread pitches.
Close Focus: 10" or 0.25m.
Diaphragm: Six blades. Full click stops are at f/2.8, f/4, f/16 and f/22. Half stop clicks are from f/5.6 through f/16. This is weird, but typical for Minolta. Of course you may select any aperture you want regardless of the click stops. The aperture ring is solid engraved metal.
Size: It extends 1.7" (44mm) from the camera lens flange and is 2.5" (64mm) around.
Weight: It is small and dense like the complex instrument it is: it weighs 8.30 oz. (235g) naked. Add caps and it weighs 8.95 oz (254g) in your bag. The hood weighs 0.85 oz (25g). The hood, caps and lens all weigh 9.85 oz (279g).
Filter Thread: 55 mm.
Hood: Dedicated metal hood with internal flocking held on by friction by tightening a screw.

Slip-on metal hood with engraved and filled markings.
PERFORMANCE
I get just a little vignetting with a Hoya HMC filter, 4.5mm thick.
Oddly, just like my Nikkor 20mm there is a little mechanical misalignment so the top left corner vignettes a little more than the others. Maybe this is how my lab mounts my transparencies, too.
Distortion is typical barrel and gets complex at the far corners.
It's sharp enough, improving as stopped down from f/2.8.
Light falloff is also typical.
Color balance is neutral.
RECOMMENDATIONS
These are difficult to find for sale today since people who have them aren't selling them! If you find one, grab it! I just sold mine in on January 6th, 2006 for $250.
You can look for it used here.