Mercedes E430 Power Windows
© 2006 KenRockwell.com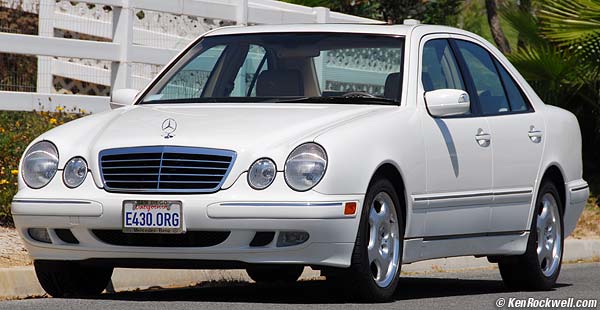 The Mercedes E430 in Olivenhain, California, June, 2006
2002 E430 (click to enlarge)
Power Windows
The window switches are on the center console next to the shifter. The switches for the rear seats are in the rear doors and lit at night.
All the windows have magic up and down. Just press the UP or DOWN button past the stop and each window automatically slides completely open or closed.
Some cars cheap out and don't have automatic operation or auto UP operation on every window. Salespeople lie about this shortcoming being for safety. Baloney. It costs Mercedes to include the safety stops in each window. If your arm is in the way it should stop. I haven't tested it.
The sunroof opens automatically with one touch. Unlike my BMW 540, you have to hold the sunroof switch to have it close all the way.
Fully Functional Rear Windows
The front and rear windows open all the way. The glass doesn't stop halfway down.
How to Fix the Express Up and Down Feature
If the windows don't work in the express mode, they probably still do if you press each button just a little bit and hold it. This problem is common. The windows still work in the normal mode, but stop in the express mode. Press the switch hard and nothing happens, but press it gently and it works normally.
This means the computer has become unsynchronized. This probably happened because you had a battery changed at some discount shop or bought a used car from an unauthorized dealer. Mercedes dealers know how to resync the windows, unauthorized dealers probably don't.
It's easy. It's on page 156 of my owner's manual, or you could phone (800) FOR-MERC anytime day or night and they'll tell you.
All you do is press and hold the UP button partially so the window goes all the way up, and hold it there for at least two seconds.
Fixed.
Party Mode
Hold the LOCK or UNLOCK button on the remote control. All the windows and sunroof open or close at the same time.
You have to hold the button down while windows open or close.
This makes it easy to ventilate the E430 for your wife before you get around and get in yourself.