Mercedes E430 Engine Cooling
© 2006 KenRockwell.com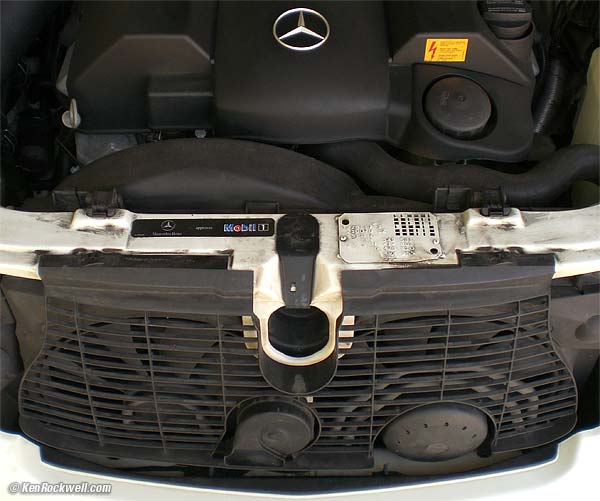 The Mercedes E430 in Olivenhain, California, September, 2006
Mercedes E430 Triple Cooling Fans
Engine Cooling
Like other Mercedes, the E430 doesn't fool around technically. The E430 has THREE engine-cooling fans!
There are two fans in front of the radiator. These are driven from an electric motor which drives two sets of blades. You see these right behind the safety grille above.
There is a third traditional mechanical fan behind the radiator. It's driven through a clutch run from the serpentine belt driven by the crankshaft. This fan is inside the shroud behind the radiator core, in front of the V-8 engine. You can see the shroud to the left, just behind the Mobil 1 sticker.
The electric fans keep the engine cool when stopped and at low engine speeds.
The mechanical fan works harder at higher engine speeds.
They all can work all the time if needed, or can turn off or declutch if not needed.
These ensure your E430 runs well regardless of outside temperatures, traffic or engine speed.
Normal cars usually have either just an engine fan or a single electric fan.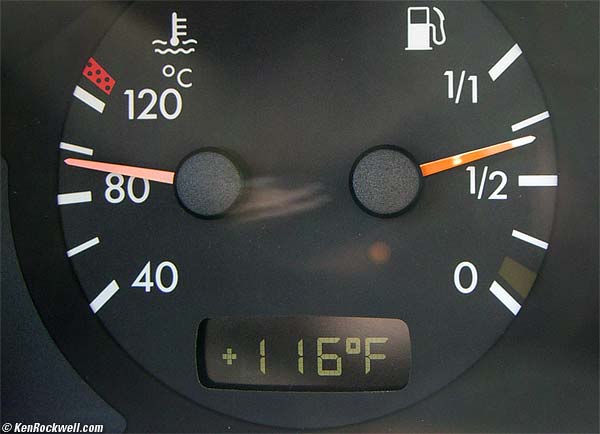 Cool comfort at 116F! (Woodland Hills, CA, 21 July, 2006, 3:50PM)
I wasn't believing my thermometer, which read up to 117 degrees F as we drove through Los Angeles' San Fernando Valley this July on our way to Santa Barbara. This was during a scorching heat wave, but we didn't think it was that scorching. Later we confirmed that these insane temperatures were for real.
The coolant temperature was unfazed, and we had our E430's automatic climate control set to 66F the whole time.
If I wasn't so curious, we would have driven though this inferno and we never would have known how hot it was, unless we got out to pee!