Mercedes E430 Transmission
and Rear Axle
© 2006 KenRockwell.com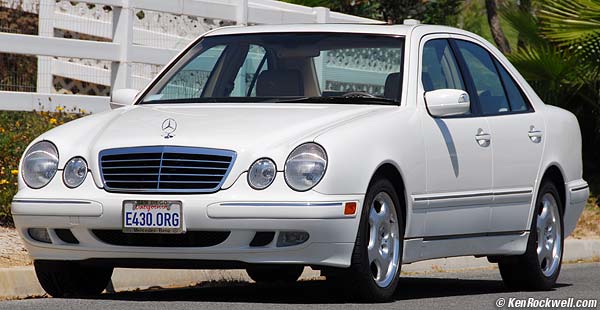 The Mercedes E430 in Olivenhain, California, June, 2006
2002 E430 (click to enlarge)
Transmission
5-speed electronically controlled automatic. Automatically adapts shifting to each driver.
World's best manual Tiptronic mode: just tap the shift lever left or right at any time. You never have to move the shifter into a dedicated "manual" slot. It's always ready for manual control. That's the whole point, isn't it? Mercedes doesn't treat you like an idiot like BMW and Porsche do with their requiring you to jam the shift lever all over the place just to drop down a gear to go down a hill.
Regular (S, summer or sport) and Winter (W) modes. W mode starts in 2nd gear and uses a second reverse gear.
Rear Axle
Independent rear suspension.
2.82:1 rear axle ratio.