Home Donate New Search Gallery Reviews How-To Books Links Workshops About Contact
2014 Mercedes C250
Sport model, 201 hp, 1.8 litre turbo 4
© 2014 KenRockwell.com. All rights reserved.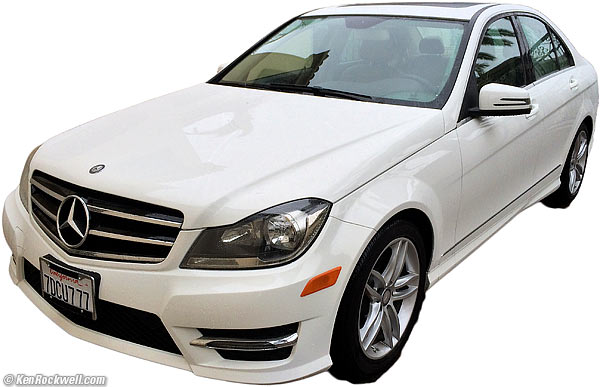 2014 Mercedes C250 Sport. enlarge. I'd get it at this link directly to them at eBay (see How to Win at eBay).
This free website's biggest source of support is when you use any of these links to approved sources when you get anything, regardless of the country in which you live — but I receive nothing for my efforts if you take a chance and buy elsewhere. I get no government hand-outs and run no pledge drives to support my research, so please always use any of these links to approved sources for the best prices, service and selection whenever you get anything. Thanks for helping me help you! Ken.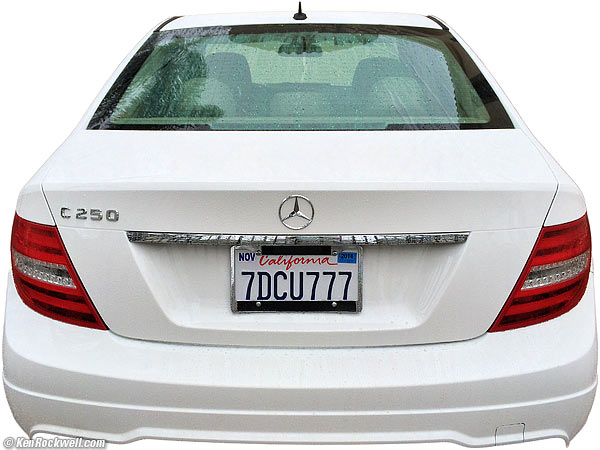 Rear, 2014 Mercedes C250 Sport.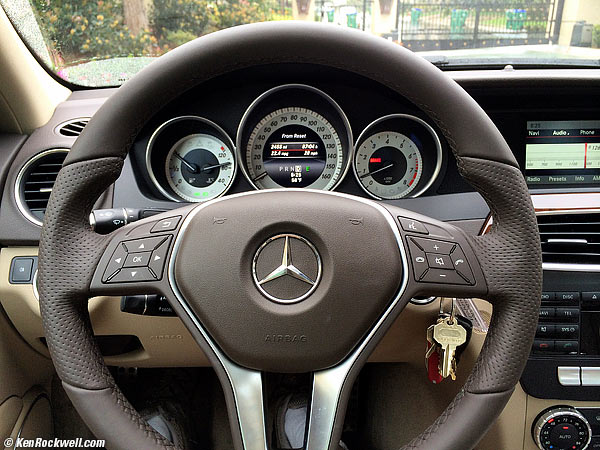 2014 Mercedes C250 Sport. enlarge.
March 2014 Car Reviews All Reviews
Introduction top
Intro Specs Performance Compared Usage Recommendations More

The Mercedes 2014 C250 Sport is an unusually nice little car. While just about Mercedes cheapest car, it's much nicer than many of Mercedes other cheap cars have been. Sticker price new with typical options is about $40,000.
This car here is the Sport model, which is usually less plush than the Luxury version with the star on the hood. Even this Sport model is very smooth and quiet! It's a solid, nimble, fast, comfortable and well-made car.
The 1.8 liter 4 cylinder turbo engine is powerful, but with only 4 cylinders, a bit of a chugger at idle.
There is leather and wood all over. The seats are Mercedes classic MB tex, a magic material as comfortable as leather but more durable than life itself.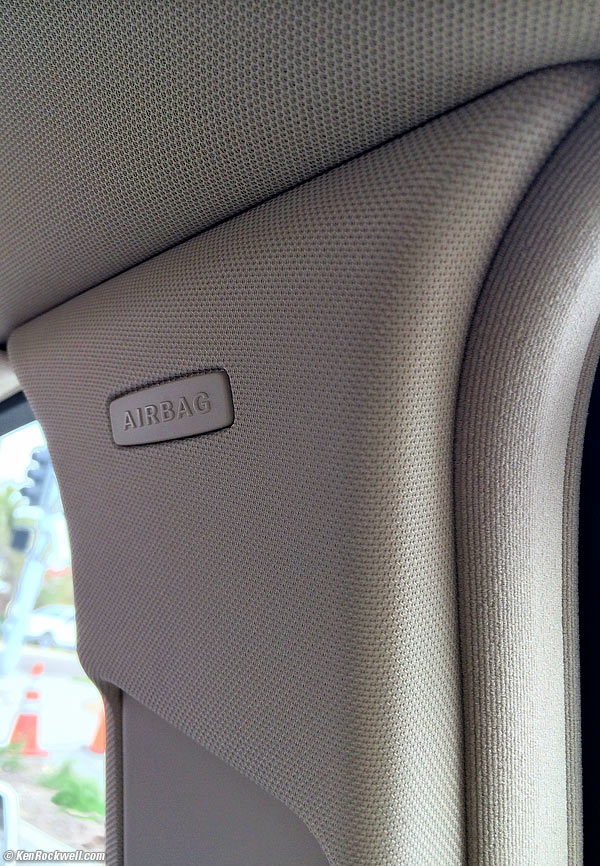 Cloth headliner and sides, 2014 Mercedes C250 Sport.
I am especially impressed with the fit, finish and quality of materials all around. Everything seems as nice as on the S-Klasse, and the C250 is MADE IN GERMANY, not made in the USA like the GL550.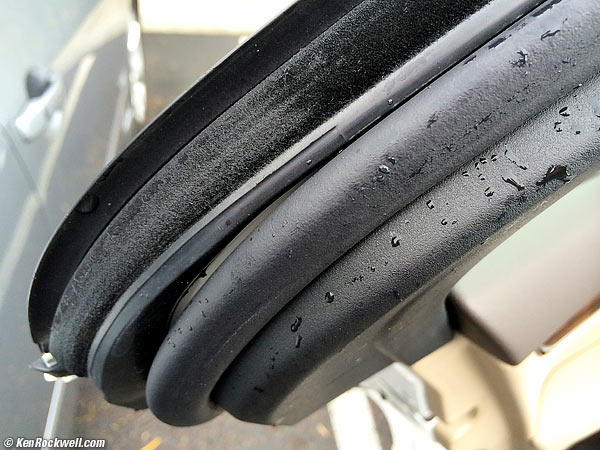 Multiple weather seals, 2014 Mercedes C250 Sport.
The doors have multiple seals for an ultra quiet ride.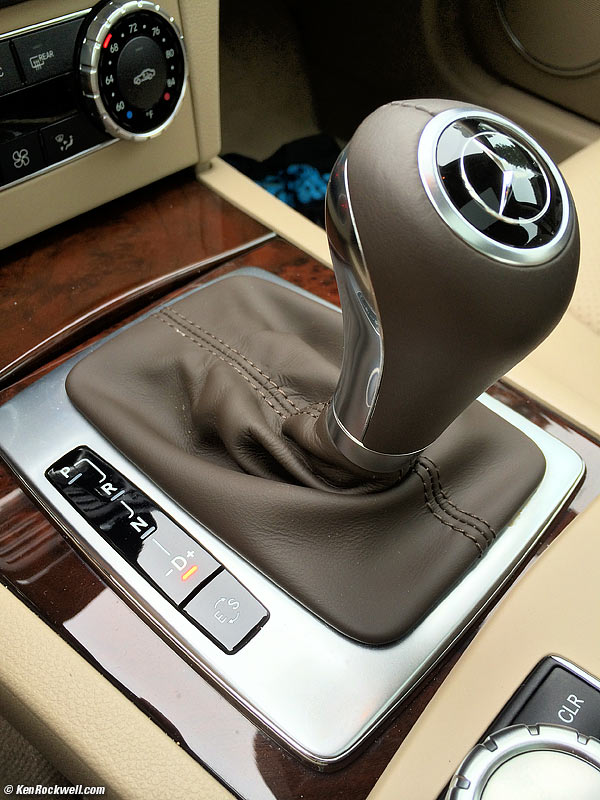 Shifter, 2014 Mercedes C250 Sport.
It has a 7-speed automatic.
The manual shifter is perfect: just poke the lever left or right at any time for instant manual shifting. There's none of the stupid multiple motions into another gate or flippers on the steering wheel baloney of lesser cars; in the C250, manual shift is instantaneous and right in your hand.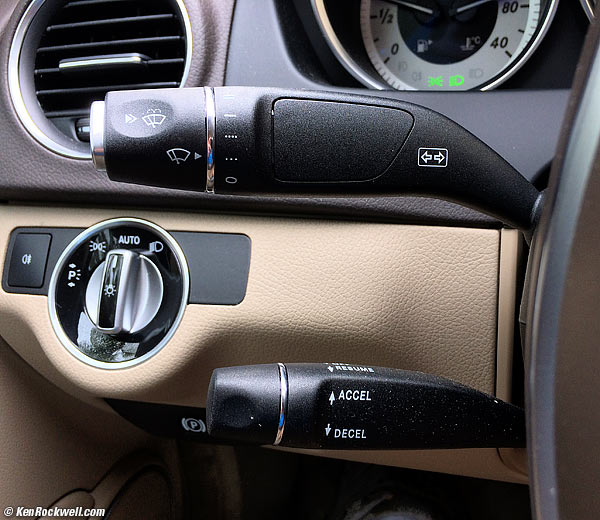 Control stalks, 2014 Mercedes C250 Sport.
The controls are reversed, with the cruise control under the main control lever.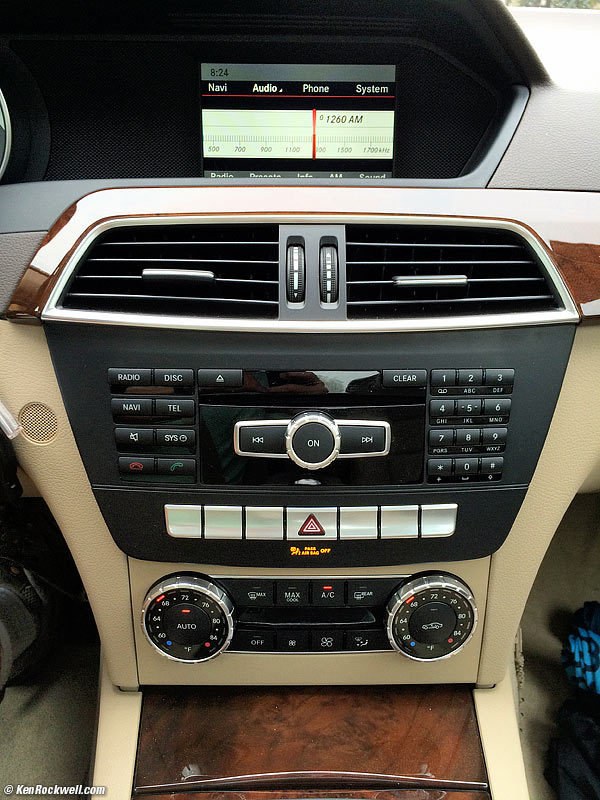 Center stack, 2014 Mercedes C250 Sport. enlarge.
It uses the same switches as every other current Mercedes.
The radio display is a smaller screen than on larger models. It's easy to tune by feel, but you have to pull over to look at the screen to change from AM to FM.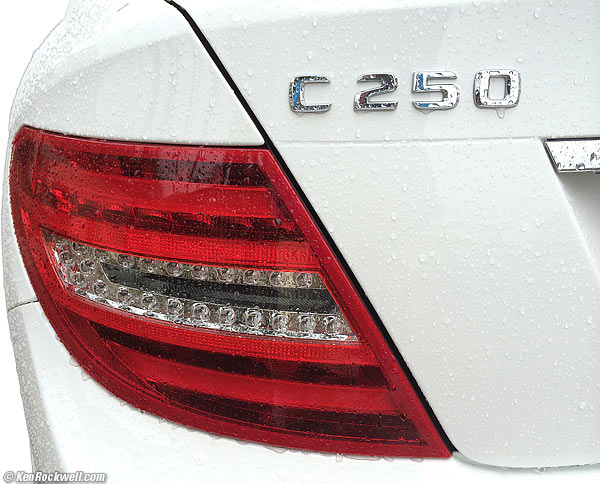 Tail light, 2014 Mercedes C250 Sport.
Headlights are excellent halogen projector beams. There's no front fog lights, and there is a rear fog light.
The daytime running, tail and license plate lights are LEDs.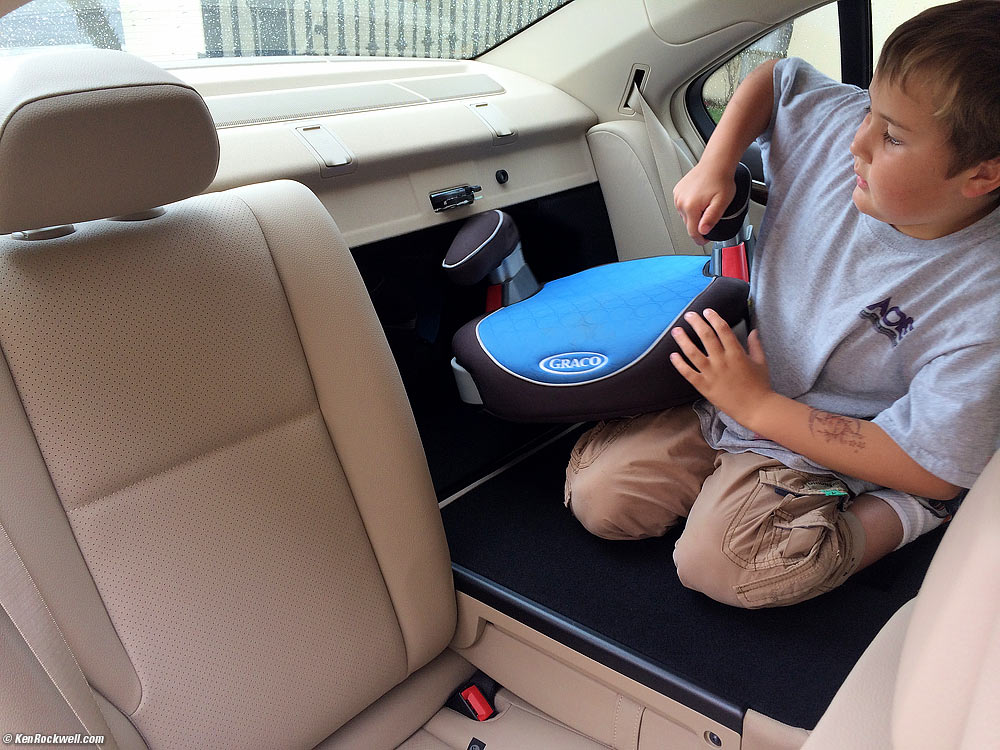 Folding rear seats, 2014 Mercedes C250 Sport. bigger.
Help me help you top
I support my growing family through this website, as crazy as it might seem.
The biggest help is when you use any of these links when you get anything, regardless of the country in which you live. It costs you nothing, and is this site's, and thus my family's, biggest source of support. These places have the best prices and service, which is why I've used them since before this website existed. I recommend them all personally.
If you find this page as helpful as a book you might have had to buy or a workshop you may have had to take, feel free to help me continue helping everyone.
If you've gotten your gear through one of my links or helped otherwise, you're family. It's great people like you who allow me to keep adding to this site full-time. Thanks!
If you haven't helped yet, please do, and consider helping me with a gift of $5.00.
As this page is copyrighted and formally registered, it is unlawful to make copies, especially in the form of printouts for personal use. If you wish to make a printout for personal use, you are granted one-time permission only if you PayPal me $5.00 per printout or part thereof. Thank you!
Thanks for reading!
Mr. & Mrs. Ken Rockwell, Ryan and Katie.
Home Donate New Search Gallery Reviews How-To Books Links Workshops About Contact