2006 Mercedes C230
© 2006 KenRockwell.com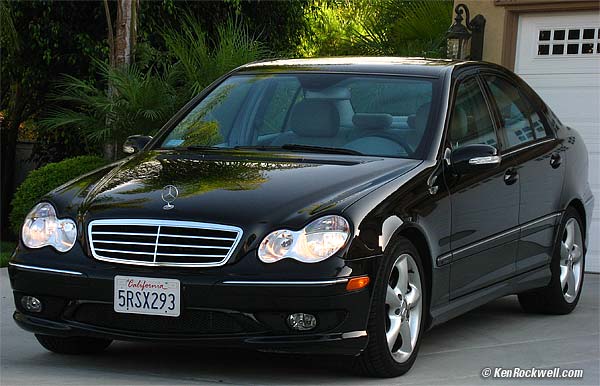 2006 Mercedes C230
INTRODUCTION
I was loaned a 2006 C230, via Enterprise, when I took my E430 in for service in July and September 2006, and when I brought my SL500 in for service in March 2007.
The C230 is a fun little car to drive! Each time that I step out of my higher-end Mercedes into these economy cars I thoroughly enjoy them. They drive like go-karts and are almost as quiet and comfortable as my larger cars.
The C230s are very nimble, well made and well balanced. It feels very solid, it rides very quietly with very little choppiness (as you'd expect from a much larger Mercedes), and has great agility. I'd be happy taking it on a long, comfortable trip, and every time I get in it I'm looking for the green flag on the track. These little things would love days at the track.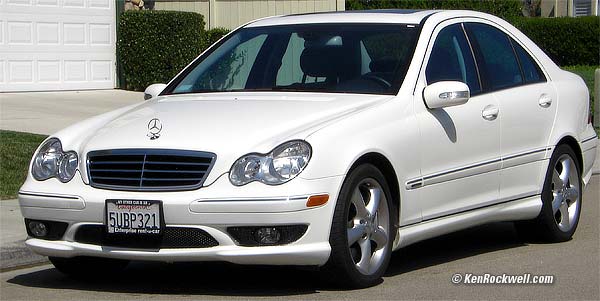 Mercedes C230 in white. It looks like an S-Klasse if you don't have a ruler.
It's a four-door with rear-wheel drive. It's the sport version with the silly blue-tinted windows.
This year has a 2.5L six. Earlier C230s had blown 2.3L fours, and even earlier ones had un blown fours. I prefer the blown four, although it's noisier.
0 - 60 is rated at 8.5 sec. In real-world starts from idle, it takes 10.2 seconds. I measured the same performance with two different samples. This is normal. The 8.5 sec. number only happens if you rev the engine to about six grand and do a power drop into drive. It's cute little six is no V-8; it takes a while to get started from a stop.
Oddly, the C230 is so nimble and fun it feels as fast as my big V8 E430 which I clock 0-60 in 6.2 seconds, from idle, real-world. The C230 is almost twice as slow on the clock, but feels as fast for fun driving around. The C230 is the car to have for running local errands and trips. It's easy to park!
Engine and Transmission
The engine is small but tries hard. It's a sweet little mill. You have other options including a V8, but not on this loan car.
The base six runs great. It's smooth and loves to rev, which it has to to move the little C230 in the manner to which I'm accustomed in my V8s.
Unlike V8s, the little six has to shift a lot to get going. The transmission obliges, but unlike the V8, the C230 is a little less composes because it has to downshift to get moving. You'll have a lot more rough shifts than you will in an E430 just driving around town. The C230 needs to shift to get enough power, unless of course you're stuck commuting.
It has a 4-valve per cylinder 2.5L V6 rated 181 ft-lbs (2,700 - 5,000 RPM) and 201 HP @ 6,200 RPM.
11.2:1 compression, the highest I've seen on a street car. Premium fuel of course.
It's a 90 degree six, castrated from an eight.
DOHC, variable valve timing on intake and exhaust.
EPA MPG is 21 city, 30 highway.
It had the optional 7-speed automatic and 3.27 : 1 gears.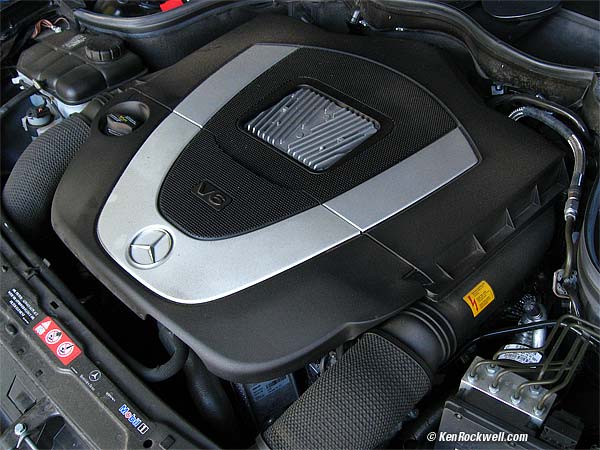 2.5L 24-V V6. Note dual cold air intake system.
This 2.5L V6 base engine. It's smooth and runs well, especially with a seven speed automatic transmission.
It's not fast, but the C230 is so nimble that it's as fun to drive as anything else.
The C350 or C55 have much better engines. I define better as powerful. I don't care about fuel costs. If you do, this little 2.5L engine doesn't use much gas. Then again, neither does a V8 driven smoothly. I'd rather have a V8. The computer shows 26MPG for 9 miles, but that's 9 miles on a freeway with a warm engine. My V8 E430 gets the same on the freeway.
Wheels and Tires
2006 Mercedes C230 Front Wheel
The C230s I borrowed had Continentals on them.
225/45R17 91W front, 245/40R17 91W rear.
Interior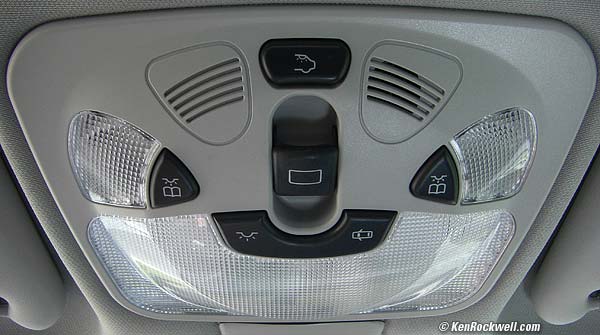 Ceiling Console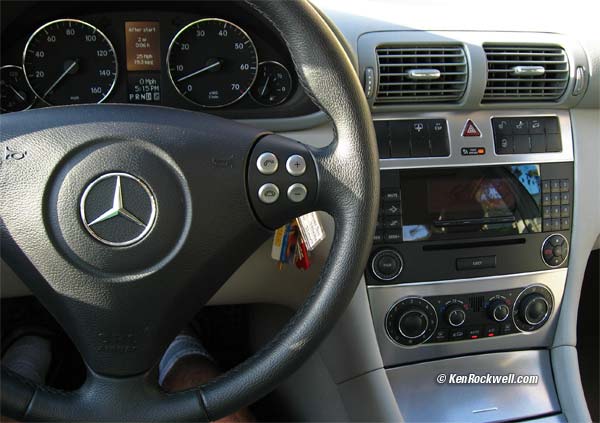 2006 Mercedes C230 Sport Interior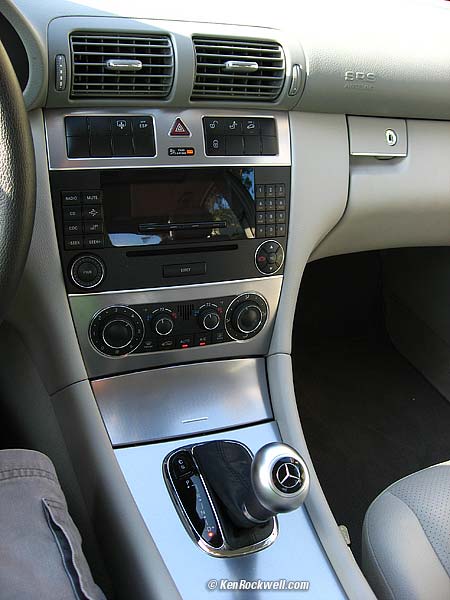 2006 Mercedes C230 Console
Seats
Seats are great! They are comfortable and supportive. They aren't the awful expanded foam of crappier cars; these feel like the usual Mercedes suspension systems.
The cars I borrowed had ventilated vinyl seats. Mercedes calls this MB Tex, which historically has been a magic material more comfortable, and longer lasting, than leather. Only we experienced Benz owners know it's not leather. MB Tex is better.
MB Tex is the cheaper option to leather. Even the $60,000 G-Klasse comes standard with vinyl, and unless people read the sticker, think it's leather. Again, if you want leather, you can pay for it. I found the seats of the C230 more comfortable for the short trips I used it for than the leather in my E and SL klasse cars.
Dash

C230 Instrument Cluster
Window Switches
The C230 does it right: full auto up and down on all four windows and the sunroof. Lesser vehicles, like out Porsche Cayenne Turbo S, cheap out and have no auto up on the rear windows.
Seat Controls
The seats in the one I borrowed are part power, no memory. Unlike better Benz' which put the seat controls on the door where you can see them, the C230's seat controls are on the seat.
I have to grope for them, and my big hands don't fit well in the small space between the seat and the door.
Radio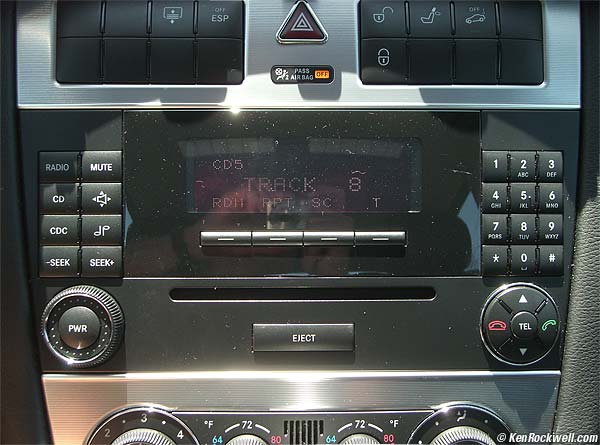 The sound system was great. There was a traditional six-CD changer in the glove box. It takes the standard Alpine CD magazines of other BMW and Mercedes models.
It was hard to read the dim display during the day. I prefer the LCDs of my 2002 E430 and older Mercedes.
Air Conditioning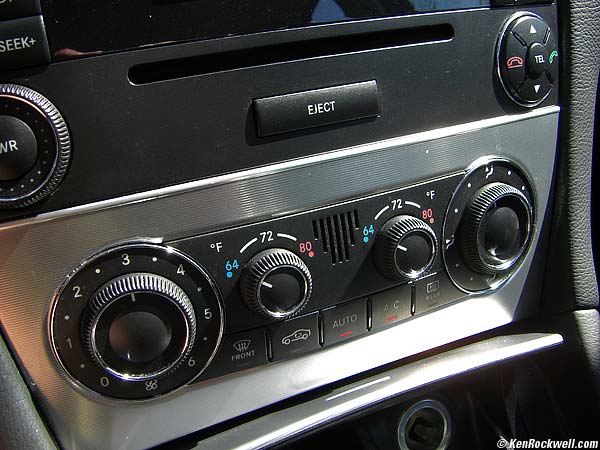 Air Conditioning is fully automatic. Set your preferred temperature once and forget it.
It didn't have the capacity of my V8 cars. The little engine and A/C compressor had to work long and hard to cool things down.
I like things cold fast. I would consider a different engine or car based just on this. I suspect bigger-engined C-Klasses might have more air conditioning capacity.
Extra-Smart Turn Signals
Most modern European cars have smart signals: one tap and they blink three times for a lane change. These drive me crazy, since there's no way to cancel the three blinks, and worse, I try to cancel by trying the other direction, which makes me look like a total retard signaling left and right and then left again, when I change my mind not to change lanes!
The C230 is smarter than smart. One tap and you get three blinks. One longer tap, and release, and it stops! When I change my mind about a lane change, it cancels.
It's clairvoyant: it just works. One tap and release and I get three blinks by magic, one more hesitant tap, change my mind, and it stops as soon as I release the lever. Perfect!
Headlights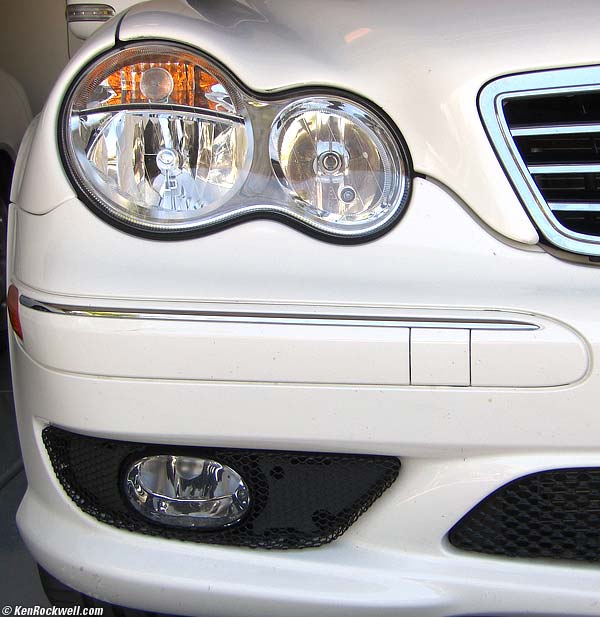 C230 Headlights (Standard Halogen)
Standard for 2000-era cars, the headlights are halogen with beam-shaping reflectors and clear (non-fluted) lenses. The low beams are on full-time at night and the high beams pop on in addition when the high beams are selected.
Low beam pattern in the US is the good 9/16 pizza-slice H4 pattern. The center headlight throws less light to the upper roadside, and the light on the curb side throws more light up and towards curbside signs and pedestrians.
I haven't tried the fogs. Fogs today are usually impotent.
Quality Made in Germany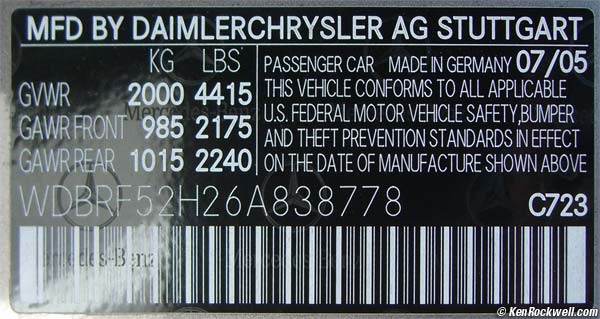 Unlike other inexpensive cars with German names like BMW (Z3 and SUVs made in Georgia, USA), VW (mostly made in Mexico) and Mercedes M and GL (made in Alabama, USA), the C - Klasse really is made in Germany.
Love Glove
Mercedes amused me: they include a pair of gloves with the tool kit! Even my SL500 doesn't have that. I always carry a few pairs of latex gloves anyway. I wear them when working with my cars so my hands never get dirty. Your woman will appreciate that more than your fancy car!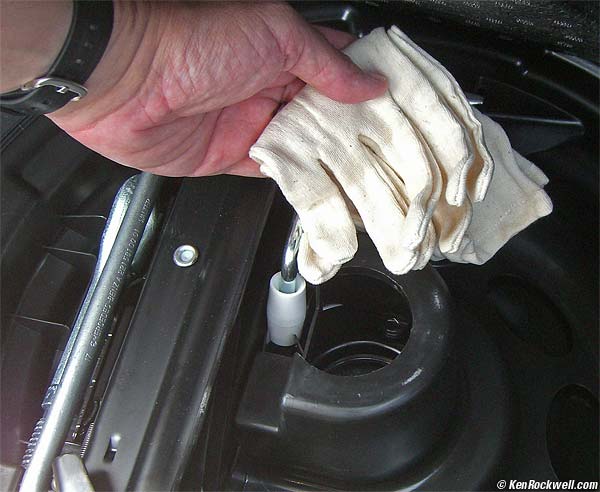 C230 tool kit gloves
Fuses
The C230 also has a spare set of fuses, including the giant ones. Cool! Usually makers hide them along the regular fuses in the fuse panel.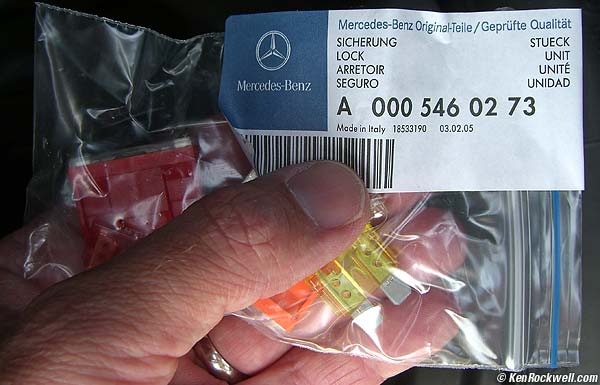 C230 Spare Fuse Kit
Free Roadside Service - Forever
Like all Mercedes, every C230 has eternal free roadside service. Just call (800) FOR-MERC anytime for help with anything.
Summary
On paper I'd go for the C350 or C55 AMG, but to be honest, this basic economy Mercedes is competent, fully featured, and a hoot to drive. It has a nice, big trunk.
If this C230 is what fits your budget, I doubt you'd be sorry. It's a great little car.
We have a 2006 SAAB 9-3 2.0t as a company car. It sells for the same price as the mEcedes C230. The Saab is a front wheel drive toy by comparion. We'd much rather we had this C230 instead, since they are both in the $30,000 range price.
The C230 is a car I looked forward to driving; the sort of car for which you make excuses to take the long way home.