Mamiya 6 G 150mm F/4.5 L Test Review
© 2004 KenRockwell.com
about these reviews



get it used here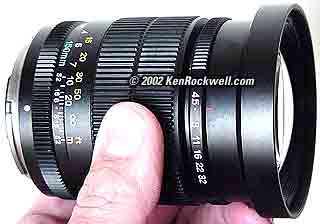 March 2010 More Mamiya Reviews
Introduction
This is a great, in fact almost perfect, lens.
It is no longer made, but oddly in December 2003 I got a letter from Mamiya America Corporation that as a loyal Mamiya 6 owner that Mamiya was offering me a special deal on this lens (only) for $799. Mamiya was/is offereingto sell these directly, not through a dealer.
Odd, but I suspect they found a batch someplace that someone forgot about. This is a great lens and if I didn't already own one I'd certainly take Mamiya up on their offer. I paid $799 for my lens used.
Specifications
It is 3.4" (86mm) long by 2.8" (70mm) around and weighs 16.9 oz. (480g).
It focusses to six feet or 1.8m.
It has a metal 67mm filter thread.
It has six elements in five groups.
It has a five-bladed diaphragm stopping down to f/32.
The screw-in metal lens hood is included, so don't buy a used lens without the hood.
Performance
It's almost flawless. It's sharp at every aperture and has no light falloff, even at f/4.5.
You need to ensure that your camera's rangefinder is well calibrated and that your eyesight is keen to get accurate focussing and sharpness with this lens. Otherwise you will not get accurate focus at f/4.5 and unfairly blame fuzzy results on the lens instead of poor focussing.
It handles two or three 67mm screw in filters without vignetting.
There is a little bit of pincushion distortion that I only discoverd after seeing it on Photodo.com's report and then deliberately looking for it. I have never seen it in real photography.
Recommendations
Just buy one.
I leave the screw-in metal hood attached all the time. Since I also leave an 81A filter on most of the time I also dispense with the lens cap.
Tip: If I'm in a heavy combat zone I'll use a Nikon 72mm snap-on cap on the front of the hood to protect from both shrapnel and getting the hood deformed if I take a hit. (see photo below). This allows the hood to remain attached for instant use, preventing you from having to screw it in each time you want to use the lens.