Home Donate New Search Gallery Reviews How-To Books Links Workshops About Contact
Erwin Puts' Leica Compendium Review
© 2011 KenRockwell.com. All rights reserved.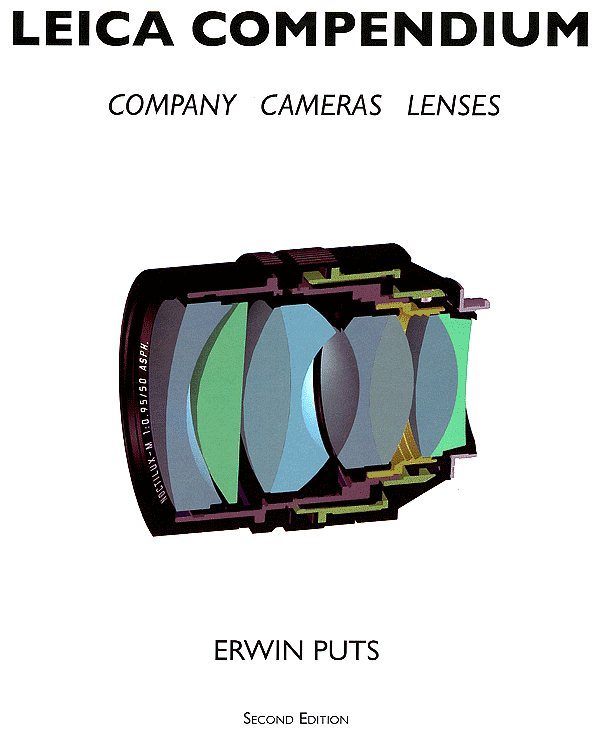 "Leica Compendium" by Erwin Puts. This free website's biggest source of support is when you use these links, especially this link directly to them at eBay (see How to Win at eBay) when you get anything, regardless of the country in which you live. Thanks! Ken.
October 2011 LEICA Reviews LEICA Lenses lesser-brand reviews
Introduction
Erwin Puts' second edition of his Leica Compendium is the print world's authoritative reference on Leica lenses. For those of you who know Erwin Put's writing, this is by far his best and most all-encompassing work yet.
This Leica Compendium also includes sections on the LEICA, Leica M and Leica R cameras. Leica sport optics, microscopes and surveying equipment aren't mentioned.
This is a self-published work, entirely written, laid out, printed and distributed by Erwin Puts. It's 100% pure, and as such, is astonishing for the quality of what's inside. Most people don't realize that most books are the products of numerous editors, checkers, proofreaders, layout artists, typographers and more — but Erwin Puts did all this himself.
The Leica Compendium is 610 heavy pages of information about every Leica lens ever made, as well as some never made.
Just like LEICA cameras and lenses, the book was printed in only an edition of about 1,000 and was already sold-out long before most people knew it existed.
In 2001 there was a Leica Lens Compendium written by Erwin Puts, published by Hove and edited by Laney with a black cover and a photo of a TRI-ELMAR.
There was a first edition of this Leica Compendium published earlier in 2011.
This second edition of the Leica Compendium, published in August 2011, is far, far better than the original Leica Lens Compendium of 2001, as it adds far more content, filter sizes and MTF curves for almost every lens, including those from the 1930s. This second edition adds new lenses up to the 21mm f/3.4, as well as huge sections on history, the cameras and the company.
Also added are excellent large sections on the complete history of Leica as a company, how it grew, and the decisions it had to make to get where is is today. The history section starts back in 1840, 80 years before the Leica camera.
Included are sections also on optical aberrations, how lenses are designed, manufactured and tested.
Specifications
Size
8½ x 12 x 1¾ inches.
215 x 305 x 47 millimeters.
610 pages.
Weight
2,780 grammes.
6 pounds, 2 ounces.
Published
August, 2011.
Printed in
Riga, Latvia.
Availability
Already sold out, but sometimes available used at this link to them at eBay.
You also could try it at Amazon.
Recommendations
If you read about LEICA, you know Erwin Puts' work, and this is his best yet. The sad part is that, just like Leica products, these books are nearly impossible to get. Just like his 2001 Leica Lens Compendium, this book already sells for three times as much used at eBay as it sold for new last month.
If you need this information, we always hope that there will be newer books coming from Erwin Puts so you can get one.
Dennis Laney's Leica Pocket Guide (seventh edition of 2002) is a small book, with its lens section by Erwin Puts, also including most MTF curves and filter sizes as does this Leica Compendium. For the working man (who obviously wouldn't be shooting the LEICA), Laney's Pocket Guide has most of the meat of the same lens and performance information in an almost pocketable size for much less money, and it's still available new.
If you want a more thorough guide to Leica cameras and accessories and what works with what, get Dennis Laney's large Leica Collector's Guide.
If you want an overview with some information on how to shoot these cameras, get Osterloh's Leica M: Advanced Photo School, 2nd Edition.
Ultimately, we should learn that if Erwin Puts publishes more books, to order them as soon as we can, because they sell out quickly, and if you hate it, sell it on eBay and triple your money.
All of the books mentioned sell for three times the new price used as soon as new ones sell out. I know, I paid a few hundred dollars for the previous edition of Osterloh's Leica M book before the current edition came out and sells new for under $25.
None of these books has much to do with taking pictures, and nothing to do with photography — they are camera books. To learn how to take better pictures, get Bruce Barnbaum's "The Art of Photography."
Help me help you top
I support my growing family through this website, as crazy as it might seem.
The biggest help is when you use any of these links to Adorama, Amazon, eBay, Ritz, Calumet, J&R and ScanCafe when you get anything, regardless of the country in which you live. It costs you nothing, and is this site's, and thus my family's, biggest source of support. These places have the best prices and service, which is why I've used them since before this website existed. I recommend them all personally.
If you find this page as helpful as a book you might have had to buy or a workshop you may have had to take, feel free to help me continue helping everyone.
If you've gotten your gear through one of my links or helped otherwise, you're family. It's great people like you who allow me to keep adding to this site full-time. Thanks!
If you haven't helped yet, please do, and consider helping me with a gift of $5.00.
As this page is copyrighted and formally registered, it is unlawful to make copies, especially in the form of printouts for personal use. If you wish to make a printout for personal use, you are granted one-time permission only if you PayPal me $5.00 per printout or part thereof. Thank you!
Thanks for reading!
Mr. & Mrs. Ken Rockwell, Ryan and Katie.
Home Donate New Search Gallery Reviews How-To Books Links Workshops About Contact