Home New Search Gallery How-To Books Links Workshops About Contact
LEICA Minilux
(1995-?)
© 2008 KenRockwell.com. All rights reserved.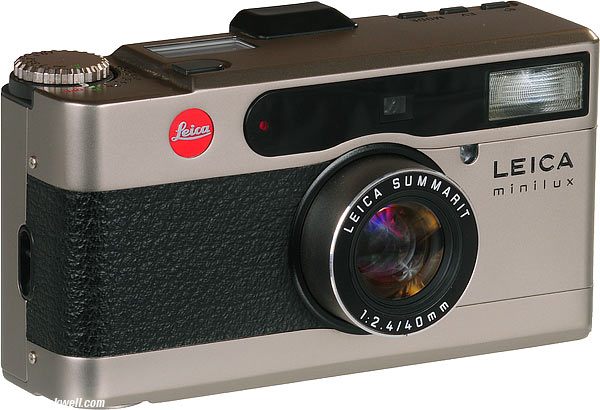 Leica Minilux. enlarge. Adorama often sells these used right here, and you always can find them here at eBay. They sell for about $400 in the box as of December 2008. It helps me keep adding to this site when you get yours through these links, thanks! Ken.
December 2008 Minilux Zoom More Leica Reviews
How to Shoot the Minilux Digitally Compared to the Minilux Zoom
Introduction top
Intro Specs Compared Performance
The Leica Minilux is a Japanese point-and-shoot introduced about 1995. It's a great performer as point-and-shoots go, but it has a tiny viewfinder. It's not intended for serious photography because there is no good way to attach filters. It was intended for amateurs shooting only print film. Leica eventually replaced it with the Leica CM, which added a hot shoe.
If you can get over the lack of filters (I can't because it means poor color balance in color, and poor contrast in black-and-white), and its parenthetically tiny viewfinder, the Minilux works extremely well for shooting pro film like Fuji Velvia 50 slide film.
The Minilux is far superior to the Minilux Zoom.
The Minilux is sharp, focuses and exposes accurately and consistently. The Minilux' flash and its exposure is also excellent, even for demanding transparency film.
My biggest complaint about the Minilux its pathetically tiny 0.35x finder, about one-third the size (one-eighth the area) of a disposable camera like the Fuji QuickSnap.
The Minilux has a nice top-panel exposure readout: even in Professional (P) mode, the top LCD panel quickly alternates between the chosen aperture and shutter speeds. It alternates between them twice as fast as other cameras would, which makes it easy to check the set exposure quickly. The top LCD keeps blinking the exposure last measured, so you can take your finger off the shutter safely as you remove the Minilux from your eye to look at the top.
There is no data readout in the finder.
There is no way to attach a shoulder strap; there is only one hole for a girly wrist strap.
Exposure compensation is screwy to set: you must hold down the EV button for several seconds until the value blinks, then successive presses cycle through 0.0, +0.5, +1.0, +1.5, +2.0, -2.0, -1.5, -1.0, -0.5 and back to 0.0. If you hold down the EV button too long, or press it too many times, and miss the value you want, you have to run through them all again. Good luck.
For serious shooters, the rewind time is a slow 45 seconds. It is reasonably quiet and sounds like it's muted with rubber mounts.
The pictures are upside-down because the film is loaded upside-down and runs backwards through the camera. The frame numbers run in the conventional direction, but you'll have to orient your slide mounts upside-down from your SLR and Leica M rangefinder cameras.
The Minilux controls are excellent. It's easy to select a guessed-at manual focus distance, or to select an aperture in aperture-priority mode: just do it. I wish every camera were this well thought out.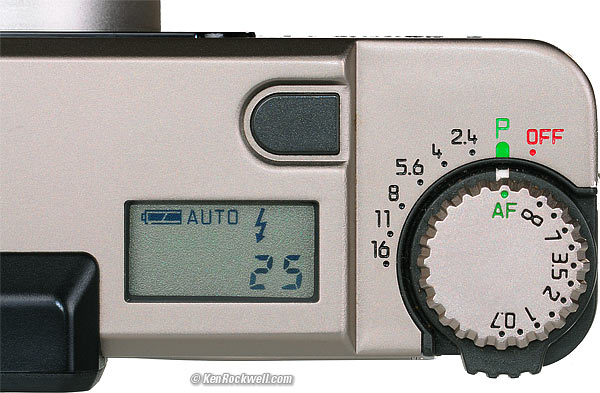 Leica Minilux Controls.
Specifications top
Intro Specs Compared Performance Usage Recommendations
Lens: 40mm f/2.4. Conventional Gauss-derived 6 elements in 4 groups. Multicoated.
Diaphragm: 7 blades, which is excellent.
Finder: Tiny 0.35x magnification. Covers only 83% of image.
AF: Active IR.
Close Focus: 2.3 feet (0.7m).
Shutter: 1 ~ 1/400 second and Bulb, not to exceed about 99 seconds.
Cable Release: 2.5mm electronic socket.
Frame Rate: ½ FPS.
Meter: Center-weighted. Sensor is a hole in the body next to the lens.
Meter Range: LV 2.5 ~ 16.5: 1 second at f/2.4 to 1/400 at f/16.
Exposure Modes: Professional (P, previously known as program) and aperture-priority, only.
Exposure Lock: With half-press of shutter.
Exposure Compensation: ±2 stops in ½ stop steps.
ISO: No manual settings; reads DX only from ISO 25 ~ ISO 5,000. Without a DX code on the film canister, the Minilux defaults to ISO 100.
Flash: Built-in, rated GN 36 feet (11 meters). 5 second rated recycle time.
Flash Range: Rated 24 feet (7.2m) at ISO 100.
Flash Modes: All the usual: Auto, ON, Off, Redeye, and Slow Sync.
Size: 4.8 x 1.1 x 1.5 " (124 x 29 x 43mm), specified.
Weight: 12.905 oz. (365.8g), measured with battery, strap and 24-exposure load of Fuji print film. The Nikon 35Ti measures 14.320 oz (406.05g) with all this and with case and with wrist strap. The Konica Hexar Silver, with all this (except a 24-exp roll of print film) and a shoulder strap, filter and billet aluminum cap, measures 23.160 oz. (656.5g)
Power: One CR123A lithium. These are great; these sell for under $2 each at BatteryJunction.com and you always can keep a couple of spares in the key holder pocket of your Levi jeans.
Part Number: Minilux 40mm f/2.4: 18 006. (Minilux Zoom: 18 036)
Who Really Makes It: While "designed by Leica," it's made in Japan in an unknown factory. Depending on where I read this, the inside is actually a Panasonic or Minolta point-and-shoot with a lens and outer casing designed by Leica.
Contrast this to the 35Ti or Hexar, which really are made by Nikon or Konica.
Compared to the Minilux Zoom top
Intro Specs Compared Performance Usage Recommendations
| | | |
| --- | --- | --- |
| | Minilux | |
| Lens | 40mm f/2.4 | 35-70mm f/3.5-6.5 (!) |
| Diaphragm | 7 blades | none |
| Filter Thread | none | none |
| Lens Cap | Automatic blind | easy-to-lose cap |
| Exposure Accuracy | great | iffy |
| Exposure Modes | P, A | P only |
| Flash Exposure | great | poor |
| External Flash? | no | Yes |
| Finder | crappy | crappy |
| Distortion | none | negligible |
| Sharpness (when in focus) | excellent | excellent |
| AF Accuracy (is it in focus?) | always | sometimes |
| Corner Light Falloff | little | loads |
| Weight, measured, as deployed | 12.905 oz. (365.8g) | 14.695 oz. (416.6g) |
| Power | CR123A | CR123A |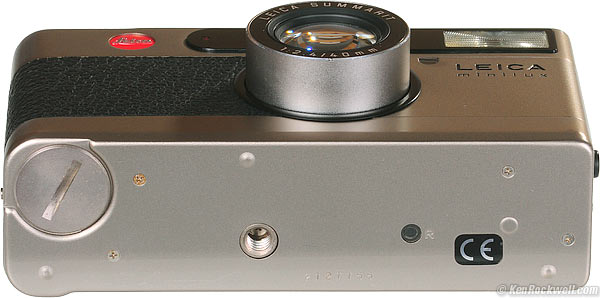 Bottom, Leica Minilux. enlarge.
Performance top
Intro Specs Compared Performance Usage Recommendations
The Minilux is a very competent camera with a great lens, so long as you can survive without using filters and don't go blind peering though the tiny peephole finder.
System
Ergonomics
It's easy to shoot with just one hand, so long as you don't need to set any of the flash or exposure compensation controls. There aren't any other controls about which to worry.
Power, focus and shooting are all done with just two fingers. Bravo!
Like every point-and-shoot, it takes a moment for tiny motors to open everything when turned on, and has to be turned off after each shot to be put back in your pocket. This gets in the way, although you can leave the power switch on and the lens stays out. If you do this, it wakes right back up when you tap the shutter, but you can't put it in your pocket this way.
The frame counter doesn't show with power off. The Konica Hexar doesn't show this either, but the Nikon 35Ti does.
There is no way to read the ISO as read from the film's DX coding, or set it manually. You just have to trust it.
The top LCD looks great because it's custom for Leica and uses their fonts. Unfortunately it's supposed to light up automatically as needed, but doesn't. I have to put my finger over the light meter to trick it into turning on. The problem is that it turns on based on what's in front of the camera, not on how much light is hitting the top of the camera.
The green finder LED blinks to let you know the shutter speed is slow, and blinks a little faster to let you know you're too close to focus. The bad part is that the two blink rates are so similar that you'll have to guess which is which based on conditions.
Autofocus
AF is accurate, if you've chosen a suitable target.
If you haven't, the only way you'll know is when you see your pictures.
Exposure Accuracy
Exposures are accurate.
Of course the meter is a primitive center-weighted type that requires attention and some knowledge of The Zone System, but it performs reliably.
Flash
The built-in flash works great. Exposure is accurate, range is good enough, and even fill flash balances well with daylight.
Hooray!
External Flash
None! There is no hot shoe, unlike the Minilux Zoom.
Viewfinder
Once you pick it up, you quickly see my biggest complaint: the viewfinder is awful. It's half the size of the finder of the 35Ti or Hexar, and much smaller than the finder of a Fuji QuickSnap disposable camera! The Minilux finder is a joke!
The finder is just an 0.35x magnification rectangular hole, with a couple of almost invisible hairlines for parallax and focus area. It's just a tiny peephole with no other indications or internal lighting. There are no frame lines: it's just a rectangle like a disposable camera, but smaller.
There are Christmassy green and red LEDs next to the finder which you see out of the corner of your eye while pressing the shutter.
A tiny finder like this is good for being able to see the overall composition when creating art, but it's so small that one cannot see if your subject is smiling. I have to compose with both eyes open, one to see the framing in the finder, and the other to see the subject's expression. Good luck!
The Minilux is a joy to behold and to touch, but the tiny finder is probably why people who buy these usually leave them at home. You'll find zillions of used ones for sale, and almost all of them are still in the original box.
Close Focus
Close focus isn't close enough. I can't even hold it out to make a self-portrait. Since it can't focus any closer than 2.3 feet (0.7m), it locks up and just doesn't shoot at closer distances.
The close focus is a little better in the Konica Hexar (2 feet or 0.6m), but the Nikon 35Ti focuses to 1.3 feet (0.4m).
Unlike the Nikon and Konica, there is no indication of focused distance. If you need some sort of confirmation that it's focused at a set distance, set it manually on the dial.
Mechanics
It feels like a recent Contax: solid, precise and Japanese.
The lens, just like the Nikon 35Ti, wiggles back and forth a little if you try it. This is normal.
Durability
It's covered in titanium and leather, but it's painted. With wear, you'll wear down the paint to the somewhat silverier bare metal below.
Low Light
Live it up: the Minilux is quiet and focuses in the dark.
Exposures run to only 1 second, beyond which the Leica gives up and shows "B," for bulb. "B" means you may hold the shutter button for a while for a longer exposure, and the LCD will count seconds for you, but that you have to guess at the exposure! Even in B, the Leica stops the exposure after about 99 seconds.
Dry Firing
The Leica Minilux Zoom dry-fires just fine with the back open.
Color Rendition and Filters
Awful. There are no filter threads, so the only way to use filters is to hold them in front of the lens and hope the light meter on the body sees through the filter and not your finger.
As a film camera, filters are mandatory to get the right colors. Even the master photographic artists who brag that they create their work "without filters" parenthetically explain "except for normal filters needed to balance the prevailing light conditions."
I shoot thorough an A2, 81A or 812 filter all the time to get the look I want from Fuji Velvia 50. With no filters, the results are too cool for me.
The Nikon 35Ti and 28Ti can't use filters either, but the Konica Hexar can. Even Nikon's first L35AF takes filters, but if you want to do serious photography, it's not easy with this Leica.
Upside-Down Pictures
The Leica runs film upside down, with the 35mm film cassette on the right and pulling film to the left.
Frames number in the usual way, but your slide imprints will be backwards compared to most 35mm cameras.
Rewind
Rewind takes 45 seconds for a 36-exposure load of Fuji Velvia 50, which is forever if you're waiting to change rolls for the next shot.
The frame counter counts backwards very slowly as it rewinds.
Economy
I got 38 frames on a 36 exposure roll of Fuji Velvia 50, yippee!
Shoot enough rolls, and the extra frame beyond the industry standard of 37 frames will make this Leica pay for itself.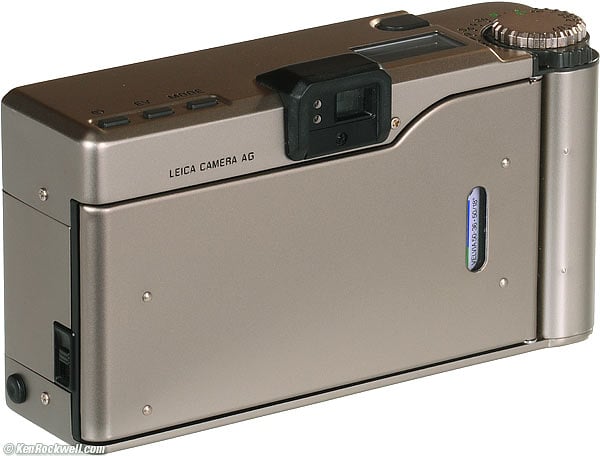 Back, Leica Minilux. enlarge.
Lens
Bokeh
Bokeh is poor at full aperture, where you might care.
Bokeh is neutral stopped down.
Evenness of Illumination
There is no visible falloff when stopped down.
Distortion
There is no visible distortion of straight lines.
Lens Sharpness
It's sharp, even wide open in the corners.
You'll have a harder time finding flat subjects than the Minilux will have making sharp images of them.
The lens is really good!
Usage top
Intro Specs Compared Performance Usage Recommendations
The Minilux easy to shoot.
Exposure and focus lock with a half-press of the shutter. Green LED means GO. Slow blinking green LED means slow shutter. Red LED means flash is going to fire. Fast blinking red LED means flash is charging. Easy.
Set Pro mode (P) or choose the aperture. The Minilux sets the rest. Tap the shutter and look at the LCD and you'll see what it's chosen.
AF is AF, and if you want to lock it to another distance, select it. You have to guess or tape it off, there is no manual rangefinder. The green light blinks fast if in MF mode.
A unique thing about this electronic Leica is that there are no menus, no custom functions, and no secret decoder rings needed to figure it out, as you need with the Nikon 35Ti and Konica Hexar. If you're a photographer, everything you need is in the three buttons under your left thumb.
The flash mode and self timer cancel every time you turn off the camera, but the exposure compensation never resets unless you manually set it back to zero. EV shows on the LCD is there is a value set; one tap of the EV button shows you the value.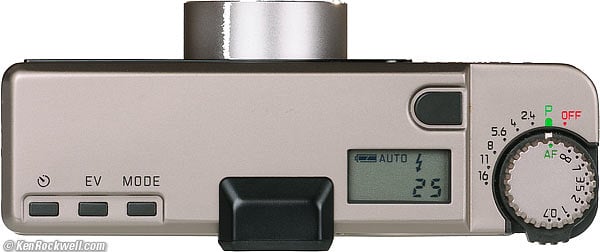 Top, Minilux. enlarge.
The lack of controls is emancipating: nothing to set means nothing to worry about except making a great photo.
Self-Timer
Tap it, and the Minilux Zoom starts counting down. Tap it again (or turn off the camera) to cancel.
MODE
Keep pressing to cycle through the flash modes. The double-bolt symbol on the LCD is German for red-eye reduction. The smaller bolt to the left of the bigger bolt (blitz) means a red-eye "preflash."
Not obvious is that you also get to "B," Bulb, in this rotation.
EV
Hold this for several seconds until the numbers blink. Now keep pressing it to cycle through among various exposure compensation values. Good luck!
This setting does not reset on power-off, so be warned.
Recommendations top
Intro Specs Compared Performance Usage Recommendations
I wouldn't go out of my way to buy one of these, but if I had one, it's easy to make great photos with it. I'd probably try taping an 81A gel to it somehow to get the color balance I prefer.
Versus the 35Ti and the Hexar
I've made constant references to these throughout the review; circle back if you've skipped ahead just for a comparison.

Leica Minilux Zoom, Nikon 35Ti and Konica Hexar Silver.
Roll over to awaken. enlarge.
For serious photography, I prefer the Nikon 35Ti and 28Ti for shooting Fuji Velvia 50 for art and landscapes, and the Konica Hexar for photographing people quickly on print film.
The Nikon 35Ti and 28Ti have superb lenses and far more advanced metering for use with slide film in any conditions. They can't take filters either, and also take time to have their motors stick out the lens every time you want to shoot or put it away. Only the Leica and Konica can be left on all day like an SLR, ready to shoot at any instant. The Nikon turns off after a few minutes.
The Konica Hexar is a serious camera for candid photographers shooting negative film of any kind, including infra-red. Unlike the Leica or Nikon, it can accept screw-in filters. The Hexar works far faster and more quietly then the Leica or the Nikon, but its meter is not up to my standards for use with slide film.
Thanks
Many thanks to Ken Faulk, who loaned me his Minilux.
PLUG
I support my growing family through this website.
If you find this as helpful as a book you might have had to buy or a workshop you may have had to take, feel free to help me continue helping everyone.
If you've gotten your gear through one of my links or helped otherwise, you're family. It's great people like you who allow me to keep adding to this site full-time. Thanks!
If you haven't helped yet, please do, and consider helping me with a gift of $5.00.
The biggest help is to use these links to Adorama, Amazon, B&H, Calumet, Ritz, J&R and when you get your goodies. It costs you nothing and is a huge help to me. eBay is always a gamble, but all the other places have the best prices and service, which is why I've used them since before this website existed. I recommend them all personally.
Thanks for reading!
Ken
Home New Search Gallery How-To Books Links Workshops About Contact