Home Donate New Search Gallery How-To Books Links Workshops About Contact
LEICA V-LUX-20
12x, 3" LCD, 12MP, $700 (2010-)
© 2010 KenRockwell.com. All rights reserved.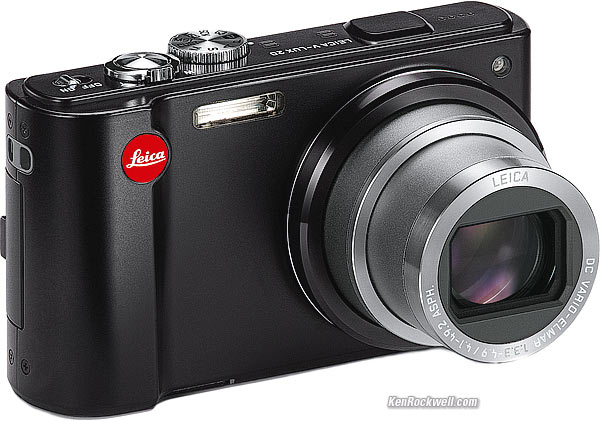 LEICA V-LUX-20. bigger. You can get them at Adorama and Amazon, and locally in Southern California from OC Camera. It helps me keep reviewing these when you get yours through these, links, thanks! Ken.
April 2010 Real Leica Camera Reviews Real Leica Lens Reviews
The LEICA V-LUX-20 appears to be the Panasonic DMC-ZS7 point-and-shoot camera relabeled as LEICA. I'd ignore any of these; I prefer the Canon S90. This V-LUX-20 seems so complex that I doubt I'd ever figure it out, and the S90 has a much, much faster lens (f/2 versus f/3.3) , twice the sensor area (1/1.67" vs. 1/2.33"), and broader clean ISO range for use in any light. Not only do I suspect the S90 is twice as good; the S90 sells for half as much. If price matters and you want this LEICA, the Panasonic version with exactly the same LEICA lens sells for half the price, in your choice of about four colors.
I'll let you know when I actually get my hands on a production sample with a more detailed review.
Fluff from LEICA's press release:
Solms, Germany (April 20, 2010) - Leica Camera AG presents a new, 12.1 megapixel digital compact camera: the LEICA V-LUX 20. Equipped with a high performance DC-VARIO ELMAR lens, innovative GPS tagging, optional HD movie recording and various automated functions, the V-LUX 20 is a truly universal camera, capable of capturing all moments of life.

The V-LUX 20's LEICA DC-VARIO-ELMAR 4.1–49.2 mm f/3.3–4.9 ASPH. zoom lens offers a range of focal lengths of 25–300 mm in 35-mm format, making it the ideal camera for almost any photographic environment. Whether shooting expansive landscapes, finely detailed macro studies at short distances or shots of distant objects with a super-telephoto setting, its 12x zoom captures them all in images of breathtaking quality. Integrated image stabilization helps photographers in every shooting situation and also prevents fuzzy pictures caused by camera shake or difficult lighting conditions.

"High-performance optics, compact size and simple, intuitive handling: these are the trademarks of the V-LUX 20. It is the ideal tool for effortless photography and can be utilized by the whole family – for everyday shooting, special occasions or when traveling," says Peter Kruschewski, Product Manager Digital Compact Cameras at Leica Camera AG. "At the same time, the manual setting options of the V-LUX 20 offer more ambitious photographers absolute creative control over their pictures."

The LEICA V-LUX 20 is characterized by clear lines, ergonomic design and evidently positioned controls. Its straightforward handling is further enhanced by a whole range of automatic functions. For the more knowledgeable photographer, manual setting options for shutter speed and aperture provide all the creative freedom necessary for image control. A selector dial on the top deck of the camera allows fast and simple selection of a wide range of settings.

The generously dimensioned, three-inch monitor of the V-LUX 20 has a large 3 inch TFT display with a resolution of 460,000 pixels, offering an extremely bright and sharp view. It is a reliable and precise tool for the assessment of image composition and framing before shooting, as well as for quality control of captured shots.

As the first Leica digital camera to feature GPS tagging, (note: Leica says that GPS tagging may not work around the People's Republic of (Red) China), the Leica V-LUX 20 allows photographers to record not only the geographical coordinates of the location in the EXIF data of the image files, but also the local time for every shot. An extremely useful aid for archiving pictures, the GPS tagging function prevents all travelers from ever forgetting where their pictures were taken. All images posted on social networks, image portals and map sites such as Google Maps or Google Earth reveal exactly when and where they were shot.* When abroad, the V-LUX 20 can also display local sights and interesting places. This feature offers a total of 500,000 so-called 'points of interest' in 73 different countries.

In addition to featuring GPS tagging, the V-LUX 20 is equipped with a movie function that enables the recording of moving pictures in HD quality. Together with the camera's zoom function, smart automatic features such as face recognition, automatic scene modes and smart exposure are all available in movie mode, making the V-LUX 20 a superior movie-maker in a compact format.

The LEICA V-LUX 20 will be available at specialized Leica dealers from the end of April 2010. Adobe Photoshop Elements 8 is one of the standard features provided with V-LUX 20. A matching brown calfskin case for the camera is available as an optional accessory.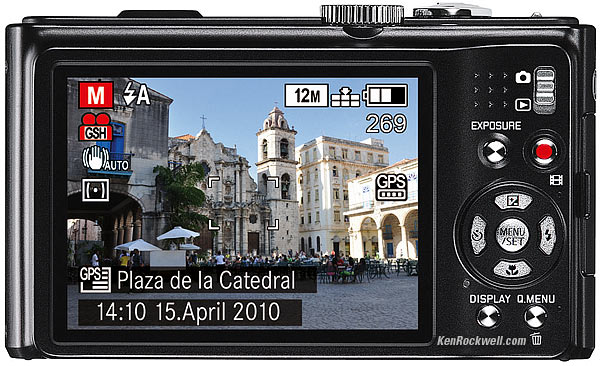 Back, LEICA V-LUX-20 (fake LCD photo). bigger.
Note all the incomprehensible gibberish over your picture. The DISP button should rectify this.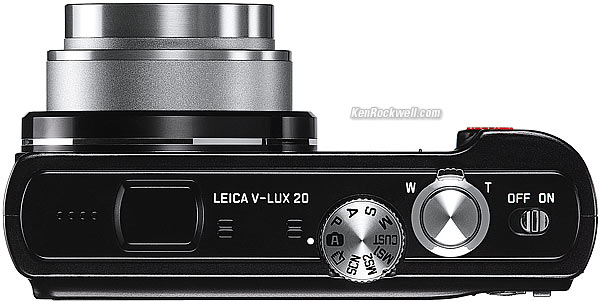 Top, LEICA V-LUX-20. bigger.
Specifications top
Lens
Leica DC-Vario-Elmar 4.1–49.2 mm f/3.3–4.9 ASPH. (corresponds to 25–300mm in 35 mm format)
10 elements in 8 groups (3 aspherical surfaces)

Digital zoom: 4x
Sensor
Tiny 1/2.3."
3,000 x 4,000 pixels.
I have to laugh: Leica specifies "12.1 effective MP," and my 22-month-old knows 3 x 4 = 12, not 12.1.
ISO: Auto, 80, 100, 200, 400, 800, 1,600.
SDTV aspect ratio: 3:4 (standard for pocket cameras).
Other cropped ratios.
Shutter
1/2,000 to 1 minute in various modes.
Focus
The usual off-the-chip point-and-shoot slow focusing.
Metering
Professional (née Program), Aperture-priority, Shutter-priority and Manual.
Audio
Specifications suggest a stereo microphone for movies, yay.
File Formats
JPG only.
(movies: MOV).
Storage
15 MB internal.
SD, SDHC and SDXC cards.
Junk Features
All the usual from Japan: scene modes, movies, GPS, HDMI, etc.
Battery
Rated only 300 shots.
Size
103 x 62 x 33 mm
4-1/16 x 2-7/16 x 1-9/32"
Weight
7.6 oz. (218g), with battery and card.
Comes with
Camera
Battery charger BC-DC 7
Battery BP-DC 7
Battery case
Wrist strap
AV und USB cables
Manual PDF on CD and a software DVD
(sorry, specifications seem to indicate that there is no printed copy of the full manual, just a PDF on the CD.)
More Information top
Help me help you top
I support my growing family through this website, as crazy as it might seem.
If you find this as helpful as a book you might have had to buy or a workshop you may have had to take, feel free to help me continue helping everyone.
If you've gotten your gear through one of my links or helped otherwise, you're family. It's great people like you who allow me to keep adding to this site full-time. Thanks!
If you haven't helped yet, please do, and consider helping me with a gift of $5.00.
The biggest help is to use these links to Adorama, Amazon, B&H, Calumet, Ritz, J&R and when you get your goodies. It costs you nothing and is a huge help to me. eBay is always a gamble, but all the other places have the best prices and service, which is why I've used them since before this website existed. I recommend them all personally.
Thanks for reading!
Ken
Home Donate New Search Gallery How-To Books Links Workshops About Contact