Home Donate New Search Gallery Reviews How-To Books Links Workshops About Contact
Fujifilm X-E2
16MP APS-C, 7 FPS, OLED finder
© 2015 KenRockwell.com. This page best with Corporate S regular and bold activated.
NEW: Fuji X-E2s
Intro Specs Performance Compared Usage Recommendations More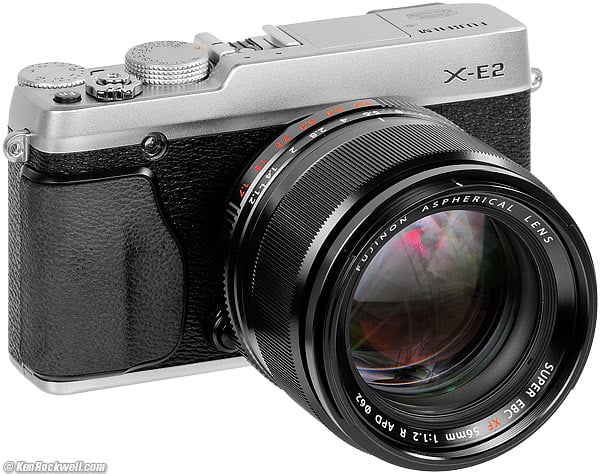 Fujifilm X-E2 (12.1 oz./344g with battery and card, about $799) and XF 56mm f/1.2 APD. enlarge. I got mine at this link to it at Adorama; these links to it at Amazon and at B&H are also great places to get it.
This ad-free website's biggest source of support is when you use those or any of these links to approved sources when you get anything, regardless of the country in which you live. Fuji does not seal its boxes, so never buy at retail or any source not on my personally approved list since you'll have no way of knowing if you're missing accessories, getting a defective or damaged customer return or a used product. Buy only from the approved sources I use myself for the best prices, service, return policies and selection. Thanks for your support! Ken.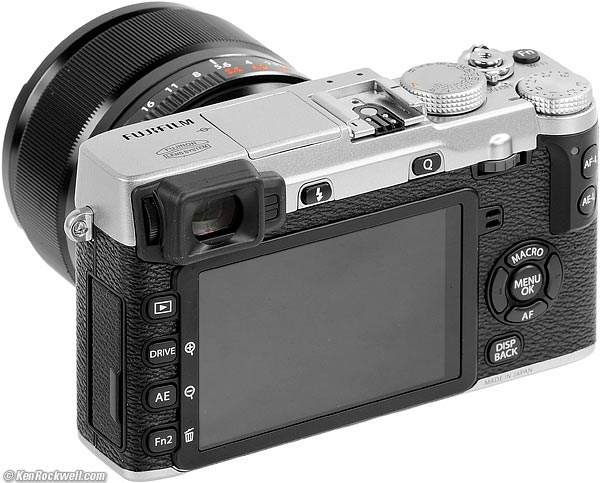 Back, Fujifilm X-E2. enlarge.

Top, Fujifilm X-E2. enlarge.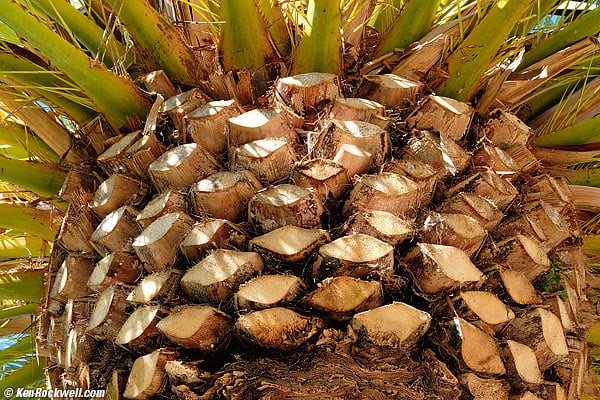 Pineapple, 15 January 2015. Fuji X-E2, Fujinon 50-140mm f/2.8 at 56mm, f/8 at 1/50 hand-held at Auto ISO 200, Athentech Perfectly Clear V2. Full-resolution.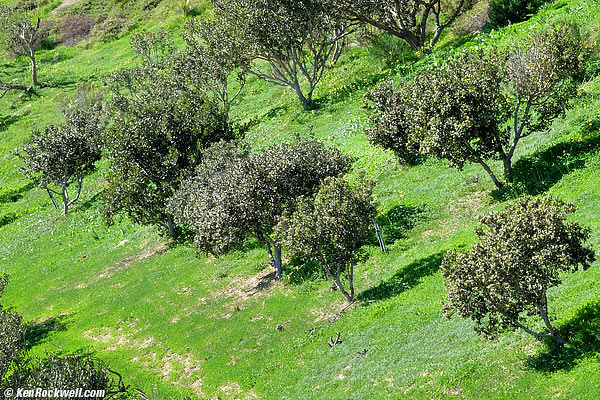 Weed Vineyard, 15 January 2015. Fuji X-E2 at ISO 200, Fujinon 50-140mm f/2.8 at 140mm wide-open at f/2.8 at 1/850, Athentech Perfectly Clear. Unprocessed camera-original JPG.
January 2015 Fuji Reviews Fuji Lenses LEICA Reviews All Reviews
Fantastic ergonomics optimized for people who know how to shoot; a perfect shooter's camera with the right knobs in the right places.
Exceptionally sharp and undistorted images, due to no anti-alias filter on the sensor and super-sharp lenses, just like LEICA.
Extremely well built by today's standards. Unlike most of the disposable plastic (but expensive) cameras I review today, the X-E2 is a real camera: all-metal with engraved markings, and so are its lenses. It's better built than anything today from Nikon or Canon, and the same as LEICA — for a fraction of the price of any of them.
Extraordinarily good auto white balance in crummy light, better than most DSLRs.
Great highlight rendition; the Auto Dynamic Range feature really helps hold the highlights regardless of the conditions.
Bad
Blah color rendition, much duller than Canon or Nikon. It's optimized and great for people photos, but too dull for photos of things. The X-E2 excels in crappy light and excels for photos of people, but its colors don't look as snappy in good light for photos of places and things. Even when set to HIGH color, it is subdued and doesn't respond well to adding saturation later.
Built-in flash exposure is only fair. It's nowhere near as good as the X100T's flash.
Introduction top
Intro Specs Performance Compared Usage Recommendations More
The Fujifilm X-E2 (called the "Sexy Two" in Japan) is an extraordinary camera as I've outlined above. It's faster and easier to use for people who know how to shoot because it has all the right controls in the right places, and it's always super-sharp and handles any crazy light you can throw at it. The X-E2's color rendition is great for people photos, but a poor choice for color photos of places and things. The X-E2 excels for black-and-white shooting because of its extraordinary sharpness and freedom from distortion, and I love shooting in its optional square format just like my Mamiya 6 or Hasselblad.
The X-E2 has a very different sensor from everything else that comes from any other maker, and its images look very different. It has no anti-alias filter, so the results are much sharper than from most other cameras, and color rendition is strongly optimized for people, not thing, photos.
The X-E2 just shoots, and the results are always super-sharp and well exposed — better than I get from DSLRs, whose exposure and focus aren't always dead-on as they are with the X-E2. With the X-E2, it seems as if I can't make a blurry or malexposed shot.
The X-E2 is built as well and is as sharp as the legendary $7,000 LEICA M240 — but the X-E2 has a far better electronic finder and far better ergonomics and autofocus, and well, just about everything.
The almost all-metal X-E2 is better-built than a Nikon D4, and with the X-E2's dedicated aperture, shutter speed and exposure compensation dials, handles much faster than today's DSLRs.
The X-E2 has a wonderful OLED finder, which also doubles for through-the-finder menu setting and playback.
The Fuji X-T1 is pretty much the same camera, but a little bigger with a flippy screen — but without the built-in flash or threaded cable release socket of this X-E2.
The X-E2 has image quality and lenses more like my LEICA M9 or M 240 than any DSLR, and it's smaller and lighter than any DSLR — or LEICA M. The X-E2 does what the LEICA does well, even better than the LEICA does it!
Real shooters shoot LEICAs because of their simplicity, small size and fantastic optics, and the X-E2 does all this even better. The X-E2 is ergonomically superior to LEICA, the optics are at least as good, for a fraction of the price.
The X-E2 is what you get when you take the image and lens quality of a digital LEICA, put it in the ergonomically superior Contax G2, and then add a built-in flash. The X-E2 is also worlds better at high ISOs than the LEICA M9.
The Fuji X-E2 is a real camera, made of metal, not plastic, for photographers.
The X-E2 has shutter and aperture dials. Nikon and Canon don't any more.
The X-E2 has a real exposure compensation dial. LEICA and Nikon don't any more.
The X-E2 has real exposure mode switches. Nikon and Canon don't any more. Better yet, the Fuji, just like Contax, changes its exposure mode by turning the shutter and/or aperture rings to A when you want them to set themselves. Set both to A for Professional (formerly Program) exposure mode. Done!
The X-E2 makes movies too. The X-E2 has a built-in manual focus assist loupe.
Fuji has made cameras for Hasselblad, and sold under the Hasselblad name, like the X-Pan. Neither Nikon nor Canon has ever been good enough.
Like the LEICA, the X-E2's files will need some computer tweaking for stunning results for nature and landscape shots. Nikon and Canon's nature and landscape shots offer wild colors that still look natural, while pushing the Fujis and LEICAs start to look artificial.
It drives me nuts shooting a DSLR or LEICA when I can't see my image pop up instantly in the finder after I've shot it — as I do with my X-E2. Yes, there are plenty of plastic consumer Micro 4/3 cameras with LCD finders, but they are not professional grade. Photographers don't do menus; forget the Sony NEX-7 and its flimsy plastic brethren that feel more cell phones than cameras, with their overpriced plastic zoom lenses and slow fixed lenses. I need a camera with real dials like the X-E2 and fast metal lenses, not a plastic toy.
Missing top
There's no RGB histogram, but the X-E2's fantastic highlight rendition means you don't need to watch for clipping individually in each channel as you do on other cameras. I don't use this on other cameras, but the X-E2's blinking highlight option works just fine instead.
There's usually no Program shift available most ways that you can set the camera, but that's not a problem, since all you need to do is flick the aperture or shutter dial instead.
No PC (Prontor-Compur) flash sync terminal; use an adapter from the hot shoe. With studio strobes, I use the X-E2's built-in flash as a trigger, no need for a cord.
Lens Compatibility top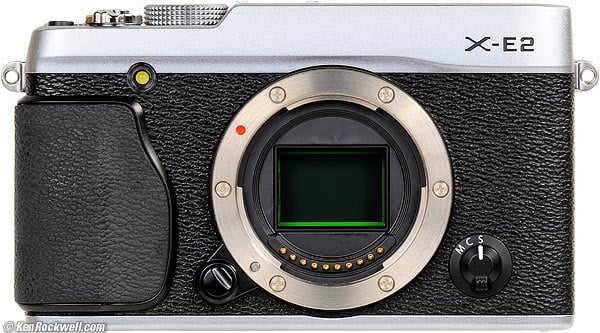 Fujifilm X-E2. bigger.
The X-E2 works only with Fuji's X-Mount Lenses.
There are a couple of off-brands like Zeiss that make a couple of lenses that work with it. Many of them have no autofocus.
The X-E2 can use LEICA and other brands of lenses cave-manually with a Lens Adapter, but I wouldn't use anything other than Fuji's XF lenses on my X-E2.
When used with random lenses on an adapter, the XE2 has manually-set controls to correct distortion, color edge shading and falloff correction. Each corner's color shift set can be set individually for use with lenses like the 12mm Voigtländer.
Specifications top
Intro Specs Performance Compared Usage Recommendations More
Lens Mount
Fuji X-Mount.
Flange focal distance: 17.7mm.
Electronic aperture.
Electronic focus.
Sensor
Unique non-Bayer color array that eliminates the need for an anti-alias filter and yields much sharper images compared to other camera, but can limit what software can open the RAF raw files.
23.6 mm x 15.6 mm DX.
1.5294x crop factor.
1.5:1 aspect ratio.
16 MP.
4,896 x 3,264 pixels native.
Ultrasonic cleaner.
Image Sizes
Automatic internally-stitched panorama: L : 9600 x 2,160 or 1,440. M: 6,400 x 2,160 or 1,440.
L: (3:2, 16 MP) 4,896 x 3,264, (16:9) 4,896 x 2,760, (1:1) 3,264 x 3,264.
M: (3:2, 8 MP) 3,456 x 2,304, (16:9) 3,456 x 1,944, (1:1) 2,304 x 2,304.
S: (3:2, 4 MP) 2,496 x 1,664, (16:9) 2,496 x 1,408, (1:1) 1,664 x 1,664.
I love the square (1:1) crop!
Glowing Tire of Hope, Amboy, 18 February 2013. (Fuji X-E1, Fuji 18-55mm at 1" (25.4mm) focal length, AUTO ISO 200, f/5.6 at 1/210, Perfectly Clear, edge-burned and split-toned print.) bigger.
Not only do I love shooting in the square, square icons grow to be much larger than rectangular icons in most image sorting and Finder applications.
ISO
ISO 200 ~ ISO 6,400 in Auto ISO as well as the manual ISO settings.
AUTO ISO allows one to set the top and bottom speeds, and the shutter speed below which the ISO is increased.
ISO 100, 12,800 and ISO 25,600 also available in manual ISO modes.
Dynamic Range Options
100%, 200%, 400%, or AUTO (100%-400%).
Finders
No Optical viewfinder.
Electronic viewfinder
0.5"
2,360,000-dot color OLED. (X-Pro1 is only a 1,440,000-dot color LCD.)
25º apparent angle.
100% coverage.
Eye sensor.
23 mm eye point.
-4 to +2 diopters.
Autofocus
Phase and/or contrast detection.
TTL off-the-sensor autofocus for zero AF error.
One AF area at a time, but you can move that area all over the frame.
AF Assist light.
Light Meter
TTL.
256-zone matrix, spot or average.
Flash
Built-in pop-up flash: GN 5 meters, 16 feet, at ISO 100. (7 meters, 22 feet, at ISO 200).
Dedicated hot shoe.
Rated for up to 300V sync voltage.
No PC sync terminal.
Rated 1/180 sync, but I never saw the camera shoot above 1/140 with flash in daylight.
Shutter
Metal focal-plane.
It supposedly allows multiple exposures; I never tried.
7 FPS (fast) and 3 FPS (slow).
3 FPS mode claims it can focus and change exposure between frames, while at 7 FPS it locks focus and exposure with the first frame.
1/4,000 ~ 1/4 second in PROGRAM modes.
1/4,000 to 30 seconds in Aperture and Shutter priority and Manual modes.
To one hour in Bulb mode.
2 or 10 second self timer/.
Maximum speed with flash (sync): Rated 1/180, but I never saw the camera shoot above 1/140 with flash in daylight.
Remote: Any standard screw-in cable release.
Video
1,920 x 1,080 @ 59.94p or 29.97p. 14 minute maximum shot length.
1,280 x 720 @ @ 59.94p or 29.97p. 27 minute maximum shot length.
Uses the same film simulation, color and B&W modes as the still camera.
Audio
Built-in stereo mic.
2.5mm stereo mic input.
File Formats
Photos
JPEG
RAF raw.
RAF+JPEG
Video
.MOV files.
Storage
SD, SDHC or SDXC (UHS-1) slot.
Suggests class 10 or higher for movies.
Connectors
USB 2.0.
HDMI mini connector.
No analog video out.
2.5mm stereo Mic/remote.
WiFi
802.11b/g/n
Infrastructure access mode only; only talks to Fuji's app and that's it.
Rear LCD
3.0" LCD.
1,040,000 dots.
100% coverage.
Power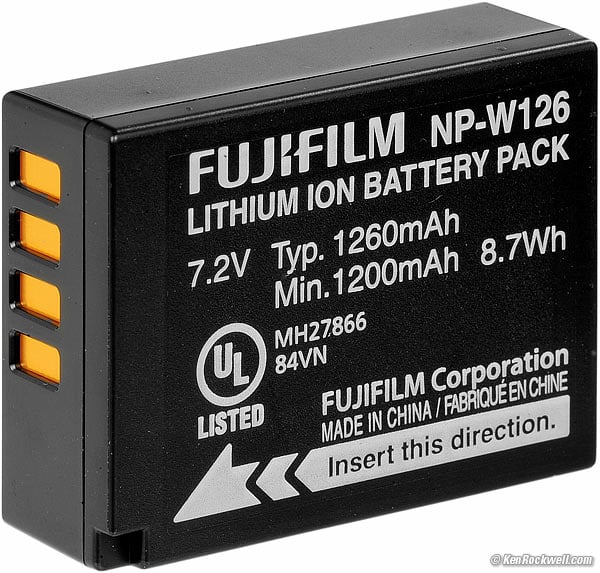 Fuji NP W126 Battery.
NP-W126 Li-Ion battery (same as X-E1, X-Pro1 and X-T1).
Rated about 350 shots or 110 minutes of video shooting.
Charger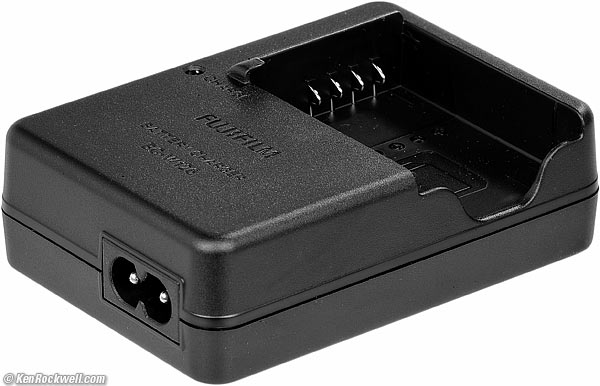 Fuji BC-W126 Charger.
BC-W126 (same as X-E1, X-Pro1 and X-T1).
Corded, uses common "∞" shaped plug end.
100~240V, 50-60 Hz.
Made in China by JET.
Rated 13~21 VA input, 8.4VDC 0.6A output.
Quality
Made in Japan.
Die-cast magnesium top and bottom covers.
Environmental
32 ~ 104°F (0 ~ 40°C).
10 ~ 80% RH, no condensation.
Size
5.1 x 2.9 x 1.5 inches WHD.
129 x 74.9 x 37.2 millimeters WHD.
(Minimum depth: 30.9 mm/ 1.2 in.)
(X-Pro1 is 5.5 x 3.2 x 1.7 inches WHD, 139.5 x 81.8 x 42.5 millimeters WHD, Minimum depth: 1.3 inches (34.1 mm).)
Weight
12.145 oz. (344.3g) with battery and card.
Fuji rates it as 12.35 oz. (350g) with battery and card, and 10.6 oz. (300g) stripped naked.
Colors
Black or silver.
Includes
Fujifilm X-E2 Digital Camera Body.
Li-Ion Battery NP-W126.
Battery Charger BC-W126.
Shoulder Strap.
Body Cap.
Metal Strap Clip.
Protective Cover.
Clip Attaching Tool.
CD-ROM (Viewer software, RAW File Converter etc.).
Owners Manual.
Optional Accessories
Dedicated all-leather case BLC-XE1
Compatible with all Fujinon X Mount lenses
LEICA M Mount Adapter
Hand Grip HG-XE1
Three dedicated flash models to choose from depending on requirements (EF-X20, EF-20, EF-42)
Protector filters (PRF-39, PRF-52, PRF-58 and PRF-62)
Remote release RR-90
Announced
18 October 2013.
Prices, USA top
January 2015:
X-E2 body only: $799.95.
X-E2 and 18-55mm kit: $1,099.95.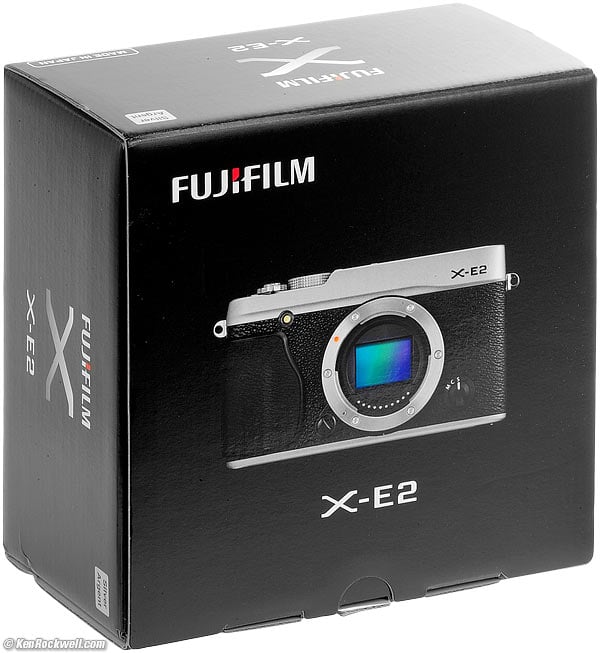 Fujifilm X-E2 Box.
Performance top
Intro Specs Performance Compared Usage Recommendations More
Overall
The E-X2 combines great handling and the exceptional construction quality of a real camera so rarely seen today with unusually sharp, well-exposed and in-focus images. The only bad part is that colors are great for people and for anything in poor light, but poor for most other things for which we want color images.
Autofocus
Autofocus is fast enough for subjects that hold still, but not as fast as a DSLR for tracking action.
It's easy to move the AF sensor any place in the frame, far better than DSLRs which put all their AF sensors only in the middle of the frame.
Your chosen AF sensor position is saved and recalled with each focus mode. If you use the center sensor in AF-S, the left side in AF-C and the upper right in Manual, each will still be there when you switch back.
The AF-C (continuous) mode is too slow to track action. I'd forget about this mode.
Manual focus is very slow with all of this Fuji system. No worries, the proper way to use the manual focus mode is to tap the AFL button to spot-focus as needed; not to use the focus ring.
Tap the top rear dial and the AF area zooms instantly to check whatever manual focus area you've selected. Yes, its easy to focus manually on the top left of the frame if you wish.
Good news is that there's a red AF! warning that pops over your finder if the X-E2 can't focus on something. This is good, because the X-E2 focuses so well most of the time that I forget that there is rarely something on which the X-E2 doesn't immediately grab focus.
There is no real face recognition. The X100T is years ahead here.
I really like the X-E2's focus system. I get every shot in perfect focus. With other cameras I sometimes shoot bursts just in case, and with the X-E2, they're all always in perfect focus, so I have to train myself to trust the X-E2.
Macro
There is a Macro button, and just as on other Fujis, all it does is lock-out infinity focus. Macro mode doesn't focus any closer.
I'd ignore the Macro mode.
Finder
The X-E2's OLED electronic finder is bright, sharp and colorful. It's a great finder.
The X-E2 has automatic eye-control, so the rear LCD or electronic finder come up automatically depending on how you're holding the camera. The only defect in the automatic eye-control is that if bright sunlight is shining on your eye as you hold it to the finder, that the X-E2 may switch back to the rear LCD instead. Another defect can be that when shutter is halfway down, the X-E2 won't swap between rear LCD and OLED finder as you move your eye.
The worst thing about the finder is that the exposure compensation scale cover the left part of the image, and never goes away (you can delete it in a Custom setting, but only on a second Custom screen option, not the Standard display). Better than the X-E1, it does slightly change character if compensation is set or not. Fuji should make the scale go away at zero, and appear when set to other than zero.
If activated, the focus-distance bar graph hides the bottom of your image, and the histogram covers more of your image.
The switchable level and grids are very helpful in getting level shots.
Built-in Flash
The pop-up flash is cute, but feels as if it will break quickly.
It springs up instantly when you press the Bolt button, and snaps back down when you press it back into the camera.
Sadly, the slow sync speed (1/140 max in actual shooting) prevents the tiny flash from being useful in daylight for flash fill.
Indoors, it usually exposes quite well.
It's too weak to be likely to be useful, but you can push and hold its springed cantilever a bit to bounce it vertically.
All in all, the built-in flash isn't as good as the X100T, whose leaf shutter allows its tiny flash to do much more, but it does expose better than most DSLRs for indoor fill.
Shutter
The shutter is quieter than a DSLR, and noisier than the silent leaf of the X100T.
I love having a real cable release socket.
Trigger pull is as expected with the usual slight detents. There's some horizontal play in the button; this is no LEICA M3 (but it's still better than the big kinks in the pull of the LEICA M240).
Ergonomics
Having real metal dials for everything puts this Fuji in LEICA territory, far above today's slop from Nikon, Canon and everyone else.
The grip feels swell in my hands. This tiny camera always feels stable.
The status LED is invisible on the right side of the camera away from the finder.
The LCD or finder counts down during long exposures, and counts up during Bulb exposures! This is great, but as you're waiting for the camera to time and "process" a dark-frame subtraction for noise reduction, there's no "processing" countdown on the finder. The eye-control won't swap displays if you move your eye during any of this.
The self timer sadly to be found in a menu.
Menus are well paged, much better than on Nikons.
The SD card is very close to the door hinge, making it less easy to reach.
The exposure compensation knob still needs a deeper detent at zero, or a lock button.
It works even with the card and battery door open.
The X-E2, as of firmware v 3.0 I loaded in January 2015, lacks the refinement of the newest X100T's firmware.
Image and Color
As covered above, the basics are always great, but I dislike the color rendition for anything other than people shots.
If you're photographing vivid colors, the X-E2 images look fine, but ordinary colors can't be made to pop! in-camera. Attempting to pop the colors later in software rarely works well.
If you want a different color balance, you may be able to get a vivid look in raw software, but honestly, if it's vivid colors you demand, shoot a different camera. The X-E2 excels for people and B&W photography, but for me, not for vivid images of nature and things.
The unique sensor design gives super-sharp JPGs as shot, but also means that your favorite software might be less likely to be able to open the X-E2's RAF raw files.
Auto White Balance is usually superb, even in the nastiest of artificial light. In fact, under fluorescent or those bogus "energy saving" lights, the X-E2's images usually look better than the scene does to my naked eye!
High ISOs look great, cleaner than most other cameras with this sized sensor.
Metering and Exposure
Ahhh, it's almost always perfect, far better than DSLRs.
Playback
The PLAY button is right below the eyepiece, so expect to poke yourself in the the eye a few times until you learn to press PLAY before you bring your eye to the finder to see playback.
The zoom controls are right under your eyeball when you use the finder for playback. Worse, the PLAY button is also on the wrong side of the XE2, demanding a second hand to hit PLAY.
There is no diagonal scrolling.
You can zoom from the detailed info page. The image then fills most of the screen with blank bar at the bottom; you can't read sectional histograms as zoomed.
Advancing among images goes super-fast, but just like on Canon, it will take a moment to redraw with full detail.
The X-E2 isn't smart enough to rotate playback images as you rotate the camera.
The only real face recognition in the X-E2 is for zooming into faces on playback.
Data
SD cards don't format properly. They remain as "untitled," not "FUJI XE2" as they should.
Default DPI is 72.
After a firmware update, everything resets to the start; you even have to set the clock and language again, and it restarts from DSCF0001.JPG.
Auto-set ISO reads correctly in Media Pro, my favorite sorting tool.
NORMAL LARGE JPGs are about 3MB. They'll vary from 2MB ~ 4MB depending on the level of contrast and detail.
LARGE NORMAL (square) JPGs are about 2 MB.
NORMAL MEDIUM JPGs are about 1.9 MB.
RAF raw files are 26.1 MB.
Video
I didn't try any video clips; I'm a photographic artist.
I do like that the X-E2 has a built-in stereo microphone.
Power and Battery
The Sexy Two is rated for 350 shots per charge, and that seems about right.
Compared top
Intro Specs Performance Compared Usage Recommendations More
Versus the Fuji X-E1
The X-E1 was pretty much the same as this X-E2, just much slower.
This X-E2 has twice as much computing power, so it works much more quickly at everything than the X-E1. There are no delays when using the X-E2.
This X-E2 also adds WiFi and a bigger LCD screen. WiFi only talks to Fuji's app.
A few other improvements are that this X-E2 has separate AF-L and AE-L buttons, while the X-E1 had them combined as one button. Auto ISO is programmable for minimum shutter speed.
Thank goodness the X-E2 names files correctly in its high-speed shooting modes; the X-E1 used to name them something completely different than normal shots.
Versus the Fuji X-Pro1
The X-Pro1 was Fuji's first interchangeable-lens X camera back in 2012. It was astounding at the time, but today, it's a primitive, slow old clunker by comparison to the X-E2. The XPro-1 had an optical finder, too, but I never use it.
Both use the same 16MP sensor, XF lens mount, slow shutter speed ranges and battery.
They are 99% the same thing, except that the X-E2 costs less, adds a built-in-flash, has a much better finder, and loses the optical finder.
I'd turn in the X-Pro1 at the nearest police station or firehouse and get this X-E2 in a heartbeat.
Versus the Fuji X100T
I prefer my Fuji X100T, which is a much better camera with a fixed 23mm (35mm eq.) f/2 lens. The X100T has a much quieter leaf shutter which allows the flash to sync all the way up to its top speed, letting the built-in flash provide great daylight fill.
The X100T has fast and accurate face recognition for shooting, while the X-E2 does not. Since these Fuji cameras are for people photos, the X100T smokes the X-E2 because it finds and focuses on faces anywhere in the frame all by itself, while with the X-E2, you have to fiddle with selecting AF areas manually.
The X-E2 lets Auto Dynamic Range vary from 100% to 400%, while the X100T only goes from 100% to 200% in Auto DR. So?
Most of you reading this love to carry too much equipment, but since the fixed lens of the X100T is the only lens I need for people and travel photos, I prefer my X100T.
Versus DSLRs
DSLRs excel for action and sports because they focus, and track focus, much faster.
DSLRs excel for nature and landscape photography because Nikon and Canon DSLRs have more brilliant color rendition better suited for these subjects. Fujis are optimized for people pictures.
DSLRs are bigger and clumsier.
Ultimately you need both: A Fuji for people, family and travel photos, and a DSLR for more serious use.
See also Mirrorless vs. DSLR cameras.
Usage top
Intro Specs Performance Compared Usage Recommendations More
Focus
Push-in the top rear dial to zoom in on the focus point.
Forget the manual focus ring. Instead, tap the AEL/AFL button for spot manual focus in manual focus mode.
Exposure
Shift the exposure program with the rear left-fight control buttons — except that it won't shift in Auto ISO or Auto Dynamic Range and other modes!
Exposure always seems to lock with the shutter halfway down, and I couldn't unset that.
You can get depth-of-field preview if you set the Fn button to do it.
To set 1/3 stop manual speeds: press the rear left-fight control buttons.
"B" is the usual Bulb mode, but "T" isn't Time mode. T really ought to be marked "LT," for Long Time. Use the T setting and the rear left-right buttons to set exposure times between 1/2 and 30 seconds. Use Bulb for times up to an hour.
Once set, the time you selected in T is recalled each time you select it, until power off resets it back to 1/2.
If set to Bulb in A mode, gives 30s.
P goes to 1/4s, A mode goes to to 30s.
Bulb counts up, in the finder or rear LCD, to 60 minutes.
If you're in the middle of a long exposure in the Auto or timed manual modes, turning off the camera won't stop it — the X-E2 will dutifully keep on with its long exposure until it's done!
Settings
I prefer to set JPG NORMAL, not HIGH.
I set Color +2 High, which is still pretty tame.
I set AUTO ISO 6,400. The X-E2 looks great at ISO 6,400 — far better than a blurry picture will.
I set Auto Dynamic Range (AUTO DR). Set this way, the X-E2 increases ISO as needed (to ISO 800 even in daylight) to reduce on-sensor exposure to retain highlight detail, all automatically as needed. it's a huge benefit; be sure to turn it on to AUTO.
I set my Fn button to image size. This is how I select rectangular or square images from shot to shot.
Panoramas
Panoramas are set in the drive mode menu; press DRIVE to see them.
Multiple Exposures
These are hidden next to Panoramas in the drive mode menu; press DRIVE to see them.
Controls
There are two Fn buttons: one on top near the shutter, and a second Fn2 on the rear lower left.
To set what an Fn button does, hold it down for a moment.
Custom settings just save and recall image settings, not camera settings.
To find or set the PLAY menu, you have to be playing an image when you press MENU.
Lens adapters
I'd pass on this foolishness.
Fujinon's lenses are extraordinary, and they also have full focus and exposure and diaphragm automation, all lost if you waste time adapting LEICA lenses or others to the X-E2.


Straps
I use the LEICA strap.
Watch it if you use the LEICA strap. The plastic gizmos that integrate so well with LEICA cameras will mar the X-E2's finish. I use electrical tape to protect my X-E2, more diligent people use Fuji's provided strap lugs, tools and protectors with other straps instead.
Recommendations top
Intro Specs Performance Compared Usage Recommendations More
The X-E2 is the best interchangeable-lens Fuji X camera if you're on a budget; the X-T1 is more for people who like to look tough with a little camera.
The X-E2 is a fraction the price of a Canon 5D Mark III or Nikon D810, so if you already have a 5D Mark II or D800, you might want to get an X-E2 for half the price instead of simply updating your DSLR.
The X-E2 is an excellent camera for people photos and for people who want a lightweight camera that performs as well or better than DSLRs for some kinds of use. Its color rendition for people is superb, but not very good for nature and landscape snaps. The X-E2 has far better color than the LEICA M9, but that's not saying much.
Personally, I don't need or want all the lenses offered in the Fuji X system; one fixed lens is more than enough for me, so I prefer my Fuji X100T over this larger and more expensive X-E2, especially for the X100T's smaller size, added optical finder and far superior flash exposure. If you, like most people, prefer interchangeable lenses, then the X-E2 is superb. It just shoots!
The X-E2 is the best interchangeable-lens mirrorless if you're on a budget. Go for it!
I got mine at this link to it at Adorama; these links to it at Amazon and at B&H are also great places to get it.
This ad-free website's biggest source of support is when you use those or any of these links to approved sources when you get anything, regardless of the country in which you live. Fuji does not seal its boxes, so never buy at retail or any source not on my personally approved list since you'll have no way of knowing if you're missing accessories, getting a defective or damaged customer return or a used product. Buy only from the approved sources I use myself for the best prices, service, return policies and selection.
Thanks for helping me help you!
Ken.
Lenses top
DO NOT USE ANY OTHER LENSES, ESPECIALLY LEICA, ON ADAPTERS.
You can't get better than Fuji's lenses, and other lenses, even awesome LEICA lenses, won't autofocus or open and close their diaphragms for you as you shoot and focus.
With other lenses, manual focus might not be that much of a problem, but you'll have to open and close the aperture by hand every time you want to focus or shoot or focus. Forget other lenses, they are a pain. LEICA's 35mm f/1.4 ASPH FLE isn't better than Fuji's 35mm f/1.4, for instance.
Before you go hog-wild and buy a slew of lenses, ask yourself why are you buying the X-E2 in the first place? Isn't it to simplify things? Hold off and get just the 35/1.4 (50mm equivalent), and you'll probably never miss the other lenses — or any shots while you were off changing lenses.
Then again, the best thing about the X-E2 is how well it works for carrying everywhere and shooting with one lens. For that, the Fuji X100T works even better.
More Information top
Intro Specs Performance Compared Usage Recommendations More
Help me help you top
I support my growing family through this website, as crazy as it might seem.
The biggest help is when you use any of these links when you get anything, regardless of the country in which you live. It costs you nothing, and is this site's, and thus my family's, biggest source of support. These places have the best prices and service, which is why I've used them since before this website existed. I recommend them all personally.
If you find this page as helpful as a book you might have had to buy or a workshop you may have had to take, feel free to help me continue helping everyone.
If you've gotten your gear through one of my links or helped otherwise, you're family. It's great people like you who allow me to keep adding to this site full-time. Thanks!
If you haven't helped yet, please do, and consider helping me with a gift of $5.00.
As this page is copyrighted and formally registered, it is unlawful to make copies, especially in the form of printouts for personal use. If you wish to make a printout for personal use, you are granted one-time permission only if you PayPal me $5.00 per printout or part thereof. Thank you!
Thanks for reading!
Mr. & Mrs. Ken Rockwell, Ryan and Katie.
Home Donate New Search Gallery Reviews How-To Books Links Workshops About Contact