Fuji Fujifilm S5
Specifications and Observations
© 2007 KenRockwell.com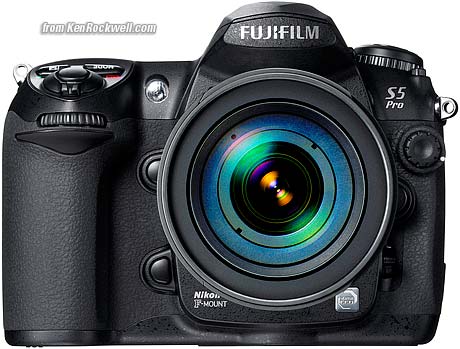 Fujifilm S5 Pro
I got this one here ($1,899 and free shipping). I'd have gotten it here or here, too. It helps me publish this site when you get yours from those links, too.
Return to top of Fuji S5 Review
LENS: Every Nikon lens made since 1977, manual or autofocus, complete with full matrix metering and A and M exposure modes, whoo hoo! (same as D200).
AF: 11 zone TTL (same as D200).
Viewfinder: 95% coverage, 0.94x magnification with 50mm lens, dioptometric adjustment and electronically selectable grid. (same as D200.)
Shutter: 30 - 1/8,000 and Bulb. (same as D200.)
Maximum Speed with Flash (sync speed, normal modes): 1/250 (same as D200).
Sensor: 23.0 x 15.5mm CCD (1.56x crop factor). D200 is 23.6 x 15.8 mm (1.53x crop factor).
ISO: 100 through 3,200 in 1/3 stops, also smart programmable Auto ISO, to which I'm addicted. (same as D200). Very high ISOs reads in ISO, not the silly HIGH+0.7 notations of the D200.
Image Sizes: 3,024 x 2,016 pixels native. Also 4,256 x 2,848 interpolated and 2,304 x 1,536 downsampled.
JPG Default DPI: 72 DPI. Unlike any other Nikon or Canon, it's selectable from 36 to 3,000 DPI (Menu > Setup > Misc). This is only significant because I prefer 72 DPI so my © notice comes out the correct size in Photoshop. Otherwise it's irrelevant unless you're putting text on your images or printing from Photoshop.
Formats: JPG, raw data and JPG + raw data (same as D200). Only two levels of JPG compression, not the many offered on the D200. Note: the size of the raw file cuts in half when the dynamic range is fixed down at 100%, since at 100% only half the pixels are used. The sizes of the JPGs remain the same. I have not tried its raw files: life's too short to want to load the specialized software and hope other programs have the ability to read files from this new camera.
Color Spaces: sRGB and AdobeRGB (same as D200).
Film Simulations: Five, called F1, F1a, F1b, F1c and F2. F2 is the good one with the wild colors.
Image Tweaks: About five levels of saturation, contrast and sharpening.
Audio: none (same as D200).
Video: none (same as D200).
White Balance: Automatic, Incandescent, Fluorescent (1-5), Fine (direct sunlight), Flash, Shade, Degrees K (color temperature), and FIVE Preset Custom settings.
There is no cloudy position, but we gained a few fluorescent positions. The flash and cloudy positions of the D200 are almost identical, so I'm not complaining. It may freak you out at first, since many people use the cloudy setting which is not in the Fuji S5.
Unlike the D200, the Fuji S5 provides no guide images or text memos for the five manual WB presets. This is bad: the D200 provides both these ways to make clear which preset does what. Serious users use these; we set them to weird lighting we often encounter. In the S5's defense, its AUTO WB is the best I've used in an SLR.
Unique to the S5, we can fine-tune all of the WB settings, even the custom ones! We can fine-tune them not in one dimension, cool-warm, as on the D200, but in two directions: +/- red and +/- blue. Sadly these are the wrong controls; photographers need warm/cool (amber/blue) and green/magenta, not the easier-to-implement red and blue adjustments of the Fuji.
There are no warm- cool trims via the knobs, a huge setback for fast operation. Worse, one needs to adjust both red and blue to get amber in the menus to do what most Nikons do directly with a knob.
The D200 can't do this much detailed fine tuning, but does the important fine tuning more easily.
Frame Rate: 1.5 FPS rated. 3 FPS only if half the pixels are used in the non-default 100% dynamic range mode, or above ISO 1,000. (D200 is 5 FPS in all modes.)
Meter: 1,005 pixel RGB Matrix, center and spot (same as D200).
Flash: Built-in, GN 12m (same as D200).
Flash System: i-TTL, Nikon's good one, same as D200.
Remote Flash Control: Remote wireless flash control, just like D200.
LCD Screen: 2.5," 230,000 pixels (same as D200). The LCD looks the same as the D200, even though the one in the Fuji S5 seems a little cooler than the one in my D200. The ultimate playback magnification is less than the D200 or D40.
Playback Histogram: Yes, color YRGB. Sadly, the display is crummy compared to the D200. The Fuji S5, with some coaxing, will show each of these four histogram channels only one at a time, and they are tiny. Even the cheap Nikon D40 can show all color channels at once, and shows them much bigger, sharper and more visibly than the S5. This is a big flaw for the few of us who use our histograms.
Storage: CF card up to at least 4 GB. Microdrives up to at least 6 GB.
Data Transfer: USB 2.0 high-speed, 480 Mb/s peak, rated. Sadly, it doesn't appear as a drive when plugged into my Mac. I have to use additional software (the Mac's standard "Image Capture" program) to suck in the images. This slows my workflow. This is a serious consideration; I much prefer my Nikons which pop up as a drive on my desktop from which I can drag and drop files.
Video Out: NTSC (Americas and Japan) and PAL (Europe and China).
Made in: Japan! (my D200 is made in Thailand). How can this be, if it's the same mechanics? Easy: the US regulations require marking with the country of final assembly. The Fuji S5, I presume, starts life at Nikon's Thailand plant, and is finished by Fuji in Japan.
Color: Black.
Power: NP-150 rechargeable 1,500 mAh Li-Ion battery, rated 400 shots, similar to D200. Actual life depends more on how you use it: I get between 300 and 3,000 shots per charge on my D200 depending on how much shooting I do compared to how much twiddling.
Size: 5.8 x 4.4 x 2.9" (147 x 112 x 74 mm) W x H x D, rated, not including accessories and attachments.
Weight: 29.3 oz. (830g), rated, naked (no battery, no card, no nothing).
Included Accessories:
NP-150 Battery, BC-150 Charger, Strap, Body cap, Eyepiece cap, LCD cover, USB cable (mini-B), Video cable, Hot shoe cover, Sync terminal cap, Remote release socket cap, CD with software.
Optional Accessories:
HS-V3 Software, about $100, for remote tethered operation.
NP-150 battery, about $47
AC-135VN AC Adapter, about $95
DG-2 Eyepiece magnifier
DK-21M Magnifying Eyepiece
DR-6 Right-Angle viewer
MC-22, -23, -25, -30, -36 remote cords; MC-35 GPS cord
Announced: Way back in 2006
Available: March, 2007
Want more details? Download the User's Manual.
PLUG
If you find this as helpful as a book you might have had to buy or a workshop you may have had to take, feel free to help me continue helping everyone.
It also helps me keep adding to this site when you get your goodies through these links to Ritz, Amazon and Adorama. I use them and recommend them personally .
Thanks!
Ken
Return to top of Fuji S5 Review
Caveat: The ads below come from a third party and I don't see or approve them. They are sent to your screen directly from a third party. They don't come from me or my site. See more at my Buying Advice page. Personally I get my goodies at Ritz, Amazon and Adorama.