Sold at $200 October, 2005. Flight case included.
Eiki LC-X1UA Powerhouse One Professional Data Projector:
2,100 ANSI lumens, 1,280 x 1,024 maximum input resolution.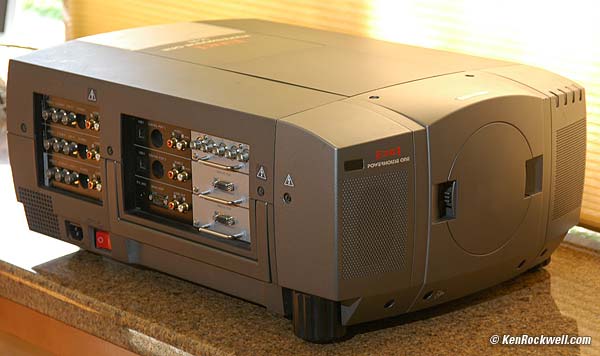 Click for huge image
INTRODUCTION
This is a huge, 40 pound professional projector intended for business, venue and theatrical use. It's MSRP was $15,995 and shouldn't be confused with the ordinary projectors you can get at Costco, camera and office supply stores. It is not a laptop-sized projector, although of course it works great for projecting from laptop computers.
It projects every computer, video, TV and component DVD format I can think of.
This is a workhorse of the professional audio visual and presentation industry. It rents for $500 a day here. This is because it has just about every computer and video input and output option available. It has two video input cards, two computer input cars, a video monitor output cared and a computer monitor output card as you can see here: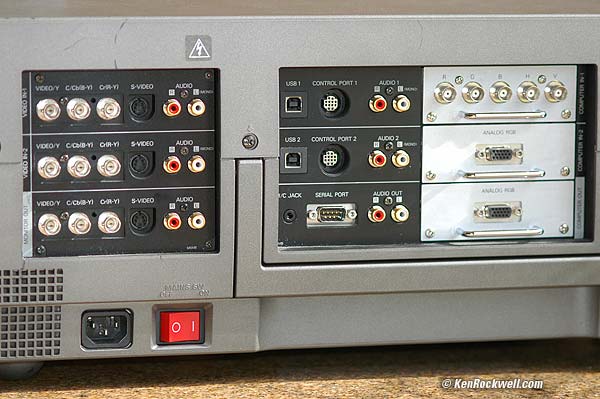 click for huge image
It could work fine in your home or photo club for computer, digital photography, video, TV and DVD projection, just that it's too big to want to carry without professional roadie help, has a loud fan and is probably too bright for screens less than 10 feet wide.
You can download the manual here.
Want to see how big it is? Here's my 12" laptop sitting on it: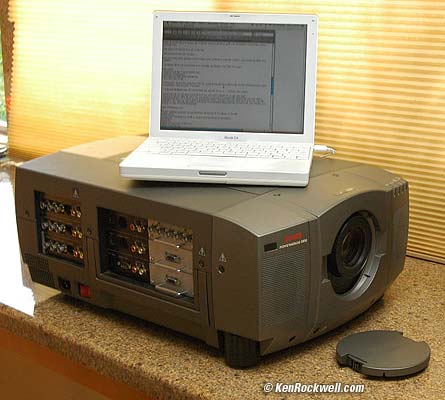 A giant powerhouse of a projector!
USES and APPLICATIONS
Best:
Medium and large venue commercial data and powerpoint. Classroom computer instruction and video projection.
Music Venue background projection.
Small venue overseas digital cinema.
Also:
Digital photography slide shows
Home Theatre: Video, TV and DVDs.
PRICE and DELIVERY
Sold for $200 October, 2005, local pick-up.
FEATURES
Input resolution up to 1,280 x 1,024. (1,024 x 768 native). Accepts just about any composite or component video or computer signal. See the images above for all the connections.
400 watt metal halide bulb, 2,100 real commercial ANSI lumens
Optical keystone correction, not electronic. This allows double the real resolution compared to consumer projectors. Why is this? Simple: this professional projector corrects the image by moving the lens up and down, just like Ansel Adams' camera. This allows the projector to project every pixel without having to mush them around electronically before they get to the imager. Electronic keystone correction used in most other projectors has to remap the pixels electronically before they are sent to the LCD or DLP. That means that most pixels wind up straddling at arbitrary distances between two real pixels, thus each pixel is smeared across two or more pixels. Electronic keystone correction also makes vertical lines on the right or left look a little zig-zaggy. Optical correction by comparison doesn't move any pixels before they get to the imager, but instead simply moves the lens. This requires a much more expensive lens and additional mechanics and motors, making it much more expensive and why this correction is only seen on the best projectors. Here's a test pattern to use to see the difference: Pixel test pattern. Look closely: there are a zillion checkerboard pixels to project!
Want a demonstration? Project this page through your projector and see what happens to the pixels as you twiddle the keystone adjustments. On your laptop screen you'll see every black and white pixel like a tiny checkerboard pattern. (It looks gray if you're too far away.) With electronic keystone correction the pixels are mushed left and right inside the electronics of amateur projectors before it hits the LCD or DLP and cuts the resolution in half. If you're lucky it just looks gray, most of the time you'll get weird lines across the image. On a professional projector you'll still see each and every pixel clearly delineated from it's neighbor, meaning your images and text will be twice as sharp as other projectors.
Big Direct-Entry Control Panel (4 x 6")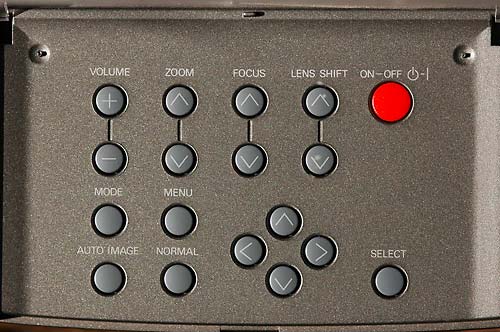 The big control panel. It's on the top rear under the clear frosted cover.
The control panel is big enough for real fingers to find in the dark. There is no need to go fiddling with menus during a show: all the live-action controls have direct-entry buttons.
Electronic Anamorphic Projection: for scope DVDs. It allows for widescreen projection of DVDs which are squeezed horizontally.
Easy Cleaning: The air filter is easy to remove and clean. There's also a secret access hatch for cleaning the imagers.
Built-in 3-Watt stereo amp and speakers
Manual: Yes, I have a manual for it.
Eiki Anvil-Style Commercial Flight / Roadie Case. This huge optional case is designed for air shipping. It's used in the professional world to ship the projector to the next venue of a tour. It has custom fitted padding and room for the manual and video and power cables, snakes, adaptors and breakouts. Dimensions: 32" wide x 15" tall x 20" deep.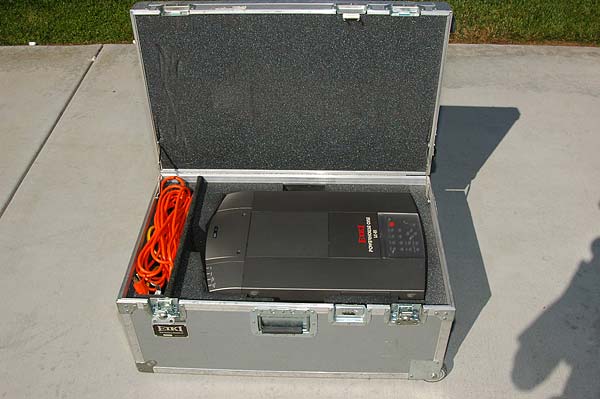 SPECIFICATIONS
You can download the manual here.
MSRP: $15,995. See this and more specs here.
Lumens: 2,100 ANSI
Bulb: 400 W Metal Halide. Unlike regular bulbs, these don't burn out suddenly. As they age they simply get less bright. I never needed a spare as I usually carry since it's not likely to burn out during a show. If you want a spare (I wouldn't bother) it should be the Sanyo part number 610 290 7698 which you can get here for $258. You can shop around and probably find it for less.
Weight: 38.2 pounds, projector only. I have no idea what the case weighs, probably a ton.
Size: 9.2 x 15.4 x 22.9" H x W x D. Road case: 15 x 20 x 32" H x W x D.
Resolution: 1,280 x 1,024 maximum, 1024 x 768 native, 640 x 480 minimum. 800 TV lines.
Lens: 67 - 108 mm f/2.6 - 3.5 with vertical shift.
Imagers: Three 1.8" TFT active matrix.
Projected image size: 30 inches to 50 feet, diagonal.
Screen Distance: 3.6 - 70 feet.
Formats: (See the input and output panel photos above)
Video: PAL, SECAM, NTSC 3.58, NTSC 4.43, PAL-M and PAL-N.
Computer: about a zillion different formats from 640 x 480 to 1,280 x 1,024.
H Sync: 15 - 80 kHz.
V-Sync: 50 - 100 Hz.
Chassis: M6M-X1UA0, actually made by Sanyo.
FROM THE ORIGINAL PRESS RELEASE:
EIKI announces an improved version of its high performance liquid crystal data/video projector. Dubbed "Powerhouse One Plus" the new LC-X1UA is a 38.1lb/17.3kg transportable projector that delivers 2100 ANSI Lumens brightness with 85% uniformity, at 1024x768 pixel resolution, with workstation compatibility.
The LC-X1UA is built around a new, larger 1.8" diagonal polysilicon panels and a 400 Watt Metal Halide lamp, and capitalizes on the latest developments in electro-optical technology to transmit more light, more evenly than ever before. It's perfect for large screen applications or high ambient light conditions
XGA resolution projector now delivers a brighter image and better video.
Brighter, crisper picture! The LC-X1UA projects 2100 ANSI Lumen brightness and a 300:1 contrast ratio, as a result of new wider pixel aperture panels, and anti-reflectance coated optics.
Improved video performance! Refined processing circuitry in the LC-X1UA provides better gamma characteristics, frequency response, and video scaling, for a better video image.
A more powerful lens shift mechanism! The beefed-up lens shift mechanism in the LC-X1UA handles heavier lenses, such as our new 1.76" wideangle lens, at a slight increase in weight.
The LC-X1UA's native resolution is 1024x768 pixels, for true XGA/MAC19 display. It projects lower resolutions, down to 640x480, either normal or expanded to full screen. Higher resolutions, up to 1280x1024, are projected panned or compressed to full screen. With a dot clock of 135 MHz, the LC-X1UA is compatible with most workstations. It comes configured for both 5 BNC & VGA input, and with optional VGA, 5 BNC and 13W3 input modules, custom configurations possible.
Equipped with a 1:1.6 power zoom and focus lens as original equipment, the LC- X1UA projects images up to 40'/12.2m wide (600" diagonal) over distances up to 113' (34.6m). Optional telephoto and wideangle accessory lenses permit longer and shorter throws. A power lens shift function minimizes keystoning in both directions, permitting offset ratios as high as 10:1~1:10, and eliminating the need for projector inversion in ceiling installations.
The LC-X1UA accepts power from 100~240V AC at 50/60Hz, and is compatible with NTSC / PAL / SECAM / NTSC 4.43 / PAL-M / PAL-N color video systems. It accepts composite, S-Video, and component (DVD) video input, and displays both Standard 4:3 and Widescreen 16:9 (HDTV) ratio. Wireless and wired remote control, plus local control and RS-232 control input are all standard. Optional accessories include transportation cases and installation fixtures.
Product Specifications: MSRP (USD) : $ 15,995
Brightness (Lumens) : 2100 ANSI
Contrast: ANSI: 100:1. Full On/Off: 300:1
Weight: 38.1 lbs.
Size (inches) (HxWxD) : 9.2 x 15.4 x 22.9
Throw Dist (feet) : 5.8 - 73.1
Image Size (inches) : 30.0 - 600.0
Lens:
Focus: Power
Zoom: Power, 1.60:1
Optional Lenses: Yes
Digital Zoom: No
Keystone Correction: Optical high-resolution
Lens Shift: Yes
Compatibility:
Component Video: Yes
Video: Yes
Personal Computers: Yes
Warranty: 3 Years
Lamp:
Type: 400W Metal Halide
Life: 2000 hours
Quantity: 1
Display:
Type: 1.8" PolySi LCD (3)
Native: 1024x768 Pixels
Maximum: 1280x1024 Pixels
Aspect Ratio: 4:3 (XGA)
Performance:
H-Sync Range: 15.0 - 80.0kHz
V-Sync Range: 50 - 100Hz
Pixel Clock: 135 MHz max
Speakers: 3.0W + 3.0W
Max Power: 630W
Voltage: 100V - 240V
This projector was manufactured by Sanyo as the PLC-9000NA. This projector was also marketed as the Proxima Pro AV 9310 and Boxlight 9601
OPTIONAL
There was a remote control available. I don't have one.
If I cared I'd try to order one from Eiki, Sanyo, or just try a universal remote. Likewise I've not bothered to connect my computer to it directly for remote control of the computer with some of the craftier remote control systems that let you drive your computer from around the room.