Casio EX-Z750 Test Review and User Guide
© 2006 KenRockwell.com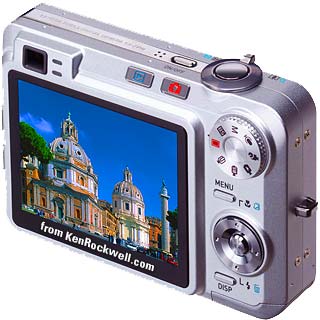 SUMMARY return to top of review
The Casio EX-Z750 is a great camera that also happens to be tiny, which makes it even better. I bought one for myself. No one is buying these cameras for me. I bought my EX-Z750 with cash out of my own pocket.
I love this thing as a photographer. Reviews in computer magazines and websites that just churn through "reviews" of hundreds of cameras without ever really getting them out in the field for more than the same repeated shots seem to have missed the ergonomic and design issues that make this a gem for real photographers, or anyone who actually makes pictures of more than test charts.
It's what I always carry in my pocket for instant high-quality photos. Image quality is the same as bigger cameras, even as good as my Nikon D70 DSLR in the right light, and the tiny size and instant operation let you get photos where other cameras might not go, or you might not take them.
Don't let the girlie size fool you. It's a masterpiece of miniaturization and functionality whose performance I prefer to bulkier and slower Canon and Nikon compacts.
I'd suggest it for anyone, especially a knowledgeable photographer, who wants a solid, flexible and capable take-everywhere camera that returns full-sized results.
The Z750 provides fantastic flexibility and it's super easy to get all the performance out of it without reading the manual. For non-photographers the less expensive Olympus Verve and Casio EX-S100 are great choices. They offer tiny size and ease of use, but lack a little battery life and resolution by comparison. Picture quality of all of them is excellent, so if price is an issue by all means get a Verve or S100.
I suggest the EX-Z750 over Casio's bigger cameras called professional since I love the Lilliputian size. I see little benefit to the larger Casio cameras in exchange for the extra weight. For more serious work if you need to change lenses or work with action of course a full fledged DSLR like the Nikon D70 is a better choice over any fixed lens camera regardless of price.
These EXILIM cameras seem to be the very best cameras for a professional to put in his pocket, keep as a spare in his bag or to use as a light meter for a film camera. More about using this as a light meter here.
I use one of these stick-on LCD screen protectors to save the screen from wear, since I keep the camera naked in my pocket.
Of course you'll need an SD memory card, but that's it. I don't even bother with a pocket tripod; I just set it against something for time exposures.
If you get one it's a big help to me if you get it by clicking here or here. I spent a few weeks on this review getting all the details and trying everything out and writing it all down. I think if you print it all out I've written about 50 pages on this little camera!
The EX-Z120
There is a new model EX-Z120 on the way in September 2005. It costs less, has a much smaller screen (only 2" versus 2.5") and doesn't come with rechargeable batteries or charger. The Z750 comes with a free lithium-ion battery and charger and I get 650 shots on a charge. The Z120 takes two AA batteries and only is rated for 170 shots on throw-aways. I prefer the Z750, since I use the battery life to run all day without stopping and the big screen to show photos to my friends every day. I easily take 300 shots a day and drop it in the stand each night. It would suck to have to change batteries in the middle of shooting, for me anyway, if life was only 170 shots. See my report on the Z120 and Z110 as they develop here. Image quality and performance are probably the same, so if you're a cheapskate they also may be a great way to go.
THANKS!
Ken
That's it! return to top of review