Casio EX-Z750 Test Review and User Guide
© 2006 KenRockwell.com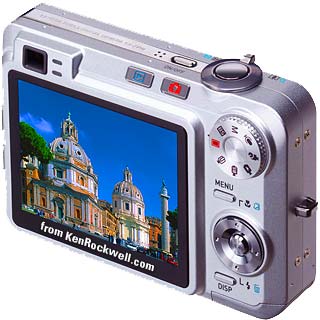 Actual size at 85 DPI! I'd get it here or here
POWER, CRADLE and BATTERIES back to first page and index
Power
The battery is charged by putting the camera in a cradle and the cradle then requires a separate AC adaptor. The AC adaptor (AD-C51J) is a tiny, efficient switching supply with an integral folding plug. It runs on all power worldwide from 100 - 240 VAC and 50 - 60 Hz. This is good, but also means you have to pack the cradle and AC adaptor with you for travel. I'd suggest the stand-alone charger and an SD card reader for travel. Depending on where you buy it you might get a clumsier charger with the AC cord (AD-C51G) instead of the US model AD-C51J with the folding plug.
I wish that the cradle could power itself from my laptop's USB connection to save having to carry the AC adaptor.
Cradle back to top of power page back to top of review
The EX-Z750 comes with a cradle which is both a charging stand and a card reader. This cradle is powered by the included AC adapter. Just pop the camera into the cradle and you're both charging and reading data as you like. You can get a replacement CA-26 Cradle and AC Adaptor here for about $50 if you lose it.
For travel you also need to remember to take the AC adaptor and a USB cable.
| | |
| --- | --- |
| | |
| The Fantasy for Home | The Reality for Travel |

(click for big images)
I weighed the CA-26 cradle at 2 -1/2 oz (70 g) and measured it at 4.2" x 2.6" x 1.3" (107 x 66 x 33 mm).
I weighed the AD-C51J AC adapter and cord combined at 3 oz. (90 g), which was mostly the cord. I weighed the AC adapter itself at 1.5 oz (45 g). I measured it at 2.7 x 1.8 x 0.6." (68 x 47 x 15 mm). The adapter, at least in the USA, is a super slim switching supply with a plug that folds into its body. It's rated 100 - 240 V, 50/60 Hz, meaning it will work with electricity anywhere with just mechanical plug adaptors.
This EX-Z750 takes the same AC Adapter as the EX-S100 but a different cradle.
The cradle is an excellent idea for normal people who work in a fixed location like my mom. Go out, make photos all day, drop in the camera at night, transfer your photos and charge the battery. EASY!
For travel I'd prefer a single cable connected directly to the camera, powered by my laptop computer through the USB bus, to do the same thing without needing the AC adaptor or cradle.
The cradle has two buttons: "PHOTO" and "USB." Press the PHOTO button for a cute little slide show on the camera screen as it sits in the cradle. The EX-S100 simply cuts from one photo to the next; this EX-Z750 actually cross-disolves between them!
Press the USB button to start or end the connection to your computer.
There's a USB light. It's solid green when connected and flashing green when transferring data. Otherwise it's off. It lights up under the "USB" marking.
Tip: Be sure to hit the eject button next to the camera's icon in your Mac's Finder before hitting the USB button to disconnect, since it might make some computers unhappy otherwise. In windows you should find and use both the eject command and then the remove hardware commands, good luck (that's why I use Mac).
By default the camera charges when put in the stand. You have to hit the USB button to connect to your computer. Tip: It stops charging when you do this, so be sure to disconnect the USB connection by hitting the USB button again to charge the battery after transferring data.
There's also a charging light. Red is charging, green is complete. Off is no charging. Amber means that the camera is too hot or cold to charge, so wait until the temperature returns to normal for charging. If you get a flashing red that means something's wrong; remove the camera and try again.
The cradle starts the charge cycle whenever you remove the camera and put it back. Of course the charging cycle is much shorter if the battery is full. Unfortunately it's not smart enough to know if it just completely charged the battery, so even if you change functions or remove it for just a moment it jams charging current into the battery until it figures out that it's full.
The cradle effectively is an AC adaptor, however few camera functions operate while in the cradle.
Good news is that for USB data transfer to my Apple iBook Mac laptop I don't need the AC adaptor; it transfers data powered just by the computer.
Bad news is one needs to plug the AC Adaptor into a wall to charge the battery. It won't charge from the computer's power.
It comes with a video cable for playing the camera through the video and audio inputs an ordinary NTSC (Americas and Japan) or PAL (European) TV. The S100 can't do this.
Battery back to top of power page back to top of review
The battery meter is excellent and gives plenty of warning. It has four levels indicated as the usual bar inside a battery. It's also color coded: full is cyan, half full is orange, almost empty and empty are red.
Battery life is excellent. It takes a lot to shoot through a battery charge in a single day. I got 350 shots before the first sign of the meter changing to orange from being full (cyan), 469 shots until it first went red, and 605 shots till it read empty. It turned itself off after 653 shots. In each case the meter wavered from one reading to the other as the battery went down, for instance, at 350 shots it still read full most of the time and just started to read orange occasionally.
Casio rates it for 325 shots with flash 50% of the time (CIPA) and 740 shots without.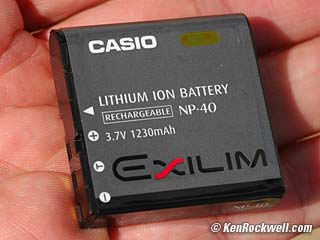 Tiny NP-40 3.7V 1,230 mAh battery only weighs an ounce or 25 g
You can get another battery here or here for about $40. Avoid the off brands and stick with the Casio branded battery; I see little price advantage for gambling with off brands. The battery that came with my camera has a hologram that says "Casio" at the top right.
For travel you can get a stand-alone BC-30L battery charger here or here for about $45 and leave the AC adapter and charging stand at home. Remember you'll also need a separate card reader.
The book says it takes three hours to charge a completely dead battery. I have not timed it and that seems about right. Of course it charges partially full batteries more quickly.
It's easy to insert the battery backwards (gold contacts facing out and not touching anything) in which case the EX-Z750 simply doesn't work. Not to worry, just put it back in the correct way with the gold contacts inside.
Li-ion batteries love being recharged as soon as you can and they last longer that way. It's better to charge partially discharged batteries than to run them all the way down as with nickel based systems. More on batteries here.
Casio's ratings are conservative. With the LCD off I can record over 28 hours of audio; Casio claims less than seven hours. I'll bet you Casio's rating is for leaving the LCD on. Casio rates the camera also as running almost seven hours for playback with the LCD; of course the auto power off feature will keep turning it off every 5 minutes if you walk away on playback.
It doesn't auto-power-off if you're recording, of course.
Internal Backup Battery
I haven't tested how long the EX-Z750's clock runs internally with the main battery removed. It does run at least 10 minutes; I've tried that. Ignore the manual which, on page 16, claims the EX-Z750 has no internal backup and that you'd have to reset the clock if you took out the battery.
Next Page: Lens Performance, Image Settings and Quality