Casio EX-Z60
© 2006 KenRockwell.com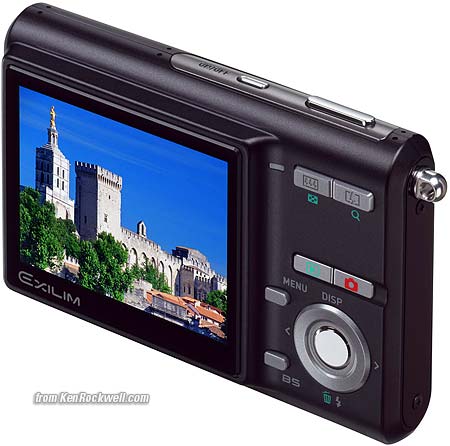 I'd get it here, here or here in black or here or here in silver.
Introduction
The Casio EX-Z60 is also a 6MP, 3x zoom, 2.5" LCD microcam. I beleive the inexpensive EX-Z60 skips the blindingly bright LCD screen and settles for the perfectly good one I have in my EX-Z750. It was introduced on February 25th, 2006. It's MSRP is $249.99, making it a super bargain.
I've only seen it at a trade show. I haven't shot with it yet. From everything I've seen from Casio I'm sure it gives remarkable results and the biggest thing you're losing compared to the more expensive models is the charging cradle. In this case you need to pop out the battery to charge, and I'm unsure how you read your card data.
It also comes in black, which the fanciest EX-Z850 isn't available. Here's a front view. I wish it were all black, but hey, we can't be too choosy for under $250!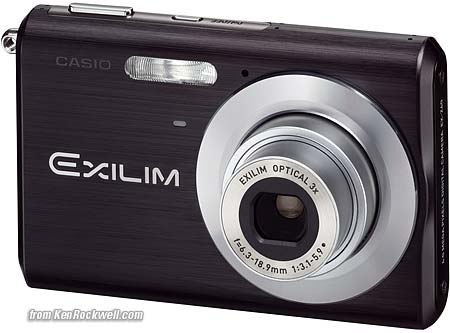 Specifications:
Lens: 6.3 - 18.9 mm, f/3.1 - 5.9, 6 elements (one aspherical) in 5 groups. Similar to 38 - 114 mm on 35 mm film.
Close Focus: to 16," 4" in macro at widest setting.
CCD Sensor: 6MP, small 1/2.5."
ISO: 50 - 400. To ISO 800 in auto and anti-shake modes.
Image Sizes: 2,816 x 2,112, 2,816 x 1,872 (3:2), 2,304 x 1,728, 2,048 x 1,536, 1,600 x 1,200 and 640 x 480. 640 x 480 movies with sound.
LCD Screen: 2.5"
Size: 3.75" W x 2.39" H x 0.78" D.
Weight: 4.16 oz empty.
Power: Li-ion batery and external charger included. There's no cradle; you have to pull out the battery to charge it. This is an improvement over the Z110 and Z120, which included no battery (they used throw-aways) to save cost, but clumsier than the excellent cradle provided with other models today.
Price and Availability: a scant $249.99, mid-April 2006 in black and silver. Black? COOL! I prefer black cameras.