Casio EX-S600 Test Review
© 2006 KenRockwell.com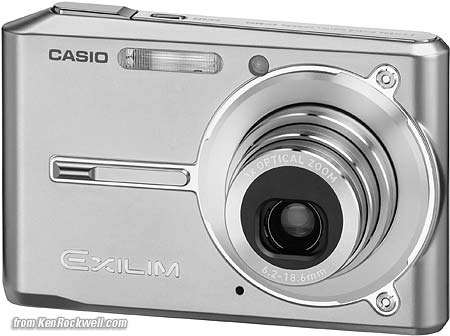 I'd get it here in any color. Also get it here or here in silver, here or here in blue and here or here in orange. It helps me publish this site when you get yours from these links, too.
INTRODUCTION
The EX-S600 is Casio's latest jewel of a microcamera. I love it because it gives the same results as a full-sized camera and is always in my pocket. It was announced in October 2005. It's case is neither plastic nor aluminum: it's stainless steel!
It's tiny, solid, and makes wonderfully sharp images.
MSRP is $399 and it sells for less. It's an updated 6MP version of the EX-S500. See the EX-S500 review for more details which also apply to this new EX-S600. The EX-S600 adds more pixels, and more importantly, a much brighter screen for daylight, compared to the EX-S500. The lens seems the same by specifications, however it's much sharper even at 100%, and the EX-S600 obviously has more resolution as well. This could be sample variation.
Not apparent in these photos is how well made and precise it is, just like the other Casio S-Klasse cameras. As a Mercedes owner I wonder if Casio's S500 and S600 designations are take-offs of Mercedes' S500 and S600 sedans, or just coincidence. After 15 years Mercedes is changing their engines and changing the designations on the 2007 S-Klasse, so maybe it's OK if Casio borrow them. Anyway...
You have to love the EX-S600. It's the size of a business card and only 0.71" (18mm) thick. It makes images as good as my Nikon D70. It's extremely well made in China. It's got a better lens on it than any of the other Casios I've used previously. It is very, very sharp.
The EX-S600 comes in stainless steel (silver), metallic blue and wild orange. I borrowed a blue one. My wife loves the color and wants one. The blue and orange S600s are also stainless steel under their paint. All three of them are solid, not weak like most cameras which are made of aluminum or plastic. The S600 is tiny, but solid and engenders confidence. Stainless steel cameras are tough. Stainless is also slippery. A stainless EX-S100 slipped out of my hand onto concrete, of course since it was stainless it wasn't even dinged.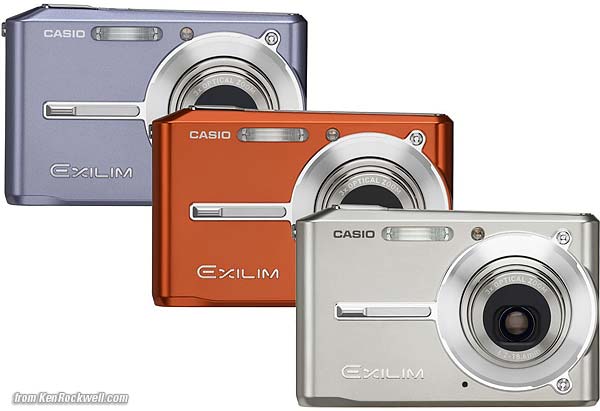 They come in three colors!
SPECIFICATIONS and MEASUREMENTS
Lens: 6.2 - 18.6 mm, f/2.7 - 5.2, 6 elements (one aspherical) in 5 groups. Similar to 38 - 114mm on 35mm.
Close Focus: 16" in normal mode, 6" in macro mode. (all in wide setting.)
CCD Sensor: 6MP, small 1/2.5."
ISO: 50 - 400. Up to 1,600 in trick modes.
Image Sizes: 2,816 x 2,112, 2,816 x 1,872 (3:2), 2,304 x 1,728,
2,048 x 1,536, 1,600 x 1,200 and 640 x 480. Movies in 640 x 480 and 320 x 240, 30 and 15 FPS.
Video: MPEG-4, still an advanced format not compatible with everything. Audio always plays on my computer, but I need to download special software to see the images.
LCD Screen: 2.2," brighter than the S500. It has an auto mode which automatically cranks up the brightness in bright light. It works!
Measured Size: 3.63" w x 2.36" H x 0.71" D, including protrusions. Casio specifies 3.54" W x 2.32" H x 0.63" D excluding protrusions. A business card is 3.5 x 2.0" x 0.01" and my Visa card measures 3.37" x 2.13" x 0.05."
Measured Weight: 4.725 oz (134g) with battery, card and strap. Stripped naked camera: 4.055 oz. (114.9g). Battery alone: 0.565 oz. (16.0g), SD card alone 0.062 oz. (1.75g), Strap alone: 0.050 oz (1.3g). My Visa card weighs 0.175 oz. (4.9g). Casio specifies approximately 4.06 oz empty, which agrees with my measurements.
Power: NP-20 Li-ion battery recharged in cradle, which also allows data downloading. Battery and charger (cradle) included. AD-C52J folding-plug AC adapter (included, 100-240 VAC, 50-60Hz,, 83mA in, 5.3 VDC @ 650 mA out ) powers the cradle.
Price and Availability: $399.99, end of March 2006, silver, orange and silver blue.
PERFORMANCE
It's a great camera. It's tiny, easy to use and can make great photos. Of course photo quality has more to do with the photographer than the camera, and if you're a decent photographer you'll have no problem making vivid and sharp 12 x 18" prints and bigger. As you should read in more detail in my earlier reviews of Casio Cameras, they have the best ergonomics of any compact digital camera. This is why I bought a larger EX-Z750 for my own use last year.
The only caveat is that the EX-S600, like the EX-S500 and EX-S100, is designed for normal people and doesn't have the manual exposure modes, direct access EX buttons and mode selector knobs of the slightly bigger EX-Z750 and EX-Z850. As of March 2006 this EX-S600 my the first suggestion as a camera for a normal person to take normal photos. As a photographer I personally prefer the larger EX-Z750 and EX-Z850 because they have extra knobs and buttons so I can get to the detailed adjustments I often make more quickly. Most people never change exposure compensation, white balance, image size, compression levels and drive modes. I change these all the time.
White Balance
Auto White Balance is impressive: it balances perfectly under tungsten and fluorescent, something few other cameras, including my Nikon SLRs, do as well.
LCD
The extra bright LCD really works. It's much brighter than other cameras. One caveat is that in addition to a more powerful backlight is also seems to lighten the image fed to the display. The after-shot preview can look washed-out even though the actual image as seen in playback and on your computer is perfect. Be mindful of this when you're shooting. Judge your exposures based on playback and not on the after-shot review while shooting under direct sunlight.
Sharpness
The S600 is the sharpest of the Casios I've used. It seems to have more sharpening as its default than my other Casios. It also has a better lens which is very sharp everywhere except the very farthest corners.
Noise
It's the same as all the other similar cameras, which is fine at the lower settings and higher at the higher ISOs.
File Sizes
Files sizes are almost completely constant, regardless of image complexity.
I usually shoot in 6MP (2,816 x 2,112) Economy, which gives a 1.1 MB file. I see little to no improvement at the Normal setting which costs me storage space with 2 MB files.
Anti-Shake
Anti-shake is not an active vibration compensation system as Nikon's VR and Canon's IS. Casio's anti-shake is simply higher ISOs and shutter speeds set automatically.
RECOMMENDATIONS
The EX-S600 is built more like a piece of jewelry than a camera. It's exquisite. It's my favorite camera if tiny size is paramount. If not, I prefer the very slightly larger and more expensive Canon SD700.
The EX-S600 has been my reference standard for the best and most practical video and movies made in a compact camera.