Casio EX-Z120 and EX-Z110 Test Review and User Guide
© 2005 KenRockwell.com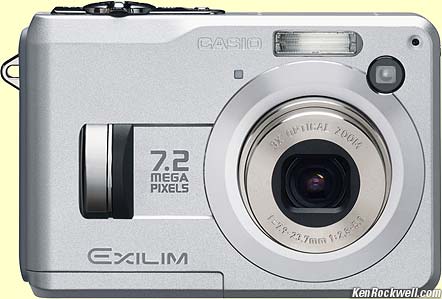 Casio EX-Z-120. I'd get it here.
INTRODUCTION back to top of page
These latest jewels from Casio appear to be very slightly larger versions of existing cameras with much better prices. The better prices come from smaller LCDs and not including a rechargeable battery system. They have 3x zooms and are 7.2 or 6 MP. They use two AA batteries and have 2.0" LCDs. Barring those issues I suspect the performance and image quality of the 7.2 MP EX-Z120 is the same as the more expensive 7.2 MP EX-Z750.
The EX-Z120 and EX-Z110 were announced August 4th, 2005 and are expected in September 2005. The Z-120 will be $329 and the Z-110 will be $279. The EX-Z750 sells for $400 by comparison, and adds a cradle, huge capacity and tiny rechargeable Li-Ion battery and charger, and has a huge 2.5" LCD.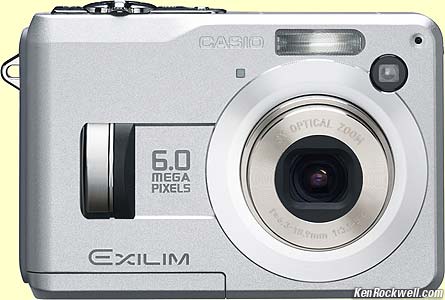 Casio EX-Z110
This will make the EX-Z120 and EX-Z110 best buys for tiny, convenient cameras for normal people like my mom. I will probably still prefer my more expensive EX-Z750 for serious photography since I love the huge 2.5" LCD, huge capacity battery system and slightly smaller size.
New features compared to the EX-Z750 are an expanded "anti shake" and ISO 1,600 functions. Based on using these functions in the EX-S500 I'd pass, since they look awful on the EX-S500. Casio gets around the noise by blurring the image senseless. I get better results with the cameras that lack these features by getting the higher ISOs by 1.) setting negative exposure compensation and then 2.) lightening the image in Photoshop using curves, and then 3.) using a noise reduction plug in in Photoshop. I get better results this hard way because the noise reduction available as software plugins is better than what looked like simple blurring in the EX-S500. Of course I hope the EX-Z120 and EX-Z110 are better than the EX-S500, and we'll see.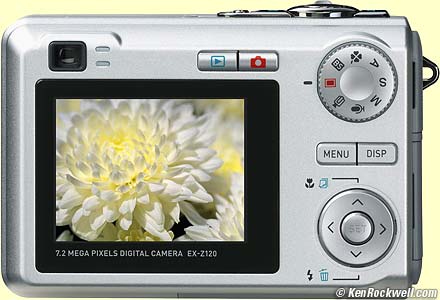 Casio EX-Z120 back
PERFORMANCE
We'll see. I suspect the Z120 is identical to the EX-Z750 I own, just with a smaller screen and having to fiddle with the AA batteries of your choice, for a much lower price.
RECOMENDATIONS
Right now get an EX-Z750, since the Z120 and Z110 aren't available yet.
Personally I'm a serious photographer, so the big advantage of lower price for these two cameras isn't important to me. Even after they're introduced I'd probably go for the Z750 for its bigger LCD, smaller overall size, and rechargeable system.
On the other hand, for normal people Casio is making so many great cameras it's going to be hard to make a choice. For instance, you can get the EX-S500 today and it's a fantastic little camera, but costs about $400 which includes a bigger LCD and rechargeable batteries.
These Z120 and Z110 cameras are probably what I'll be suggesting to cheapskate photographers, since they appear to have all the advanced controls of the EX-Z750 without the cost. Simpler cameras like the more expensive and smaller EX-S500 are more likely what I'd suggest for non-photographers like my wife and mom.
The reason to prefer the Z110 and Z120 is if price is important, and if you prefer disposable batteries which can be bought anyplace on earth. If you're trekking out in the booners with no power to recharge batteries then these are the cameras to get. You either can put a bunch of Lithium AAs in your pack that weigh almost nothing, or just buy new batteries at each tienda you pass while trekking in the Himalayas. Just watch out; the "heavy duty" carbon batteries sold in much of the third world will not be very happy running these (or any) cameras. Look for Alkaline.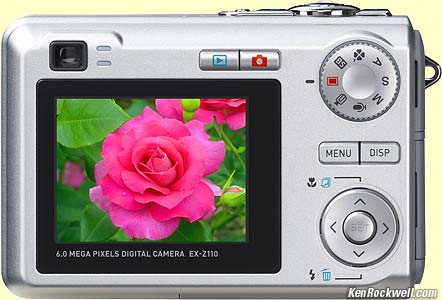 Casio EX-Z110 back
FROM THE PRESS RELEASE
EX-Z120/Z110 Main Features
The Z120 has a 7.2 megapixel CCD (Z-110: 6.0 megapixel CCD) and a 3X optical zoom
2.0" LCD
The Z120 can take 170 still shots (Z110: 180 shots), CIPA standards, Alkaline LR6
Also takes rechargeable and lithium AA batteries
Mode dial for easy mode switching
Ready to take pictures in approximately 1.3 seconds (Z110: approximately 1.5 seconds) using internal memory, with internal flash turned off. Flash take much longer to charge.
0.007 seconds release time lag (Z110 has 0.004 second lag), flash off. Takes longer with flash on.
High-speed picture playback of approximately 0.1 seconds interval
Continuous shutter function enables photos to be taken in approximately 0.9 second intervals, limited to available space on memory card
"DIRECT ON" button function allows quick startup in both shooting and playback modes
32 different BEST SHOT scenes (Z110: 28 BEST SHOT scenes)
BEST SHOT scenes include "Anti Shake", which reduces blurring caused by
both shaky hands and moving subjects, as well as "High Sensitivity", which
enables bright pictures in a dim place even without the flash.
Manual exposure mode
"Quick Shutter" function sets hyperfocal distance if camera has no time to focus
"Auto Macro" mode
"Flash Assist" mode lightens areas beyond the reach of the flash
Movies recorded in VGA (640x480 pixels) size, 30 frames per second (Z120: 28 frames per second) (Motion JPEG)
"MOTION PRINT" function converts movies into a series of nine or just one snapshot for printing
Movies can be zoomed in during playback
"Movie Editing" offers three ways (beginning, middle and end) to cut unwanted scenes from a movie
Camera may be plugged directly to a TV for playback.
Menus in Chinese (simplified and traditional), English, French, German, Italian, Japanese, Korean, Portuguese and Spanish
PictBridge and USB Direct Print for direct connection to a printer
ExifPrint (Exif 2.2) as well as PRINT Image Matching
EX-Z120 SPECIFICATIONS
Imaging Element: 1/1.8-inch square pixel color CCD(Total pixels; 7.41 million, Effective pixels; 7.2million)
Image Files Format: Snapshots; JPEG (Exif Ver.2.2), DCF1.0standard, DPOF compliant
Movies: AVI (Motion JPEG)
Audio: WAV
Recording Media: 8.3MB Built-in flash memory, SD Memory Card, MultimediaCard
Image Size (Pixels): 3072 x 2304, 3072 x 2048 (3:2), 2560 x 1920, 2048 x1536, 1600 x 1200, 640 x 480
Movies; 640 x 480 (HQ and Normal), 320 x 240 (LP)
Built-in flash memory: 8.3MB. Also takes SD Memory Cards
File Sizes:
3072 x 2304 Fine/Normal/Economy 4.32MB/2.88MB/1.44MB
640 x 480 Fine/Normal/Economy 360KB/240KB/120KB
Movies Image Size (Pixels) 640 x 480 and 320 x 240
Approximate Movie Data Rate:
HQ: 10.2 megabits per second
Normal: 6.1 megabits per second
LP: 2.45 megabits per second
Lens/Focal Distance: F2.8 (W) to 5.1 (T), f=7.9 to 23.7 mm (equivalent to approximately 38 to 114mm for 35mm film) , 7 lenses in 5 groups, with aspherical element
Zoom: 3X optical
Focus Modes: Auto Focus, Macro, Pan Focus (movie only), Infinity, manual
AF Area: spot, multi
Approximate Focus Range:
Auto Focus: 15.75" to ∞, Macro: 3.94" to 19.69", Infinity Mode: ∞, Manual: 3.94" to ∞ (doesn't focus as close at longer zoom settings)
Metering: Multi-pattern, center-weighted, spot
Exposure: Program AE, Aperture priority AE, Shutter speed priority AE, Manual AE
Exposure Compensation: +/- 2EV (1/3EV units)
Shutter: CCD electronic shutter, mechanical shutter, Snapshot mode
(auto): 1/8 to 1/1,600 second.
Aperture: F2.8/F4.0, auto switching (gets smaller at longer zoom settings)
White Balance: Auto WB/ fixed (6 modes) / manual switching
Sensitivity: Auto/ISO 50/ISO 100/ISO 200/ISO 400 (to ISO 1,600 in trick modes)
Recording Functions:
Snapshot / audio snapshot; Continuous shutter; self-timer; macro; BEST SHOT;
movie with audio; Voice Recording
Self-timer: 10 seconds, 2 seconds, Triple Self-timer
Built-in Flash: Flash Modes: Auto Flash, On, Off, Red eye reduction
Flash Range: 1.31' to 7.55' (W); 1.31' to 3.94' (T)
Viewfinder: Monitor screen and optical viewfinder
Monitor: 2.0-inch TFT color LCD, 84,960 pixels (354 x 240)
Timekeeping Functions:
Date and time: Recorded with image data
Auto Calendar to 2049
World Time: 162 cities in 32 time zones, City, Date,
Time, summer time
Input/Output Terminals:
AC adaptor connector(DC IN 3V)
USB/AV port(NTSC/PAL)
USB: USB 2.0 (Full-Speed) compatible
Microphone: Monaural
Speaker: Monaural
Power:
Two AA-size alkaline batteries, Two AA-size rechargeable nickel-metal
hydride batteries, Two AA-size lithium batteries, AC adaptor (AD-C30)
Battery life:
Approx. 170 snapshots (CIPA Standards, alkaline)
Continuous shooting: approx. 500 snapshots (approx 1hr. 40 min.) *
Continuous playback: approx. 5 hr. 45 min. (snapshots)
Continuous recording: approx. 1hr. 30 min. (movie)
Continuous recording: approx. 3hr. 50 min. (voice recording)
* LCD monitor ON, Flash disabled, alternating between wide-zoom and telephoto-zoom every 12 seconds
Dimensions: 3.54" (W) x 2.36" (H) x 1.07" (D)
Weight: Approximately. 4.87 oz (excluding battery and accessories)
Bundled Accessories: Alkaline batteries (LR6), USB cable, AV cable, Strap, CD-ROM
EX-Z110 SPECIFICATIONS
Imaging Element: 1/2.5-inch square pixel color CCD (Total pixels; 6.37 million, Effective pixels;6million)
Image Files Format: Snapshots; JPEG (Exif Ver.2.2), DCF1.0 standard, DPOF compliant
Movies: AVI (Motion JPEG)
Audio: WAV
Recording Media: 8.7MB Built-in flash memory, SD Memory Card, MultimediaCard
Image Size (Pixels): 2816 x 2112, 2816 x 1872 (3:2), 2304 x 1728, 2048 x 1536, 1600 x 1200, 640 x 480
Movies: 640 x 480 (HQ and Normal), 320 x 240(LP)Data Size:
File Sizes:
2816 x 2112 Fine/NormalEconomy 3.63MB/2.2MB/1.21MB
640 x 480 Fine/Normal/Economy 360KB/240KB/120KB
Movie Data Rates:
HQ: 10.2 megabits per second
Normal: 6.1 megabits per second
LP: 2.45 megabits per second
Lens/Focal Distance: F3.1(W) to 5.4(T), f=6.3 to 18.9mm (equivalent to approximately 38 to 114 mm for 35mm film) , 7 lenses in 6 groups, with aspherical lens
Zoom: 3X optical
Focus Modes: Auto, Macro, Pan Focus, Infinity, manual
AF Area: spot, multi
Approximate Focus Range: Auto Focus: 15.75" to ∞, Macro: 2.36" to 19.69", Manual: 2.36" to ∞ (not as close at longer zoom settings)
Metering: Multi-pattern, center-weighted, spot
Exposure: Program AE, Aperture priority AE, Shutter speed priority AE, Manual AE
Exposure Compensation: +/- 2EV (1/3EV units)
Shutter: CCD electronic shutter, mechanical shutter (auto): 1/8 to 1/2,000 second
Aperture: F3.1/F4.4, auto switching (less at longer zooms)
White Balance: Auto WB/ fixed (6 modes) / manual switching
Sensitivity: Snapshots: Auto/ISO 50/ISO 100/ISO 200/ISO 400 (up to ISO 1,600 in trick modes)
Recording Functions:
Snapshot / audio snapshot; self-timer; macro; BEST SHOT; movie with audio; Voice Recording
Self-timer: 10 seconds. 2 seconds, Triple Self-timer
Built-in Flash: Flash Modes: Auto Flash, On, Off, Red eye reduction
Flash Range: 1.31' to 10.17' (W); 1.31' to 5.91' (T)
Viewfinder: Monitor screen and optical viewfinder
Monitor: 2.0-inch TFT color LCD, 84,960 pixels (354 x 240)
Timekeeping Functions:
Date and time: Recorded with image data;
Auto Calendar: To 2049
World Time: 162 cities in 32 time zones, City, Date,
Time, summer time
Input/Output Terminals: AC adaptor connector (DC IN 3V), USB/AV port(NTSC/PAL)
USB: USB 2.0 (Full-Speed) compatible
Microphone: Monaural
Speaker: Monaural
Power Requirements:
Two AA-size alkaline batteries, Two AA-size rechargeable nickel-metal
hydride batteries, Two AA-size lithium batteries, AC adaptor (AD-C30)
Battery life: Approx. 180 snapshots (CIPA Standards, alkaline)
Continuous shooting: approx. 475 snapshots (approx 1hr. 35 min.) *
Continuous playback: approx 5 hr. 20 min. (snapshots)
Continuous recording: approx 1hr. 15 min. (movie)
Continuous recording: approx 4hr. 55 min. (voice recording)
* LCD monitor ON, Flash disabled, alternating between wide-zoom and telephoto-zoom every 12 seconds
Dimensions: 3.54" (W) x 2.36" (H) x 1.07" (D)
Weight: Approximately 4.8 oz (excluding battery and accessories)
Bundled Accessories: Alkaline batteries (LR6), USB cable, AV cable, Strap, CD-ROM