Casio EX-V7
© 2007 KenRockwell.com

Casio EX-V7
I'd get mine here, here or here. It helps me publish this site when you get yours from those links, too.
Also see my other Casio tests.
March 2007
Specifications Performance Recommendations
This tiny, pocket-sized Casio is the most compact 7x zoom camera of which I know. Even better, it has video with stereo sound and real image stabilization, critical for telephoto shots and low light.
It works great: if you think you want one of these, go get one. The zoom really goes as it says it does, and this tiny thing is sharp, too.
The EX-V7 is very well made, offers more features than most of us will ever have the time to learn, can make great images and has an MSRP of $399.
It turns on and off with a sliding lens cover. The lens doesn't pop out; it's ready to go as you see here. This is a huge improvement in reliability. Lens erection is usually the first thing to die on pocket cameras.
The lens is a true zoom with seemingly infinite adjustment ability. Every other compact camera I've used only zooms in fixed steps. The EX-V7 zooms silently, so you can zoom while making videos, which is unique for compact still cameras.
If you can hold it steady and if you shoot at lower resolutions, it's smart enough to give you a real 33.2x zoom at 640x480 without having to cheat with digital zoom!
Like most cameras, at default settings the images were dull. I bumped up the contrast to +2 and the and saturation to +2 and it looks great! I left sharpening at 0.
I'm impressed: Casio has addressed many of the little whines I had about earlier cameras. The flash fill works better on this Casio than most compacts and the flash recycles fast.
SPECIFICATIONS with comments back to top
Lens: 6.3-44.1mm f/3.4-5.3. It gives a field of view similar to what a 38-266mm lens does on a 35mm film camera.
Optics: 12 elements in 9 groups, some are aspherical. This is a lot of glass for any camera, much less one this small!
Diaphragm: One click-in diamond-shaped aperture and an ND filter, for three effective apertures, total.
Image Stabilization: Yes, mechanical CCD shift.
AF: 9 zone TTL.
Optical Viewfinder: NO.
Shutter: 1/2 - 1/800 in Program. Goes to 60 seconds in manual and shutter-priority mode.
Exposure modes: Program, Aperture priority, Shutter priority and Manual, as well as a slew of preset scene modes.
Image Sensor: 7MP; Smaller sized 1/2.5."
Image Sizes: 3,072 x 2,304 pixels native. Also 3,072 x ,048 (3:2 cropped), 2,560 x 1,920, 2,048 x 1,536, 1,600 x 1,200 and 640 x 480.
JPG Default DPI: 72 DPI, only significant because I don't have to set it back to 72 DPI in Photoshop to get my © notice the correct size.
Formats: JPG, three compression levels. File sizes vary wildly with image complexity. I always use the smallest size, "Economy." The middle, default size is called "Normal" and the largest is called "Fine." File sizes are optimized to each image, so very detailed images may have file sizes triple the file size of a blank, flat sky image. This is good and normal.
Audio Format: Stereo WAVE.
Video: 848 x 480 (roughly 16:9 with square pixels) and 640 x 480 at 30 FPS in a very efficient (small file size) H.264/AVC .MOV format with glorious stereo sound. Also 320 x 240 pixels at 15 FPS in a less efficient sequential motion JPEG AVI format with crappy mono sound - skip this setting.
ISO: AUTO, 64, 100, 200, 400 and 800. ISO 1,600 comes up in a trick scene mode.
WB: Auto, Direct Sun, Cloudy, Shade. Tungsten, Fluorescent Warm and Cool, custom manual white card.
Real-Time Shooting HISTOGRAM: Yes, full RGB histogram.
Frame Rate: 0.7 FPS rated and measured, continuous (no change in focus, exposure or anything between shots).
Meter: Matrix (called Multi by Casio), center and spot. I always use Matrix and set the L-R key to exposure compensation. It's trivial to set perfect exposure while looking at the live RGB histogram and tweaking the L-R key, something I can't do on other brands of cameras.
LCD Screen: 2.5," 230,400 pixels, 960 x 240.
Playback Histogram: Yes, full RGB histogram.
Storage: SD card up to at least 2 GB and 11.6MB of internal memory.
Data Transfer: USB 2.0 high-speed, 480 Mb/s peak, rated. Much slower in practice.
Video Out: Your choice of NTSC or PAL in your choice of 4:3 or 16:9.
Made in: China.
Color: Looks like matte stainless, and probably is.
Power: 3.7V, 950 mAh NP-50 Li-ion battery. It's a long thing; longer and skinnier than than a pack of gum. rated 240 shots, CIPA w/50% flash.
Size: 2.420 x 3.780 x 1.025" H x W x D (61.47 x 96.01 x 25.92 mm), mic'ed (measured) myself, including protrusions.
Weight: 6.360 oz. (180.35g), measured with battery, memory card but without strap. Rated 5.26 oz (149g) buck naked: no battery or anything.
INTRODUCED: 08 January, 2007
AVAILABLE: April, 2007
PERFORMANCE back to top
ERGONOMICS
It handles like most Casios, which is excellent. See my very long Casio EX-Z750 review and EX-S100 Reviews for the most complete explanations of the zillions of features.
There can be occasional burps (delays) as you throw commands at it. I'm a tough user; few people throw as much at a camera as I do.
Watch out for your fingers: it's weird having the lens flush on the far side of the camera. I usually have my finger in the corner of my images, which shows you I'm an idiot because it's obvious on the LCD.
Likewise, the flash is exactly over the top of the lens - keep your finger away from it!
The sliding barrier and push-to-play buttons work fine living in a pocket, although dust will sneak onto the lens.
I love the sliding lens barrier, which is the on-off switch.
The mode selector knob is much better than the thicker one of my EX-Z850. The EX-Z850 dial always got knocked in my pocket, while the EX-V7's dial doesn't seem to get knocked as often. I wish there was a lock in the center which required a center push to rotate it; oh well; it's not an F5.
Optical Viewfinder: NONE
I never use these, and the Casio EX-V7 has none. I prefer the excellent live LCD.
LCD Monitor
The LCD monitor is blindingly bright when it needs to be in sunlight. Casio makes their own LCDs which they don't sell to others, which is why my Canons and Nikons are nowhere near as bright. Casio knows how to make scaldingly bright LCDs that don't run down the batteries.
The LCD backlight automatically adjusts for ambient light, presuming you leave it that way You can fix it at other brightnesses if you prefer.
It's bright enough to use in direct sunlight! When you do, the hardware is clever enough to brighten the images sent to the LCD, and the images will be slightly darker on playback. Use the live histogram (or immediate playback) to set precise exposure, otherwise this deliberate brightening can make you think you're overexposing, while in fact the images are fine.
It's reasonably color accurate, far better than the Canon 30D and my Canon 5D. The LCD of the Casio EX-V7 is a tiny bit bluer than my calibrated monitor.
The Casio EX-V7 LCD is old-style, meaning the contrast changes wildly as you tilt the camera up or down. Compare this to the Nikon DSLRs whose LCD image is unchanged as you look at them from different vertical angles.
The screen has high resolution. The text is sharp and well defined. It looks to have a higher linear resolution than the new Canon 1D Mk III with a 3" LCD.
If you're looking too close, the hardware that drives the Casio's LCD doesn't always show the highest resolution image. As you scroll, a fraction of a second later the image becomes a tad sharper. If you zoom a playback image to 1.6x or more the image is also sharper.
Unlike my Nikon DSLRs, the Casio doesn't do much to sharpen the on-screen playback images, so they don't look as sharp as my Nikon DSLRs or Canon point-and-shoots. The images are unaffected by this; this is also an issue of personal taste.
Frame Rate
It takes the Casio EX-V7 a second or so between shots to recombobulate itself for each new shot.
If you hold down the shutter and let it keep repeating the shot with the same settings, I measure 0.7 FPS (7 frames in 10 seconds) at full resolution in the Normal Continuous mode.
There is a trick High Speed Continuous mode. It makes three shots a half second apart from each other. In other words, the third shot is one second after the first. Unlike the Normal Continuous mode which will keep firing away for as long as you can hold down the shutter, this High Sped mode only spits out three shots.
Unlike previous Casios, the high-speed continuous mode works at full resolution. Earlier cameras cheated and upscaled video-resolution images to the size you selected.
IMAGE QUALITY
GENERAL
The lens is great! In spite of it's tiny size, it's sharp and works great if you don't mind some easily correctable distortion.
Images in the default settings are much duller than I prefer. I pump up the contrast and saturation to +2 for the things I shoot. For people, leave it alone.
The contrast and other settings apply to both still and video images.
Image quality is fairly typical for a compact camera. Images are reasonably smooth with sharp details and edges, but the noise reduction that gives smoothness to flat areas also smudges over textures and delicate details.
Very perceptive shooters will notice a slight cartoon look (sharp, but lacking textures that ought to be there), which is typical for all compact cameras.
I've never used a compact that doesn't do this. The only way around this is to get a true DSLR like the excellent Nikon D40.
EXPOSURE
The Casio EX-V7 is good - better than my Canons! On my Canons I set -2/3 compensation for contrasty outdoor light, and have to set it back to 0 in flat light.
I rarely have to alter the exposure compensation of the EX-V7. It stays at zero for flat and harsh light. If I do have to tweak it, the EX-V7's live RGB histograms make it trivial to nail perfect exposure.
Precise exposure setting is easy. To set up the mode I use:
1.) Set the L/R button to exposure compensation (MENU > REC > L/R Key > EV Shift).
2.) Tap the DISPlay button to throw a live RGB Histogram on-screen.
3.) Compose your shot.
4.) If the histogram (which is showing your precise exposure) needs adjustment, tap the left and right keys to alter the exposure.
Caveat: The meter reverts to center-weighted any time the exposure compensation is other than 0. Since the center-weighted meter gives different results than the default matrix meter, I sometimes have to set +0.3 to get slightly darker exposure than 0 in the default matrix metering mode!
You'll see the center-weighted meter mode icon (rectangle with dot and circle) appear on top of the LCD as you compose. There is no while-shooting icon for the matrix meter, but you'll see it if you look for all the data ono playback.
(All photos directly from EX-V7)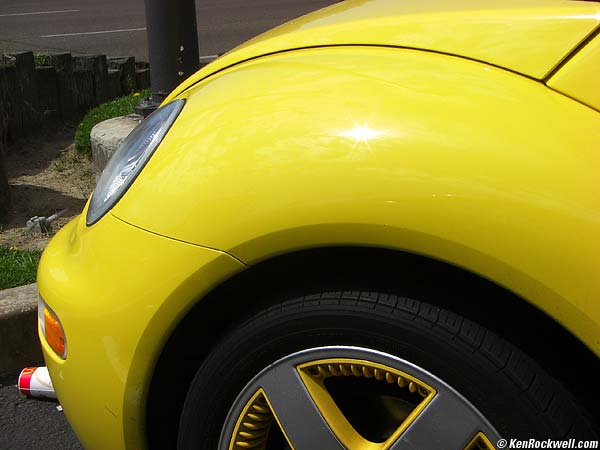 Bug and Cup (10.2mm)
Color rendition, or how the camera renders the real world, is everything. We artists spend a lot of time worrying about it. After exposure, color is everything to an image. Sharpness and the rest is irrelevant unless your exposure and colors are dead-on.
The EX-V7's color is much better than previous Casios. I prefer it to my favorite Canon SD700: the EX-V7 is warmer.
Setting this Casio EX-V7 to +2 for contrast and +2 for saturation gets the look I want.
Sorry for the boring examples; we had clouds most of the time I was borrowing this, and neon doesn't count: 100% saturated colors look wild regardless of the camera.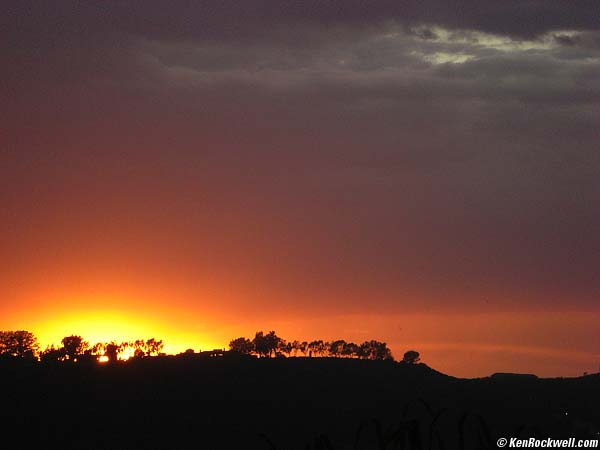 Monsoon Sunset (44.1mm)
Color accuracy is irrelevant. Cameras aren't scanners. Cameras are never supposed to duplicate reality; that's not photography.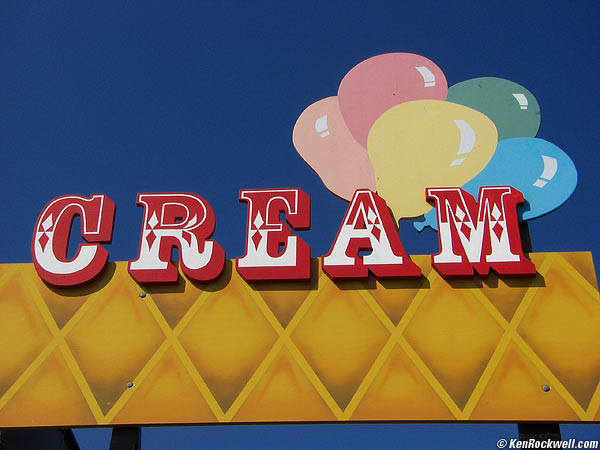 Orange County Swap Meet (California). At 10.2mm, note pincushion distortion.
Churros, another Mexican Delicacy (10.2mm)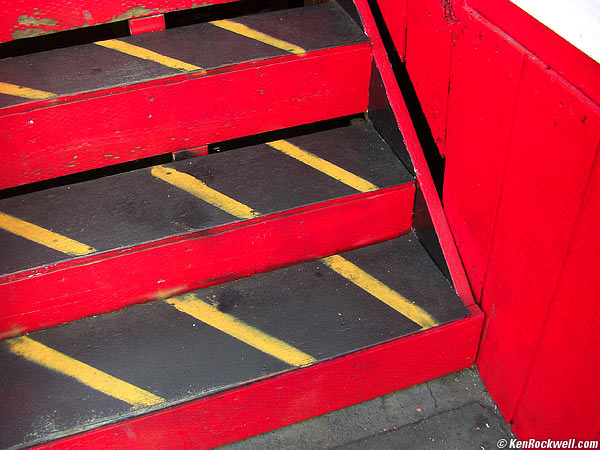 Steps to the Mens Room, Orange County Swap Meet (6.3mm)
White Balance
Auto White Balance
AWB is fine. I use it all the time.
AWB isn't as good indoors as the Canons. It's great outdoors, but indoors by window light will tend to vary to the cooler side, while my Canons stay warmer.
Manual Custom White Balance
It's fine, but not as easy to set as the amazing Canons. The Canons have a spot-meter for setting custom white balances and I can set them on a Canon camera with one hand!
The Casio requires a few more button pushes, takes a hair longer, and looks at the entire frame, not just the spot.
LENS
This 7x zoom is unique: it doesn't extend from the camera and it has real, continuous zooming! I can zoom to any focal length. Almost every other compact only sets focal length in a few discreet steps.
FOCUS
AF is fine. It's always accurate.
If you hammer the shutter all the way down before the green AF confirmation rectangles appear, the EX-V7 shoots, set at infinity. You don't miss shots, but won't have perfect focus until you get the green light.
It's much better than my earlier Casios like the EX-Z850 I own: the EX-V7 never misses as my others would on some subjects like horizontal car grilles.
Watch out in video mode: it says it's defaulting to AF, but it seems to be locked at some other distance. Maybe it's just slow; there isn't any way to pull focus quickly as we do in Hollywood.
Flare and Ghosts
I couldn't see any, even if the sun was shining into the lens.
Zoom Settings
You change the zoom with a weird thumb slider on the back of the camera.
Just like a video camera, it zooms at different speeds depending on how far you slide it. This is needed to allow you both to zoom quickly from one end to the other and to make precise adjustments.
The true zoom on the EX-V7 lets me set exact compositions. I don't have to walk a foot or two forward or back as I do with the limited settings of other compact cameras.
Most digital compacts have only about 7 focal length settings; you can't set anything in between these. Looking at EXIF data, I see at least 32 settings on this Casio EX-V7.
Sharpness
It's sharp! It gets a little softer in the far edges at the wide setting, but less so than other pocket cameras.
It's great at the tele settings. The biggest sharpness issue at the longer settings is your ability to hold the camera steady enough, even with stabilization.
The biggest sharpness-robber at every setting is the noise reduction, common in compact cameras.
Macro
It's not as insanely good as most compacts. In exchange for the huge zoom ratio, the macro mode doesn't get as insanely close.
Most compacts get as close as 1" (2cm), while this EX-V7 only gets to 3.1" (8cm) from the front of the lens. This is better than rated, which is 4" (10cm).
Like most compacts, it focuses most closely at the wide setting. At the tele setting the closest macro focus is rated as three feet (1 meter)!
Bad news: There is no Macro or AF mode button. To get to the Macro mode one needs to wade through the menu system (Menu > REC > Focus > Macro).
Good news: This setting is only kidding. Like other Casios I find it focuses just as close regardless of the menu setting, so forget about wading through the menus. I have no idea if this setting really does anything, or if it's like the majority of pedestrian WALK buttons on Manhattan corners which don't do anything, either.
Here's how close it gets at the widest setting in the macro mode: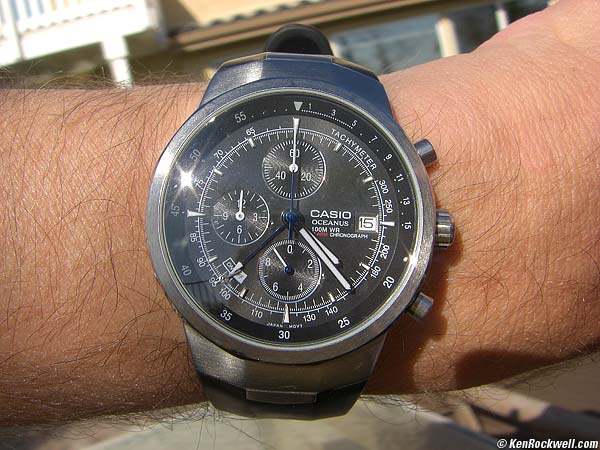 Full image at closest macro setting, wide angle.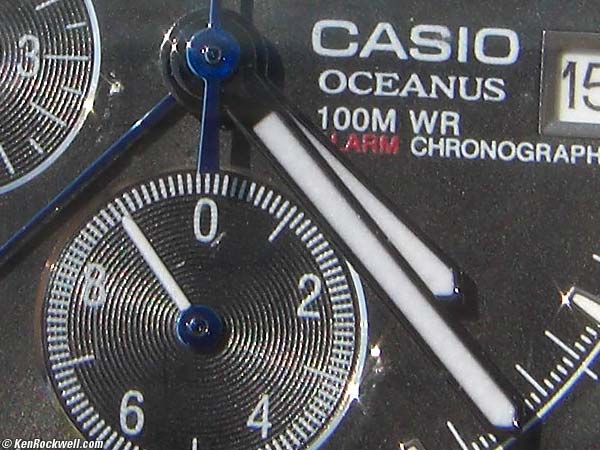 Unsharpened crop from above at 100%.
This is what you'd see if you printed the entire image 31" wide! It looks great - this has had no sharpening added.
Distortion is much worse than other compacts. This is how you pay for the huge, sharp zoom range.
Distortion is typical at the wide end and goes away just off the wide end. The bad news is it has a lot of pincushion throughout most of the middle and longer settings. You're easily going to see this in your photos if there are straight lines involved.
It's easy to correct in Photoshop CS2's lens distortion filter with the numbers below. I read the actual focal lengths in iView. Since I can set any focal length, these are just a few of the many, many possible settings.
These figures are for you to enjoy in your photography. This is all © and registered, so you'll need permission to use these figures for anything else. Thanks! Ken.
6.3mm (wide): Barrel, use +4.5 in CS2's lens distortion filter.
8.4mm: none; no distortion.
12.6mm: Pincushion, use -4.0 in CS2's lens distortion filter.
17.3mm: Pincushion, use -2.5 in CS2's lens distortion filter.
23.6mm: Pincushion, use -3.4 in CS2's lens distortion filter.
31.5mm: Pincushion, use -3.5 in CS2's lens distortion filter.
41.0mm: Pincushion, use -2.5 in CS2's lens distortion filter.
44.1mm (tele): Pincushion, use -3.0 in CS2's lens distortion filter.
LCA (Edge Color Fringes)
Color fringes aren't a problem.
If you look hard, you can see some in the corners at the ends of the zoom range. They go away in the middle of the range.
Image Stabilization
Image Stabilization is critical for getting sharp shots at the long end of the zoom, as well as in dim light without flash. If this is new to you, see Why IS is Important.
The EX-V7 has both real and fake image stabilization. You set these at MENU > REC > Anti Shake. Options are:
Auto uses both real IS, and lets the ISO bump up to ISO 400. ISO 400 doesn't look very good.
Camera Shake is the real IS. Auto ISO only goes to ISO 200, which is as high as gives decent results.
Image Blur is an ISO bump, only. It lets the EX-V7 go to ISO 800, which it looks pretty crappy, like every other compact does at ISO 800.
Off is Off
DEMO turns it on with the shutter pressed halfway.
If you're paying attention, the IS makes an audible noise and slightly vibrates the camera. I can feel this in my hands. It's not as refined as Canon's IS, but it works.
IS is hard for me to test my usual way, since the very limited range of decent ISOs and having only three fixed apertures makes it impossible to test at every fixed speed as I test SLRs.
I tested the IS at a few speeds, and compared it to my SD700. it seems to work about as well. Try it yourself at 1/10 second at a middle focal length (similar to 4x on other cameras for comparison), which is the hinge point at which there is a huge difference between IS on and IS off.
FLASH
Flash recycles quickly. It only takes a second or two. This is much better than earlier Casios.
I've never used a compact that gave me the fill flash performance I take for granted in my Nikon SLRs. This Casio is better than most: I can add fill in daylight without blowing out the ambient light as my other compact cameras do.
There is no easy way to set SLOW sync mode. You'll have to flip it to Shutter priority or use one of the BS modes, actually called out as BS on the control dial.
The Lighting Bolt button cycles through several flash modes. One of these is Soft Flash. Soft Flash dims the flash a stop or two, which is very handy to have as a direct entry button.
MOVIES, AUDIO and VIDEO
Video (movies) make very nice, compact files that look decent and sound great.
There is some of the usual aliasing (jaggies on near-horizontal lines).
There is a little vertical blooming on brilliant specular highlights.
Don't use Auto White Balance, since it hunts and changes colors as you shoot. Use one of the fixed settings if you have the time to set it.
You can zoom optically while shooting, a first as far as I know in compact cameras.
The contrast and color settings apply to movies as well as videos. Since I shoot stills of landscapes I have my contrast and saturation pegged, which looks bad for people. Since my videos are of people, if I have the time it's better to reset the color controls back to normal.
There is a BS Video mode for portraits. I kid you not; look at the control dial and there is a video icon with a BS on it! If I select Portrait for the BS Video mode, I can flick the control dial between regular video and BS video. This applies either the wild color settings I've entered in the regular video mode, or pleasant portrait colors in the BS Video mode.
Audio-for-Video
This is the best part: the built-in X-Y stereo mike system works great. It has great low frequency response for music, which for most people is probably a negative. There is no wind filter.
I listen to these files on a high-end stereo near-field monitoring system with my speakers angled at 135 degrees. Doing this I hear an enveloping 360 degree sound field from which my ears and brain can pick out all the natural sounds.
No on-camera mike works very well for picking dialog out of ambient noise from 20 feet away, and this is even worse if you're watching this on a mono TV.
There isn't any way to connect an external mic; you'll have to do the ADR in post.
Audio has obvious compression artifacts (for music) in Normal mode. It's much better in HQ and UHQ mode.
Video
Video is better than most compacts. The files are compact, but have visible artifacts at the smaller settings.
Forget the LP mode; it's an old motion JPG format that sucks as much file size as the NORMAL Mode.
The Normal mode makes a very compact 640x480 30 fps file, 1.9MB for a 10 second clip. The most visible artifacts are selective blurring.
The HQ Mode also makes compact files, 3.9MB for a 10 second clip at 640x480 at 30 fps, with much less blurring.
The UHQ mode is better still, and makes files still smaller than my Canons. A 10 second 640x480 at 30 fps file is 7.5MB.
Cinematography
There are two 848x480 pixel modes (roughly 16:9 with square pixels), one in HQ and one in SHQ.
They crop the top and bottom from the sensor.
Annoying Free Video Light
There is a very bright white LED on the front supposedly for video fill. It sucks because 1.) it's too blue, and 2.) because it only lights the middle 3/4 of the image.
I don't use it; but it does let you shoot in total darkness up to a few feet away. If you gel it to match the color of the ambient light it might be useful in dim light; I didn't try it.
Worse, I'm probably doing something wrong, but it appears to stay on, even in still mode, until I turn it off again in the menus.
No big deal; this is a free feature you're welcome to ignore, as I do.
Voice
Sadly you can't record just the stereo audio.
The voice recorder (Control Dial > Video BS > Voice) is strictly for voice: mono and low bandwidth: 11.025 ksps, 16 bit. I haven't tested, but it's probably a 5 kHz audio bandwidth. Low frequencies are OK.
The files are .WAV, 64kB for a 10 second clip (6.4 kB/s).
You have a choice: the BS Video mode on the control dial is how you get to audio recording fast. If you've set the BS video mode to voice, you get voice, or if you've set it to portrait video, you get that.
It's no big deal to change; tap SET and select it. Fast operation is critical to me, so this matters.
Panoramas
There's no panoramic stitch assist mode, as there is on most Canons.
You'll have to use the manual mode, which ought to work fine if you already have stitching software.
Mechanics
The front and back case feels like stainless.
The battery door is silver-painted plastic sliding on a metal hinge.
The buttons and knobs feel like solid metal.
The tripod socket seems to be metal.
Playback
I haven't figured out how to click between different images while magnified as most every SLR and Canon compacts do.
If you hit the PHOTO button on the cradle, the EX-V7 plays silly music and starts a slide show with transitions!
Playback is fast and agile, similar to all the other Casios. The Casios excel at how fast they can scroll through images: 10 per second, faster than DSLRs.
Data
Autorotate
I saw none. I have to rotate manually later.
Transfer Speed
Transfer speed is about half of what I'd expect. My Canon SD700 downloads files twice as fast. For these tests I also pulled the card out of the Casio and stuck it in my SD700 for comparison.
Few people shoot as much as I do, which is hundreds of shots at every download. This slow speed bugs me compared to other cameras, but few people shoot these little cameras as hard as I do.
Downloads from camera via cradle and USB
203.6MB (153 photos) download in 59.6 seconds (Kingston Ultimate 2GB SD/2GB-U). The same card downloads in 39.6s via my SD700.
203.6MB (153 photos) download in 61.5 seconds (Sandisk 2GB Extreme III). The same card downloads in 33.5s via my SD700.
Uploads to camera via cradle and USB
You probably won;'t do this, unless you want to put old photos back into the camera, or want to use the camera to store other data.
203.6MB (153 photos) upload to the camera in 77.2 seconds (Sandisk 2GB Extreme III).
203.6MB (153 photos) upload to the camera in 81.9 seconds (Kingston Ultimate 2GB SD/2GB-U).
EXIF
Yay! The ISO, even as set automatically, reads perfectly in iView.
Formatting
Card formatting time varies wildly between different cars. I format every time I shoot, so I notice this. I'd avoid the two slower cards.
1.1s : 256 MB blue SanDisk.
1.2s: 2GB SanDisk Extreme III.
10.0s: 1GB Lexar 40x.
16.5s: 2GB Kingston.
POWER
Battery Life
I couldn't run it down, since it recharged every time I put it in the cradle to download. This is the genius of Casio.
I once did get the orange half-dead (not red almost dead) indication once after 500 shots, but it went back to green FULL the next time I used the EX-V7 without charging.
High ISO Noise and Grain
Caveat
I put this last because most people will never see these speeds. Camera never get to these speeds unless you put it there by hand. Don't worry about these unless you shoot without flash in the dark. Too many chat-room photographers spend all their time worrying about this minor corner of the performance picture.
The Casio EX-V7 is the same as every other compact camera, which means far worse than any DSLR.
The biggest problem is the strong noise reduction applied to the images, just like every other compact camera. This noise reduction smears over the image, skipping the edges, making the images look weird and impure, even if you can't put your finger on why.
Don't freak out; all compact cameras do this, which is the biggest reason any DSLR looks so much better if you're looking closely. You wont' see this in 4x6" (10 x 15cm) prints, but you'll see it in 8x10s (20 x25cm).
See my Noise Comparison where I show that compact cameras like this are as noisy at ISO 100 as DSLRs are at ISO 800! To be as clean as a DSLR at ISO 200 will require a compact (small sensor) camera to run at ISO 25.
ISO 64: Negligible noise.
ISO 100: Negligible noise.
ISO 200: About the same noise as ISO 100, but the image is softer and smeared behind much more noise reduction. This is the fastest ISO you'll get in the default Auto ISO mode.
ISO 400: About the same noise as ISO 200, but the image is much, much softer and smeared behind a ton of noise reduction.
ISO 800: More noise than any other ISO, and the same smeariness as at ISO 400. It looks like a low-resolution image upsampled in Genuine Fractals with noise added on top.
This is easy to see: shoot the same thing at each ISO and flick through them at 100% on your monitor.
User's Manual
I didn't even open it. Heaven only knows what insanely clever tricks the EX-V7 does. I'm only borrowing this EX-V7; if you get one, read the manual.
RECOMMENDATIONS back to top
This tiny camera does what it claims. If you want one, get one!
It has the biggest zoom range of any camera I want to put in my pocket and carry everywhere. The movies with stereo sound are a great bonus.
I use these for landscape shots. No compact camera works well for sports, even with the long zoom. For sports, buy a Nikon D40 and 55-200mm lens which will work much, much better for action.
This EX-V7 has great color if you crank it up. I wish I had had more time with clear weather to play with it and make some decent example images.
The good news is that it's only $399. It's a bargain; I wouldn't bother going any cheaper in Casio's line. If you want cheaper, I love my Canon SD700, about $299 last I looked in March, 2007.
$399 is the same price as Nikon's top-of-the-line P5000 (10MP, 3.5x zoom and VR), which would make me think twice about the EX-V7, except that the Nikon is a completely different camera. The biggest difference is that the P5000 is too big for my pocket, so I wouldn't want one. If I have to carry a camera in a case or around my neck, I'll grab a Nikon D40 which has performance worlds better than any compact camera. A weird thing about the P5000 is the nice black magnesium case, but cheesy plastic chrome buttons.
The Canon G7 (10MP, 6x zoom, IS) competes with Nikon's P5000, but it also is too big for my pocket and costs more ($499 as of March 2007).
So am I going to buy an EX-V7 for myself? Nah; I already have an SD700 which works fine for me. I borrowed this EX-V7 because you all asked to try it out and see to know how good it was.
If I killed my SD700 it would be a toss-up. I don't care about the long zoom, but I am intrigued by the more consistent auto exposure and better, warmer colors of the EX-V7. Your preferences will vary.
If I wanted long zoom and stereo movies, another interesting brand-new camera is the $499 Canon TX-1. It's a 7MP, 10x zoom pocket camera with IS. It's the same size as the tiny ELPH pocket cameras, which is very slightly shorter and less wide than the Casio EX-V7, but a little thicker. It needs a fold-out screen which, at only 1.8," seems less convenient for stills than other compact cameras. I like to draw and shoot fast, and the TX-1 has no viewfinder other than the small flip-out LCD. It specializes in stereo movies up to 1,280 x 720 at 30 fps.
Thus my favorite long-zoom camera is the Casio EX-V7 because I put a premium on size for compact cameras. I'd get the Casio EX-V7 here, here or here. It helps me publish this site when you get yours from those links, too.
PLUG
If you find this as helpful as a book you might have had to buy or a workshop you may have had to take, feel free to help me continue helping everyone.
It also helps me keep adding to this site when you get your goodies through these links to Ritz, Amazon and Adorama here, here and here. I use them and recommend them personally .
Thanks!
Ken
Caveat: The ads below come from a third party and I don't see or approve them. They are sent to your screen directly from a third party. They don't come from me or my site. See more at my Buying Advice page. Personally I get my goodies at Ritz, Amazon and Adorama.