Buick Enclave Comfort
© 2008 KenRockwell.com. All rights reserved.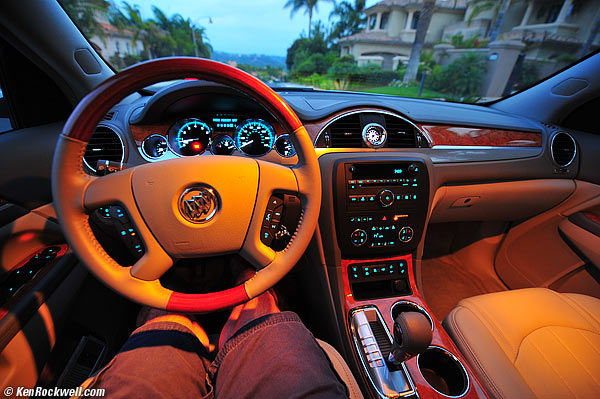 Buick Enclave; Driver's Eye View. enlarge.
16 September 2008 Top of Enclave Review More Car Reviews
Comfort is what makes the Enclave worthwhile. Buick has done a lot of crazy stuff with special materials and doing things like using extra-thick laminated glass for the windshield to make the Enclave as quiet as they can.
Noise top
I've never driven a quieter American car.
Buick has done everything it can to reduce noise. It uses all the usual tricks used in great cars, as well as special extra-thick glass all-around. The perforated leather seats aren't just for our comfort; they also absorb more sound. Buick has uses a premium transmission and a premium accessory drive system to mute all the usual ugly noises I hear from other American cars. The information I got from GM covered 31 pages for just the general overview of all they've done, but most importantly, it all works.
Most of what you'll hear are the sounds of the tires against the pavement. There is just a tiny bit of muted wind noise from the wind winding around the body.
There is very little sound transmission from outside. You can hear an uncorked Harley, but it's not annoying.
The noisiest thing is the wind flowing from the heating and air conditioning when it's running hard. If I were Buick, I'd enlarge the vents to allow more flow with less noise, but Buick chose beautiful curved vents with a clock in the middle over bigger, uglier (but quieter) vents.
The engine is silent while cruising straight and level, but will be heard when accelerating.
Engine noise while cruising at speed is just a hum from the exhaust. If pushed, you'll hear muted mechanical internal engine noises typical for a six, but a muted six.
Around town, the engine and transmission sounds like any other American V6, but a little softer and a little more refined. The 6 has to work a lot harder hauling around town than an 8, so it makes more noise. You'll hear the engine and transmission working as you run around town on errands.
There became one slight rattle or buzz inside the dash. If I banged on the dash, it went away. These are my biggest fear with an American car. They don't rattle when new, but after several thousand miles pick up a slight buzz here or there, and these grow with age. My Mercedes don't buzz, even after decades. The Dodge Caravans I've driven were quiet new, and picked up various minor buzzes as the thousands of miles racked up.
At idle with the HVAC running near full blast, I measured 66 dBA.
At 65 MPH, I measured 68 dBA with the HVAC running hard, but only 64 dBA if I shut it off completely.
If you're driving for hours at a time as I did, the heating and cooling stabilize the temperature, after which the fans run very slowly. When running errands around town, the fans run at full speed to get your Enclave comfy as fast as possible, so if you're running a series of short errands, the air conditioning will be the biggest noise you hear, like in most cars.
Steering Wheel Adjustment top
The loaner Buick Enclave I had only had a mechanical, manual adjustment. I presume it's optional to have electric adjustment, and I don't know if the memory seats recall the steering wheel position if you have it. Check this yourself if this is important to you.
Front Seats top
There is no side support. Like most American cars, I suspect these are great seats if you're fat.
They were comfortable for hours and hours of non-stop driving. After many continuous hours, my lower back started to ache a little bit. If I adjusted the lumbar support better, this would probably go away.
The front seats move far enough back to give loads of legroom for big guys.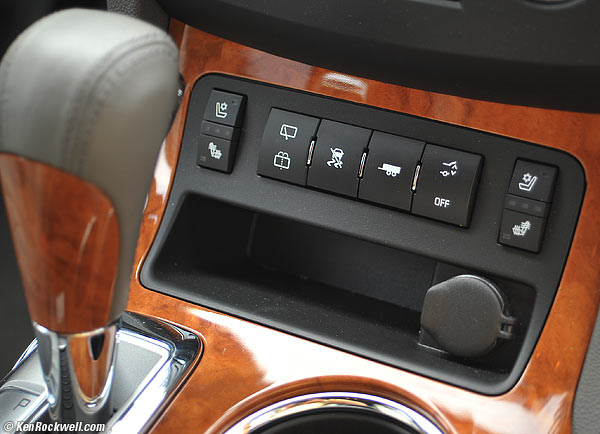 Seat cooling and heating: the switches on the left and right.
The seats not only have heaters for people in Michigan, the front seats have fans in them to blow air on our butts! This ventilation works great and keeps your keester and lower back as cool and dry as if you weren't sitting on them at all.
After driving this Buick for hours, I wish my leather office chair had this same feature. If you get an Enclave, be sure to order the heated and cooled seats option.
Since this Enclave was loaned to me, I didn't dare fart in it. I have a sneaking suspicion that anything that gets dealt will be shared around the entire cabin instead of being absorbed in the seats, so if you have guests, so be careful. You've been warned.
If you hang your camera over the passenger seat, be sure to push the head restraint all the way down, otherwise the camera strap will dig itself in and be hard to remove. I always secure an SLR with the lap and shoulder belts when driving.
Middle Seats top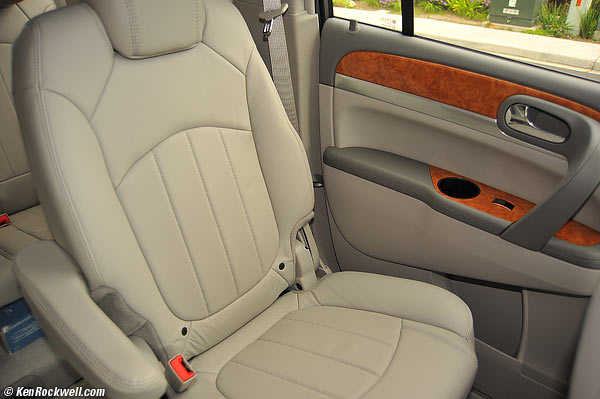 Second-Row Captain's seat.
The middle (second-row) captain's seats slide forward and back. They don't remove.
It's easy to slide them out of the way to make back-row entry and exit easier.
The flimsy plastic levers for folding the seats forward and to adjust seat back angle feel like flimsy plastic.
They are easy to flip forward for hauling.
They don't have any fans or heating.
Rear Seats top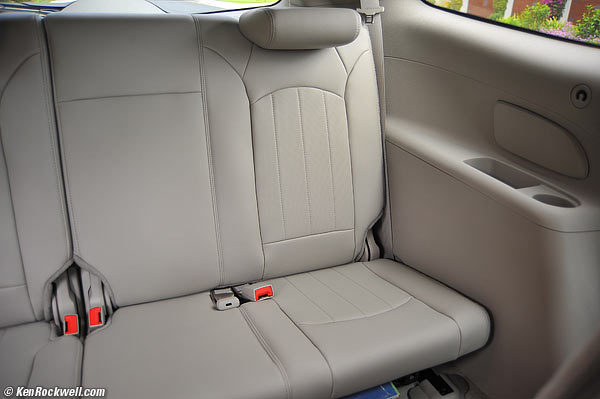 Rear Bench Seats.
The rear seats are a split bench with plenty of room for two 6-foot (180 cm) adults.
The arm rests are nasty: they are cheap plastic with molded cup holders. There is no comfortable place for your arm; it tends to fall into the cupholder and storage cubbys.
The rear row head rests are unsafe for adults because they are too short. There is no center headrest for an unfortunate 3rd passenger.
HVAC (Heating, Ventilation and Air Conditioning) top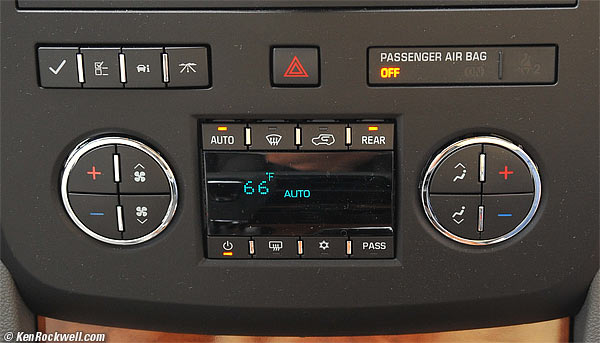 Buick Enclave HVAC controls.
HVAC is fully automatic. Set your preferred temperature, and it adjusts all the vents and fans and temperatures for you. It sets in single degrees Fahrenheit, unlike cheaper cars that set in two-degree steps. It sets as cool as 60ºF.
When you first light up, the fans run fast until the Enclave gets to your perfect temperature, and then the fans automatically run more slowly when the temperature is reached. You can drive all day and never have to twiddle with the temperature or fan controls.
The fan changes speeds gradually and continuously. There is no fan speed indication except for a moment when you hit the AUTO control, or if you change the speed manually. If you're as curious as I am (few people are), just tap the AUTO button to see the current automatically selected fan speed.
There is no "rest" mode, as on many European cars, to let the heating or air conditioning run while you're away from the car on short errands. You'll just have to live with the heat or cold when you return.
I see no indication of automatic recirculation ability; you might have to do this manually (the best cars do this automatically, too).
Hint: Be sure to open up the rear ceiling vents, and hit the REAR button, to get the Enclave's full cooling and heating capacity. If you don't, only the front vents work, and the Enclave might never cool down, and the fans have to run at full blast all the time.
The rear fans follow the main automatic HVAC controls, but oddly, sometimes they'd shut off on their own and I had to reselect them to get them back into AUTO mode.
The solar sensor could be calibrated better. I find that I prefer the Enclave set to 67ºF (20ºC) by day, and 75ºF (24ºC) by night. Ideally, one setting would just remain equally comfortable regardless of the amount of sunshine.
Windows top
All windows are power.
Only the front windows have automatic down and up. You have to sit and hold the switches waiting for the rear windows to open and close.
There is no convenience feature, as in Mercedes and BMW, where holding the Lock button on the remote closes all the windows. You have to close them yourself before you get out.
The middle-row (rear passenger door) windows roll all the way down, yay!
The very back widows, and back hatch window, don't open.
More Details back to top of page
Return to top of Buick Enclave Review, to Car Reviews or Home.
Safety < < Next
Competition (to other SUVs, not how to race-prep an Enclave)
PLUG
I support my growing family through this website.
If you find this as helpful as a book you might have had to buy or a workshop you may have had to take, feel free to help me continue helping everyone.
If you've gotten your gear through one of my links or helped otherwise, you're family. It's great people like you who allow me to keep adding to this site full-time. Thanks!
If you haven't helped yet, please do, and consider helping me with a gift of $5.00.
The biggest help is to use these links to Adorama, Amazon, B&H, Ritz, and J&R when you get your goodies. It costs you nothing and is a huge help to me. These places have the best prices and service, which is why I've used them since before this website existed. I recommend them all personally.
Thanks for reading!
Ken