Buick Enclave
© 2008 KenRockwell.com. All rights reserved.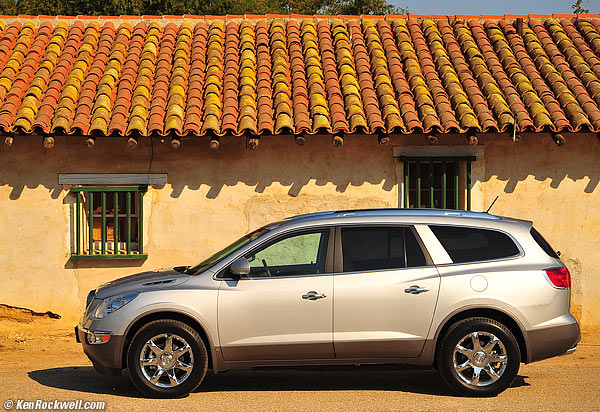 2009 Buick Enclave CXL in San Miguel. enlarge.
16 September 2008 More Car Reviews skip to index of Enclave review pages
Intro Price Specs Measurements Exterior Materials More Recommendations
The 2009 Buick Enclave CXL is the nicest American vehicle I've ever driven. I haven't driven that many American cars, but compared to the Ford Taurus, Dodge Caravans, Chevrolet Cavaliers and Malibus I have driven, the Enclave feels and operates with far more finesse than any of them. The Enclave comes closer to a Mercedes than to those other cars.
The Enclave is a giant, quiet and comfy giant minivan or SUV that goes and drives very well. It's so big that I, six feet (180cm) tall, can't see over the top of it.
The best things about the Enclave are its quiet ride and incredible ventilated seats that let me drive nonstop for many hours in total comfort. Driving cross-country? Just get in and go; the Buick's comfort won't be what tells you when it's time to pull over.
Sitting here writing this review in my big leather office chair, I really miss the ventilated seats of the Enclave. I'm tempted to go out and sit in the Enclave to write this on my laptop computer, just to enjoy the seats!
Unlike any other American car I've driven, the Enclave doesn't make all the weird mechanical noises that have me thinking my rental car is about to explode. The Buick wins on finesse, without all the little bothers of lesser vehicles.
The Enclave drives very well. It handles smoothly and tracks well, without the wobbly and crappy handling of lesser vehicles, like a Kia Sedona I was once loaned. The Kia drove so poorly and drifted around so much that I always thought I was just about die, while the Enclave drives as a vehicle should.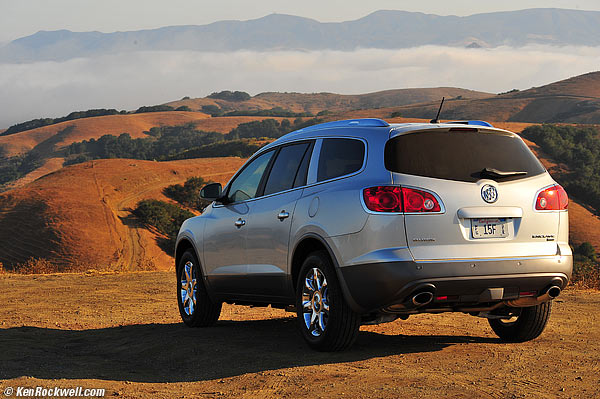 2009 Buick Enclave CXL. enlarge.
The big, fat P255/60 tires on 19" wheels make it comfy, even off pavement. The big tires handle big ruts with ease. I didn't take it off road, but I did have it on some dirt roads, which were comfortable.
Speed bumps? No problem! The Enclave flies right over them. I'm always amused when I see people driving macho-man trucks, or even moms driving big pigs of SUVs, who slow down to climb each speed bump as daintily if their big truck is going to break.
Even though it's front-wheel drive, the Enclave handles well. Torque-steer (the car pulling the steering wheel in one direction when you hammer the gas) was only felt if I hammered it on uneven pavement from a start and one wheel had different traction than the other.
The Enclave has no noisy power steering pumps, shifts smoothly, and has no banging when shifting in and out of Park, Reverse and Drive. It's refined, like a real car. The Enclave doesn't drive like a car because it's not: it drives like an excellent van. It's huge, tall and roomy.
Even with just six cylinders, the Enclave has plenty of power for any legitimate need. It will chirp the tires off the line, and the transmission kicks down instantly when you hammer it. It's not fast, but it's more than fast enough for what you ought to be doing in an Enclave. I'm used to fast, quiet cars, but most people who get in an Enclave wind up getting speeding tickets since it's quieter and taller than what they drove before. I had no idea a six could make something this big go this fast.
The Enclave's interior is made of the same materials as every other American and Japanese car. I'm not a fan of plastiwood, but the more I drove the Enclave, the more I liked it because the Enclave wins on driving comfort.
The Enclave is great for utility use. Its seats fold down and up faster and more easily than any vehicle I've ever driven.
The most significant things you'll notice when driving are the huge blind zones to the sides caused by the big, tall mirrors and fat windshield pillars, the poor rear visibility, and the large amounts of glare that shine off the glossy parts of the dashboard. Great on the open road, the Enclave's visibility seems perfect for driving in the canyons of Manhattan, where no one ever looks to the side or behind them and the sun never shines on the dash.
The transmission selector falls into my hand, right where it should be.
OnStar is superb. It's another reason to consider any GM vehicle. I'd never tried it before. OnStar is both the best navigation system I've ever used, which eliminates the need to buy the expensive optional old-style dedicated navigation system, as well as the best hands-free, button-free phone I've ever used.
At least in Southern California, the Enclave is a rare vehicle. In the one week and 800 miles I had it, I saw innumerable Mercedes, BMWs, Porsches and Masaeratii, three Rolls-Royces, two Ferraris and a London double-decker bus, but only one other Enclave.
That's 95% of my review. There are a lot of pages that follow, but they are just details. I've just given you the important part. Consumer Reports says that "the Enclave, Acadia, and Outlook are among the best SUVs in their class" on page 48 of their October 2008 issue. Read on if you need to know more, but that about wraps up the important items.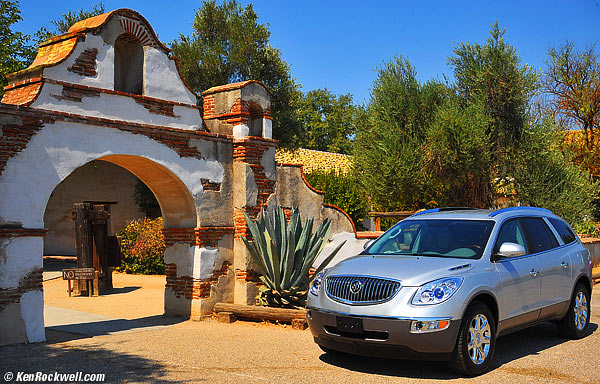 The Buick Enclave at The Gates of San Miguel. enlarge.
Minivan, car, truck, van, SUV, station wagon, MPV or what?
The federal sticker on the door jamb classifies the Enclave as an MPV, whatever that is.
I consider all tall, boxy front-wheel-drive, unibody vehicles as minivans, and therefore I classify the Enclave as a minivan. I also consider the Porsche Cayenne Turbo S and Mercedes R-Klasse as minivans.
For something to be called an SUV, it needs a real element of sport, not just sporty styling. In the case of an SUV, it would need either on-track motorsports or off-road ability to earn the "S" of the SUV moniker.
Formally, an SUV is a body-on-frame (truck-based) vehicle and must have all-wheel or 4-wheel drive. The rear storage area of an SUV is a storage area for outdoor sports and survival gear, not the third row seat of people carriers (vans).
Many suburban housewives dislike the word "minivan," and prefer to imagine that their RX350s or whatever are SUVs. Car makers often replace the rear sliding doors of minivans with hinged doors, and use big wheels and tires to mimic the look of an SUV, and if it sells more cars, everyone is happy.
The window sticker of the 521 HP Porsche Cayenne Turbo S says "wagon" in its fine print, so there.
Why a Buick Review?
Among the many readers of my website are people at GM.
One of them is a huge fan of the Buick Enclave, and asked if he could loan me one to review. Sure! I loaded it up and headed out for a nice long photo tour.
Similar Vehicles
The Chevrolet Traverse, Saturn Outlook and GMC Acadia are the same basic vehicle. I doubt any of them cushion the sound as well as this Buick, which is what makes the Enclave as good as it is.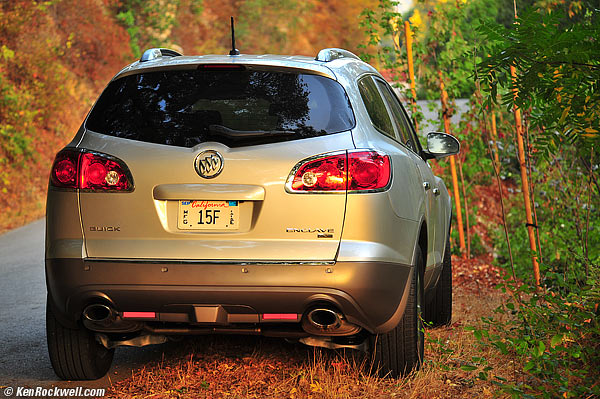 Buick Enclave, Country Road, 7:23AM. enlarge.
Sticker Price and Options top
Intro Price Specs Measurements Exterior Materials More Recommendations
$40,415 as tested.
The sticker includes $1,195 for the chrome wheels, and $970 for the rear camera, rear parking sensors and remote starting.
Half the value of the Enclave are its $650 cooled and heated seats option. Don't forget to order it!
My loaned Enclave also had the $425, 4,500 pound towing option, which includes a transmission cooler, factory-installed hitch and wiring harness. See the photo above? The hitch is hidden behind a perfect vanity cover. Better than other vehicles with hitches that poke out beyond the rear bumper and puncture your garage door or other cars, the Enclave's hitch is overshadowed by the rear bumper.
My sample had no sunroof, no old-fashioned navigation system (it has OnStar, which is superior) and no fancy sound system. It has a CD player and in iPod audio input, but no CD changer.
If you add at least the CD changer option for $980 you get the Bose sound system, which should be vastly superior to the standard radio for enjoying most music. I'd order that before I ordered chrome wheels or a backup camera.
I'd skip the $3,025 navigation system and instead subscribe to OnStar, which is better, faster, and much, much safer.
You can price this all out for yourself at GM's website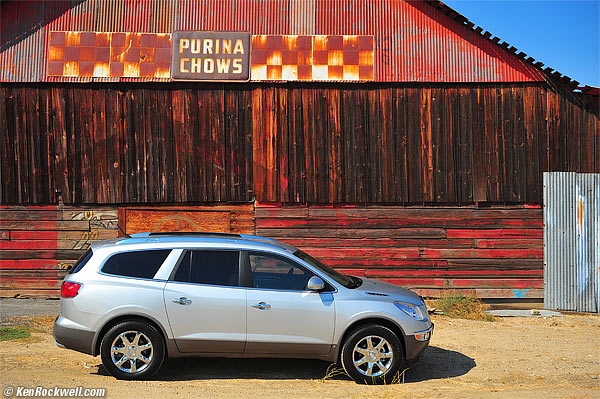 Buick Enclave. enlarge.
Specifications (as provided by GM) top
Intro Price Specs Measurements Exterior Materials More Recommendations
Length: 201.5" (5,118mm).
Width: 79" (2,006mm).
Height: 72.5" (1,842mm)
Turning Circle: 40.4 feet (12.3m).
Ground Clearance: 7.2" (182mm).
0-60 MPH: 8.2 seconds.
Weight: 4,780 pounds (2,168 kg).
Body Structure: 25.2 Hz.
Payload: 2,908 pounds.
Towing: 4,500 pounds (with optional tow package).
Engine: 3.5l V6, VVT. 251 ft-lb at 3,200 RPM, 275 HP @ 6,600 RPM. (340Nm, 205kW.)
Transmission: 6-speed automatic.
Tires: 19" Michelin P255/60R19.
EPA MPG: 16 MPG city, 24 MPG Highway (using new 2008 WPA cycle).
Fuel: Regular unleaded.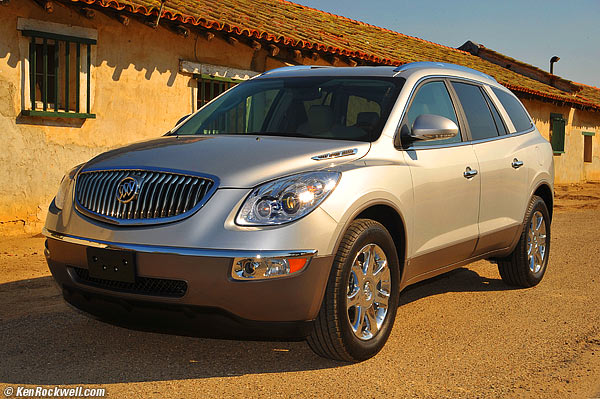 2009 Buick Enclave CXL, San Miguel. enlarge.
Measurements top
Intro Price Specs Measurements Exterior Materials More Recommendations
Fuel Economy
I averaged a calibrated 19.6 MPG on an 800 mile roadtrip. I averaged over 250 miles each day for three days on open freeways and country roads. I kept my speeds legal and was driving for economy, so I doubt that I would ever get better fuel economy than this.
I wouldn't get economy this good in local driving and short trips.
The Enclave I borrowed had between 700 and 1,500 miles on the odometer; it is brand new. Since most of the load is the weight and wind resistance of this giant minivan, I doubt break-in would improve this much. This same powertrain in a car would return about 30 MPG driven the same way, and a V8 Mercedes car gets about 28 MPG on the same trip. The Porsche Cayenne Turbo S gets about 16 MPG on the same route.
I didn't do enough local driving (running errands and sitting in traffic) to get any meaningful fuel economy measurements that would correspond to how most people will drive an Enclave. These numbers will be much worse, probably in the low to mid-teens. Few people realize that fuel economy has more to do with you and how you drive than your car. Even economy cars only get about 14-15 MPG driven for short errands.
I used 40.045 gallons as metered at the pump in three days, and drove 783.21 miles as registered on my GPS, which equals 19.6 MPG. The Enclave's trip computer indicated 21.0 MPG. Dashboard trip computers almost always overestimate actual fuel economy. The Enclave's trip computer registered that I had used only 36.9 gallons of fuel. Again, this is as expected. Never believe your dashboard computer when measuring MPG.
Onboard trip computers are very helpful to test, compare and optimize different driving styles and routes, but not to characterize a vehicle. When comparing or reading fuel economy numbers, be sure to ask if they are actual calculated numbers, or numbers read off dashboard computers which almost always indicate a couple of MPG in the car's favor. Lazy journalists have started to quote dashboard numbers in car reviews, so be careful.
Acceleration
Much to my surprise, the enclave hit 60 MPH in just about 8 or 9 seconds from idle, just as specified.
This is surprising because published 0-60 times are usually never duplicated in real driving. Tested 0-60 times are measured by hammering the gas while holding a car with the brake, and and then letting off the brake when the timer starts. This gives times much better than you'll get in real driving where you don't put your foot on the gas until you start moving.
Most six-cylinder cars rated at 8.2 seconds for 0-60 MPH actually only run it in about 10 seconds when started from idle.
Interior Sound and Noise Levels
At idle: 66 dBA with HVAC at full blast.
At 65 MPH: 64 dBA with HVAC turned off, 68 dBA with HVAC at full blast.
Second Row Door Entry Height
43" at door.
Ceiling Height
The ceiling is a maximum of 47" tall in the center.
Rear Storage Area
30" tall.
43" wide.
20" deep with all seats up..
52" deep with 3rd row folded.
83" deep with second and third rows folded. That's plenty of room for camping.
Rear Storage Area: Bootlegger's Hatch.
Bootlegger's Hatch (under floor of rear storage)
27" wide x 14" deep x 5" tall. The central restriction restricts depth to 13."
Speedometer Accuracy
The speedometer was perfect, within as close as you can read it, or within tenths of a mile per hour.
This is far superior to BMW, who deliberately calibrates their speedometers to read fast. See BMW Technical Service Bulletin 620296 from 1996 which specifies BMW's "speedometer advance," which can be as high as 10% plus an additional 2.4 MPH!
When the Enclave says you're going 60.5 MPH, you're going 60.5 MPH.
The Enclave runs about 1 MPH faster than the Cruise Control indication.
The electronic speedometer reads while driving in reverse. If you're driving backwards at 25 MPH and looking at the dashboard, the speedometer will read 25 MPH.
Odometer Accuracy
Measured over 800 miles as compared to a calibrated GPS, I had to multiply the odometer reading in the particular Enclave I borrowed by 1.00785 to read correctly.
This is less than a 1% error, and it's in your favor. Ignoring future tire wear, if the odometer keeps reading this low, you'll get an extra 780 miles free added to the 100,000 mile powertrain warranty.
When calculating your own fuel economy, you need to check your car's odometer, too.
Exterior Appearance top
Intro Price Specs Measurements Exterior Materials More Recommendations
I'll leave this to the viewer.
I was impressed at how many people complimented on the Enclave. One local millionaire, who I've seen wearing a watch with a sticker price higher than this Buick, commented a couple of times that this Enclave is "Beautiful!"
There really is a tow hitch on the Enclave I borrowed. It's hidden under a vanity cover.
Hood Vents
The hood vents are fake. Be serious, cars haven't needed these for decades. The 550 HP Porsche Cayenne Turbo S has no need for extra air vents (air comes out the wheel wells and under the car), so the V-6 of this Buick certainly doesn't.
Chrome Wheels
The chrome wheels on the loaner you see pictured are a $1,195 factory option.
Materials top
Intro Price Specs Measurements Exterior Materials More Recommendations
If you're comfortable with American and Japanese cars, ignore me. I've these same sorts of comments about $400,000 Maybachs and the $500,000 Mercedes SLR I've gotten to drive. The Maybach has real wood, but plastic grilles (not stainless steel grilles like real Mercedes), and the SLR has too much silver-painted plastic on its dashboard for what you ought to get in a $500,000 car.
Europeans and snots like me might have a problem with the plastiwood used inside the Enclave, but what snots rarely realize is that plastiwood is a natural product, harvested from the great plastiwood forests of Michigan's Upper Peninsula.
The Buick Enclave's plastiwood looks great. So long as you don't look close enough to see the screened dots that make up the reproduced grain, it does a great job of simulating the 3-D look of old-style (real) chestnut, with accents in separate layers of brown and gold.
The materials get cheaper as you sit further back.
Even if I can't handle fake wood, once I get to driving the Enclave, I forget about the plastic.
Exterior Door Pulls
The exterior door pulls feel like two pieces of cheap chromed hollow plastic. Mercedes uses solid plastic.
Steering Wheel
The dark wood in the steering wheel doesn't match the light plastiwood on the dash. The wood in the steering wheel looks like organic (real) wood.
Ignition Switch
The metal around the ignition lock seems as cheap as the same part on a Chevrolet.
Interior Door Pulls
The interior front door latch pulls feel like metal.
Arm Rests
The top of the center console, your arm rest, is vinyl. The door's arm rests are also vinyl.
Front Seats
The front seat are ventilated, half the reason to get an Enclave, presuming you remember to order them.
The headrest and sides of the seat are vinyl, only the "seating surfaces" are the usual Detroit-grade of leather.
The leather is perforated, so it breathes and feels great.
Middle (Second-Row) Seats
Like the front seats, the "seating surfaces" are leather, and the sides and head rests are vinyl. The pivoting arm rests are vinyl.
The leather is ventilated, just like the front seats, hooray!
Rear seats
The rear bench seat is all vinyl. It is embossed to look just like the perforated (ventilated) leather of the front two rows, but it's not. It's just vinyl.
Magazine Holders
The magazine holders on the backs of the front seats are vinyl, with a weird foam backing. Don't try to compare them to the magazine holders of a middle-of-the-road Mercedes W210 E430 sedan, whose leather-look seat-back magazine holders are real leather.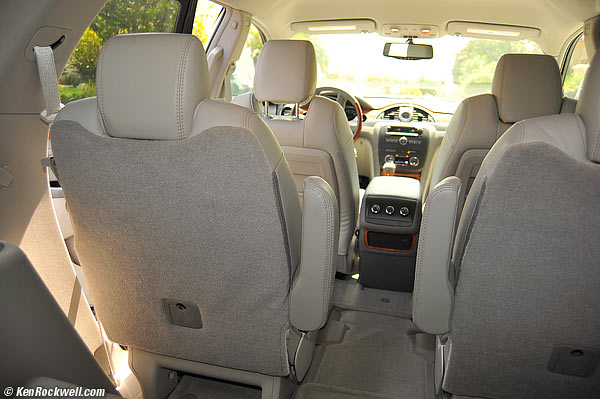 The view from the rear seat.
There are no magazine holders on the backs of the second row of seats. The rear seat occupants get to look at carpet, which is what you want when you fold the middle seats to haul large items.
Owner's Manual
The manual is printed on cheap uncoated paper that feels like the cheapest 20 lb copy machine paper. By comparison, BMW and Mercedes manuals are printed on glossy coated paper, and some of my Mercedes manuals are hard-cover!
Recommendations top
Intro Price Specs Measurements Exterior Materials More Recommendations
I haven't shopped much in this category (see Comparisons). With that caveat, I would suggest looking at the Enclave if you want a huge, roomy, practical and comfortable do-everything vehicle for what seems like a bargain price. If you worry about fuel economy, I'd buy a car or station wagon, but if you need the hauling capacity of an Enclave, I doubt that you'd get as much fuel economy in a conventional SUV.
If you get an Enclave, be sure to order the heated and cooled seats option. The fan-cooled front seats are a huge reason to get an Enclave.
Be sure to open up the rear ceiling vents, and hit the REAR air conditioning button, to get the Enclave's full cooling and heating capacity. If you don't, only the front vents work, and the Enclave might never cool down, and the fans may have to run at full blast all the time.
I'll be making a lot of comparisons to BMW, Mercedes and Porsche in the following pages, but remember, these vehicles cost between two to four times as much.
More Details back to top
Comfort < < Next
Competition (to other SUVs, not how to race-prep an Enclave)
PLUG
I support my growing family through this website.
If you find this as helpful as a book you might have had to buy or a workshop you may have had to take, feel free to help me continue helping everyone.
If you've gotten your gear through one of my links or helped otherwise, you're family. It's great people like you who allow me to keep adding to this site full-time. Thanks!
If you haven't helped yet, please do, and consider helping me with a gift of $5.00.
The biggest help is to use these links to Adorama, Amazon, B&H, Ritz, and J&R when you get your goodies. It costs you nothing and is a huge help to me. These places have the best prices and service, which is why I've used them since before this website existed. I recommend them all personally.
Thanks for reading!
Ken